Months ago, I had promised Bernd to make spaghetti vongole for him again. Life's exigencies being as they are (i.e., it kept slipping my mind), I just never got around to setting a definite date until his drinking buddy, Dieter, mentioned to me a little over a week ago that Bernd was soon headed back to Germany for the holidays. Thus, we coordinated later on and, eventually, set Wednesday, the 10th, for a vongole dinner at my place with a few other friends.
Come morning of the 10th, however, the planets did their best to align in such a way as to spoil our plans, in that, among others: (1) Dieter's back suddenly gave out; (2) John H's wife, Gina, came down with a bad cold; and, (3) absolutely no live clams were available in the market and supermarkets in our area. Intrepid goumands that we are, we pushed through undaunted sans the
vongole
. Fortunately, I was able to convince Ken and Lisa agreed to join us on short notice. I had to bribe Lisa with promises of chocolate cake and dessert wine, though - that day happened to be her birthday and she was nursing a slight cold.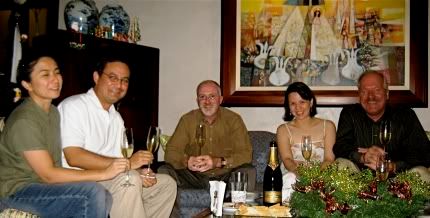 The evening started off with freshly sliced Parma ham and terrine of foie gras with Melba toast from
Je Suis Gourmand
, enjoyed with glasses of:
1999 Duval-Leroy Champagne Blanc de Chardonnay
- From Bernd, naturally, for whom no dinner is complete without bubbly. Apparently, the impeccable Stephan Wieprich (formerly of Tivoli, now with Wine Depot), knowing well Bernd's passion for champagne, turned him on to this maker.
I was
very
surprised to learn later on that evening that this was pure chardonnay - the designation of "blanc de chardonnay" (same as "blanc de blancs") was not prominent on the bottle, as you may (barely) see in the picture. I, generally, prefer champagnes with a good dose of pinot noir for the added body, mid-palate heft and discreet, underlying milk-chocolate that come with it.
This bubbly was open, generous and particularly lively, with a fine, persistent mousse and delightfully pronounced toasty brioche to its whitely floral, ripe apple, slight apricot profiles. Whispers of candied fruit, white minerality and oak as well.
In a fuller style than most
blanc de blancs
I've had, I could have sworn it wasn't pure chardonnay, but, then, no champagne expert am I. An excellent way to start the evening, in any event, it was wonderful with the terrine of foie gras.
Available at Wine Depot for under P5000 per bottle - a definite buy for a vintage blanc de chardonnay of this caliber
.
~ oOo ~
We, thereafter, seated ourselves and started off with a salad of fresh greens, tarragon leaves, toasted pine nuts, freshly grated parmesan and Parma ham, drizzled with a honeyed, mustard, vinegar, olive oil and garlic dressing. My wife makes this salad for many of our dinners at home, a recipe created by my brother and his wife (actually, both of them claim credit but we never quite figured out which one of them really dreamed this up).
~ oOo ~
Next was baked prawns in a garlic-butter sauce, accompanied by a pilaf, with: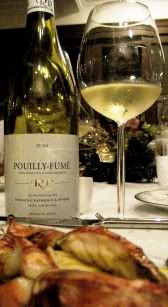 2006 Domaine Raimbault-Pineau Pouilly-Fumé
- My bottles, a discovery by Rene II. I first got to taste this at
his birthday dinner a few weeks ago
. My notes from that evening, still consistent, are as follows:
This is the first time, to my knowledge, that I have tried wine from this
Loire domaine and I kick myself for not having stumbled on it before. It's a
good thing Rene did.An ethereal, fresh, floral, cool, sweet perfume of
gooseberries, freshly cut grass, white grapefruit, citrus and trace white
mineral nuances in the nose. Gracefully and elegantly mirrored on the palate.
This danced on my tongue. Subtly complex.

The Vigneron, not really one who is into whites and, more often than not,
goes straight to the reds, was the first one to pipe up, saying that "The
bouquet of this wine is wonderful". Coming from him, that means a
lot....Available at Terry's for barely P1000 per bottle and I would easily
pay more for it if needs be. Run, don't walk. It is that good.

~ oOo ~
The main course was roast racks of lamb encrusted with thyme, marjoram and fresh rosemary - the only dish I made that night. With it, we had three reds: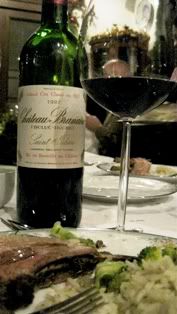 1997 Château Branaire-Ducru
(St-Julien) - Bernd's bottle, a now clearly over-performing (in my opinion) Fourth Growth of the 1855 Classification. I've been looking more and more into this château's wines ever since I ranked this 4th behind (in descending order) Châteaux Margaux, Latour and Lafite-Rothschild during an IWFS blind tasting of ten top 1999 Médocs sometime in 2005. I bought and enjoyed several of their '99s as a result thereof.
This is medium-bodied, marginally lighter than the '99, but with better focus at this stage and definitely much more ready to drink. Mature and marked with superior balance and harmony in its classically-framed cassis, dark fruit, red berry highlights, infused with cedar, graphite and discreet, finely-knit dark chocolate undertones. Firm, but gentle. Very food-friendly, as are many Bordeaux wines from so-called off-vintages compared to the those from "blockbuster years", in my personal opinion.
Excellent with the lamb. Unfortunately, this is not locally available to the best of my knowledge.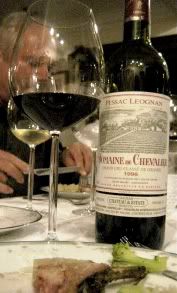 1996 Domaine de Chevalier
(Pessac-Léognan) - My bottle, one of my current favorites for its dignified, understated style. My notes from early August are still consistent:
...It just so happens that Jancis Robinson (a holder of a Masters of Wine degree, the British taste-nemesis of Robert Parker, Jr.) in September 2006 rated this the one of the highest non-1st growths of the vintage (with a score of 18/20, equal to those of Châteaux Latour and Haut Brion), while Parker gives it
a "mere" 88/100 (which, most likely, keeps the wine at its reasonable price).

I entered this wine in a recent IWFS blind 1996 red Bordeaux horizontal tasting (i.e., wines from different châteaux but all from the same vintage) - mainly out of curiosity, really, to see how it would fair. With its discreet nature and understated style, I didn't think it would do well in a blind tasting, especially tasted amongst the "showier" big names such as Cos d'Estournel, Léoville Poyferré (both of which I personally favor), Angelus and Palmer which were included in the line-up. To my surprise, and, I'm sure, to many others', my bottle came out first place, closely followed by Cos d'Estournel which the Doc and I predicted would take the gold.

In any event, true to form, this wine gave off a whistful bouquet of mild truffle and asphalt, cassis, dark fruit, delicately laced with dried herbs and subtle tobacco with sweetish cedar and a whisper of vanilla-cream towards the end. On the palate, it gracefully mirrored its bouquet with added topnotes of red berries; comparatively silky in texture with a lithe, supple medium body. No "blockbuster" this, but a textbook in propriety and quiet manners. Meticulous
and precise.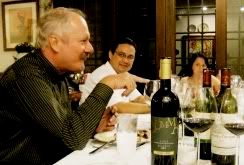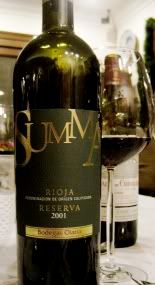 2001 Bodegas Olarra Summa
Reserva
(Rioja) - John H's bottle, which, I suspect, he picked up at Terry's since the latter also carries
Olarra's 2001 Cerro Añón Reserva
. I've stated several times throughout my blog that 2001 was an excellent vintage for Rioja, as well as most of Spain, and Tuscany as well. Apparently, my recent run of Spanish reds still continues.
Although it keeps the same over-all rustic nature of its 2001 Cerro Añón Reserva cousin (and even more in texture), the Summa is notably different in that it: (1) is less dominated by somber dark fruit and wood notes; (2) has healthier balancing acidity that makes it comparatively lighter on its feet and food-friendlier; (3) possesses more of a red berry push; (4) has a fresher, edgier, feistier Spanish feel to it; and, (5) displays slight dried herb/earthy nuances. Nice complexity.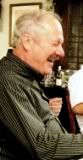 I'd guess this will age better as well. Solid Rioja red. I have no idea how much it costs though.
We must have been getting pretty hit by the wines by this time, as several pictures show us laughing away. Strange thing is, as my wife and I were reviewing the photos, we couldn't at all remember what we were all laughing about. I don't know what Bernd found so funny; after all, he
still
didn't get the vongole I'd been promising him for months.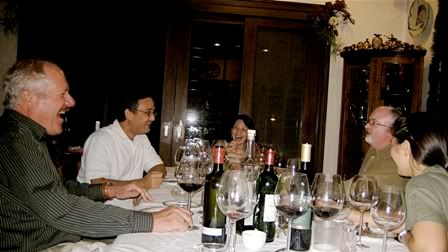 ~ oOo ~
Main course done, we switched to buffet-style for the cheese course (Livarot with dried apricots on the side) and desserts (chocolate cake, chocolate cheesecake and Je Suis Gourmand's thin apple tart with caramel sauce and vanilla ice cream).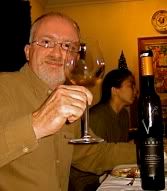 With the Livarot and dried apricots, and the thin apple tart as well, we had John's half bottle (375ml)of
2005 Yalumba Hand Picked Late Harvest Viognier
- This was something new for all of us, even John. He picked it up from Ralph's out of sheer curiosity. I've tried a few viogniers before, but only French, and never late harvest.
This wine had fresh, clean, well-defined lines of sweet, yet vibrant and lively, peach, apricot, slight honeyed apple and vanilla. There was the merest whisper of underlying white minerality as well, which, with the nice acidity, gave a playful lift and character to the wine.
John duly noted the match of the wine's sweet acidity cutting the Livarot's rich (and pungent) creaminess as well as running with the accompanying dried apricots. I also enjoyed it with the thin apple tart á la mode. In all, it was a superbly serendipitous match with both the cheese, dried apricots and apple tart with vanilla ice cream.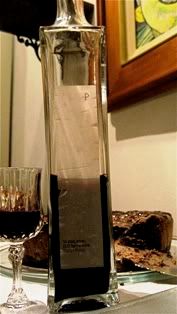 With the chocolate cheesecake that Ken and Lisa brought, I opened a bottle of
2005 Josefina Piñol Vi Dolç
- a delightfully good value, grenache-based dessert wine I got to try recently from Gene Gonzalez, paired with his children's chocolate desserts. My notes then were as follows:
...in terms familiar to me, it is like a much denser, more viscous, sweeter
Rasteau vin doux naturel but not fortified. The flavors are up-front raisin,
prune, crème de cassis, ripe fig, dark chocolate, roasted walnut and licorice.
Touch of vanilla in the mix....makes me think of raisinets with figs.
Ken tried it with the vanilla ice cream and said it was also a good match. I can imagine it being so - like an adult chocolate sundae. We briefly discussed possibly making a syrup out of it, and even macerating cherries in it, to pour on vanilla ice cream.
Extremely good value at approximately P900+ at Barcino
.
Unfortunately, not too long thereafter, Bernd and John had to take their respective leaves as the former was flying off to Bangkok early the next morning and the latter had morning meetings. Lucky for me, my only meeting scheduled for the next day was in the afternoon, and that wasn't even sure to happen (and, in fact, it didn't push through after all).
Still and all, it was another fun-filled evening of wine, food and good friends. What more could one reasonably ask for? Aside from vongole, I mean.