It's been almost 2 weeks since I've been to
Je Suis Gourmand
. That was remedied, though, by today's lunch with Santi,
Miguel
and Rene. We were fortunate that Marc dropped by (Monday is his usual day off) long enough to prepare our special menu.
We started off with
Fin de Claire Oysters Cooked 3 Ways
paired with: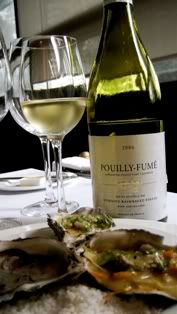 2006 Domaine Raimbault-Pineau Pouilly-Fumé
- Miguel's bottle. Oysters with a good, crisp Loire white - it doesn't get much better than that in my book. I've written about this most enjoyable sauvignon blanc at least twice before, and relatively recently. 2006 was a very good year for Loire whites.
Though I also enjoy some sauv blancs from Marlborough, New Zealand; when it comes to this grape, my heart lies in Pouilly-Fumé and Sancerre for reasons of comparative finesse and purity. Paired with shellfish, they are sublime - and some of the few wines that actually pair well with mildly spicy, tomato-based sauces (not that we had any today). My old notes on this delightlful wine still ring true:
An ethereal, fresh, floral, cool, sweet perfume of gooseberries, freshly
cut grass, white grapefruit, citrus and trace white mineral nuances in the nose.
Gracefully and elegantly mirrored on the palate.This danced on my tongue. Subtly
complex.

The Vigneron, not really one who is into whites and, more often than
not, goes straight to the reds, was the first one to pipe up, saying that
"The bouquet of this wine is wonderful". Coming from him, that means
a lot....Available at Terry's for barely P1000 per bottle and I would easily pay
more for it if needs be.

I add now that there is a subtle, yet distinct white floral character to this wine. Loved it with the oysters.
~ oOo ~
With indulgent dishes of
Pan-Fried Foie Gras atop a Foie Gras Gâteau Ringed with Scallops
: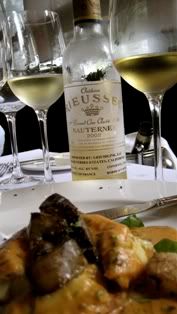 2002 Château Rieussec
- Rene's bottle, a half-bottle (375ml) which is more than enough for 4 people. Rieussec is widely considered the crown prince of Sauternes, second only to Yquem. Though I heavily favor the Lur-Saluces family's (owners of Yquem until relatively recently) elegant and more ethereal Château de Fargues, I must admit that, in terms of richness, heft and body, Rieussec must take precedence.
While there is generally lukewarm regard to Bordeaux 2002s, let me assure you that it was a good year for Sauternes.
Santi's 2002 de Fargues
was a lovely wine that, for some reason, made me think of Natalie Portman's character in "Closer". The 2002 Yquem Santi and I were able to taste at Château d'Yquem back in July 2006 was also wonderful. They were kind enough to open 2 regular 750ml bottles for our group of 14 at d'Yquem and the elegant spitoons were left unused.
At this stage, this young (see the color) Sauternes is leanly muscled and pliant, like a young gymnast. The structure, body and push are definitive, but not (yet) big-boned or Rubenesque - more like a Barsac now, actually. I'm pretty sure this will gain weight and more luxury over time. Good focus and complexity to its honeyed lemon, citrus, peach, apricot and vanilla/oak flavors with a good dose of botrytis - it cut and brightened the richness of the
foie gras
as any Sauternes or Barsac worth its salt should.
I must say I enjoyed this a lot as a match. A rich, opulent, mature Sauternes (or the still young, vintage-dominant 2001s) would have been a bit of overload (and difficult to follow with reds) - better being enjoyed as desserts in themselves, in my opinion anyway.
~ oOo ~
With the moist, tender, earthily robust
Roasted Venison Rack with Bacon-Laced French Beans, Braised Endive in Truffle Oil Sauce
, two reds were poured.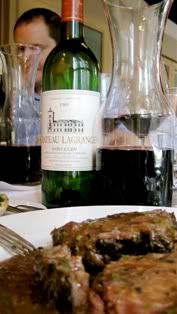 1989 Château Lagrange
- A highly-regarded and over-performing 3rd Growth from St-Julien in the Médoc. Much credit for Lagrange's success is given to the steadfast and generous financial backing of the Japanese owner (Suntory) and the talented Marcel Ducasse. To the best of my recollection, I've had only their 1986, 1988, 1989, 1990, 1995, 1996 and 2000 vintages - all when Marcel Ducasse was still in charge of the château, before Bruno Eynard took over in 2007. From that virtual handful, however, I have been impressed by the high standard, reliability and consistency of their wines. They may be quite generous with the oak, but the wines have always been in balance in my experience.
At Vinexpo Asia Pacific 2008 this past May, I was fortunate to have been invited to the
Commanderie du Bontemps Dinner
where I was seated at the table of Château Lagrange. Bruno Eynard was at the
same table, and, if I remember correctly, winemaker Kenji Suzuta, as well (I was introduced to them, but we didn't get to talk). I spent most of the dinner chatting with Charles Philipponnat of Champagne Philipponnat, a most charming, polished and interesting fellow who is very experienced in food and wine pairing.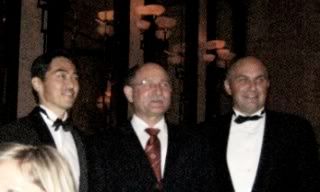 Bruno Eynard is on the right and I think that's Kenji Suzuta on the left. I can't remember who the fellow in the middle was - I just took the picture - not a very good one as it was quite dim in there.
This wine, the 1989 grand vin, was warm, comforting, earthy with subtle hints of game and truffle (which is why, after much thought, I chose this in the end for the pairing). Its molten darkly ripe fruit and cassis have an earthy, roasted character (not torrefaction though, more like warm gravel). Mild nuances of cedar, old worn leather, tobacco and well-integrated oak. Slightly over medium-bodied, but not legitimately full. Low acid, just barely enough to keep it in balance. Not as lush, stylish or expansive as the
1990 version
, this is comparatively somber, more serious and quietly reserved. Good depth to it.
The wine didn't have the acidity to present any cut to the venison, but it did walk hand-in-hand with the earthiness of the latter. A good pairing, I think, but I could have done much better. I really just felt like drinking something mature. I think the guys liked it.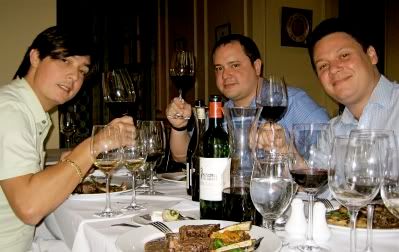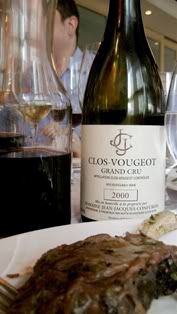 2000 Domaine Jean-Jacques Confuron Clos Vougeot Grand Cru
- I wrote about this early last month, from a wine lunch I organized as a token of thanks to the Stockbroker. My notes then were:
I found it suave, earthy, broad, medium-bodied, leather and lightly truffle
nuanced, dark berries/fruit, red beet and cranberry undertones, with some
raspberry and kirsch on top. Nice complexity, delicate layering and comparative
finesse in this. What struck me most is that it was loaded with flavors but not
at all heavy on the palate. Nice one, if I may say so myself; skilfully crafted
to successful results for the vintage.
This bottle exhibited a pronounced sour cherry towards the back and through to the finish. I thought it was fine as a counterpoint with the venison, but not very nice alone. Though I did mean it to pair with the venison, I was quite disappointed with this bottle. It should also drink well alone.
~ oOo ~
With the dessert of excellent
Chestnut Soufflé
: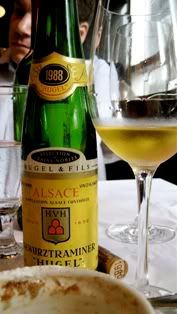 1988 Domaine Hugel et Fils Gewürztraminer Sélection de Grains Nobles
- I tried this wine, along with many others,
at Domaine Hugel
in the medieval town of Riquewihr, Alsace late in September 2007. Among all the wines I tasted there (and they are quite generous, they even gave me some bottles as gifts to take away), this wine was my favorite, so I sought it out in the US.
During a lunch hosted by Bernie Sim on the 4th December 2007, I learned from him that aged gewürztraminer SGNs (his 1989 Domaine Ostertag Gewürztraminer SGN then) marry beautifully with chestnut soufflé, so I tried to re-create the pairing for this lunch.
It was as I remembered it...
Ethereal, light, airy, soaring, joyful lychee and flowers. Beautiful, very open
and generous. I will definitely get this for my wife and enjoy it with her. This
was probably the best in the tasting for me. It was certainly the most
memorable. This would be dessert by itself.
I add now that its lively botrytised fruit and minerals just danced on my tongue and was an excellent counterpoint to the mildly sweetish earthiness of the chestnut soufflé. Excellent acidic balance. Wonderful match. I loved the soufflé alone, the wine alone and the both together. Undoubtedly my gastronomic apex of the lunch.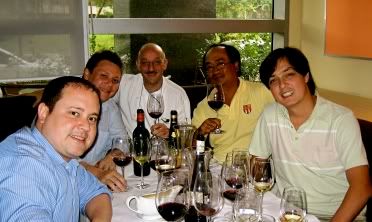 Marc, already on his way home, sat with us and shared a glass of the '89 Lagrange and a sip of the '88 Hugel Gewürz SGN. We thanked him profusely for such an excellent Monday lunch. Santi had to leave shortly thereafter while Miguel, Rene and I lingered over digestifs of Eaux de Vie de Prune, and coffee thereafter.
I wish all Mondays were like this. Thanks again, Marc!