Rocky and Apple Villadolid are good friends based in Hillsborough, California who are also very much into food and wine; Apple and my wife have been close friends since their grade school days. They make it a point to be in Manila for Christmas, and, though all our schedules are already quite full what with family and social obligations, all of us make the time to have at least one lunch or dinner together while they're in town.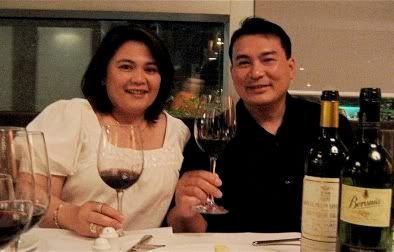 We usually make them dinner at our place, but, this year, I figured we'd go to
Je Suis Gourmand
(yes, I just had lunch there the day before) for one of Marc's special menus so I could spend more time with our guests instead of in the kitchen. Apple, who is in Manila more often, had mentioned that Rocky is currently in a German riesling phase. Not having ready access to special German rieslings here and on short notice, I stuck to what I know.
With dishes of escargots and scallops with julienned vegetables flecked with flat parsley in a red wine sauce (made me think of a lighter version of
marchands de vin
sauce), we had a bottle of
2007 Domaine Tempier Bandol Rosé
(Bandol, Provençe).
A few hours before the dinner, I panicked because I discovered I was out of my favorite rosé, didn't have the time to go to buy more at
Sommelier Selection
, and couldn't figure out what I could use as a suitable replacement. Fortunately, Jérome Philippon was kind enough to have a few "emergency bottles" delivered to Je Suis Gourmand for me in time for dinner, and, thus, saved the day (many thanks, Jérome).
I know I drink (and, therefore write about) this rosé
very
often, but I can't help it. It is truly an exceptional and extremely versatile wine:
An exquisitely pure and clear light pinkish salmon in color, it is a hell of a
pretty wine, one could drink it in with one's eyes. In the nose - and I've never
really bothered to pay much attention to any rosé's aroma before - was alluring
- like a light, cooling summer cologne. In the mouth, it is light and delicately
infused with a fine melange of fresh canteloupe, strawberry, bit of melon,
orange rind and the faintest whisper of lavender. Perfectly balanced. Ethereal.
Astounding. My poor descriptions fail to do it justice. It is, without any shred
of doubt, the best rosé I have ever had.
~ oOo ~
We certainly couldn't have a Christmas dinner without some
foie gras
- and Marc certainly delivered in cardiac amounts - which we paired with: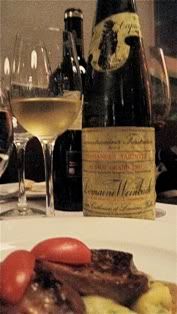 2004 Domaine Weinbach Gewürztraminer Grand Cru Furstentum Vendanges Tardives
(Kaysersberg, Alsace)
- The late Theo Faller's world-renown domaine, widely considered one of the best in Alsace, consistently garnering raves from professional reviewers - and deservedly so.
I visited Domaine Weinbach (a.k.a., Domaine Faller) on the 28th September 2007 and tasted through several excellent wines with my wife and Catherine Faller
. This particular bottle was given to me by Catherine as a remembrance of my visit. I figured a full 750ml bottle of sweet white would be enough for the four of us - half with the foie gras, and half with the dessert course. We all loved it so much though that a magnum would have done even better.
Made from late-harvest, botrytis-touched gewürztraminer, this graceful young wine displayed pure, focused, finely layered and complex flavors and aromas of delicately spiced, wild-honeyed lychee, peach, a touch of vanilla/oak, with subtle, alluring jasmine and mineral nuances. These were all admirably balanced off with just enough acidity to keep the wine bright, fresh and interesting throughout the evening. Exquisite performance and I expect it will turn even more luscious with around 3 to 5 years of ageing.
The
2002 Weinbach Gewürztraminer Altenbourg Cuvée Laurence
I had not too long ago was also excellent - but of a riper, more open generous and crowd-pleasing, if not quite as refined, character. It also packed a good dose of honey to its ripe fruit, though it was not a vendanges tardives. I recalled then that the
1996 Weinbach Pinot Gris Altenbourg
which my wife and I had over dinner at
La Table du Gourmet
(1 Michelin star, Catherine recommended this restaurant to us) in Riquewihr later that evening also had a a honeyed theme to its fruit - probably a characteristic of the fruit from that particular
lieu-dit
.
~ oOo ~
With my main course of wild pheasant (the others had venison), we had...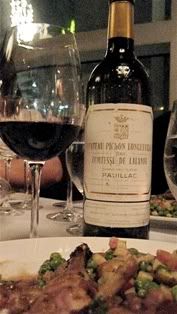 2001 Château Pichon Longueville Comtesse de Lalande
(Pauillac) - Regular readers of my blog know that this 1855 2nd Growth Pauillac is one of my wine group's favorite châteaux, consistently performing well (and twice winning: for vintages 1982 and 1989; and, the 1985 in a "non-title" Valentines Day blind-tasting over, among others, a 1985 Mouton Rothschild) in our Blind Bordeaux Challenges. This particular bottle was a gift from Rocky and Apple several years ago and I had kept it this whole time to age more.
Because I wasn't overly enamored by the '01's performance in an
IWFS Pichon Lalande vertical tasting
around 9 months ago, I asked the Stockbroker (who had tried it again more recently) if I could serve it at this stage. He said it was already drinking well the last he had it and encouraged me to go ahead - that's all the encouragement I needed.
This youngster was atypically masculine and dark for a Pichon Lalande (which is usually markedly femininely refined, elegant wine) - it reminded me of the 1985 version. More staunchly Pauillac, it showed firm structure and manly bones in its liquid dark fruit, cassis, mineral, slight topnotes of cherry and red raspberry, lead pencil shavings, murmurs of underlying black coffee, tobacco and charcoal, and fleeting hints of violets.
Quite nice, albeit not mature by a long shot. This was already quite enjoyable and has many years to go before full maturity. I figured it would be youthfully vigorous enough to handle the others' venison.
~ oOo ~
With the cheese plate, I opened a....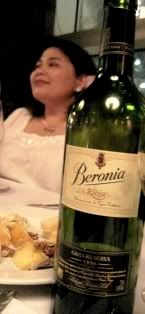 1996 Bodegas Beronia Rioja Gran Reserva
(Rioja) - I've enjoyed several bottles of this maturely suave, traditionally-schooled Rioja ever since Robert Burroughes introduced me to it during
Paella Night
around a month ago. It was collectively voted as the favorite wine of that night and was served with Marc's Manchego Friand. My last notes stated:
"A blend of 87% tempranillo, 8% mazuelo and 5% graciano, made only in good
years, of which 1996 certainly was for Rioja. Aged 24 months in a blend of
French and American oak casks, and further aged for 3 years in bottle before
release. A "mere" 13% abv.Refined, silken, complex and ethereal in character
compared to the previous 3 youngsters. Even without material decanting time, it
displayed beautifully a bouquet of sweet Spanish cedar, dried cranberry,
raspberry over a slim base of silken blackcurrant. There are also subtle nuances
of rancio, thyme, licorice, spiced wood and violets."

With the decanting for aeration, it released more of its darkly spiced,
perfumed bouquet and gained a bit more lushness in texture and slightly more
weight. I also noticed the pronounced chocolate flavor in the wine that J-Lab
noted the week before at the Gourmand dinner. Again, a very lovely wine.

Rocky likes his bleu cheese with reds and, though, mostly preoccupied with the Roquefort, noted that the wine also went very well with the nutty Tomme de Savoie and walnuts. My wife and I tried it and, yes, it was a very good match with the latter. I also had it with a bit of the Reblochon and Manchego which were also nice matches. Hands down, though, the best pairing was with the Tomme de Savoie and walnuts.
~ oOo ~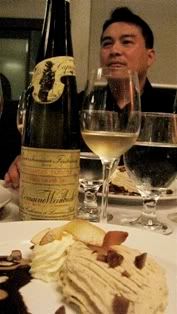 Dessert was a wonderful
Chestnut Bûche de Noël
(a traditional French Christmas "log", a.k.a., "Bouche de Noël" in the US) which Apple absolutely loved, and jokingly lamented that it was not on the regular menu. Knowing that chestnut desserts pair wonderfully with sweet gewürztraminer-based wines, we revisited the
2004 Weinbach Gewürztraminer Furstentum Ventanges Tardives
.
From
http://www.buzzle.com/articles/buche-de-noel.html
, the history of this well-known French dessert is explained thusly:
The origins of this most well-known French pastry can be found in the
ancient Celtic tradition of celebrating the winter solstice. On this shortest
day of the year, the Celts would search for a large trunk of either oak, beech,
elm or cherry and burn it as a symbol of the rebirth of the sun, they also
offered their thanks to the sun for recurring to the earth.

During the middle Ages the logs and the ceremony of the burning log became
more detailed. The logs themselves would be decorated with ribbons and greenery.
Then the youngest and the oldest member of each family would carry the log to
the hearth and set it in flames for the whole night. The vestiges would be
collected the next day to be used for the whole year. They were thought to help
cure various sicknesses and protect the house from the wickedness of the evil
spirit. As days past it changed to small logs and then served as a dessert to
the guest.

Buche de Noel is well garnished and so well presented like a log just to be
ready for the fire. This traditional desert is generally made from other sponge
cake, filled with butter cream. Sometimes, even chocolate cakes are also
cherished. Bûches are often served with cake cut off from one side, set on top
of the cake to resemble a chopped off branch and bark-like texture is often
produced in the butter cream for further realism. Tree branches, chorus,
mushrooms made of meringue, fresh berries, and powdered sugar to have an effect
of snow are most commonly used decorative style with traditional value.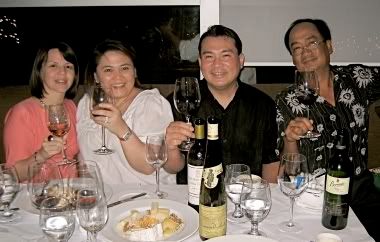 We lingered until 1 am, not noticing the time fly over cups of coffee and each others' company. The last ones out of the restaurant, we bade each other goodbye, hoping to find the time in this busy season to see each other again before they fly home. Hopefully, we don't have to wait until next Christmas to get together again.