This past Saturday, 13th December 2008, was an informal Swiss Lunch Buffet of the International Wine & Food Society Philippine Branch ("
IWFS
") at the newly-renovated
Chesa Bianca
on Yakal Street, Makati (the building right before Säntis).
Pretty much everyone brought a bottle or two, so that made up quite a number. I didn't bother to count. Many bubblies, whites and a few rosés were chilled and laid out for whoever wanted: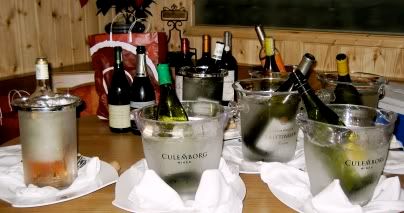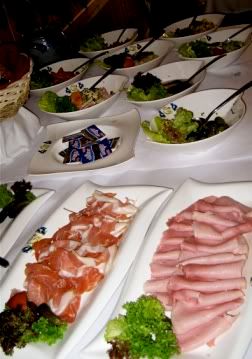 I do not normally attend IWFS informal lunches as they are always held on Saturdays, which is my regular golf day. But since I hadn't attended the last couple of events, missed my IWFS friends, and, in addition, I'd also long been wanting to go back to Bianca's, I made an exception.
The
Cold Buffet
was made up of:
Air Dried Beef, Raw Ham, Air Dried Bacon,
Smoked Cooked Ham with Pickles and Olives
Sausage & Cheese Salad
Ox Muzzle Salad
Swiss Style Mixed
Potato, Cabbage , Cucumber , Carrots
Bread & Butter
Having had only a bowl of cereal for breakfast, I quickly fixed up a starter plate of the potato salad, Raw Ham, Air Dried Bacon (excellent!) and Sausage & Cheese Salad, with some hot, crusty bread, butter and gherkins on the side.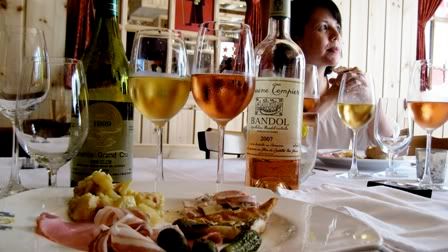 With these, I had a glass each from my bottles of:
2007 Domaine Tempier Bandol Rosé
- I've already written several times about the 2007 Tempier rosé, so I'm sure everyone is tired of reading about how much I love this wine. I brought it mainly because I like rosés for afternoon drinking and because the wine is just so versatile in pairing with different types of food - today was no exception. It's fresh and focused, subtly ripe, yet dry fruitiness paired well enough, acting as a nice foil with the air-dried bacon's saltiness and brightened up the raw ham.
1999 Jean-Marc Brocard Chablis Grand Cru "Les Clos"
- I brought this along even though I knew no shellfish was being served because I figured it's good heft (for a Chablis, that is) and rounded middle would go with the Hot Buffet's Fillet of Dace with Almonds and Spinach. I tried some of this wine with some of the cold dishes, but the Tempier rosé's more colorful personality clearly over-shadowed the former in pairing. Thus, I set it aside for the fish and continued with the rosé.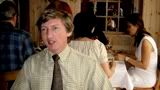 Othmar brought a bottle of riper, fuller, more noticably oaked (but well-integrated and not over-the-top at all)
2003 Rustenberg "Five Soldiers"
(Stellenbosch, South Africa) which made a much stronger case for chardonnay as a pairing for the cold buffet's dishes. I just had a nip of this wine as it went fast. I recall this wine won 3rd Place in collective results of the
IWFS Blind Chardonnay Tasting last 24th January 2008
(I, personally, ranked it 2nd Place). Very nice wine.
The Doc, in turn, favored the
2005 Domaine Robert Denogent Pouilly-Fuissé "Les Reisses" Vieilles Vignes
. I ranked this 3rd Place in the above-mentioned IWFS Blind Chardonnay Tasting. Fellow IWFS member, Jérome, distributes this wine, but I don't think he was the one who brought it that day.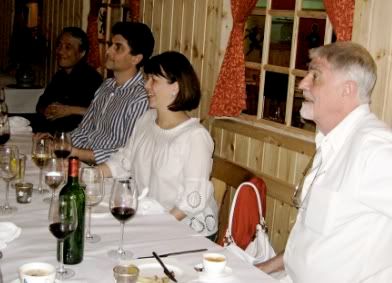 I guess I wasn't the only one who thought of having a light breakfast in anticipation of the day's heavy lunch, since everyone else seemed quite hungry. Conversation flowed, but not immediately as lively (or lacquered) as usual - not yet, anyway.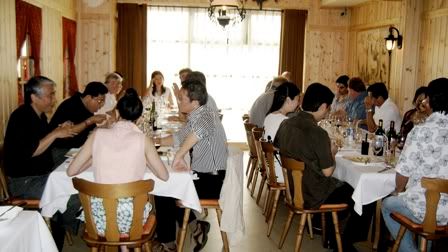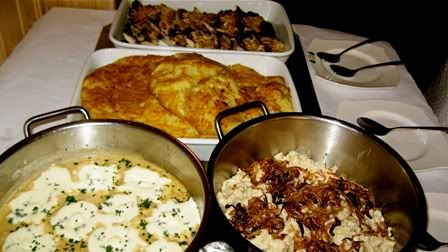 The
Hot Buffet
:
Sliced Veal Zurich Style,
Fillet of Dace with Almonds on Spinach
Rösti Potatoes, and,
Chaes Chnoepfli
(Cheese Dumplings)
I attacked this buffet and loaded my plate first with the Fillet of Dace, Rösti and
Chaes Chnoepfli
, deciding to go for the veal in the next round.

At that point, I threw all caution to the wind and decided to eat and drink whatever I wanted, as much as I wanted. Anyway, with the Doc and Doc Leelin at our table, my wife, Bill, I, Munetomo-san, Jay and Misato would have nothing to worry about if anyone suddenly needed any sort of medical attention. The IWFS really should have more doctors. Lord knows we have enough lawyers.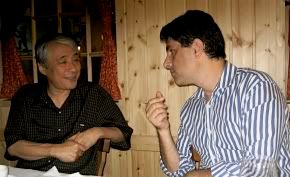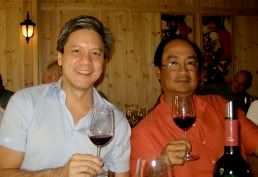 I must say that I found the
Chaes Chnoepfli
particularly pleasing, firmly textured with just the right amount of cheesiness without being over-powering or tiresome. Doc Leelin, on the other hand favored the Rösti. The Doc and I agreed, though, that the Zurich-style veal (similar to a stroganoff)was the star of the hot buffet dishes - well-flavored, but not too creamy.
With the veal, we had, among others, the Doc's: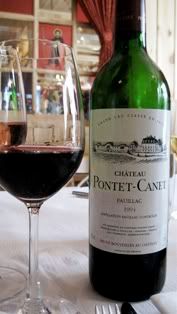 1994 Château Pontet-Canet
(Pauillac) - No decanting, but I let it breathe in my glass for around 40 minutes, more-or-less, before even sniffing it seriously. After said aeration, the bouquet was firmly, decidedly and typically Pauillac. Earthy, cedary, leathery, faintly mushroom-nuanced cassis and dark fruit. Finely intertwined, warm asphalt and licorice notes. Excellent expression of
terroir
.

Good concentration and fine balance mark this full-bodied wine. Understated masculinity embodied: sturdy, strong, but suave. Not at all boisterous, over-bearing, or over-wrought. It is possessed of a naturally confident character.
This is a serious wine, and, definitely, a most persuasive argument for the merits of the generally cooly received and regarded 1994 vintage of the Médoc. The 1994 Haut-Brion, La Mission Haut-Brion and Angelus, to name a few, are also very strong 1994s that are currently drinking well.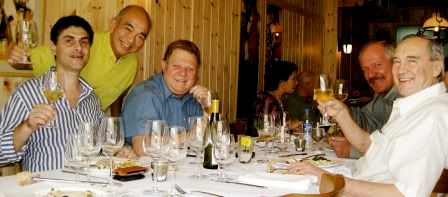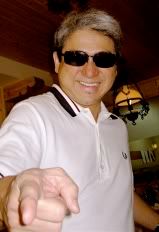 As the reds flowed with the well-stocked hot buffet, the air
turned a lot more festive and celebratory. The volume of conversations got louder, jokes flew faster, laughter more boisterous.
Oscar made a somewhat late, but always welcome, entrance. So nice he decided to show up, as I hadn't seen him in quite a while. It's always fun with him around.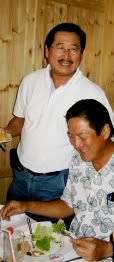 Unfortunately, Bernie couldn't make it as he had, as Othmar put it, "very long day yesterday", what with a marathon IWFS board meeting, visiting Alex's new Épicerie (which involved more bottles of wine, I suspect) and Premium Wine Exchanges dinner with the Staglins (which I wasn't able to attend for - *uhurm* - unavoidable circumstances). A tiring day, indeed, for anyone.
It's a pity he didn't make it, though. In any event, we all did our best to enjoy ourelves for him. Wasn't hard to do, really, what with all the good friends, food and bottles of wine around. I don't think anyone could've had a bad time even if he or she tried - not that anyone would want to. Christmas is, after all, just around the corner, and Santa is watching. And, speaking of Santa, I also noted the conspicuous absence of Fil. I wonder where he was at.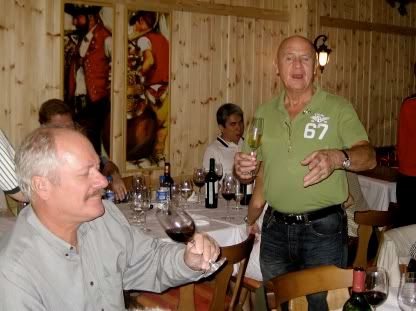 While some others started moving on to dessert and coffee, I hung back, opting to finish off a few more glasses of wine wit a bit of cheese. My wife had hers ahead and opined that, although many of the cheeses were very nice, the cave-aged gruyère was the best of the lot. I used to buy this often in Säntis, so that's what I went for...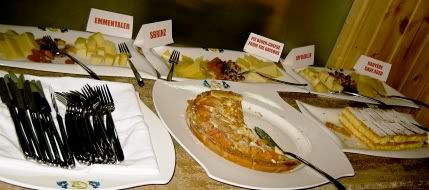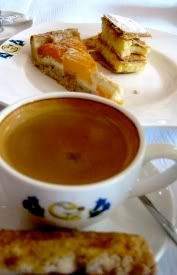 ...that is, until I noticed the Napoleon slices.
Napoleons are one of my weaknesses - they always remind me of the afternoon meriendas at the veranda of Baguio Country Club when I was in early grade school. With a couple of creamy, nostalgia-filled slices, I had a bracing double espresso, waited a while after that, and had
even more
wine.
I must apologize for the scarcity of specific tasting notes. Caught up in the festive atmosphere, I long gave up trying to analyze the wines and committing them all to memory. After all, Bernie texted me a couple of days before that I shouldn't worry about what wine to bring as these informal lunches are primarily enjoying each other's company - and it's well it should be.
~ oOo ~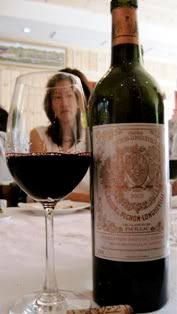 I do recall, however, having a glass of Oscar's
2002 Château Pichon Longueville Baron
(Pauillac) which he just ordered from next door. I welcomed the chance to try this as I have tasted only a handful of 2002 Médocs. I never bought any from this vintage as they are still quite young. The Stockbroker, however, bought a varied stash of 2002s and told me before that this is the vintage that many of the French choose for currently drinking, comparatively reasonably-priced (and I use that rather term loosely) Bordeaux.
The aromas, though expectedly youthfully reserved and warmly alcohol-tinged, are correct for this 2nd Growth Pauillac: Spanish cedar, dark berries, cassis, bit of dark spice, nuance of wet asphalt. On the palate, it is consistent with added nuance of tobacco. There is some green stemminess to the dark fruit and a bit of roughness to the tannins, but, again, it is young. It did open up more with additional aeration and was quite pleasant even at this early stage.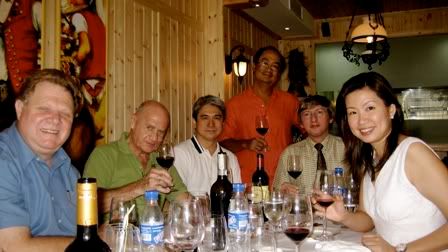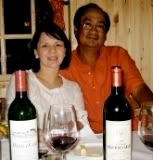 The crowd, thereafter, thinned out, as did the wine, and none too soon. I was already past my otherwise self-imposed limit. Thankfully, my wife insisted that we bring a driver that day. I'm sure she knew that I would wind up drinking too much and would just as soon not have to ride home with me at the wheel.
One would think that, at a few years past 40, I'd have learned to just play it safe and think to bring a driver myself. Oh, well....
By around 5pm, we took our leave and headed back home. It was a great lunch with great company. I don't regret for a second missing golf for it. I'd do it again next Saturday if I could.