The Doc, Stockbroker and I have made it a point to have a Christmas wine lunch together ever since we fell into each other's company. We normally hold it at Tivoli, but, this year, 15th December 2008, the Stockbroker decided to move it to Old Manila (our traditional Blind Bordeaux Challenge haunt) and texted us about the change of venue yesterday morning.
Unfortunately, I failed to take note of the new venue and proceeded to Tivoli. Surprised we didn't have a reservation (though there were tables available), I, luckily, called him before I ordered, and, thereafter, walked over to the Peninsula, lugging my wine bag containing a bottle each of
1979 Château Pichon Lalande
and
1988 Hugel Gewürztraminer Sélection de Grains Nobles
(linked to previous notes).
Since it turned out that Bernie couldn't join us, the Doc and I both had 3pm appointments and the Stockbroker ran late at the office, we limited ourselves to only two bottles for lunch. Thus, my mentioned bottles, as well as the Doc's 1990 Marquis d'Angerville Volnay Premier Cru, were left unopened for another day.
For our identical starters of seared scallops atop mini-cannellonis filled with a sweetish carrot purée, the Doc already had for us a nicely chilled bottle of: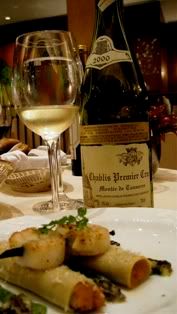 2000 Domaine Raveneau Chablis Premier Cru Montée de Tonnerre
- Raveneau is, simply put, one of the very best (as well as one of the priciest) makers of Chablis, with an unquestionable and well-deserved reputation. No need to belabor this matter, that's how it is. Montée de Tonnerre, together with Montmains, happen to be two particularly favored premier cru Chablis vineyards of mine.
The wine was a study in typicity and
terroir
, with hallmark cold, wet stone and steely flintiness seamlessly, subtly, but definitively, permeating its fine green apple and white stone-fruit with whispers of straw, delicately-knit citrus and a very light touch of leesy vanilla. In the bouquet, there is also a slight suggestion of cool (but not sweet) mint (in the cold-stoniness) which was absent on the palate.
Clean, well-focused, poised and precisely balanced, barely medium-bodied. A wine of finesse that matched well with the seared scallops (unsurprisingly), but I felt that the carrot purée filling of the mini cannellonis was too sweet for it.
With my duck breast and duck confit atop a bed of lentils (the Doc had his usual Canadian bison while the Stockbroker opted for my usual rack of lamb)...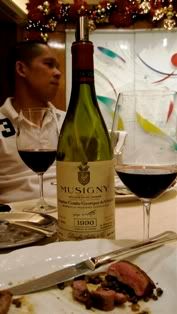 1990 Domaine Comte Georges de Vögué Musigny Grand Cru Cuvée Vieilles Vignes
- From the Stockbroker, a bottle he's long been wanting to open with us, but, somehow, we only got to it now. Musigny (pronounced: "moo-zee-nyee") is a 25-acre grand cru designated plot in Chambolle-Musigny (in the Côte de Nuits, a few kilometers north of Vosne-Romanée, bordering Vougeot) the wines from which are highly-prized, and, accordingly priced.
We noted how dark and dense the wine was - the most intensely dark red I've ever seen in a Burgundy to my recollection. The bouquet was intense as well, with the tell-tale sweet perfume of Burgundy decay: old violets and hint of compost to its deeply-veined, darkly spiced, roasted-ripe, briary, blackberry, wild black raspberry, tart black cherry profiles. Probably the densest, most extracted red Burg in my experience, yet it was well-balanced and carried its muscled frame with a confident spring in its step.
Whether this seeming extra dose of testosterone may be accounted for by the vintage or the maker's style, I can't really tell as this is the first Musigny I've had, by Vögué or otherwise. All I can say is that it is bigger, more powerful and denser than any Chambolle-Musigny I've tried. Chambolle-Musigny reds, like those of Volnay, are generally known for being lithe, graceful and elegant rather than dense, powerful and hefty (see:
1990 Marquis d'Angerville Volnay Premier Cru Champans
).
Of course, there are exceptions, i.e., the comparatively masculine/muscular Volnay premier cru Taillepieds and Chambolle-Musigny's other grand cru, Bonnes Mares, that partially falls within Morey St-Denis. Notably, the reds of Morey St-Denis are known for their meatier, heftier, masculine character.
In any event, I much enjoyed the subject wine with my robust and earthy duck with lentils - indeed a rarefied treat just to get to try it at all. Many thanks for the wines, guys!