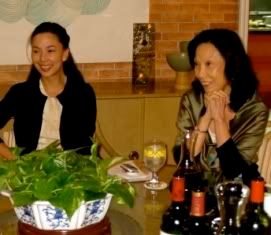 Last night's dinner (15th January 2009) by young chef,
Ian Padilla
, was organized and held by Tita B at her elegant residence. Ian currently cooks at 2-Michelin star
Taillevent
in Paris (3-Michelin star for decades until February of 2007), but is in town for the next couple of weeks, available for private dinners.
Rene contacted us about his dinner a week or so ago and I unhesitatingly confirmed my wife and my attendance. We were to be 11 in all at at table. The days leading up to the dinner, Rene,
Miguel
and I discussed and, eventually, completed the wine list to pair with the multiple courses.
Christine Oro (chef of the Hyatt's Fireplace) and Ian Padilla of Taillevent in Tita B's kitchen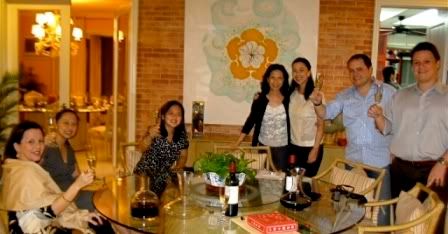 As in any civilized dinner, we started of with glasses of well-chilled bubbly while the reds started breathing in their decanters.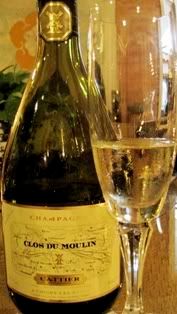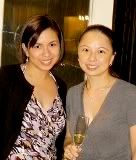 Cattier Champagne Clos du Moulin
- From
Rene. This single vineyard bubbly also happens to be one of the Doc's "go-to" non-vintage champagnes. Cattier's 2.2 hectare Clos du Moulin is one of only three walled vineyards in the entire Champagne region, and the self-named cuvée is always a blend of three select vintages. This particular clos is regarded as a "premier cru vineyard".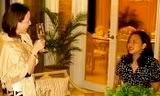 Originally named "Clos Allart" after its old owner, Allart de Maisonneuve, an officer of Louis XV, the clos was renamed after its purchase by Jean Cattier in 1951. The vineyard is planted to roughly equal proportions of pinot noir and chardonnay.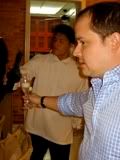 Very fresh, bright and lively, this linear, youthful-tasting champagne is citrus and crisp green apple driven with pronounced mineral, bread and yeast notes and a very slight "biscuity" nuance barely past mid-mouth. I didn't remember to check the back label to see which three vintages were blended in this, but, I'd hazard this is likely the most current release, or, if not, the one just before it at the most.
Bracing acidity brings a playful zing to it. Some grapefruit emerges towards the back, and citrus notes dominate the finish. Good definition and focus in the fruit, if slightly overstated in citrus. Will
likely
round out and "creamify" later in life.
~ oOo ~
After Tita B put the last finishing touches on her table, Sunshine then seated us at our proper places for the parade of courses, which started off with an assortment of
amuse bouches
:
Tarragon Infused Tomato Water & Extra Virgin Olive Oil; Carrot Parfait, Fried Ginger and Carrot Paint; Deviled Quail Egg with Basil Yolk; and, Braised Beef Wanton with Thyme and Fluer de Sel
. With the battery of
amuse bouches
, we had: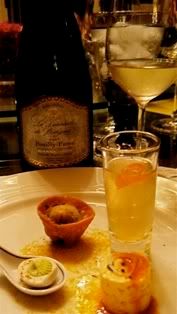 2005 Domaine Henri Bourgeois La Demoiselle de Bourgeois Pouilly-Fumé
- My bottle. I remember the first time I had this was at the
IWFS Philippine Branch's 25 Anniversary Dinner
precisely paired with
Fillet of Sea Bass on Celery Leek Ragout; seared Coffin Bay Scallop and Sea Urchin Beurre Blanc
. Come to think of it, I recall having discussed this wine with Rene, Sr. during that dinner. I loved it then, had it several times thereafter, and still love it now.
I believe I've mentioned before that Domaine Henri Bourgeois is one of the very highly-regarded makers of Sancerre and Pouilly-Fumé, both sauvignon blanc dominated
appellations
located in the Loire.
My previous notes are still pretty accurate, the wine lip-smackingly dry, crisp and bright with clean citrus, mild gooseberry and guava notes, a whisper of celery, inherent white minerality and healthy acidity giving a nice lift . I add now that the wine's fruit, particularly the guava, seems riper and is notably more forward then over a year ago.
I chose this wine primarily because Pouilly-Fumé (and Sancerre blancs as well) is one of the few wines that can pair naturally well with the usually wine-unfriendly tomato; and, secondly, because I knew it would pair well with the fish course and the immediately following soup of
Roasted Shallot Bisque, Crème Fraiche with Stewed Onions and Chive Oil
as well.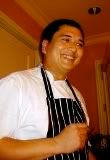 I must, at this point, note that each and every course was ably and properly announced and described by Ian in a most affable and approachable manner.
The tarragon infused tomato water with extra virgin olive oil was a delightfully cleansing palate-primer which called to mind a somewhat similar, cool tomato essence soup with lobster that I and several old friends enjoyed almost 4 years ago in the Peninsula Hong Kong's Gaddi where we collectively celebrated our 40th birthdays.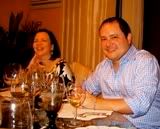 Flashback over, the carrot parfait was ethereally textured and gently sweet, favored by Tita B and most everyone else at the table. I, personally, loved the deviled quail egg with basil yolk, myself since I've loved deviled eggs ever since childhood - the green, basil infused yolk a delight to the eyes and the mouth, while the braised beef wanton with thyme and
fleur de sel
readied our palates for the heavier fare to come.
The roasted shallot bisque was precisely executed- not ponderously creamy as most bisques are in these parts, rather, it was properly fluid as a bisque should be without giving up any body or flavor despite the judicious use of cream.
~ oOo ~
Following the soup course was a
Roulade of Squab Confit with a Salad of Haricot Vert, Radish, Watercress, Caper and Date Puree
with which we switched to: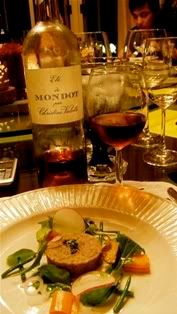 Eté de Mondot par Christine Valette
- My bottle. The rosé of Château Troplong Mondot of St-Emilion which Chrisitine Valette owns and runs. Rene noted that the label carried no vintage. Curious, I looked it up, and, per Jancis Robinson, the reason is because Bordeaux authorities refused to grant the Bordeaux "clairet" (i.e., what Bordeaux rosés are traditionally called) appellation to this wine because they thought it too darkly colored.
I hadn't tried this particular rosé before but figured it should go well enough with the dark-meated squab confit
roulade
because of the predominance of merlot in the vineyards of Troplong Mondot typical of St-Emilion. The Vigneron took a group of friends, myself included, to Château Troplong Mondot for a visit and wine-tasting in July 2006 - a visit that was, shall we say, the least eventful of all the châteaux we visited that trip.
In any event, this dark ripe plum and black cherry and raspberry dominant, lightly cedared and spiced rosé, fuller and more rounded than most any rosé I've ever had (except the 2005 Rosée de Pavie), matched very well with the squab confit
roulade
. I had earlier thought of pairing it with a 2001 Badia a Passignano until Rene reminded me that the fish dish would follow. That meant we'd have to switch back to the 2005 La Demoiselle de Bourgeois - which, to me, would be too awkward. Happily, the Eté de Troplong married very well.
~ oOo ~
The next course was an indulgent
Macadamia Nut-Crusted Foie Gras with Caramelized Banana and Chocolate Sauce
...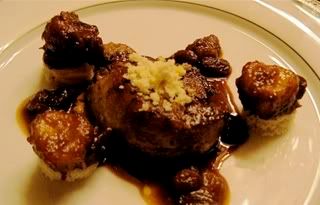 ...which Rene paired with his bottle of: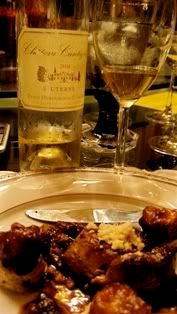 2004 Château Cantegril
- Technically, this is a Barsac rather than a Sauternes. As such, it is typically leaner, lither, brighter in acid and faster to mature than the generally heavier, richer Sauternes. This particular château is owned and run by Denis and Jeanine Dubourdieu. Denis Dobourdieu is one of the most famous and successful wine consultants in France and the world; much of the relatively recent successes of Château La Lagune, among others, are credited to his efforts. Aside from all this, he and his family also own and run 2nd growth Château Doisy-Daëne in Barsac.
Sauternes/Barsac wines are traditionally paired in the area with
foie gras
. It is one of those pairings that has stood the test of time and is ubiquitous in most any legitimate fine dining restaurant in the world. Because of the chocolate sauce, however, I wanted to pair this with a Banyuls or Rasteau
Vin du Naturel
, but, alas, I had none in stock and couldn't find any locally. No matter, though, the traditional pairing came through wonderfully.
The wines languidly viscous texture was infused with flavors of lemon cream, sweet, ripe cling peach, just a touch of dried apricot, slight vanilla/oak and undertones of candied lemon peel and orange rind. A good dose of balancing acidity helped brighten the sweetness, emphasized the lemon notes, cut and played with the foie's inherent richness.
~ oOo ~
This was followed by
Poached Egg with Duck Fat, Truffle Oil, Roasted Mushrooms, Mushroom Consommé and Chives
. An absolute delight for me who adores all manifestations and variations of
Oeuf Cocotte
.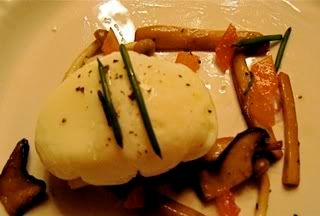 With this, I counseled no wine at all. I've tried many to pair with these types of egg dishes but I've never been convinced with the pairings - even with the traditional
oeufs en meurette
. Alone, the earthy roasted mushrooms and truffle oil elevated the humble poached egg while the hint of duck fat gave added dimensions of savoriness and luxury.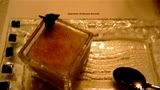 Next was a refreshing
Green Tea and Melon Sorbet
. I was happy to see this somewhat neutrally flavored sorbet. Many restaurants tend to serve aggressively flavored sorbets before the main courses which, in my experience, seriously affects the palate, and therefor, my ability to properly taste the succeeding wines, for a disturbingly long period of time. Some of these take the form of tart raspberry, calamansi or even the dreaded aggressive basil. In such cases, I skip the sorbet altogether. Last night, however, the chef's choices were judicious and his hand light. Good show.
~ oOo ~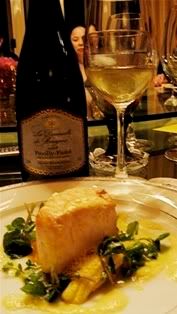 Then came the fish course of
Roasted Escolar "Sandre," Citrus Marmalade, Salad of Sweet Corn and Mushrooms
. With this perfectly cooked, juicily "meaty" cod, delicately hit with subtle touches of citrus and the corn's natural sweetness, we continued with a second bottle of
2005 La Demoiselle de Bourgeois Pouilly-Fumé
.
When I was first e-mailed the menu, I thought the fish was going to be sandre, i.e., pickerel, a.k.a., pike-perch, that I ate a few times in Bordeaux and the Loire. I was actually very curious how the chef had gotten hold of some because, as far as I knew, the sandre is found only in Europe. It turned out that the chef was referring to "sandre" as a manner of cooking with indirect heat. I'd never heard of that term before for that manner of cooking, but, then, I'm no French chef.
The wine married well as I expected, the forward, ripe guava notes taking the lead, with enough push and body to stand up well to this inherently oily (but in a good way), "meaty" fish.
~ oOo ~
Then came the meat, in the form of
Certified Angus Beef Braised Short Ribs with Purée Du Pomme de Terre, Bearnaise Beignets and Thyme Natural Jus
. Marinated for 24 hours before being gently braised for 8 more, the short rib chunk could literally be taken apart with a spoon - not mushy at all, mind you, its integrity was somehow maintained, albeit extremely tender.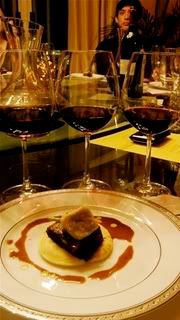 With this we had 3 reds from Bordeaux, two from Pauillac, one from Pessac-Léognan, all decanted and breathing for over 2½ hours by the time the meat course was served.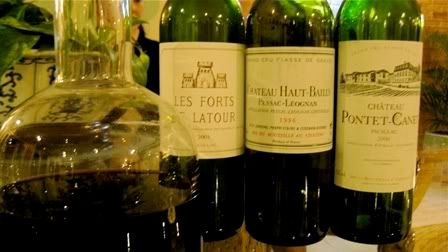 2001 Les Forts de Latour
(Pauillac) - My bottle. Though known as the 2nd wine of the venerable 1855 Classified 1st Growth, Château Latour, Les Forts is, as the Stockbroker told me, technically a separate wine in itself as the grapes generally come from vineyards (of under 12 year old vines) separate from those of the
grand vin
. At times, however, per the chateau's website, the juice from certain vats of the
grand vin
vineyards find their way into Les Forts.
I last opened one of my bottles of these for lunch at Old Manila around 6 months ago, on
11th July 2008
to be exact. My notes then are still applicable:
Forgive me, but I can't help but keep crowing about how I bought a
case-and-a-half of this around 3½ years ago at a mere $37 per bottle. Now,
unless you buy it by the case at almost double the price from Corporate Wines,
the price for this begins at $130 per bottle and upwards.

...(A) legitimately full-bodied wine, expansive, broad, generous on the
palate and confident in its hefty molten black fruit, cassis, leather, tobacco,
cedar, touch of asphalt, hint of cigar box. Mouth-filling, smooth, very
masculine, if not exceedingly complex or intellectual. At my acquisition cost, a
steal.
This wine is still quite young and has yet to fully come together. I'd think 3-5 more years ageing should do nicely.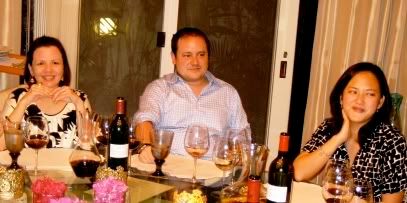 2000 Château Pontet-Canet
(Pauillac) - Rene's bottle. We tried this around
7 months ago at Santi's place
. My notes then were as follows:
This was the young bruiser of the bunch, eagerly unleashing rolling muscle under a lush, ripe, almost velvety glove. Black fruit, cassis over licorice dominated with hints of red cherry, gravel and minerals in a long and strong finish. Good, sturdy bones in this. Impressive for a barely 8 year-old Pauillac, I 'd surely
like to try this again in 3 years' time and follow its evolution over the next
20 years.

I suspect this will age nicely (it certainly appears to have the structure for it), the red cherries surfacing more in time and the wine turning subtle and sweeter in 10years from now.

Though I expected this to be too young to really be enjoyable at this point, I suppose my experience with the 2001 vintage around 2-3 years ago caused me to think this of the 2000 before I tried it. I am happy to admit that I was wrong. Were it that all my mistakes were this pleasurable.
Now, I add that though the wine had noticeably softened in the last 7 months and with material breathing time, it was still obviously the most muscular and "modern styled" Bordeaux of the bunch. In addition, the round-ripeness of the vintage was a lot more apparent in the dark fruit, there was a touch of sweet-ripeness to it.
Rob shared a joke about liking a wine because it was "matamis". I guess one had to have been there (and imbibed just as much) for it to be as funny as it really was at the time.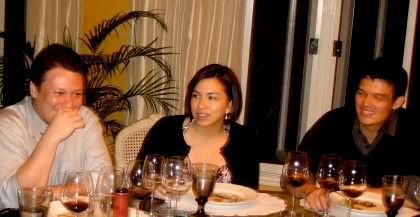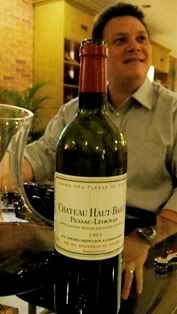 1996 Château Haut-Bailly
(Pessac-Léognan) - Miguel's bottle. The most recent notes I have on this wine are from mid-December 2007, a little over a year ago. It may not necessarily be the last time I had it, I do not always take down or post notes, much less every time I re-taste a particular wine in short intervals. In any event, those year-old notes are as follows:
It displayed decent, gravelly/graphite laced earthy black fruit with a slight touch of red fruit surfacing slightly past mid-palate. More than decent
Pessac-Leognan, but, then, I am admittedly biased towards this château, considering it a consistently typical, reliable Graves that is priced below its
performance.
My opinion and fondness for Haut-Bailly's wines have not changed, and, for this particular vintage, has even deepened. With over a year more in bottle, and with material breathing time at that, the wine has gained a lot more depth - even contemplativeness.
It is much more open (though properly reserved) and complex at this point, displaying added tobacco, roasted herbs and warm asphalt and gravel to its darkly spiced dark fruit and cassis. Surface red berries twinkle near the surface. Excellent wine, my red of the night - yet another ringing testament to the excellence of the 1996 vintage.
~ oOo ~
Next was our "pre-dessert" course (most likely a spin off the usual cheese with fruit/fruit compote course served before dessert) of
Sweet Baby Pineapple Baked in Salt and Pink Peppercorn Crust served with Ricotta and Basil
.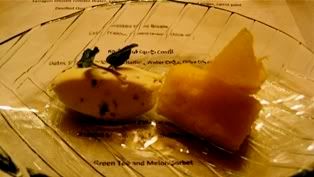 As Ian described, the baby pineapple was as juicily sweet as it was tender, but still with a good cleansing hit of tartness that the salt and pink peppercorn dust played off of. The ricotta's somewhat restrained creaminess foreshadowed dessert's indulgence, while the basil lent a breath of freshness to the cheese.
I must have been more than a little tipsy by that time because I didn't even notice that we opened no pairing wines for this course and our dessert - if we did, I've forgotten all about it. Very unusual for me. In any event, our moderately decadent
Terrine of Chocolate, Glazed Fruits, Custard Sauce and Pistachios
really didn't need any wine to go with it.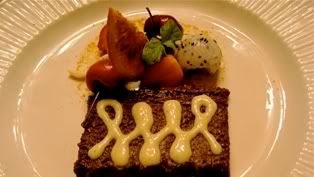 Service finally done, our young chefs came out and joined us at the table...
...sharing some glasses of wine, stories of their culinary adventures and some jokes as well.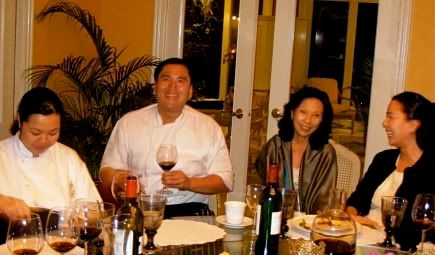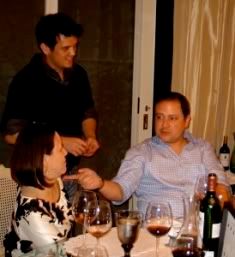 The rest of the evening seems a blur now. I know we wound up finishing all the bottles despite Tita B, Sunshine and Anna not drinking at all and, as I saw it, Aimee and Ria didn't really drink much. That left me, Miguel, Rene, Rob, Joe and my wife as the usual suspects...well, with a belated bit of aiding and abetting from the chefs.
I do recall having an espresso (whether it was a single or double is lost in time and alcohol). We were made to choose our respective coffees. I think Miguel just chose for me and Rob acted as a most capable
barista
for the night, pulling caffeine shots for everyone. He was using this Nespresso machine that I think Miguel brought back from Spain.
Most enjoyable evening. Thanks to Tita B for organizing this and having us again at her home. It certainly was nice to have her at the table with us this time. To the chefs, a job very well done. To contact Ian for private dinners, one may call 0917 803 5423.