It just so happens that my family has always celebrated New Year with a dinner on January 1st, while my wife's family celebrates on the eve proper (i.e., late on the 31st until the wee hours) - a most fortunate arrangement so there is never any conflict of schedules. Dinner on the 1st was at our place since most of my father's staff was on vacation. We were only eight: my father, brother, sister-in-law, my wife, 3 sons and I.
We started off with appetizers of
Dill Flavored Blinis Topped with Smoked Salmon, Sour Cream and Caviar
(made by my wife); and sliced
Jamón Serrano.
To wash these down and toast to the New Year, we had some:
1995 Dom Pérignon
- From my father. No new year celebration is complete without some good champagne.
Very
fine but persistent mousse on this mildly creamy, refined toasty (more apparent just past mid-mouth), vaguely biscuity ripe apple, stone fruit. There were faint nuances of fig, small dried (but not sweet) fruits and toasty oak/vanilla as well.
Good length, quietly rounded feel mid-mouth. Not brightly exuberant and driven like the 1996; not linear and citrus-forward like the 1998. Very nice. I had only one glass since I hadn't eaten and still had to cook, so my wife gave her Christmas reindeer half a glass of bubbly for himself.
We then got to cooking while my sons entertained their grandfather.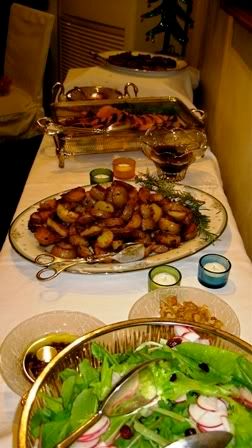 We all have our individual strengths in the kitchen. I never really learned how to do any healthy food, my wife takes care of the salads during parties with our friends. Since she already made the appetizers, though, my brother and his wife took the reins that night.
They collaborated on a
Salad of Arugula, Assorted Greens, Caramelized Walnuts, Thinly Sliced Radishes, Dried Cranberries with a Light Vinaigrette.
We intended this to also go with my
Pan-Fried Foie Gras in a Tokaji Aszú - Balsamic Vinegar Syrup
. I suggested this as I've increasingly found foie gras with sweet sauces too overwhelming - I can only take two bites before my palate gets tired. A nice salad always brightens up the fat liver's richness and helps me get through the course.
My brother also prepared a platter of his
Rosemary-Fried Potates
which I love and specifically requested. He fried them in a combination of extra virgin olive oil and duck fat rendered from the searing phase of the duck breasts. It has a crustiness on the outside and a deliciously soft interior. I couldn't stop filching some every so often and popping them in my mouth - still piping hot - while we were cooking.
Our main course was my simple
Seared-Then Roasted Magret de Canard with Sauce Siran
. I had originally planned this dish to be roasted atop sliced, pre-baked buttered apples (a dish I made at Château Siran for dinner the first night, the very first time I was there), but the maids forgot to slice the apples beforehand and I had no time to wait for them to do so by that time.
The sauce was made from the duck drippings, deglazed with some
1999 Château Siran
(
from the magnum the Vigneron had given me as a gift in late 2008), then seasoned, reduced and finished with butter.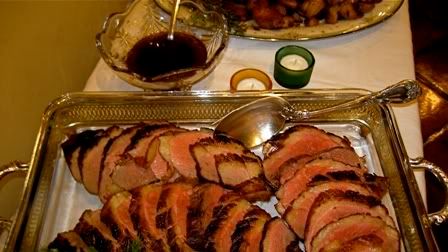 I finished up the
foie gras
by the time the duck breasts had rested for about 20 minutes. Sliced on the bias to ensure tenderness, dinner was served.
I made the
foie
's "syrup" by reducing some
2000 Oremus Tokaji Aszú 3 Puttonyos
, adding balsamic vinegar, reducing further, then mixing in a dollop of dark molasses and a tablespoon or two of the fat rendered from the
foie
. Sinful, I know, and definitely not something you'd want to eat everyday, but, hey, it was new year.
My sister-in-law loves to eat, but you could hardly tell by her build - she's slim as ever. She obviously has the will-power to implement moderation even when eating
foie gras
.
The picture on the right is her first course of the salad with a piddling portion of
foie
, though she did go back for a bit more
later on.
I've stated before that
Oremus
is an early-90s investment of
Vega Sicilia
in Hungary. Tokaji Aszú is a sweet wine made out of the juice of botrytised furmint grapes, the increasing sweetness levels of which range from 3 to 6
puttonyos
.
Beyond 6, the wine is called "Eszencia", which is, according to the Stockbroker, so syrupy sweet it is better consumed by the spoonful.
I chose the least sweet (3
puttonyos
) of this dried apricot, orange marmalade, canned peach, citrus and vanilla/oak - flavored dessert wine for its brighter acidity to cut the
foie
's inherent richness and also because I know my father and brother do not really favor anything very sweet. Everyone liked it, even my eldest son had some with his
foie
.
A sure-fire indicator that my bohemian sibling is enjoying his meal is his patented tongue-wagging accompanied by an incomprehensible, guttural sound. My wife is understandably amused.
1999 Château Siran (Magnum)
- As mentioned earlier, this magnum was a gift from the Vigneron to me earlier in 2008. I was very happy to receive it because the first and last time I had this wine was at a dinner party in Siran with many friends in July 2006. My notes then were as follows:
Chateau Siran 1999 - I have become quite familiar with Siran's hallmark
masculine, well-structured, hefty, earthy, leathery dark fruit (cassis,
blackcurrant with a bit of plum underneath) middle and its demure semi-sweetish
red fruit to the back ever since I met Edouard; having tried several vintages
with him, including 1982 (my favorite until that evening), 1996, 2000, 2001,
2004 and 2005.

The '99 was true to its heritage, yet different in the
sense that it seemed to have, for lack of a better term, a slight
"international" slant to it which made it, to my mind, more lush and
approachable than other vintages I've tried. Not marginally thinner, mind you,
as I've generally found '99s to be, but softer - despite its relative youth -
"friendlier", as you will.

Nice and silky texture, the structure and
balance is there, with good length to the finish; yet noticeably lighter on its
feet compared to the '82, '96 and '00. Also noted some slight mocha whispers to
the back.

I recalled Michel Rolland's services were engaged as wine
consultant by Siran for a time and asked if this vintage fell under his watch.
Edouard said it did. Perhaps that was the reason, who knows?

I definitely liked this wine.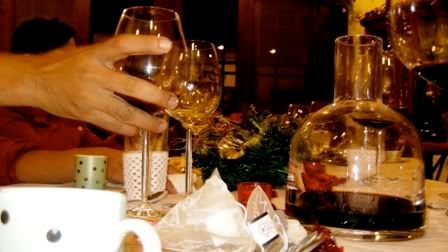 What I can add now is that this wine has bright, effusive red cherry and raspberry topnotes over its moderately minerally cassis/blackcurrant base. There is the masculine nuance of leather and a whisper of iron typical of Siran, but this is a very approachable and food-friendly wine. It certainly went well with the duck - the red berries gave a nice cut to the duck's earthy gaminess, while the dark fruit base went hand-in-hand with latter.
My wife, brother, sis-in-law openly expressed their appreciation for the wine, while my father kept drinking it (always a good sign). My second son obviously enjoyed his glass with the duck.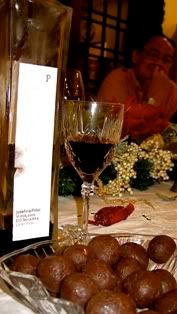 Desserts were Cuerva's Cherry Torte (a perennial favorite of my family) and Toblerone Balls made by my wife (paired with
2005 Josefina Piñol Vi Dolç
).
It was pure happenstance that the desserts featured the color red and round shapes considered lucky symbols for a new year. We didn't plan this at all, but I'm glad it turned out that way. With the way things are going with the world's economy, we all need as much luck as we can get.
My wife and brother really liked the way the Vi Dolç's chocolatey grenache flavors paired with the Toblerone balls, but my sis-in-law and father couldn't really get into it.
Dinner eventually ended late into the night over glasses of digestifs and cups of double espressos. We noted that our father left later and seemed more animated than usual - always another good sign that he enjoyed himself. We wound up sharing stories on the lanai. It was a great start to 2009.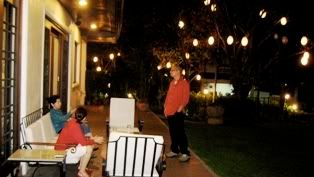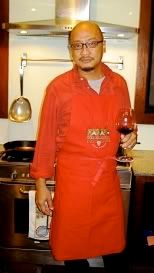 Our compliments to the chefs (ourselves).