Dinner this past Saturday was
Rob & Sunshine's latest Gourmandise Menu
at their
Global Academy
. Rene organized a table of 8: he, Aimee, Maite, Monica, Doc, Mrs. Doc, my brother and myself. Tita B was at another long table with members of her family. Rene and I ran a bit late and I was the last of our table to arrive.
At the outset, Doc lamented that his bottle of
2001 E. Guigal Ermitage Ex-Voto Blanc
was off - to the point of being undrinkable. Apparently, both he and the Stockbroker have had an unfortunate string of strange-tasting bottles of this same wine. I tasted, nonetheless, but the Doc was right - it was nothing like the past bottles we've enjoyed a couple of years ago. I asked that the bottle be set aside and not be dumped, though, just in case it "wakes up" later on. It never did though.
Unfortunately, halfway through the multiple courses, the Doc, already feeling bad earlier in the day, was taken ill, turned a bit pale and thought it best to go home early - leaving us to finish off his bottle of
1994 Château Angelus
. Good friends that we are, we made sure his bottle didn't go to waste.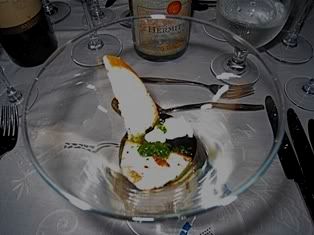 Dinner started off with a
Paella Negra Cocktail
, an entertainingly whimsical spin on squid ink paella using squid inked sago balls instead of rice. A truly amusing
amuse bouche
. With it I tried a sip from my
2002 E. Guigal Hermitage Blanc
- yet another strange-tasting bottle - disturbingly closed, virtually no fruit to speak of, grudgingly showing only white mineral and a bit of metal.
I thought maybe the wine was just too cold and let it warm up for the next course, which was
Beet Cannelloni Stuffed with Goat Cheese, Sprinkled with Orange Dust and Pine Nut Shards
.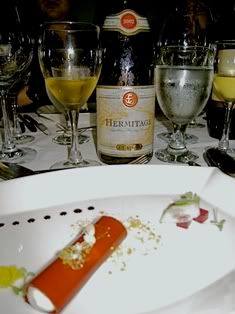 Another amusing dish, the flavors very subtle - more a treat for the eyes and mind than the palate I found - but, then, I have very simple taste in food and personally gravitate towards bold, robust flavors of French country cuisine more than
nouvelle
. That said, it was a nice change from the usual
mille-fuille
style red beet preparations many chefs have been serving in the recent past.
My
2002 E. Guigal Hermitage Blanc
remained stubbornly uninteresting, though, so I just set my bottle and glass aside thereafter.
Next was a superb
Roast Squash and Chorizo Bilbao Soup with Hazelnut Powder (plastered on the side) and Sage Butter
.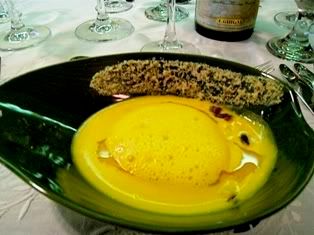 This was my favorite dish of the night. I've always liked squash - roasted/caramelized, as a soup, in any vegetable dish really - so my bias for this course is not surprising. That said, it was very well-executed with the chorizo adding a nice spicy/vaguely smoky flavor to the creamy squash. I think this is the first time I tried this kind of soup laced with chorizo as others I've had involved
pancetta
, toasted
Parma ham
and
Jamon Serrano
instead. Loved it.
~ oOo ~
Next was an indulgent marriage of
Unagi and Foie Gras Terrine on Buttered Brioche and Caramelized Apples
.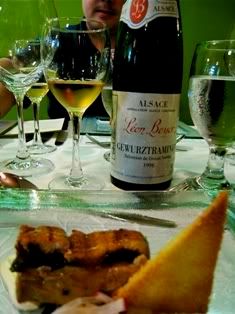 I've tried this combination of unagi and foie gras before, but exactly where and when escapes me. This particular version's rich flavors worked well together, and the toasted butter brioche lent the needed contrast in texture. I intended to ask Rob if it would have been possible to have the skin-side of the unagi a little toasted for added textural contrast and, I imagine, helping the unagi keep the integrity of its own personality a little more. Unfortunately, I forgot to ask him about that before I left.
With this was Rene's bottle of 1998 Léon Beyer Gewürztraminer Sélection de Grains Nobles. This was, to me, the best and most natural pairing of the night. Alsace, wherefrom the wine hails, also produces foie gras and their foie dishes are often paired with their local vendanges tardives (i.e., late harvest) and SGN wines. This wine displayed gracefully balanced sweetness and acidity in its typical gewürz SGN flavors and scents of lightly spiced ripe lychees, roses, cling peach, candied citrus peel and bit of vanilla/oak. Lovely wine, it simultaneously enhanced and cut the dish's richness.
~ oOo ~
Next was a light respite of Rob & Sunshine's version of "Fish and Chips" with White Chocolate and Truffle Sauce. Unfortunately, I don't have a photo of this dish or its pairing wine for some reason - I thought I was able to take one (I didn't have a camera with me so I just borrowed Aimee's), but, I apparently didn't.
With this, we paired Rene's bottle (he was actually the one who introduced me to this wine during
his birthday dinner
) of
2006 Domaine Raimbault-Pineau Pouilly-Fumé
- always a very nice pairing with fish and shellfish. I've written several times about this excellent sauvignon-based Loire white so one can just click on the high-lighted link to gather my notes. As to pairing with this particular dish, the wine's bright acidity and ripeness of fruit helped it stand well with the white chocolate and truffle sauce.
~ oOo ~
Following was a Bacon-Wrapped, Sausage-Stuffed Chicken Roulade with Mushroom Fricassee....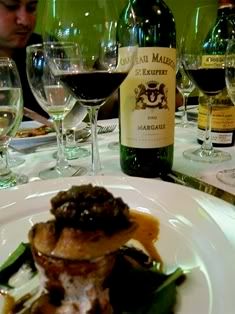 ...which I tried with Rene's
2002 Château Malescot St-Exupery
. I chose to pair this young Margaux with this dish because: (1) both the bottles of northern Rhône whites we had were not behaving properly; and, (2) due to its vintage, I expected it to be a bit more reserved, feminine and less ripe and extracted than the other reds we had, and, thereby, friendlier to the chicken.
The wine itself put on a good show considering the vintage (the Stockbroker told me before that 2002s are currently the French's red wines of choice for serving), presenting cassis, dark plum, dark cherry and raspberry, minerals, bit of violets, cedar and toasty/spicy oak profiles. Nice balance and depth to it. Medium bodied, and good structure. There is a slight hint of greenness to the fruit, but, in all, quite enjoyable.
As a match for the chicken roulade, the smoky bacon and savoriness of the sausage stuffing bolsted the chicken and, thus, made for a pretty decent pairing with the red. I would imagine, though, that a nice, "fullish" rosé (like the Eté de Mondot or Rosé de Pavie-Macquin) would have done better - mea culpa - I should have thought of that earlier.
~ oOo ~
Then came the Charbroiled Rib Fillet of Black Angus Beef with Bone Marrow Petit Salad and Potato Purée. This was my close second best dish of the night. I loved the way the meat was cooked, so tender and juicy, yet retaining its "steak" texture and showing a nice, subtle charred smokiness.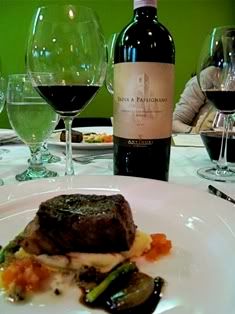 I paired this mainly with my bottle of
2001 Badia a Passignano Chianti Classico Riserva
- curently my favorite Chianti - always a good pairing with roasted red meats, opting to have most of my share of Doc's
1994 Château Angelus
on its own. The 2001 Badia a Passignano (100% sangiovese, my winner in our
Blind Non-Bordeaux Challenge II
) is as I remember: fullish bodied, nicely rounded and extracted, broad, showing well-knit, earthy dark fruit, kirsh/cherry, bit of raspberry, underlying espresso, with minor notes of roasted meat, mushroom, olive and violets. Nice depth. This time, though, I noticed more toasty oak/vanilla and a slight chocolate nuance.
Second best pairing of the night, after the unagi/foie-gewürz SGN pairing.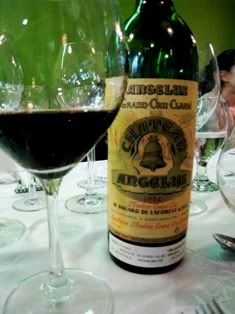 Best red of the night, however, clearly goes to the Doc's 1994 Angelus
. I think the last time I had this wine was from Paco Sandejas, the Doc was with us (
19th Feb 2008 dinner at Sala Bistro
) and we were both impressed how good a '94 this was. I think this was the bottle that convinced the Doc to start buying some select 1994 Bordeaux. My notes from almost a year ago were as follows:
1994 Château Angelus (St-Emilion, Bordeaux, France) - From Paco Sandejas during dinner on the 19th February at Sala Bistro in Greenbelt 3. Alongside a '99 Léoville Poyferré from me, this was one of the wines Paco, the Doc, I and our wives (though Christine bailed out on us at the last minute - she likely didn't feel like wading through rush hour traffic from Alabang) had with thick prime porterhouse steaks. Actually, Paco gave me a choice between the subject wine and a 1985 Montelena cabernet sauvignon (Napa, California, USA), but, since I hadn't tried the '94 Angelus since mid-2001, I was very curious how it had evolved since then, and, consequently chose that.

My old notes on the wine state that there was a brooding heaviness and reluctance to the wine's dark plum/red fruit/black olive earthiness back in 2001. Well, almost 7 years later, at the mentioned dinner, that was certainly not the case. Despite the lack of decanting and material brething time in the glass, the '94 Angelus was singing with an open, complex bouquet of sweet red cherry (kirsch as well?) over some modestly ripe (definitely one of the riper '94s I've tried, a vintage of Bordeaux that is reputed to have greenness to its fruit), dark plum, faint black olive, spice, cedar and a touch of camphor. There was a nice, mild underlying earthiness to it. These profiles were mirrored on the palate in a lush, medium-to-full body.

The finish was a bit short, but very forgivable considering its vintage, alluring bouquet and generous middle. Over-all, one of the best '94 Bordeaux I've had.
Now, this bottle was every bit as good. Actually, I realized how sick the Doc was since, early in the evening, before he left, he said that it tasted like it was "falling apart". It certainly didn't taste that way to me and Rene. I add now that there are discreet, underlying espresso and chocolate notes to this wine, and, that the finish, though not exceedingly long, was very correct and by no means short.
~ oOo ~
We then wound down the meal with a dish of Parmigiano-Reggiano Gelato and Crumbs, Poached Pears in Red Wine and Aged Balsamico....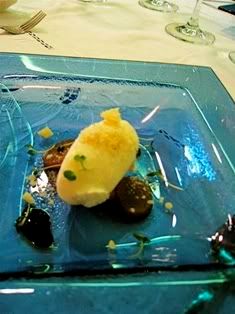 ...and finished with a refreshingly light-handed
Vanilla Bean and Yogurt Panna Cotta with Berry Coulis and Almond Tuille
(sorry, again no photo). Rene had intended to pair this with his
'98 Beyer Gewürztraminer SGN
, but, tragically, his open bottle inadvertedly overturned in the cooler and was forever lost. We were fine without it, though, the dessert stood well on its own.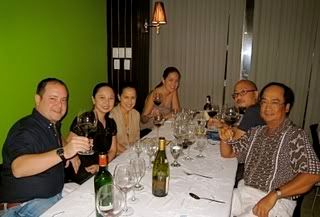 Very enjoyable evening. Our compliments to the chefs, and thanks to Rene for organizing our table.