Dinner the day we got home from the beach, 28th December 2008, was at
Sala
with my wife, Doc, Mrs. Doc and our guests from Mission Viejo, Tech and Jamie. While all of us are friends, it is the ladies who have been so for the longest time - decades, to my knowledge - Mrs. Doc and Tech particularly close ever since.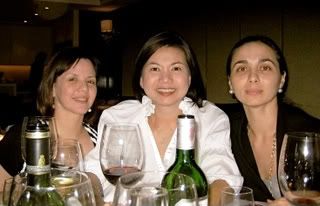 Before anything else, I must comment that the service in Sala has always been exceptional in my experience. The staff is invariably neatly attired, polite, efficient and friendly without being familiar. The same could be said for Colin Mackay's other restaurants, Sala Bistro and People's Palace. The service is always crisp and precise.
The
Twice-Baked Feta, Prawn and Dill Soufflé
is my favorite appetizer in Sala and I most always start off with it, that night no exception. Specifically for this dish in mind, I brought yet another bottle of...
2006 Domaine Raimbault-Pineau Pouilly-Fumé
- I've enjoyed several bottles of this ever since I had it at
Rene's birthday
dinner, and
most recently with Fin de Claire oysters
at
Je Suis Gourmand
. This bottle was as good as the first one I've had. Aside from its fresh, gracefully floral gooseberry, freshly cut grass, white grapefruit, ripe citrus and slight mineral aromas and flavors, there now was also notably ripe guava notes to it. This is an alluringly bright and lively wine with precise balance and acidity that lend it a playful character.
Sancerres and Pouilly-Fumés pair exceedingly well with shellfish, fish and many cheeses - particularly those made from goat's milk (such as the traditional Feta) with which they are traditionally paired in the Loire wherefrom the wine hails. Since this soufflé involved both shellfish and Feta, I knew I couldn't go wrong with the pairing - and I certainly didn't. Far from it, actually, as I found the match sublime.
Available at
Terry's Selection
at around P1100 per bottle more-or-less, I highly recommend this wine.
~ oOo ~
With our main courses, mine of hearty
Roast Duck Breast
, we had two reds: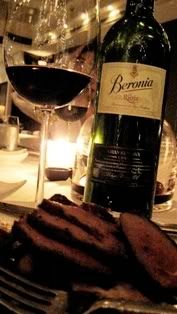 1996 Bodegas Beronia Rioja Gran Reserva
- I bought many bottles of this from
Barcino
ever since I tried it a month or so ago and it has never disappointed me. On the contrary, I have enjoyed every bottle of this more traditionally made, "steroid-free" Rioja.
Aside from the bouquet and flavors of sweet Spanish cedar, raspberry and dark cherry, over silken blackcurrant, subtle nuances of rancio, thyme, licorice, spiced wood, dark chocolate and violets, this displayed more of the strawberry notes typical of tempranillo than other bottles. A particularly refined, almost patrician, Rioja. Very good poise.
With the duck breast, I felt that the subtle predominance of red berry made it a particularly good match - brightening the dish's earthiness, providing some cut; while the blackcurrant undertones ran with the earthiness. Good match, if I do say so myself.
Also highly recommended for fans of refined Riojas.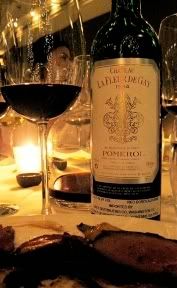 1994 Château La Fleur de Gay
- From Pomerol, the Doc's bottle. I'd had this once before sometime in mid 2005, purchased out of curiosity because I enjoyed the 2000 version so much (a Christmas gift from the Doc that my wife and I enjoyed on our 13th anniversary dinner at RED - just the two of us). No previous notes on the 1994 though.
This bottle was much better than the one I had then, with good structure and push to its cigar box and mild star anise infused dark plum, black cherry, underlying cassis and pronounced bell pepper topnotes. The Doc noted a vegetal, not-quite-ripe green character to the wine as a whole that became more apparent as the wine sat longer in the glass. I agree with his assessment - this green, stemmy trait is present in many (but not all) 1994 Bordeaux.
In sum, it was a good wine albeit not as successful a '94 as the Haut Brion, La Mission Haut Brion, Angelus, Pontet-Canet, etc. that we've enjoyed this year. Not available locally.
The evening was most enjoyable, not only for the food and wine, but mostly because of Tech's irrepressible and biting sense of humour that kept us in stiches - but, then, she always had that talent. I hope we will be able to do this again before they fly home.