Yesterday's dinner for eight (4 couples), was back at
La Tienda
(on Polaris St., Makati) for more of Javi Lecumberri's Spanish fare. We had almost the same dishes as
a month ago
,
sans
the fresh
boquerones
and
pulpo á la Gallega
. Mrs. Doc made the reservations while
Miguel
kindly notified Chef Javi that we were coming.
We started off with two orders of
Escalivadas
atop anchovies and toast. Everyone, especially Mrs. Doc, Mrs. Powers and myself, loved it so much that we wound up ordering two more. With these we had: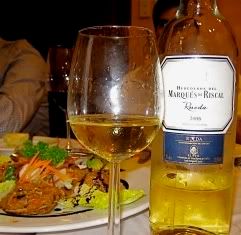 2006 Herederos del Marqués de Riscal Rueda
- I simply had to have some Spanish white. Since none of us brought any, I ordered off the restaurant's wine list (something I hardly ever do). There being no Albariño available, I got a bottle of this already well-chilled Rueda blanco (verdejo dominant with a bit of viura thrown in).
Very dry, bright, fresh and well-focused gooseberry, ripe grapefruit, some citrus and tropical fruitiness (hint of pineapple and Indian mango), fresh grass, all touched with a very subtle touch of mangetout (a.k.a., snow pea or "sitsaro" or "chicharo").
It had a crisp, lip-smacking dryness that made it very food-friendly. Great match for the escalivadas and, actually, the
Besugo al Horno
as well.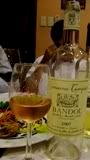 Of course, I couldn't help bringing along a bottle of
2007 Domaine Tempier Bandol Rosé
since I love this wine so much. I also know my wife and the Doc like this a lot too. I also wanted the Powers spouses to try it out because I wasn't sure they had yet. I'm very confident in bringing this wine anywhere as it is always well-loved and is extremely versatile in food-pairing.
I drink so much of it that friends rib me about being either a shareholder of Tempier or a sales agent of
Sommelier Selection
, Tempier's official distributor in the Philippines (and other countries in Asia except Japan). In any event, the bottle was quickly drained, conclusive proof of this wine's irresistible charms.
The main courses then made their way to the table:
Fabada and Paella de Verduras made with Basmati rice.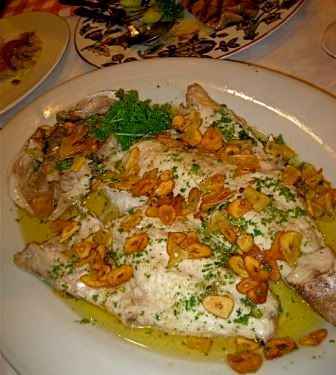 Besugo al Horno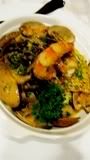 We also had two orders of a dish cooked on-the-fly by Chef Javi which I didn't get to try (I didn't get to try the fabada either). It was obviously a mélange of Manila clams and shrimp with olive oil, spices and chopped parsely. I think we ordered this because they had only one order of besugo available and had no whole fresh lapu-lapu to make an approximation of the former.
The chef's reluctance to use fillets of lapu lapu instead is a sure sign of how serious he is about the dishes he makes and how much pride he has in making them - always important, and appreciated.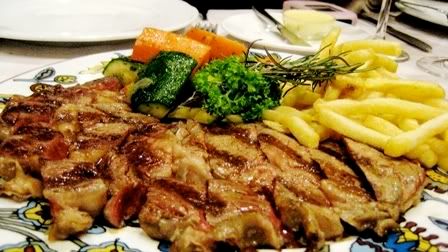 Chuleton, rare to medium-rare, as it should be.
The reds, all from Spain, were: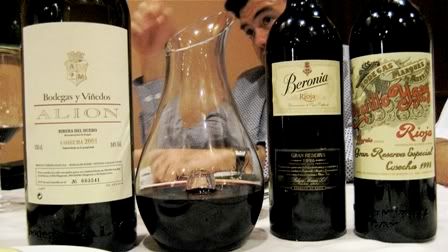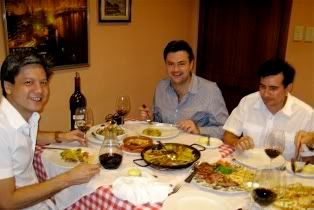 2001 Bodegas y Viñedos Alion Reserva Tinto (Magnum)
- From the Doc. I've written fondly of their
2003
and
2004
vintages previously. Before I tried these, however, and before I started this blog, I enjoyed several bottles of the 2001 Alion at Terry's until the stock ran out. Thus, when the Doc mentioned he got some of these, I was exceedingly eager for another night of Spanish food and wine.
Among the vintages of Alion I have tried (i.e., 2001, 2002, 2003 and 2004), the 2001 is my favorite. The aroma alone (mirrored in the mouth) puts it above the others thus far: Open (but nowhere near wanton), suavely vanilla and toasty oak laced molten dark fruit, black cherry/kirsch, macerated blackberry, hints of violets and mild licorice. On the palate, just past mid-mouth, discreet chocolate notes come into play.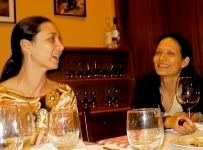 Commanding presence this full-bodied, well extracted, modern Ribera del Duero has, as well as great confidence. Greatly enjoyed it. Savoring the last of my glass, re-committing the wine to memory, however, my reverie was interrupted as Mrs. Doc (admittedly prompted by a verbal slip of mine) and the rest had a good laugh at one of my food-related idiosyncrasies (i.e., my general aversion to eating a particularly common fowl, especially when cooked a certain way).
1998 Bodegas Marqués de Murrieta Castillo Ygay Gran Reserva Especial
- Mr. Powers' bottle, one I've greatly enjoyed before from J-Lab at a paella dinner/spur-of-the-moment Spanish red tasting at
Je Suis Gourmand
a little over a month ago. My notes then were:
...Composed of 85% tempranillo, 13% mazuelo and 2% grenache; it spent an astounding 41 months in American oak as I understand. Graceful, ethereal, complex and elegant Rioja with a sweet Spanish cedar-and-camphor-laced bouquet of cherry essence, dried red berries (over) cassis, with a shade more rancio and oak notes, slight crème de cacao and (likely from the American oak) toffee and nutmeg notes. Exquisitely woven silk on the tongue. Loved it. Between this and Robert's '96 Beronia Gran Reserva, it was extremely difficult to choose, but I eventually named this Ygay my red wine of the night, as did JayLab and Johnny.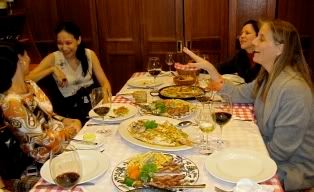 The Vigneron noted apparent "coconut and banana" scents that clearly indicated American oak. Probably made for the American market he opined. I agree that there was a lot of coconut cream and toffee in this, though the Doc and I couldn't get the "banana". I also noted much less rancio in this particular bottle as compared to the one I previously had. Still, a very nice wine for me.
Opened later in the evening, I wished I also had this with the
chuleton
.
The last red opened that evening was my traditional
1996 Bodegas Beronia Rioja Gran Reserva
which I have written about several times - most recently during
dinner at Sala last week
. No need to write more on this.
I was getting a bit tipsy in the meantime and asked the restaurant's resident "Trio los Panchos" to play a few of my favorites -
Solamente Una Vez
,
La Malagueña Salerosa
, while my wife requested
Historia de un Amor
- and I couldn't help but sing along a bit. That's probably why nobody else was left in the restaurant by the time we went home.
Wonderful dinner, fine wines, great company.
¡Olé!