Friday dinner, 12th June 2009, was hosted by close friends,
B & M
, at their nearby home, with some a few other longtime friends as guests. We were 7 in all for dinner.
B
is the Alabang Group's grilled steak specialist, while
M
has a deft hand at all the other dishes.
We were 30 minutes late as my wife had another busy day helping my youngest sis set up her new
reading clinic
and the others were already enjoying
M
's delectable appetizer of
Brie Topped with Sautéed Mushrooms and Melba Toast
when we arrived. They had made their way through a bottle of Spanish white (a Rueda Verdejo as I recall) so I opened a bottle of
2006 Bott-Geyl Gewürztraminer Les Elements
to pair. The slightly off-dry, lychee, rose, ripe peach of the wine went well with the creamy/earthy appetizer, the toast providing a nice, crunchy textural contrast.
We then moved to the dining room where awaited us...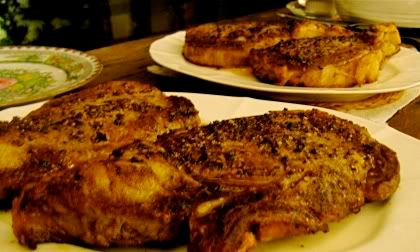 Prime Grade US Rib-Eyes (Medium and Medium-Rare)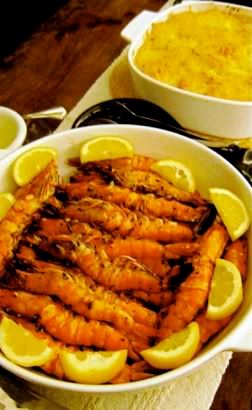 Grilled Prawns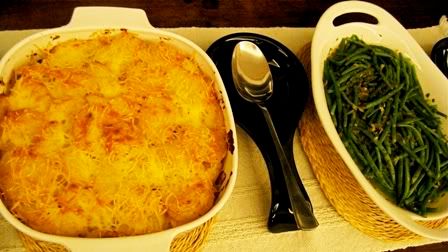 Scalloped Potatoes and Baby Green Beans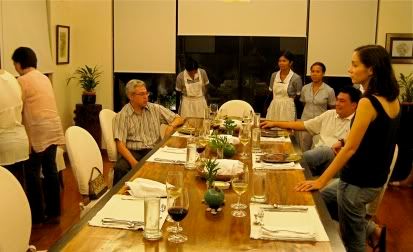 With the Grilled Prawns, we had...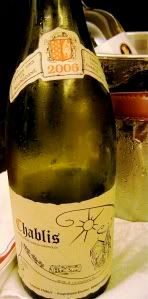 2006 Domaine Laurent Tribut Chablis
- My bottle. The domaine is located in the commune of Poinchy, approximately 1.5 kms west of the old town proper of Chablis, and owns 5.2 hectares of Chablis vineyards, including holdings in premier cru vineyards Beauroy, Côte de Léchet and Montmains. It produces wines in the classically lean, tense, steely, sea-shell, minerally, minimalist oak style (fermentation in enamelled stainless-steel tanks, no use of new oak in ageing, no
battonage
), which I much prefer.
Those familiar with the wines of Chablis star, R&V Dauvissat, will note a marked similarity between the labels of the two domaines. This is most likely because Laurent Tribut used to work with Dauvissat and, married to Marie-Clotilde Dauvissat, Laurent is Réne Dauvissat's son-in-law and, perforce, Vincent Dauvissat's brother-in-law. I recall reading that Laurent Tribut still helps out occasionally at Domaine Dauvissat.
My wife and I spent a couple of
extremely
hot days in Chablis in July 2006, billeted at Michel Vignaud's
Hostellerie des Clos
(at
La Residence du Domaine
where they have bigger, air-conditioned rooms) until the weak air-condition system drove us out to look for cooler climes. We didn't leave, though, before having dinner at the hotel's
*
Michelin dining room (they have a smallish but excellently stocked cellar, the bottles of which are reasonably marked-up from retail).
I first tried Tribut's Chablis (
a vintage 2004
) sometime in mid-September 2006. Jerome Philippon recommended it to me when I expressed my preference for old-style Chablis. I've bought every vintage since then, including Tribut's 1er cru Côte de Léchet.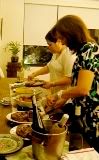 With around 45 minutes opened, kept chilled in a bucket of iced water, the 2006 holds true to Chablis terroir with clean, pure, nervy/tense, cold-stone, oyster shell notes shining through the softish, ripe white stone fruit/apple, merest hint of white peach (it was a
very
hot July in Chablis, I can attest). Well balanced with acidity, nicely focused. I'm very happy with this and am glad I still have some as it is excellent with seafood, particularly fresh, simply prepared shellfish -
only P1530 full retail for the basic Chablis at Sommelier Selection; P2130 for the 1er Cru Côte de Léchet
.
With the steaks...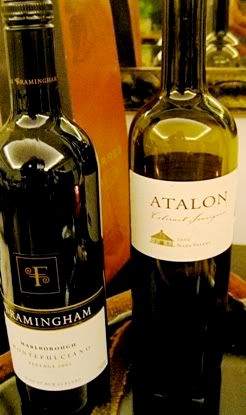 2002 Atalon Cabernet Sauvignon Napa Valley
-
B
's bottle; he must have finally run out of his cases of their 2001 vintage that he liked so much. It is a light-heavyweight Napa cab with textbook somewhat earthy and dense, dark fruit, cassis, creamy oak, hint of cedar, mild dark minerality, licorice and leather. Moderate oak, concentration, less forward and ripe than their 2001 (which, to my mind, are good things in a Napa cab); relatively subdued and with good poise and balance - a natural pairing with the rich rib-eyes.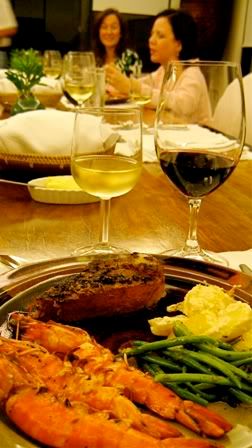 2005 Framingham Marlborough Montepulciano
- Beto's bottle, a screw cap, "popped" and poured, no aeration. I've never had this wine before and am not at all familiar with NZ reds - at first glance of the label, my eyes zeroed in on the prominently displayed "Montepulciano", so I assumed it was a Tuscan wine (there is a town of Montepulciano in Tuscany that produces a simple red from sangiovese). Beto, however, informed me that it is a Marlborough NZ red made of montepulciano grapes. Confusing, really, since the grape montepulciano is traditionally grown
not
in Tuscan Montepulciano (the grape montepulciano needs hotter climes than that of northern Italy since the former tends to ripen late), but, rather in central-eastern and southern Italy.
In any event, this wine presented straightforward, easily approachable, simple, well-concentrated and extracted, soft and low-acid profiles of sweetish-ripe black fruit, plum, dark cherry, bit of spice, new leather and toasty oak (there is likely some new and American oak in this as it gave off mild toffee and coconut cream aromas). With its sweet, soft structure and fruit and low-acidity, this strikes me as a wine to be opened and consumed in the short term. It, as earlier stated, is easy to drink and approachable and will likely please most palates.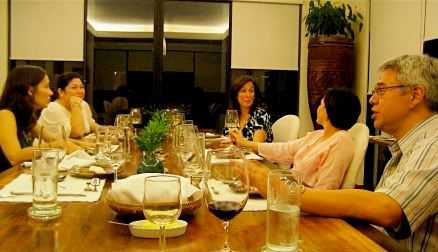 With M's deliciously rich homemade chocolate cake topped with whipped cream and cups of espresso, together with the rest of the wines and many more stories, we continued into the wee hours of the morning.
I must say I was quite impressed that B stayed up so late with no visible signs of sleepiness as he is a natural early bird. Many thanks, B & M, for yet another great steak dinner. With old friends, time just flies by unnoticed.