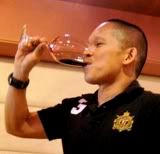 Lunch today, 9 June 2009, organized by the Stockbroker, was supposed to be at L'Opera (surely yet another 5-6 hour wine lunch), but since he woke up with a slight fever and chills, it turned into a light Italian lunch at
Premium Wine Exchange
(PWX). Our resident Italian wine
aficionado
was already there when Miguel and I arrived, with Keiichi and Johnny R following within a few minutes. Despite his feeling under the weather that morning, the Stockbroker appeared to be in fine wine form.
We started of with a well-chilled bottle of one of the bubblies distributed by PWX: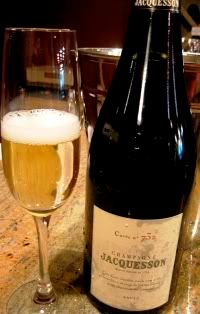 Champagne Jacquesson Cuvée nº 732 Brut
- My notes from the Miailhe family's dinner celebration of its
150 years at Château Siran
this past January state:
...reputedly the oldest family-owned Champagne house, with grand cru vineyards in the towns of Aÿ, Avize and Oiry, as well as premier cru vineyards in Hautvillers, Dizy and Mareuil-sur-Aÿ. Jacquesson also sources a little over 10% of its fruit from other growers. A blend of the producer's wines 59% from 2004, 25% from 2003, 15% from 2002 and 1% from 2001, the cepage (a.k.a., varietal composition) of the Cuvée No. 732 is 39% Chardonnay, 36% Pinot Meunier and 25% Pinot Noir.
The pale straw/light lemon yellow champagne displays lively, exuberant crisp apple and Korean Iya pear flavors with pronounced notes of ripe lemon and white minerals, underlying suggestions of yellow fruit, all in a taut, lithe medium body. Light froth in this, a bit linear, but quite bright and with nice focus.
This bottle was the same once popped and poured as our welcome drink. However, when Miguel, Keiichi and I re-visited it around 3-½ hours later and let it sit in our glasses for around 5-10 minutes, I noted that it materially opened up, became much less tightly wound, gained a bit of creaminess past mid mouth and its initially severe lemon/citrus notes softened and sweetened somewhat - more of a lemon-custard note. Much more approachable and friendly, but retaining its freshness and brightness.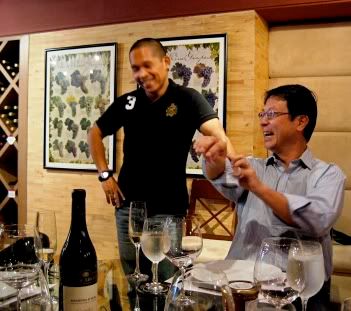 With Keiichi's jar of tasty, hearty
pâté de canard
, we had for lunch a very good, juicy
Amici Roast Chicken
(that's a big complement from me as I don't normaly eat chicken) and some equally nice pasta from
Cantinetta
. We started of first with...
1999 Michele Chiarlo Barbera d'Asti Superiore Nizza La Court
- My bottle, it came highly recommended by Bacchus' Alex Lichaytoo. Bacchus has an excellent selection of Italian wines, some of which I regularly purchase and enjoy, but I've never noticed this one. With Alex's recommendation, I simply had to try it out...and I'm glad I did.
From Piedmont's Barbera region of Asti, this wine is made up wholly of barbera grapes from the same-named, 6 hectare, south-west exposure single vineyard "La Court". Largely over-shadowed by the more famous Piedmontese nebbiolo-based wines, Barolo and Barbaresco, Barberas receive comparatively little press. Considering the subject wine, however, this lack of attention is undeserved and, perforce, lamentable.
The complex bouquet recalls dark fruit compote, dried cherry, kirsch, violets and cedar. Its medium body presents mature, soft, velvety dark cherry, violets, a light touch of dried herbs (lavender? thyme?) and hints of balsamico and leather in the underlying black fruit. The finish was moderate and precise; the tannins soft and smooth. It paired very well with the roast chicken. With the first sniff and sip, I decided I must have more bottles of this.
Locally available at Bacchus
.
Next was the reason why the Stockbroker pushed through with the lunch despite his current illness; and a fine reason it was at that...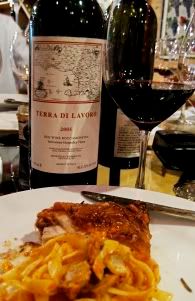 2005 Fattoria Galardi Terra di Lavoro
- The Stockbroker's bottle. A wine hailing from the Roccamonfina IGT, in the province of Caserta, in the southern Italian Peninsula's Campania region bordered by the Tyrrhenian Sea. As far as I can tell, the wine's name roughly translates to the "land of labor".
Served blind, all the Stockbroker told us was that it was from 2005. After a few initial sniffs, I guessed it to be a Taurasian wine which are, by and large, based on the aglianico grape usually blended with piedirosso and barbera . It was, luckily, a pretty close guess since it turned out that this wine, aside from being from the same region of Campania, is made up 80% of aglianico and 20% of the indigenous piedirosso grape.
Decidedly full-bodied, curvy and luscious, I believe we were all very surprised how well this youngster was already drinking. Generously concentrated, rich (but not over-the-top), deeply fruited, this displayed readily pleasing rounded, ripely sweetish dark plum, black cherry, kirsch, some underlying tobacco and dark minerality, with doses of chocolate and vanilla/oak. Admirable structure and balance, it is hedonistic yet comes off quite well-poised. Also very good with the meal, the ripe red fruits picking up on the flavors of the pasta's tomato sauce while adding a fruity foil to the savory baked chicken.
2003 Cantina Gigi Rosso Barolo Arione
- Keiichi's bottle, for sure sourced from Terry Selection. 100% single vineyard nebbiolo in Barolo's Langhe district, as I understand. Seems like everyone had Piedmont on their minds for some reason.
Because I am pretty familiar with the roasted-ripe 2003s from Bordeaux and somewhat familiar with 2003s from Spain, not following the Italian vintages, I expected this to be very ripe, hot and forward as well. That was not the case, however.
Popped and poured, most of us noted that it was very, very early to be drinking this youngster (Barolos are generally very long-lived and take many years to start opening up, even more to really be in stride). Johnny R and the Stockbroker noted that there was a lot of wood on the nose initially - I said strong pine and pine needles - lending it a somewhat whiskey-like scent. In the mouth, at first, it was exceedingly tightly-wound, tannic and woody - Johnny also noted prevalent notes of
champuy
(Chinese dried/preserved plums).
After some time in the glass, however, the wine did unwind noticeably, allowing tarry, olive, asphalt, cherry, plum (bit of green character to the fruit), heavy dark minerality and some anise through with hints of violets and pine needles towards the rear. Lunch was over by the time I started on this wine, and I couldn't help thinking that some hearty food would have been in good order for this somewhat severe and tough wine.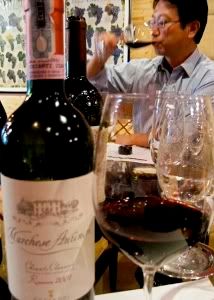 2001 Marchese Antinori Chianti Classico Riserva
- Keiichi's bottle, the lone Tuscan red. I first tried it during an IWFS Italian dinner at Tosca almost two years ago (5th July 2007). Paired wonderfully with handmade veal and spinach Tortelli with mushroom cream sauce, I fell in love with this wine and have bought and consumed many bottles of it - so many that I've long lost count.
I thought Bacchus had run out of the 2001 vintage of this wine, but Keiichi said he got some recently from Bacchus' Rockwell shop (I only ever go to the one in Shangri-La because of its proximity to my office). I must remember to get myself some more of this as well - at its very reasonable price of P1700 (as I recall), it is a no-brainer purchase.
My
old notes
describe it as "leathery/dusty, dark raspberry and blackcurrant earthiness". I now add that it presents some notes of cherry, dusty cocoa and a hint of leather as well. Medium-bodied, very approachable now and all too easy to drink too much of. Lovely. I'm so glad to be able to drink this again.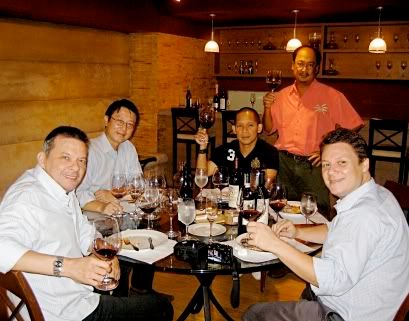 A lunch with good, like-minded friends - wonderfully simple and simply wonderful. Thanks, guys, and, as always, until the next!