Early in the week, Miguel suggested Friday wine lunch at the new
Tapella
(a play on the words: Tapa and Paella, for sure) at the ground floor of Greenbelt 5. He mentioned that this is run by the same group as Gaudi's, so I immediately agreed. An added incentive was that corkage was only P300/bottle - which is very reasonable. After a few quick calls and texts, the Stockbroker, Keiichi and Robert said they'd join us, while Johnny R said he'd make it as well, schedule permitting. Unfortunately, as Friday rolled around, Keiichi caught a cold and Johnny had work to attend to, so we were only 4 for lunch.
Once we were complete, we took stock of our bottles and ordered a slew of appetizers. Among others: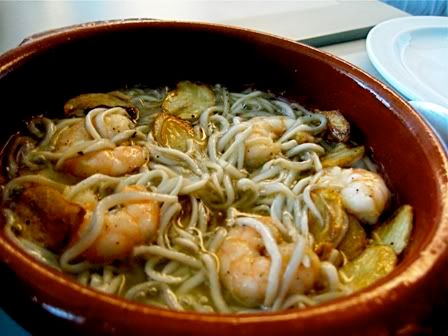 Gulas y Gambas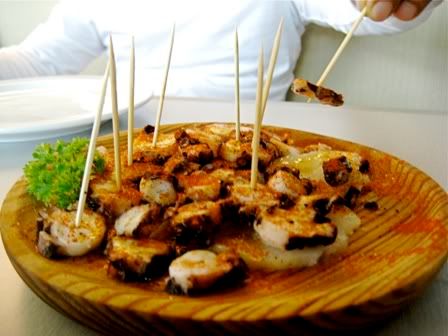 Pulpo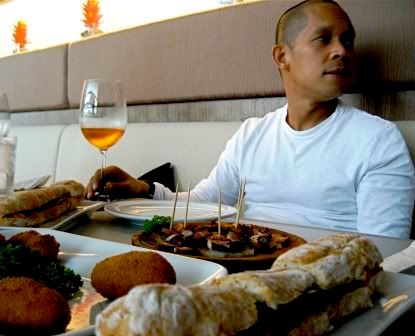 Croquetas de Salchichon and Flautas de Anchoas del Cantabrico
The
Croquetas
were perfectly done: not oily, crunchy outside and savory-creamy on the inside. The
Gulas
were garlicy/spicy delicious as usual (the Stockbroker really liked this) and the
Flautas
I and Robert particularly enjoyed as well. The
Pulpo
, which is usually a favorite of mine,
was good enough but paled in comparison with the other dishes. Too bad they didn't have
boquerónes
in stock at the time as I love that with albariño. With these, we had...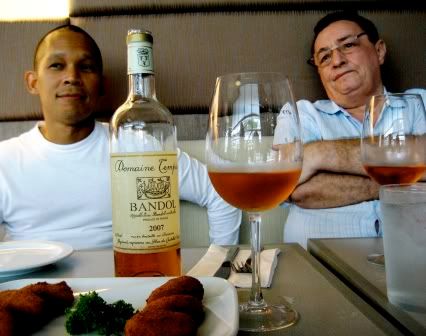 2007 Domaine Tempier Bandol Rosé
- Yes, yes, I know, yet another of these bottles from me. I obviously can't get enough of this excellent rosé. Bringing it along so often to lunches and dinners, I realize my friends wind up drinking this almost as often as I, but I justify the frequency by saying it's perfect for summer. Anyway, I know Miguel and the Stockbroker love this stuff too and I figure Robert, who used to spend a lot of time in Provençe and some in Bandol, would enjoy more of it as well.
I've written about this jewel of a rosé so many times already, there is no need to belabor the fact that it is the best rosé I have ever had from anywhere, by anyone, from any vintage. Though we had the bottle mainly as a welcome drink, as a pairing, I felt it went best with the
croquetas
. With the other appetizers, including a well-executed, succulently savory
Squid Ink Battered Calamares à la El Bulli
(probably my favorite appetizer of that lunch)...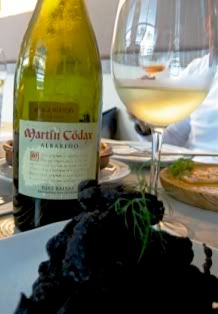 Martin Códax Albariño (Rias Baixas)
- Miguel's bottle, some of those he brought home from his last trip to Spain a few weeks ago. There is no vintage indicated on the label, unlike
the 2007 vintage available in Barcino
that I enjoyed at home not long ago with a dish of spaghetti vongole.
I believe I've written before that the albariño grape is grown mainly in Galicia (the most highly regarded from Rias Baixas) and certain areas in Portugal (this is what their ubiquitous
vinho verde
is made out of). A regional pairing with Galicia's typical shellfish and other seafood dishes.
This particular Códax albariño displayed a clean-cut profile of mild fresh grass, green apple, mildest white grapefruit, light lemon, with just a whisper of mouth-watering almond-bitterness towards the back. Lighter in body than the 2007 and not as as fruited and tense, but very, very fun and easy to drink - a precise pairing with the squid ink
calamares
,
gulas
and the
pulpo
.
Naturally, since Tapellas is the offspring, as it were, of Gaudi's, we simply had to order their specialty
Chuleton
.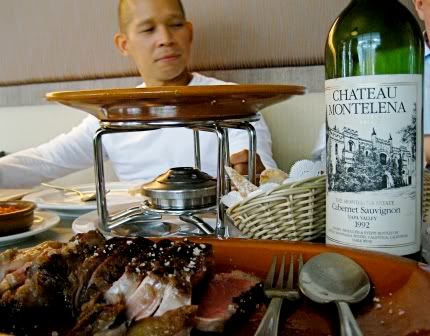 I have always loved that they serve their
chuleton
rare and leave a heated plate for those who like it more done. I never use that heated plate and eat mine as rare as can be. The sea salt sprinking and some on the table is a typically European touch that I wish all restaurants offering steak would adopt. The sweet red peppers on the side, just lightly oiled, serve as a wonderful foil to the beef's tender, fatty goodness. With this we enjoyed...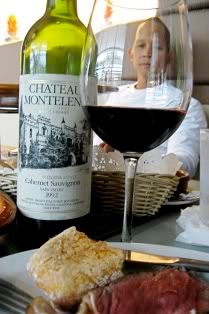 1992 Chateau Montelena Estate Cabernet Sauvignon
- The Stockbroker's bottle, actually, he gave us a choice between this and a 1996 Château Pontet-Canet. Coincidentally, I first tried the latter last in the old Gaudi's in GB3 around 2 years ago, also with the
chuleton
. Not ever having tried the '92 Montelena, however, I chose that for lunch.
Montelena is one of my favorite Napa cabernet sauvignon producers. I haven't had many vintages from them, but the few that I have were always most enjoyable - relatively subdued, somber and serious - unlike many of its syrupy, over-ripe, over-blown, over-extracted, insidiously oaky cousins.
Definitely a good, solid, proper Napa cab. Full-bodied, quietly confident in its darkly charactered crème de cassis, mild tobacco, gravel undertones, hints of leather, cedar and cigar box. Smooth, admirable depth and good complexity. I'd call this a classic Napa cab. Better than the '92 Opus One in my book.
A brief discussion ensued with the Stockbroker recounting the TCA issues of Montelena some years back. I am vaguely aware of this issue, but never had a problem with Montelena in this regard. He said he has encountered a flawed 2001 Montelena not long ago and, therefore, wants to crack open one of his magnums of it soon to re-check it. I told him to just say when.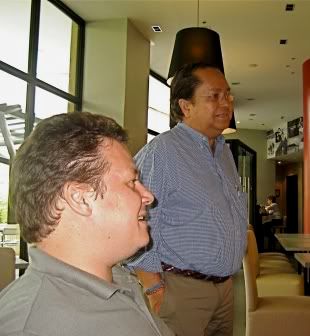 Meanwhile, owner Chit Cacho, an uncle of Miguel, came over to check on us to see if everything was ok. We confirmed that we were very much enjoying ourselves and I piped up that my only regret was that we should have ordered 1-½ kilos of
chuleton
instead of just 1 since I enjoyed it so much with our reds. Earlier on, Xandra, Chit's better half and mistress of the Gaudi kitchens, recommended a
Manchego Paella
which we wiped out so fast that neither Miguel nor I remembered to take a photo of it. Take it from me, though, it was excellent. I will certainly order this as well when I bring my family here.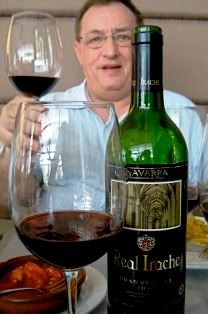 1996 Bodegas Irache Real Irache Gran Reserva (Navarra)
- Robert's bottle, purchased from Barcino, I believe. Miguel said he knows the producer, but I myself am unfamiliar and have not had any wine from them before.
It is obviously tempranillo-based because of its lively, complex, cedary, strawberry-dominant bouquet. Nicely and cleanly fruited, spicy, somewhat brambly blackcurrant, blackberry, hint of cherry. Very vibrant, lively, superiorly focused and brightly balanced with firm acidity. Firmly structured, this presents admirable tensile strength on a lean, well-defined, compact frame. Nice focus and push. Exhibits a redly spicy, feisty character. Very Spanish indeed and very youthful despite its 12+ years of age.
Its firm acidity and structure indicates to me that this is probably not 100% tempranillo; and, since it is from Navarra, I'd expect that there is some of the typical grenache and graciano blended in this as well. ¡
Ole
!
There were 3 more bottles of red lined up for our consideration by the time the
chuleton
was completely devastated and the cheese platter served.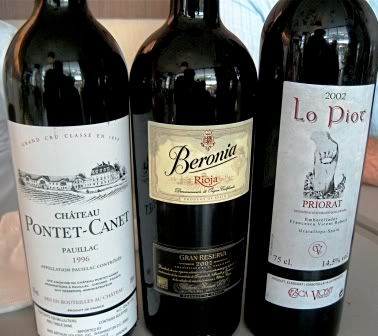 Decisions, decisions...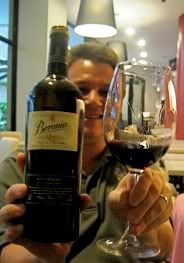 Since we had already switched to Spanish wines, I opted to continue the theme. Miguel offered his bottle of 2002 Lo Piot Priorat but cautioned that it may be too powerful at this point and should better have been enjoyed with teh meat course. I agreed and so chose to open my bottle of old-reliable
2001 Bodegas Beronia Rioja Gran Reserva
.
I've opened many of these and have written about them several times. This bottle was popped and poured with no decanting for aeration. Compared to previous bottles I've had of this, this was notably oakier (nothing that 3-4 more years bottle age shouldn't be able to fix), plusher on the palate, with more pronounced licorice notes. Good length and confidence. Its youth is emphasized following the already well come-together '96 Real Irache Gran reserva, but, still and all, already quite enjoyable for what it is.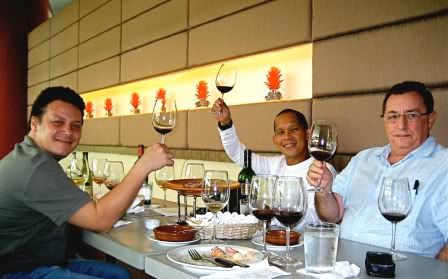 The Stockbroker, as usual, was the first to take his leave at around 3pm, leaving the three of us remaining to finish up the wine and, thereafter, moved outside so I could smoke. In their comfortable outdoor tables (where they have a bar set up), we ordered a couple of desserts to share, along with a round of nicely concentrated, vaguely dark-chocolatey double espressos.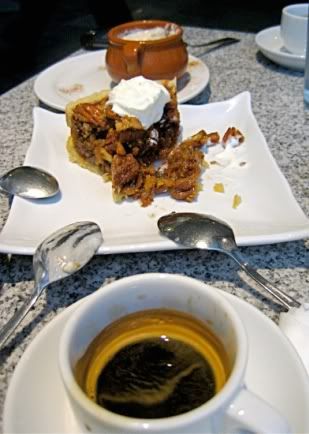 Miguel chose the
Arroz con Leche
, a very typical Spanish comfort dessert while I wanted to try out Tapellas' version of what I took for a
Pecan Pie
. Both were very good, the Spanish rice pudding nicely laced with sweetish cinammon notes while the version of pecan pie was just sweet enough to let the rich nuttiness take center stage (as it should). Most locally available pecan pies are way too sweet for me, this one was just perfect and was excellent with my double espresso.
A few more stories later, Robert and Miguel having made plans to dine at The Fat Duck next month, we ended our lunch at around 5pm to brave the rainy day traffic back southward. Greatly enjoyed the lunch. Many thanks to the Cachos who ensured such a fine meal in such a relaxed but casually refined setting. I'll definitely be back. To my lunch buddies, as always, thanks for sharing your wines and, until the next!