During the
Siran Vertical Dinner
at I Am Angus 2 weeks ago, our table of four planned another wine dinner together. Alan Hearn, Robert Burroughes and I were to supply the wines while Gerhard Kropp generously offered to host the dinner at the Dusit Hotel's
Tosca
on Wednesday, 10th June 2009. I knew I didn't have to bring any bubbly since Bernd Koehling had agreed to join - and I knew he'd not have dinner without some champagne to start with.
Due to the traffic, I was a bit late for cocktails. Gerhard, Alan and Bernd were already at the bar, Bernd having opened his bottle of
Champagne Veuve Clicquot Ponsardin Brut NV
. Robert followed not 10 minutes after. Liberal pours of the well-defined, demurely rounded, fresh and brightly lively champagne eased us into the dinner mood with lightly floral, brioche-laced charm.
Gerhard and I briefly took stock of the evening's bottles and decided on a last minute change of the first course. We thereafter moved to the corner private room to begin dinner proper.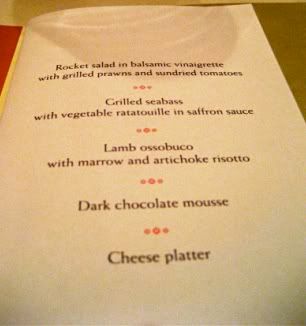 In substitution of the Rocket Salad in Balsamic Vinaigrette with Grilled Prawns and Sun-Dried Tomatoes, we began with dishes of delicately savory, paper thin slices of
Beef Carpaccio Dressed in Balsamic with Rocket Leaves in a Parmesan Crust Ring, Shaved Parmesan and Cherry Tomatoes
, paired with...
2007 Domaine Tempier Bandol Rosé
- Another of my bottles. My regular dining companions and readers know well that I open these personally favored bottles quite often. Robert and Bernd jokingly feigned surprise when I pulled out yet another bottle of this.
The wine's all too familiar, poised and well-balanced, quietly complex melange of fresh canteloupe, strawberry, bit of melon, orange rind, lavender touched by
garrigue
and a slight, appetizing bitterness towards the back, in my opinion, paired precisely with the carpaccio. The structure firm enough to stand up to the lightly dressed raw beef, its fruit adding a nice contrast thereto and its
garrigue
, lavender and slight orange rind bitterness running with the arugula.
While the others readily admitted that this is undoubtedly an exceptional rosé, a couple still maintain reservations on whether or not its high price (for a rosé) is fully justified. I'm used to such discussions on Tempier's rosé. Even the Stockbroker of a several thousand bottle strong premium wine collection (ironically) balks at this, though he quite likes the wine as well. I just smile and think: "Good, more for me".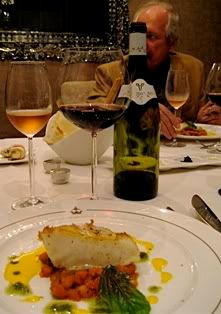 With the next course of
Grilled Sea Bass with Vegetable Ratatouille in Saffron Sauce
, Robert had opened a bottle of
2007 Georges Duboeuf Cru (?) Beaujolais
, the exact cru of which was unknown as the label was missing. All Robert knew was that he had requested for some bottles of the crus.
For those unfamiliar, Beaujolais wines have three levels, namely, the basic Beaujolais, next up is the Beaujolais Villages, and the top tier is made up by the Beaujolais Crus. There are 10 appellations that make up the Beaujolais Crus: Brouilly, Côte-de-Brouilly, Chénas, Chiroubles, Fleurie, Juliénas, Morgon, Moulin-à-Vent, Régnié and Saint-Amour. Each present their own general characteristics, depending on the makers of course.
Without getting into a discussion of all the Crus' traits (which I am not very familiar with anyway), because of the light-framed and nicely balanced, ripely fruited, raspberry and cherry dominant wine with light pepper and a whisper of underlying minerality, I'd guess this to be a either a Chiroubles or Fleurie - but leaning more towards the former. Undeniably charming and disarming, its floral-sweetish red fruit provided a playfully deft cut to the juicy-"meaty" seabass.
I'd certainly like to eventually find out from Robert what exactly it was, because, at the ballpark figure of P800+ per bottle, I'd definitely buy some of this for pairing with rich meaty/oily fishes like seabass and salmon.
Our main course then made its way to the table, a generous serving each of
Lamb Shank Ossobuco with Marrow and Artichoke Risotto
.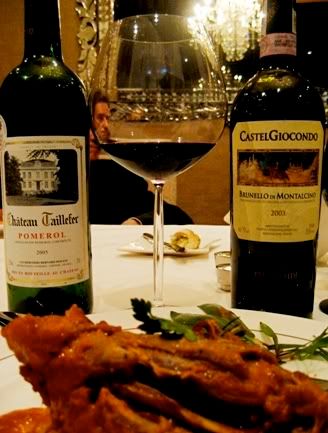 2005 Château Taillefer (Pomerol)
- I brought this bottle,
gratis
from Aaron Palileo whose family-owned ADP Industries Corp. distributes this wine, among others. Taillefer is a noteworthy producer from Pomerol on the right bank of the Bordeaux region, the wines of which appellation are merlot-dominated and generally perceived to be powerful, darkly plummy, deeply-veined and well structured. This area is inhabited by many greats such as Pétrus, La Conseillante, L'Evangile and Vieux Château Certan to name a few. As far as Robert and I could make out, "taillefer" roughly translates to "iron cutter" or "cut iron"- likely referring to its soil of gravel and sand streaked with iron.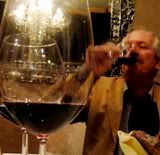 Decanted for aeration for approximately an hour, more or less, before serving, this wine from the much celebrated 2005 vintage presented a very alluring nose of earthy dark fruit, ripe dark plum/cherry, raspberry and cedar topnotes, cedar, lightly laced with violets, dark mineral and licorice. Mirrored in the mouth, it was initially tightly-wound and a bit short on the finish.
After around 10-15 minutes in the glass, it fleshed out nicely into a notch or two over medium-body and showed firm structure and a deeply fruited, somewhat serious character with glimpses of leather, dark minerality and red spice. After another 30 minutes, the wine seemed to shut down again. Not surprising to me, though, as, in my re-tasting through the '05 Bdx at the UGC tasting in Vinexpo Asia Pacific 2008, I found many seemed to be beginning to go to sleep. I'd guess that this wine has a good future, and would like to try this again around 4-5 years from now.
2003 Marchesi de' Frescobaldi CastelGiocondo Brunello di Montalcino
- Robert's bottle, distributed locally by either Forth & Tay or Futuretrade with which he is connected. This maker is foremost in my mind when I think of the sangiovese based wines from Montalcino as a most memorable bottle of their 1997 vintage was what turned me onto BdMs.
Decanted for the same amount of time as the '05 Taillefer. No-nonsense dry, somewhat straightforward, medium-bodied, softly earthy, strawberry, cherry laced with cedar, mild tobacco leaf, touch of dry herbs, with some blackcurrants running underneath. Touch of violets and a hint of appetizing bitterness in the medium finish. Healthy, food-friendly acidity in this as expected. I liked this best as a pairing with the lamb shank ossobuco. Very enjoyable even at under 6 years from havest year.
With the
Platter of Assorted Cheeses, Grapes and Walnuts
...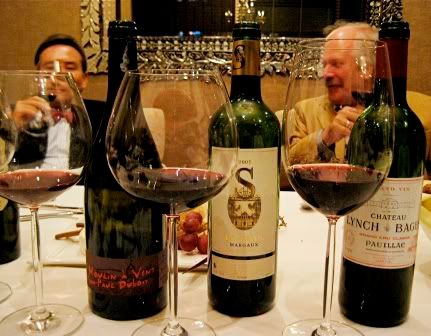 2006 Jean Paul Dubost Moulin à Vent Cru Beaujolais
- My bottle, purchased from Sommelier Selection, from, arguably, the deepest and most age-worthy of the 10 Cru Beaujolais above discussed. I first tried this at Jerome Philippon's
Beaujolais Not Noveau Dinner
last November 2008. My notes then were as follows:
...this was clearly my personal favorite red of the night - as well as the best match with the cassoulet. I remember telling Jérome that I found its character very different from the two previous reds - i.e., comparatively feminine to the Vieilles Vignes and Croix des Rameaux, and that it was very graceful and light-footed, its flavors dancing and gliding on the palate. There is a more notable presence of red fruit - dark cherry, bit of raspberry - to the spiced blackberry/blackcurrant base and there is a fresher over-all feel to the fruit.
The wine is no pansy though. It has superior focus, definitive/sturdy structure and a confident drive/push on the palate without at all being over-bearing or aggressive. On the contrary, it is very suave, poised and polished. Nice silky texture on the palate from attack to finish and a subtle but definite dark minerality exquisitely and finely infused in its fruit.
6 months later, I re-tasted this at
Sommelier Selection's Tasting of 100 Wines from France
on the 15th May 2009. My brief notes then stated:
2006 Domaine Tracot Jean Paul Dubost Moulin á Vent - Rich, deeply veined fruit, good potential, poise and harmony, light on its feet, long and graceful finish of violets.
The bottle at the subject Tosca dinner had been opened for around 1-½ hours in the bottle and another 25-30 minutes in glass before we got to it with the cheese course. It presented lightly stewed, slightly soft and raisined cranberry, ripe cherry and raspberry aromas with notes of violets and dark minerals. Mirrored in the mouth with a touch of leather on an above-medium body. Well structured, to me it possessed more depth and a darker, more serious character than the previous more floral and light-hearted "mystery" Beaujolais. Gerhard and Bernd readily agreed.
It went very well with the cheeses. I opined that its soft, slightly raisined fruity notes served like a Spanish membrillo or fruit compote usually served with cheeses in Bordeaux.
2005 S de Siran
- My bottle, from the Vigneron's estate, likewise of the highly acclaimed 2005 Bordeaux vintage. This is the 2nd wine of Siran, likewise Margaux appellation plots, but from younger vines (5-15 years of age) than the
grand vin
. My notes from the
Miailhe family's 150 Years Dinner
celebration at Siran at Sala on the 31st January 2009 are still applicable:
Still slightly over medium-bodied, faint pine-needle topnotes, followed by crushed, ripe blood-red wild berries, dark ripe plum, cassis, touches of anise and dark minerality, with whispers of Spanish cedar. The red-berries were pure with a touch of sweetish ripeness; the underlying dark fruit somewhat earthier than before. Not as spicy in the finish as most wines of Siran I've tried, it was gently soothing and warming on the palate.
Already drinking well. Good structure. One may enjoy this with a bit of decanting for aeration as one bides one's time waiting on Siran's 2005
grand vin
.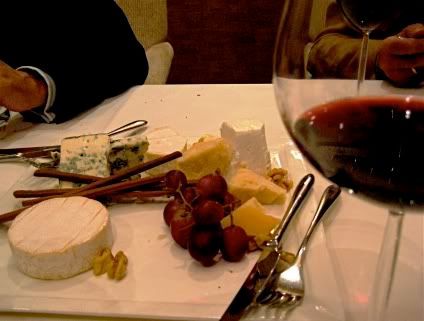 1999 Château Lynch Bages
- My bottle, a wine I've had around 3-4 times before (the first time courtesy of Bernie Sim, I vaguely recall) but I somehow cannot find any previous notes on them (I don't post on all wines I drink - it doesn't happen often, but it does). One of my favored, go-to producers from Pauillac, I've visited this château and dined at their Café Lavinal thrice - the last time was a fun lunch with lady-chefs Myrna Segismundo and Jill Sandique in June 2007.
Classic Bordeaux nose of cedar, cassis, pencil shavings, violets, hints of tobacco and a mere whispers of asphalt, licorice and minerality. A few notches below full-bodied, this is open, with an approachable character to its smooth, curved, somewhat creamy-textured mirrored aromas. Noteworthy balance. Already very enjoyable but can improve and gain more depth. Very good show, everyone enjoyed this bottle.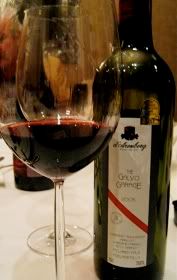 2005 d'Arenberg "The Galvo Garage"
- Alan's bottle, heavily recommended by Wine Depot's Stephan Wieprich, a screw-capped Aussie Bdx-blend (cabernet sauvignon, merlot, cabernet franc and petit verdot) from McLaren Vale, Adelaide Hills.
Initially hot on the nose with tight pine needles/wood and a slightly tinned tomato topnote, this eased off and the fruit opened up after around 15-20 minutes in the glass. The aromas were correct and not overblown at all, and, in the mouth, it was quite forward, ripe, new-world designer extracted and concentrated, but, in a nicely subdued style compared to most all Aussie reds I've tried. Smooth, curvy and easy to drink.
Alan opened another bottle late in the evening, but I, unfortunately, forgot to take a picture of it and did not get a chance to taste it. I also opened a bottle of
2006 Jean Paul Dubost Fleurie Cru Beaujolais
sometime past midnight, and likewise failed to take a picture and taste it. I had this less than a week ago, however, over dinner at Je Suis Gourmand, so
my notes from that evening
should do:
Like the '06 JP Dubost Moulin à Vent, this Fleurie was definitely unlike the usually light and carefree (and more typical, some say) Beaujolais I've tried - richer, fuller (over medium-bodied), more concentrated, generous (but not loud) with materially more density and heft. True to its name, the pure, freshly young aromas are redolent with violets, some rose and dark cherries.

In the mouth, there is definite ripeness to the black cherry, blackcurrant, mild spice, violets and a bit of wood. The bold tannins and wood are, as to be expected, not yet fully resolved, but it's nothing a couple of years more ageing wouldn't fix. Impressive balance and length. Marc and my wife both noted this wine's distinctive florality. Very nice indeed.
Dessert was an absolutely richly decadent
Dark Chocolate Mousse
...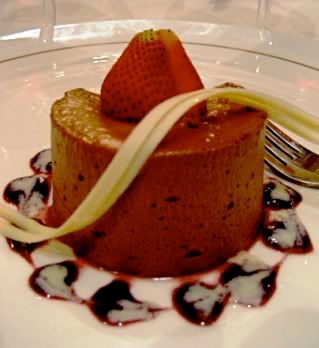 ...after which I had a good, bracing double espresso. Many stories and a few hours later, Bernd and I, the last guests (as usual?) thanked our generous host and made our way back southward on the by then empty SLEX. Most enjoyable and
very
long dinner with friends, food and wine - it doesn't get much better than that.