I recall reading long ago, I was still in college, that the perfect number of people for a dinner at home is 6, the main reason being that everyone can get to talk with each other. I've long found that to be true. We normally have more guests during dinner, but a table of 6 is always more relaxed and enjoyable for me - especially when I have to cook anything.
One such dinner was last night (17 June 2009) with Miguel, Ria, Rene, Aimee, my wife and I. The food was simple, we all contributed bottles of wine and enjoyed a nice, leisurely meal. We started off with some of
Je Suis Gourmand's signature Terrine of Foie Gras
and the
Miguel Family's Chicken & Duck Liver Pâté with Port Jelly
paired with...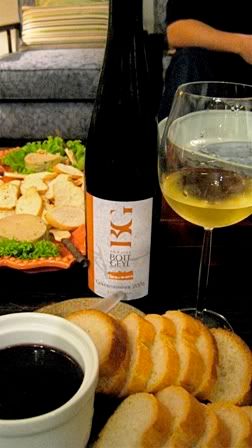 2006 Domaine Bott-Geyl Gewürztraminer Les Éléments
- Another of these bottles from me, having opened at least two others the past week or so. Having spent around 9 days in Alsace in late September to early October 2007, immersing myself in their local wine and cuisine, I learned quickly that gewürztraminers pair wonderfully with foie gras (Alsace produces a lot of both, and very well). This medium-bodied, slightly sweet and viscous, rose, lychee and peach scented and flavored wine was easily up to the task. It's flavors adding a nice sweetish fruitiness to the savory foie, while it's demure minerality and balancing acidity nicely cut the latter's richness.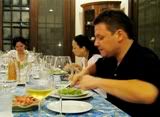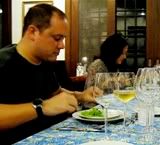 We then had, prepared by my wife, our go-to
Salad of Butter Lettuce, Tarragon, Toasted Pine Nuts, Parma Ham in a Honey/Vinegar/Mustard/Garlic Dressing
- a recipe that both my brother and his wife claim to have invented. It's never really been settled which one of them really thought it up, so we just say it was made in collaboration.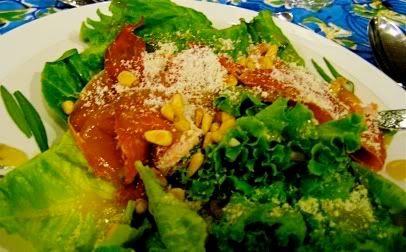 The main courses then followed...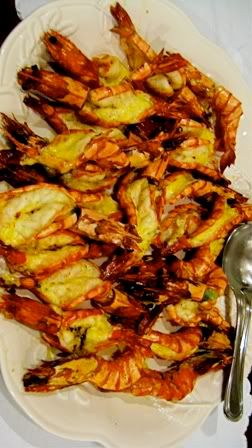 Grilled Prawns with Cheese and...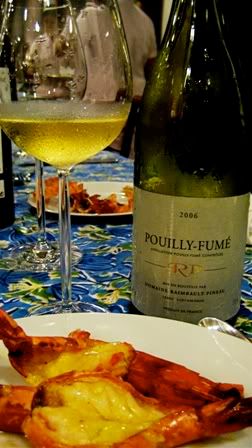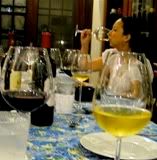 ...with the grilled prawns, we enjoyed Miguel's bottle of
2006 Domaine Raimbault-Pineau Pouilly-Fumé
- We've been enjoying this brightly clean, crisp, alluringly floral sauvignon blanc from the eastern Loire Pouilly-Fumé appellation ever since
Rene's birthday dinner late last November
- so much so that the stock of the 2006 vintage at Terry Selection was completely sold out not long after, and, since then, we've been enjoying the 2007 version. My first notes on the 2006 are still applicable:
An ethereal, fresh, floral, cool, sweet perfume of gooseberries, freshly cut grass, white grapefruit, citrus and trace white mineral nuances in the nose. Gracefully and elegantly mirrored on the palate. This danced on my tongue. Subtly complex.The Vigneron, not really one who is into whites and, more often than not, goes straight to the reds, was the first one to pipe up, saying that "The bouquet of this wine is wonderful". Coming from him, that means a lot.
My notes reveal that I last had the 2006 at
Sunshine & Rob's Gourmandise dinner of January 2009
. The bottle last night was Miguel's last of the 2006 and I'm grateful that he shared it with us.
For the Seared-then-Roasted US Prime Grade Rib-Eye Steaks, we had four reds to choose from.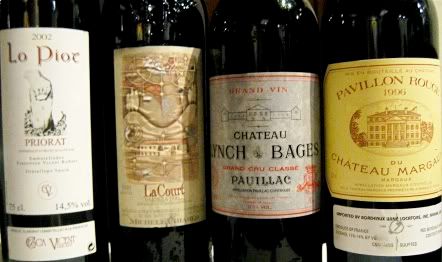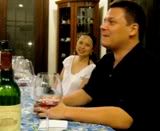 Because of the steaks' rich, fatty flavor, for the main pairing I opted for the
2002 Cesca Vicent Lo Piot Priorat DOQ
- Miguel's bottle, from a winery partly-owned by his family friend. From the old Catalonian town of Gratallops in the heart of Priorat (Zone #5) where vine-growing became the the main activity since the 18th century. Aside from Cesca Vicent, Gratallops also houses the cellars of Carles Pastrana (Clos de l'Obac, Miserere), René Barbier (Clos Mogador) and Alvaro Palacios (L'Ermita, Les Terrasses).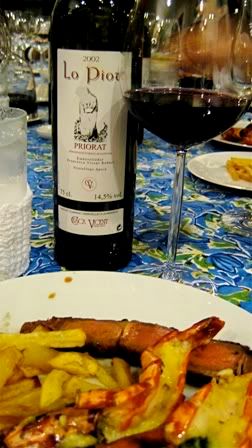 Made up of a blend of granacha (90%) and cabernet sauvignon (10%) aged 12 months in French oak barrels, this is masculine, full-bodied wine (14.5% abv) boasting big, ripe, well-concentrated and extracted flavors of dried dark plum, dark cherry, fig, bit of blackcurrant, dark chocolate (towards the back) and vanilla, with hints of warm asphalt and leather in the dark fruit. After a little over an hour of decanting for aeration, its smooth, somewhat dense, slightly dusty texture showed no virtually no heat from its relatively high alcohol content and stood up nicely with the steaks.
Around another hour later, it had opened up and lightened noticeably, presenting a fruitier, "grapier", somewhat fresher character which made for a nice foil with the cheese course as well.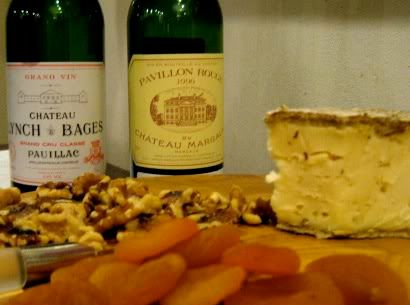 Our cheese course was very simple, just some Tomme de Savoie, walnuts and dried apricots, to let the two Bordeaux of the evening take center stage.
1999 Château Lynch Bages
- My bottle. I opened another of these a week before at
Gerhard Kropp's dinner at Tosca
. My notes then are consistent with last night's bottle save that the latter's cedar notes were a bit more pronounced and it was marginally less creamy in texture:
Classic Bordeaux nose of cedar, cassis, pencil shavings, violets, hints of tobacco and a mere whispers of asphalt, licorice and minerality. A few notches below full-bodied, this is open, with an approachable character to its smooth, curved, somewhat creamy-textured mirrored aromas. Noteworthy balance. Already very enjoyable but can improve and gain more depth. Very good show, everyone enjoyed this bottle.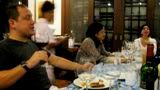 1996 Pavillon Rouge du Château Margaux
- Rene's bottle, the second wine of 1st growth Château Margaux from, to me, the best vintage of the '90s aside from '90 itself. I've had this at least twice before that I vividly recall - at two IWFS blind tastings of the 1996 Médoc 2nd wines and
cru bourgeois
. Both those tastings were around 2 years ago, so I was happy to be able to re-taste it last night.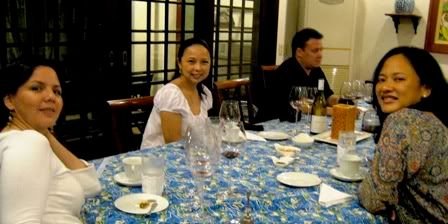 It presented a stylish, somewhat feminine character in its supple, medium body with poised cassis, blackcurrant, slight raspberry (more of a topnote), violets and cedar (lightly smoky) into which notes of gravel, iron and a mere whisper of licorice were delicately interwoven. Very Margaux. Admirable poise and balance to this. Definitely open for business and drinking well right now.
Dessert was a serving each of
Je Suis Gourmand's Thin Apple Tart with Caramel & Vanilla Sauce and Green Apple Ice Cream
. Unfortunately, I forgot to take a picture of it. I did not have my usual double espresso since I didn't want to to sleep so late, and don't recall anyone else having any either. The evening ended before midnight since the ladies needed their rest.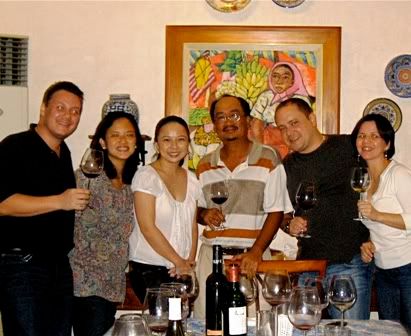 So ended yet another most pleasant evening of good wine, food and company. Thanks to all for coming.
nb: Taking pictures with a flash always presents problems with mestizo(a) eyes. Miguel jokingly complained that I always wind up making his eyes way too black, so I used a different program to erase red eyes this time. Well, voila, now your and Catha's eyes are white. Happy?