I'm so lucky that my children and their 2 closest cousins love eating at
Je Suis Gourmand
as much as I, so there's never a problem suggesting it for family dinner out. My wife and I were there again last night with the children. Though we were hoping for some
moules buchot
and frites last night (apparently, the shipment didn't arrive), Marc has more than enough wonderful appetizers to choose from; so much so that no matter how large a table we get, there never seems to be enough space for all the old favorites.
Since the children are all growing so fast and have the appetites to match, it's been years since we could get away with ordering only one platter of each starter.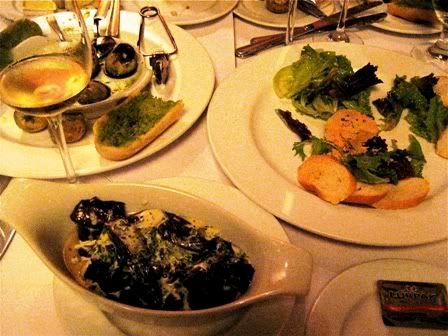 escarots á la bourguignonne (3 orders) , foie gras terrine (2 orders), shiitake mushrooms with oeuf cocotte (2 orders)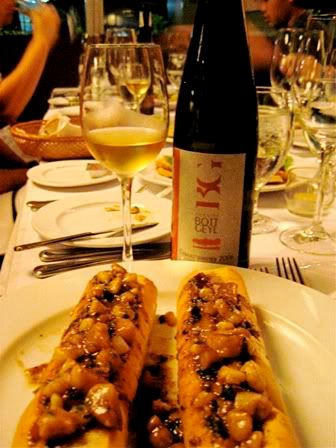 os á moelle (i.e., bone marrow, 2 orders, but I should have ordered 3)
With the
os á moelle
and
foie gras
terrine in mind, I brought along a bottle of...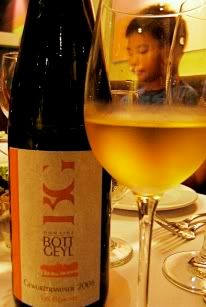 2006 Domaine Bott-Geyl Gewürztraminer Les Elements
- This is, to me, currently the best value-for-money locally available non-VT/SGN gewürztraminer (note there is no "t" after the first "r", a common mistake here I notice) in the country. I have been purchasing this ever since Sommelier Selection started offering it, and, I believe there is still some stock available.
[C]lean, sweetly fresh flowers, rose petals, spiced lychee and peach in the nose, mirrored in the mouth in a lively, exuberant, racy, slightly-less-than-medium body with good acidic lift and discreet underlying minerality. Light on its feet, it danced on my palate. It is a pity that so few in this country bother to try to get to know the joys of Alsace gewürztraminers. This one was so very pure and clean. Precisely balanced, excellent wine, and, at its very reasonable price of P1635 per bottle, a definite buy - chill well and enjoy with Marc's terrine of foie gras.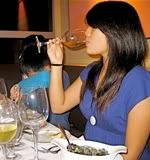 The children made short shift of the several appetizers. They all looked so happy that I thought of ordering more, but figured they should leave enough room for the main courses; after all, Marc had several specials that night featuring
magret de canard
and
foie gras
.
On the left is my niece sipping some water betweeen bites of the shiitake and oeuf cocotte while my youngest wrestles a reluctant escargot from its shell. Main courses were...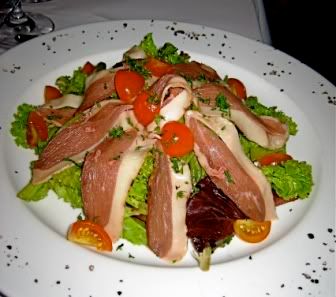 Smoked Magret Salad for my niece (teenage girls always seem to be dieting)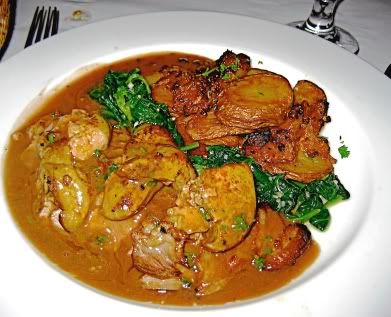 Roast Magret with Seared Foie Gras & Port Wine Sauce for my 2nd son
Roast Lamb Shank with Mashed Potatoes for my eldest
My wife, nephew and I opted for the
Roast Magret with Caramelized Apples & Bleu Cheese Salad
, which we all (except the youngest) enjoyed with a bottle of...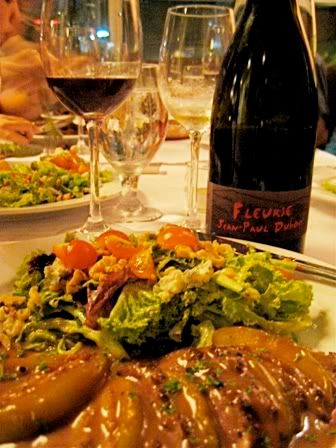 2006 Jean Paul Dubost Fleurie
- one of the top crus of Beaujolais, known for producing, as the name indicates, floral wines. I first tried this during
Jérôme Philippon's recent tasting of 100 French Wines
and promptly bought some, among others. My very brief notes from that tasting state:
"Lighter in body, more floral and feminine, brighter berries and cherry (compared to the '06 JP Dubost Moulin á Vent). I bought these with my wife in mind and to try out on my friends to show them what a good Beaujolais is like."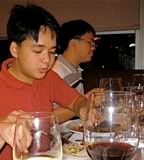 Like the '06 JP Dubost Moulin à Vent, this Fleurie was definitely unlike the usually light and carefree (and more typical, some say) Beaujolais I've tried - richer, fuller (over medium-bodied), more concentrated, generous (but not loud) with materially more density and heft. True to its name, the pure, freshly young aromas are redolent with violets, some rose and dark cherries.
In the mouth, there is definite ripeness to the black cherry, blackcurrant, mild spice, violets and a bit of wood. The bold tannins and wood are, as to be expected, not yet fully resolved, but it's nothing a couple of years more ageing wouldn't fix. Impressive balance and length. Marc and my wife both noted this wine's distinctive florality. Very nice indeed.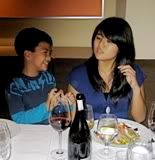 My youngest almost never orders his own main course when we're in JSG since he eats so much of the appetizers and bread. What he does is he picks off the main courses of everyone else.
Thankfully, Marc's servings are quite generous so there's always enough to spare for him. My wife says he has the best deal since he effectively has a buffet of several different main courses. In this picture, he's likely trying to wheedle some smoked magret from Nicole (not that he has to try hard since she's quite indulgent with the little guy).
For dessert, Marc delivered the special fraisée cake that he had told us about the last time we were there - a cake involving fresh strawberries (he prefers using the Baguio strawberries because they are naturally sweeter than the imported larger ones).


With the deceivingly light feel of the rich, yet delicately flavored buttercream, the clean freshness of the strawberries, not to mention the homemade strawberry ice cream and the strawberry-vanilla sauce, it was every bit as delicious as it looks. Superb. My nephew opted for his favorite
Dark Chocolate Soufflé
, while my eldest went for his own old favorite
Homemade Dark Chocolate Ice Cream
.
Double espressos for the adults and Nicole and a last glass of green Chartreuse for me, then we called it a night - another most enjoyable one at Je Suis Gourmand.
Merçi bien
, Marc.
À bientôt
.