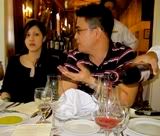 I've been suffering from a upper respiratory tract infection since Monday, which turned into fever and chills Tuesday night. Thus, I had to miss a wine lunch with the Doc and Stockbroker, as well as two wine tastings this week - no sense drinking fine wine or attending evaluative tastings when one's nose and palate are impaired by sickness and medication. Feeling materially better on Thursday (30th April 2009), I attended the lunch/olive oil/wine tasting hosted by Aaron and Jo Palileo at Chef Gene Gonzalez's San Juan culinary landmark,
Café Ysabel
.
I was really looking forward to this event since I've never been to an olive oil tasting before. Apparently, Aaron's family business imports and distributes olive oil as well as wine.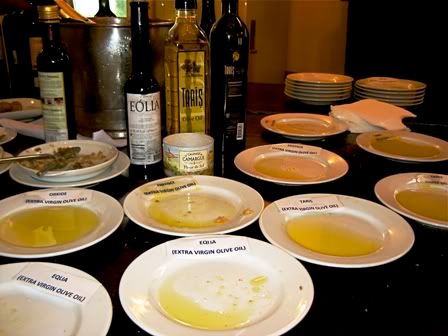 Since I had to pass by the office first and deal with the rainy day Makati traffic, however, I arrived almost an hour late. The guys had finished the olive oil tasting proper, but Gene thoughtfully took the time to guide me through them anyway, with, of course, a welcome glass of well-chilled, clean, roundly fruited and brightly crisp
2004 Freixenet Cava Cuvée D.S.
, one of the better locally available cavas I've tried.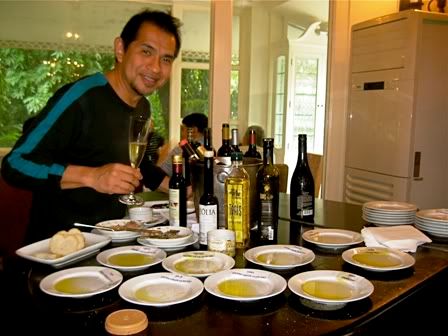 Though, admittedly, I wasn't able to taste all of the olive oils, Gene made sure I was able to taste the
Taris Erkence Extra Virgin Olive Oil
- a Turkish first cold press, light on the palate but suavely commanding in presence, with an earthy character to its definitive olive flavor. Slathered on bread with a light sprinkle of
Le Saunier de Camargue Fleur de Sel
, you need not much else but a good glass of wine. A bit of simple, flavorful and rustic goodness, that's the way I like it. There were also some very nice, boldly flavored olives on hand that gave the oil a nice push.
We then joined the others already seated at the wine room for lunch proper, 8 in all, including myself. Gino and Gianinna, probably still busy, joined us much later on.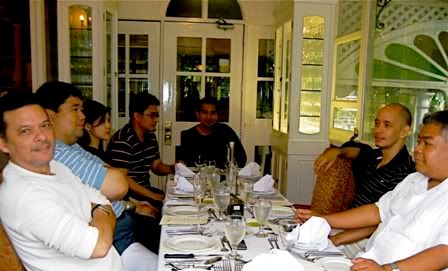 L-R: Johnny R, Arnie, Jo, Aaron, Gene, Marty and J-Lab.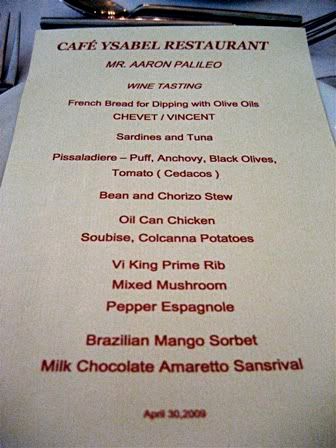 We started off with
Pissaledière
, southern France's version of pizza, a specialty of Nice. With this we had...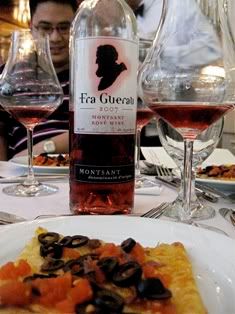 2007 Fra Guerau Montsant Rosado
- Montsant is a Catalonian (northeastern Spain) DO wine region surrounding better known Priorat. Quite dark for a rosé, almost like a claret. Aaron has since informed me that this is made up of syrah, merlot and tempranillo.
This is probably the darkest, fullest, heftiest and most intensely flavored rosé I have ever had, the only other coming close (in heft, but not color) is the 2005 La Rosée de Pavie (the Stockbroker loaded up on a few cases of the latter at only $9 per bottle a few years ago, as I recall). At 13.5%abv, it has the same alcohol level as many traditional Bordeaux reds.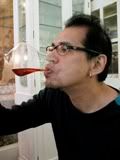 I have no idea what the proportions of the grapes are in this, but I sure did taste the strong influence of syrah. Lots of ripe, spicy, mildly black peppery raspberry and cherry in this. Slight cassis with Provençal-esque nuances underneath, with a pronounced minerality and a faintly medicinal character surfacing mid-mouth. Smooth enough, it is a heavy yet mellow rosé. Nice match for the
pissaledière
, particularly the black olives. I would imagine this heavyweight rosé would have no problems pairing with roast rack of lamb.
Next, with a very nice and comforting
Bean & Chorizo Stew
(Gene would not agree with the parallels drawn by some to fabada), we had...
2005 Sierra Cantabria Rioja Crianza
- From the outset, this displayed typical Rioja tempranillo flavors: a strawberry and slightly plummy base with topnotes of tartish cherries. The fruit was ripe, but nowhere near the usual super-ripeness of old world 2005s, but nicely fresh. I liked the balance of the acidity just coming over the the fruit.
Firm wine, a good, straightforward, proper Rioja crianza. The wood is well in check and proper, allowing the wine a nice lift that made it a good contrasting match with the soft, earthy goodness of the beans, and, it was also sturdy enough to stand up to the slightly spicy chorizos.
Those looking for typical 2005 over-ripe fruit bombs heavily laced with oak should look elsewhere. Me, I liked this honest and proper Rioja crianza. Good typicity. I would buy this wine.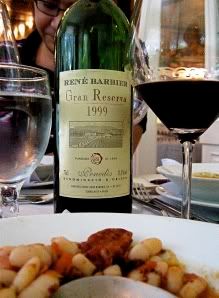 1999 René Barbier Gran Reserva (Penedès)
- Very good vintage for the Pendès DO (also in Catalunya), much better than in Rioja, probably comparable to the vintage of Ribera del Duero, but at the same level as Navarra.
First things first; everything in its place - this is clearly a superior wine compared to the immediately above discussed. However, this is much more mature and a Gran Reserva at that, a different animal altogether - definitely it cannot be anywhere near in price to the latter - and shouldn't fairly be compared head-to-head thereto.
This was a suave, confident, more complex wine with violets on the nose and chocolate, leather and slight kirsch to the mellowed, well-knit, softly mature fruit. Warm and somber. I would buy this wine and could definitely drink this on rainy evenings at home.
With the next course of
Oil Can Chicken with Soubise and Colcanna Potatoes*
, we had the next two reds....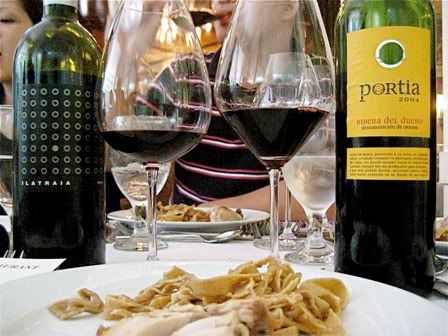 *There must have been a last-minute change in the menu as I don't remember any Colcanna potatoes.
2006 Brancaia Ilatraia
- A very young IGT from Tuscany. For those not familiar, IGT stands for "Indicazione Geografica Tipica" - simply put, it is a relatively modern Italian classification that allows for grapes not native or traditional to an area to be used in making wine. Some so-called "Super Tuscan" (a term coined by Parker) IGTs are Sassicaia and Solaia (both use cabernet sauvignon & cabernet franc), Tignanello ( a blend of sangiovese & cabernet sauvignon) and Masseto (almost pure, if not pure merlot).
I didn't get to read what grapes went into this wine, but it was definitely driven by ripely sweet dried fruit that had an almost raisiny character to it. Reminded me somewhat of
a recent Amarone I had
. There were minor notes of dried fig, dates and a whisper of tobacco and leather in this sweetly ripe wine. A bit of heat on the nose, but that is very understandable for a wine so young. Lots of buttressing wood, but I think this will integrate well. Lowish acid, rounded fruit - contrived and manipulated to me.
Personally, this is not a style I favor, but I think this could be a crowd pleaser, especially for those who like Australian reds, since it is neither a stern nor challenging wine - quite the contrary, it is easily approachable and richly flavored, if not intellectual or materially complex. I would buy this wine, however, for guests who like this style.
2004 Portia Ribera del Duero
- A tad thin on the palate with sourish cherries, a hint of mocha and slight vanilla/coconut cream/oak (likely American oak was used). Simon Cowell's favorite terms "boring" and "forgettable" come to mind. There is nothing wrong or particularly objectionable about this wine, it just doesn't have anything that makes an impression on me at this point. I expected a little more ripeness and character from such a warm vintage. As it was, it didn't even show me any vintage characteristics at this point, and I doubt it ever will. Even if this were sold cheap, I wouldn't buy this wine.
We then moved on to the meat course,
Viking Prime Rib with Mixed Mushrooms and Pepper à l'Espagnole
. I failed to take a picture of this prime rib dish, but, take my word for it, it was huge and served in man-sized chunks, nicely bloody just how I like it - and, as I imagine, as would have the ancient Nordic marauders as well. With this meaty madness we had...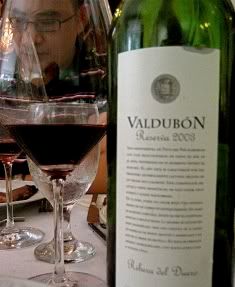 2003 Valdubón Reserva Ribera del Duero
- I recall that this wine drew similar reactions from Gene and J-Lab, in that they both thought this to be quite oaky - to the point that Gene said it came off as more Rioja than Ribera del Duero.
I agree that spicy/toasty oak/vanilla was very apparent in this wine's aroma and flavors. Coconut-cream, cinammon and toffee notes indicate to me a lot of exposure to/ageing in new, predominantly American oak barrels, possibly in barriques. Long-ageing in predominantly American oak is a traditional Rioja style - so that's likely why Gene said it came off as a Rioja.
It's dark fruit, while ripe, roasted and plummy, seemed to lack freshness and push, thereby allowing even more emphasis on the wood - which possibly contributed even more to the Rioja-esque feel.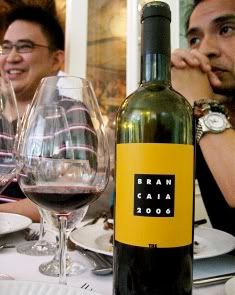 2006 Brancaia
Tre
- I failed to ask what went into this wine, but it tasted of sweetish-tart cherries, raspberries, a bit of leather and spicy wood. Nicely firm structure, good focus..
It was pleasing enough up front, revealing some violet nuances mid-mouth and towards the back, but failed to see things through to the end - the finish a bit abrupt and abandoning. It feels like it is holding back.
This is still a very young wine, it likely may have gone to sleep already. As it is now, it comes off superficially as a pleasant, somewhat charming, but simple wine. It may have something interesting to say in the future, but I can't be sure. It might, but only time will surely tell.
Its firmness and focus made it pair acceptably with the prime rib, which, since not aggressively flavored, did not emphasize the wine's relatively short finish.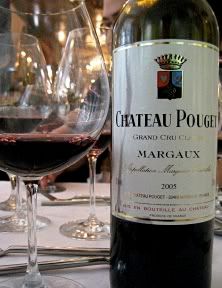 2005 Château Pouget
- A grand cru classé, a little known 4th growth in the 1855 Classification - I do not recall ever having tried any wine from this château, so was thankful for the opportunity.
This wine was initially quite reluctant, giving off a rusty, somewhat stemmy, bell pepper-like aroma which Jo also noted. In the mouth, it was very tight. Given that in my last tasting of a wide range of '05 Bdx (late May 2008, UGC tasting, Vinexpo HK) I felt that most Médocs had gone to sleep, I nursed my glass for approximately 45 minutes or so, just sniffing once in a while, before re-tasting.
After material aeration, it did open up (and I told Aaron that it did) giving off delicately cedar-and-violet-laced notes of plum, cassis, black cherry, a whisper of licorice and fine, dark minerality.
Nice finish/length. Quite proper and austere, not showing the ripe/roastedness of the vintage (which is not necessarily a bad thing). I'd guess that this will turn out to be more like an old school Margaux (which is a good thing, for me, anyway) and would certainly like to revisit this wine in around 4-5 years to see how it comes along.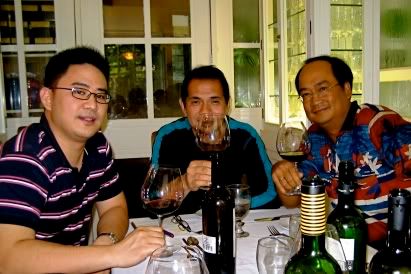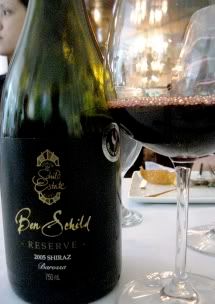 2005 Schild Estate Ben Schild Reserve Shiraz
- The only new world wine of the lunch. I guess this was opened last as, after already having gone through 9 wines (including the cava), anything less large would, possibly, wind up tasting like water - and large this southern Aussie wine was in fruit, no question about that.
Rich, rounded, big, yet very pliant, entertainingly chewy mouthfeel. Undeniably very ripe, the dark fruit was sweet with a baked character to it. There were minor notes of black pepper, bit of chocolate and, to a lesser extent, violets.
Dense and viscous in its ripe-fruited sweetness, taking into account the chocolate notes, I guess this was meant to pair with our dessert of
Milk Chocolate Amaretto Sans Rival with a Brazilian Mango Sorbet
. Pity though that this (assumed) pairing didn't come to my mind as I devoured my dessert so fast (sans rival happens to be one of my favorite desserts - has been since 5th grade) I forgot to take a picture of it, much less sip the wine.
By itself, I found the wine too cumbersomely rich and a bit cloying. Would I have enjoyed it with the chocolate sans rival? Perhaps, an indulgent "running with the ball" type of pairing. I am no big fan of pairing reds with chocolate, though. I've tried it several times, and the only truly memorable match I've had thus far has been a 1979 Domaine du Mas Blanc Banyuls Cuvée St. Martin (from Bernie Sim) which I served with Chocolate Marquis on a bed of Macerated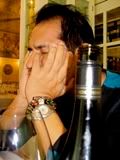 Cherries during the 23rd February 2007 dinner of the Manila Gentlemen's Club.
A double espresso wound down things for me - little did I suspect that this would turn into yet another 6+ hour wine lunch. That seems to be happening all too often as of late. Gene snuck in a few winks during the dessert course until roused by my question as to the origins of the sans rival. Of course, of those present, only he could answer that definitively, and with detail to spare.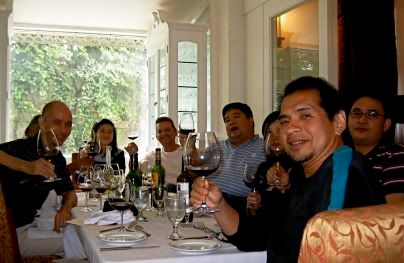 And so ended an extended olive oil and wine tasting lunch. Great way to end the week and kick off a 3-day weekend - especially since the next day was to be my birthday. Many thanks Aaron and Gene for inviting us, and hosting and entertaining us in such fine fashion.