Since
Miguel
introduced me to Galician albariño wines (sometime in November 2008) and pairing them with traditional/regional dishes, I've been enjoying these wines a lot and often. Around a month or so ago, I thought to organize a taste-off among the locally available albariños and proposed the idea to Miguel who readily agreed and organized the menu therefore with chef Javi (or is it "Xavi"?) Lecumberri of
La Tienda
.
The taste-off/dinner took place this past Friday, 3rd July 2009. We were six on the tasting panel: Miguel, Rene, the Stockbroker, Johnny R, Greg C and myself. Due to the wines' having to be kept chilled in an ice bucket and, consequently, the bottles were wet, hiding the labels would have been quite difficult so the tasting was not done blind - anyway, rest assured that we are all men of honor and, aside from the Stockbroker, none of us are in any manner connected with the wine industry. All the competing wines were purchased, no "freebies" from the suppliers (besides, since albariños are very affordably-priced wines, nobody, especially those on this panel, could conceivably be beholden to any supplier therefor even if any were).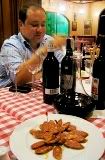 Miguel, Rene and I arrived early to set things up and waited for the others picking at a plate of chorizos. By around 7pm, we were complete and the tasting commenced. Since albariños are casual wines meant to be consumed fresh and with seafood-based dishes (chef Javi went to Seaside Market that same afternoon to get us the freshest catch), many were on the table, along with baskets of warm bread, for the tasters.
The seafood dishes for the albariño tasting were
suahe
,
boquerónes
,
pulpo á la Gallega
,
escalivadas
,
kokotxas de bacalao al pilpil
(Miguel had flown in some real kokotxas de bacalao from Spain),
almejas
and and
pimientos rellenos de bacalao
.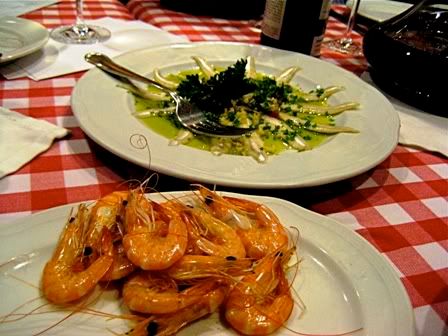 Suahe and Boquerónes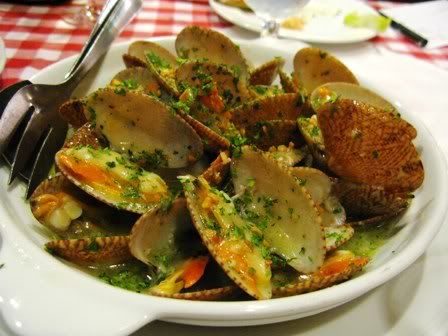 Almejas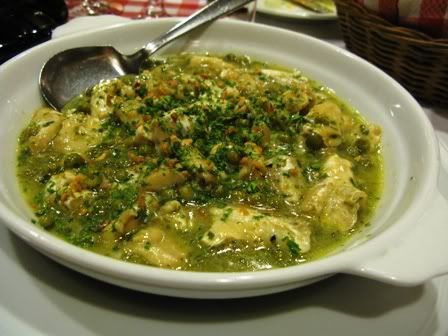 Kokotxas de bacalao al pilpil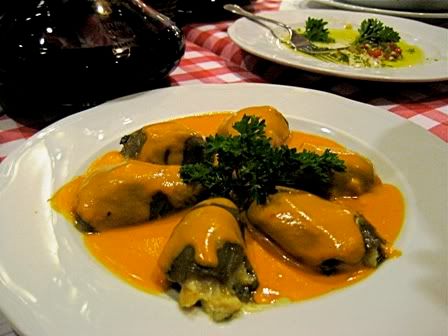 Pimientos Rellenos de Bacalao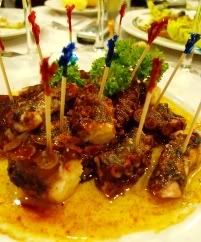 Pulpo á la Gallega
The competing wines were, by the rules, to be readily locally available and at least 70% albariño in composition. Because of a mistake on my part, Terry Selections' 2007 Condado Laxas was not included, and, because some of the tasters had already passed less than favorably on Barcino's 2007 Pazo San Mauro Albariño in a previous dinner, the latter was also not included. There were, thus, 5 competing albariños that evening:
2006 Pazo de Barrantes Alabariño
(sold by Ralph's),
2007 Códax Burgáns
(sold by Barcino),
2007 Códax Albariño
(sold by Barcino),
2007 Laxas Albariño
(sold by Terry Selections) and
2007 Terras Gauda Albariño
(sold by Premium Wine Exchange).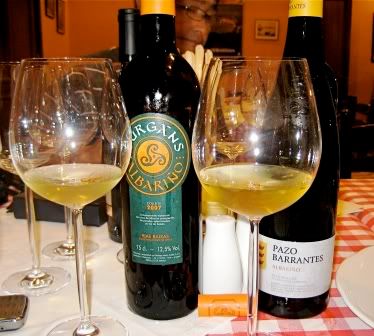 2007 Códax Burgáns (Barcino) and 2006 Pazo Barrantes Albariño (Ralph's)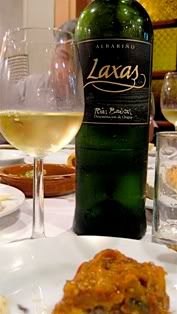 2007 Laxas Albariño (Terry Selections)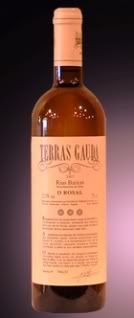 2007 Terras Gauda O Rosal (Premium Wine Exchange)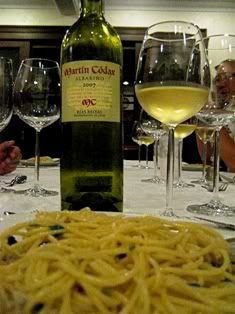 2007 Códax Albariño (Barcino)
Albariños are
generally
recognized as fresh, floral, dry, minerally, vibrant, relatively low in alcohol content,
generally
presenting notes of, some say: peach, apricot, others say green apple citrus, etc. Since these wines are basically of the same grape, all from Rias Baixas (Galicia) and, except for the Pazo Barrantes, all from vintage 2007, the members of the panel were, thus, able to more easily concentrate/focus on purity, balance, clarity, freshness, food-friendliness, typicity, etc. I will not include all the individual tasting notes in this post asit will be too long due to much repetition.
The results were definitive, as follows:
1st Place - 2007 Laxas Albariño with 28 points (4 votes for 1st place and 2 votes for 2nd place - many commented on best over-all balance), Terry Selection.


2nd Place - 2007 Terras Gauda Albariño with 24 points (2 votes for 1st place, 3 votes for 2nd place, 1 vote for 4th place - comments on elegance and finesse), Premium Wine Exchange


3rd Place - 2007 Códax Burgáns with 17 points (1 vote for 2nd place, 3 votes for 3rd place and 2 votes for 4th place), Barcino.


4th Place - 2007 Códax Albariño with 15 points (3 votes for 3rd place and 3 votes for 4th place), Barcino.


5th Place - 2006 Pazo de Barrantes Alabariño with 6 points (6 votes for 5th place - a common opinion was that it lacked balancing acidity, one noted it was flabby and cloying, one noted that it was atypical of albariño), Ralph's.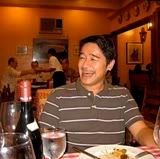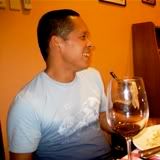 The academic part of the evening over, we were all able to kick back, relax and enjoy the rest of the evening. Since each of us brought at least one bottle of red each, a wide assortment of reds for dinner were available. There were reds from all over: Rioja, Priorat, Napa, Pomerol, Piedmont, Chile, Australia, etc. - everyone had chuleton on their minds, obviously.
Not all bottles were opened immediately, but some were already being decanted for aeration. Miguel then told the staff that we were ready for dinner proper.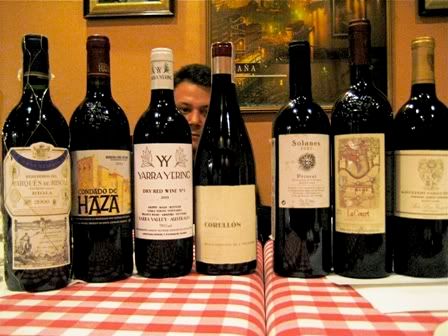 We sarted with platters of Paella de Verduras (made with basmati rice), followed by a huge
Besugo al Horno
for whatever albariños were left, followed, and, thereafter,
Chuleton
for the reds.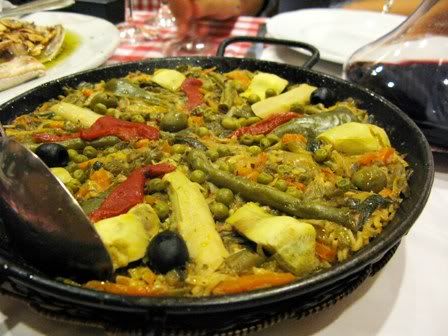 Paella de Verduras (with basmati rice)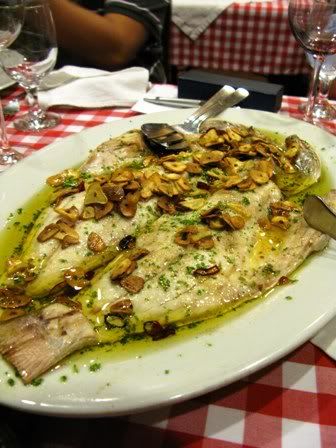 Besugo al Horno
Chuleton with fries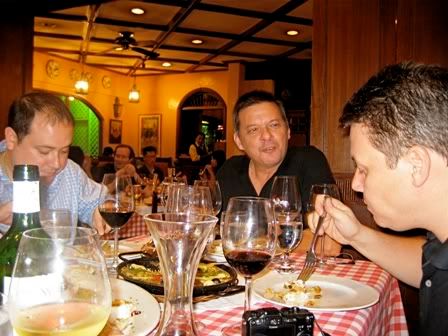 There were simply too many reds on deck, much more than we could finish and remain reasonably sober, so only a few were opened.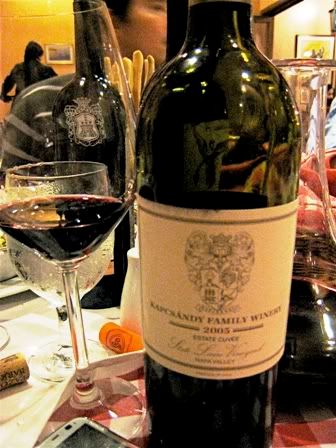 2005 Kapcsándy Family Winery Estate Cuvée State Lane Vineyard
- A very young bordelaise blend from Napa, I understand that with this vintage, Denis Malbec, formerly cellar master of Château Latour was involved. It was opened for sheer curiosity as some tout this as the next Cali cult wine. Decanted for aeration for around 2-2½ hours before hand, it was still very primary, showing a dense, concentrated, somewhat syrupy texture and very full body.
Typical big Napa cab blend, it blasted out crème de cassis, super ripe black currants, espresso, lots of toasty oak/vanilla, cough drop, sweetish licorice, cinammon, toffee and a touch of caramel. Not really my type of wine despite Robert Parker's 94-point anointment, but, with proper age, it would surely please those fond of big Napa cabs.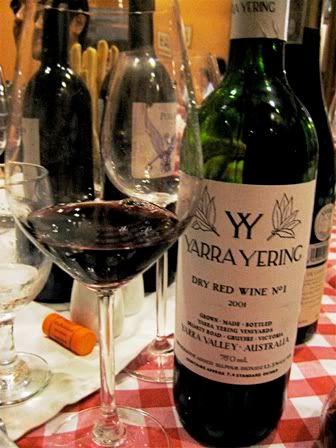 2001 Yarra Yering Dry Red Nº1
- From Rene, purchased during his most recent business trip to Australia. Surprisingly much more suave and reserved than most all Aussie bordelaise blends that I have tried. It shows a cleaner over-all character, just-over medium-bodied, with cassis, some discreet cherry and raspberry, bit of cedar and a faint earthiness. Not bad at all, quite pleasant, actually.
2002 Cims de Porrera Solanes Priorato
- Greg's bottle, opened to go with the chuleton as the main pairing wine. "Cims de Porrera" means the heights or summits of Porrera, the latter a village in the DOQ of Priorat at the Catalunian foothills of the Pyrenees mountains. The winery is owned by the Pérez family, one of the 5 late-'80s "pioneers" who put Priorat on the world's wine map (the others being Rene Barbier through Clos Mogador, Álvaro Palacios through Finca Dofí, etc.).
Solanes is actually Cims de Porrera's second wine to its Classic line, the latter of which I bought several of the 2001 vintage from Säntis around 3 years ago. 2002 was a middling vintage so no Classic was made, and research shows the fruit that usually goes into the Classic line went into the Solanes that year.
This wine showed good restraint instead of the usually almost-over-the-top (for me) overly ripen/extracted/concentrated/oaky style that has been popular as of late - likely the vintage speaking. The wine is just a few notches over medium-bodied, with a smooth, slightly spicy character. Its dark fruit is smooth enough but with good presence, the wood well-integrated, the tannins nicely in check.
Though it does not possess a commanding character, I think it is more food-friendly for that. It was able to stand up to the chuleton, complementing it well, while allowing the latter to take center stage as was planned. Good call, Greg, to bring this wine for pairing.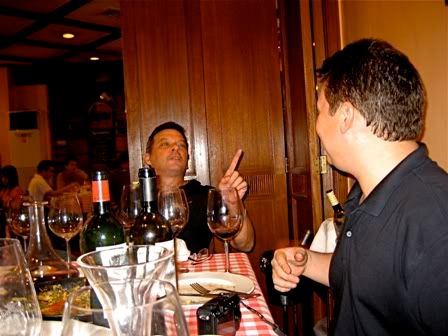 In the meantime, the Stockbroker, always very generous wit his deep bench of wines, had pulled out a special red that got Johnny into a vinous swoon - as well it would.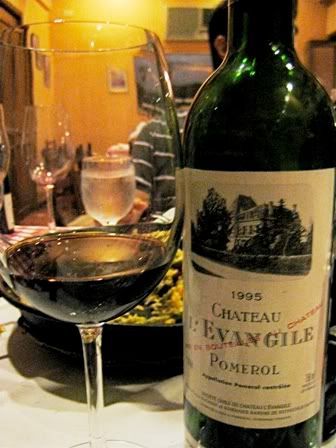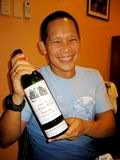 1995 Château L'Evangile
- From Pomerol, a wine I first tried with him and the Doc several years ago. I can't seem to find my notes on it, they must have been one of those that got lost before I started my blog. This château is the Rothschild's (Lafite, not Mouton) flagship Pomerol, the vineyards of which neighbor those of fellow appellation stars Pétrus and La Conseillant.
Warm, comforting, quietly powerful with great depth and good complexity, presenting serious, earthy dark plum, dark cherry, mocha, touch of licorice, cedar and some underlying loam, cassis and discreet minerality. Not quite full-bodied, excellent balance, harmony and typicity - a beautiful wine. Much, much better, in my opinion, than
the '96 L'Evangile that I bought a few bottles of back in 2005
.
Dessert was a traditional
Leche Frita
from Javi, for which the Stockbroker opened...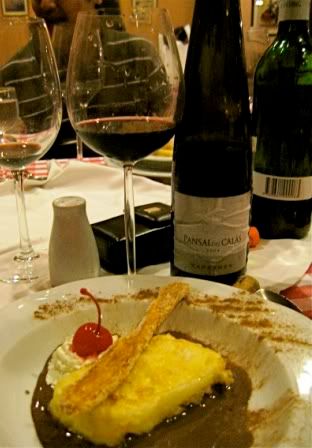 2004 Celler de Capçanes Pansal del Calas
- Hailing from Montsant, this sweet red wine reminds me of a heftier version of the
vin du naturel
of Rasteau more than Banyuls because the subject wine's chocolate notes are subtle. Old vine grenache dominant, this viscous and chewy wine's sweetness is properly moderate (I do not like overly/cloyingly sweet wines) with dried cherry/dark fruit/fig, semi-sweet chocolate, roasted walnuts, touch of chestnut, bit of vanilla, and a mere hint of cinammon. Very nice, especially at its price - P1900 at Premium Wine Exchange.
Johnny had left earlier due to a family emergency. We wish his family well. We lingered a bit, finishing off whatever we wanted of the wines and headed for home relatively early since I got home way before midnight. Thanks to all, especially chef Javi who went to great lengths to prepare an excellent meal for us. I must say that the chuleton was particularly delicious that night and the fries were sheer perfection. Muchisimas gracias.