After breakfast on the 26th March 2010, we trekked to the
Logroño Market
. Lots of fruits and vegetables on the 1st floor…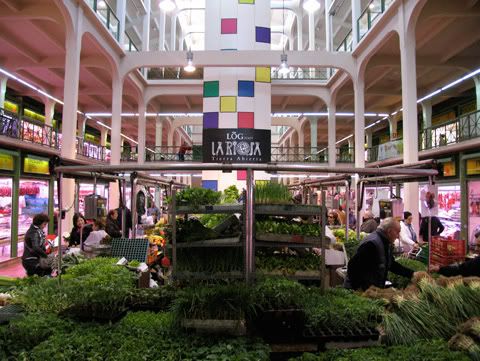 …and lots of interesting cuts of meat on the 2nd…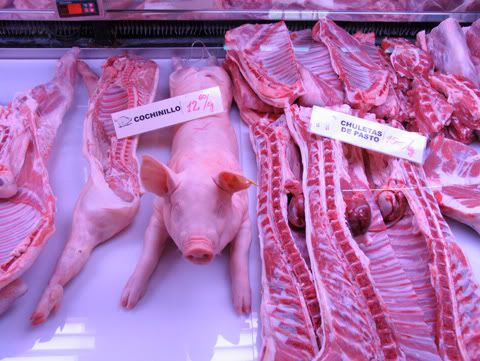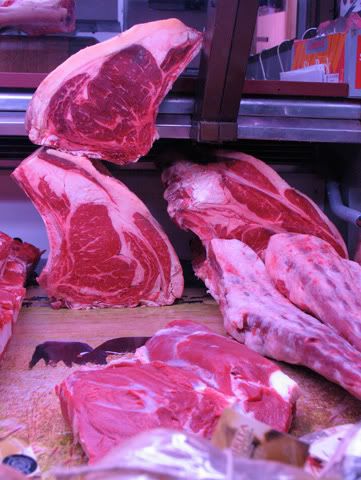 …including some tasty cuts one doesn't usually find back in the markets of Manila.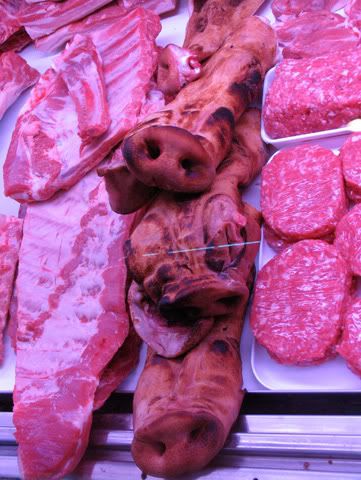 I finally discovered, too, what a mean, nasty looking fish the
merluza
(hake) is, so felt very justified in eating so many of their brethren during this trip.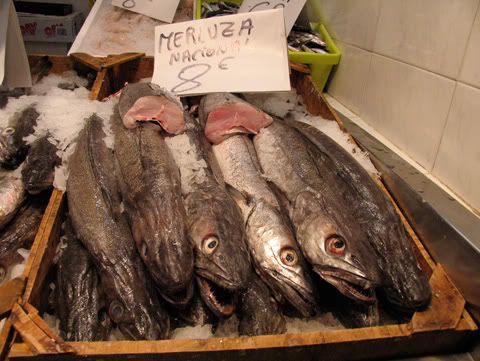 I left the others early though to finish packing and catch a few more minutes' sleep for the ride to Laserna (Alava), where we were to visit the
Grupo Compañia Vinicola del Norte de España
's (a.k.a., "
CVNE
") massive and modern, oak vat shaped
Viña Real Winery
located on El Cerro de la Mesa in Rioja Alavesa.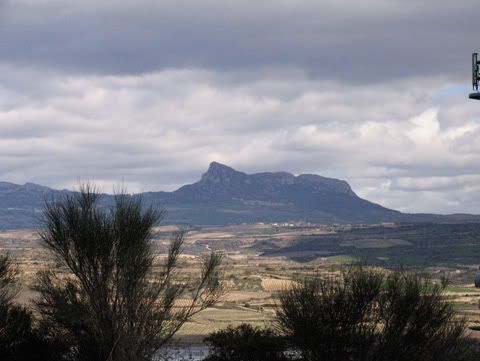 A view of "the Sleeping Lion" formation from Viña Real.
CVNE itself was founded in 1879 in Haro, Rioja Alta, by the brothers Raimundo and Eusebio Real de Asúa and remains in the control of the 5th generation of direct descendants (through a 31.716% stake in CVNE of Asúa de Inversiones SL, making the latter the single biggest shareholder). It is now a huge operation that produces several lines: CVNE (Crianza, Reserva, Rosado, and Blanco); Imperial (Reserva and, in exceptional vintages, Gran Reserva); Corona (Blanco Semidulce); Real de Asúa (a tinto in tribute to the founding brothers); and Monopole (Blanco). There are also, of course, their Viña Real and Pagos de Viña Real lines (Rioja Alavesa) and the highly regarded wines of CVNE's Viñedos del Contino (Rioja Alavesa).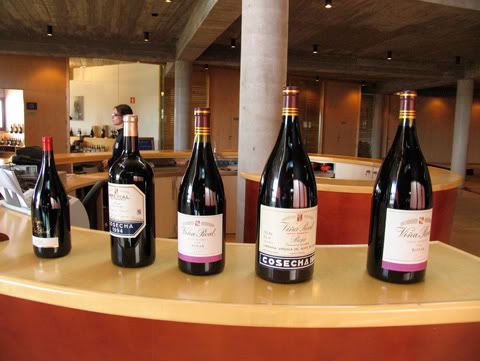 We were received and toured by the suave Key Markets Director, Oscar Urrutia, who obviously speaks the Queen's English (sure enough he studied in London and, as it turns out, is a friend of Edouard Miailhe - the world is really much too small). Aside from the stainless steel vinification vat hall that features a tall central crane that transports overhead mobile stainless steel tanks containing pre-hand-selected, crushed and de-stalked bunches for gravity flow into the vats…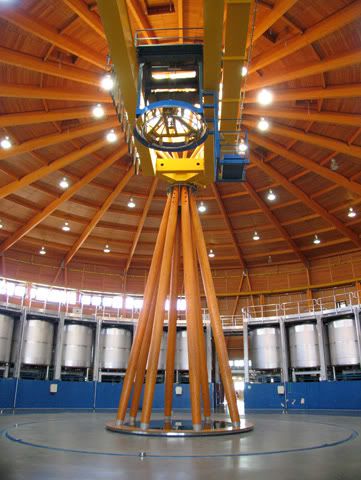 …we also toured the underground cement tanks, barrel rooms…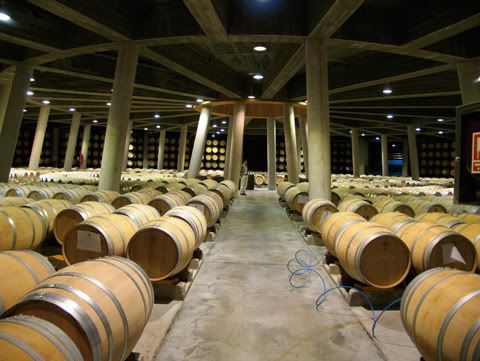 …and underground bottle ageing storage tunnels.
Thereafter, we proceeded to the tasting room where we went through 10 wines (2 whites, 8 reds) from Grupo CVNE's various lines and bottlings.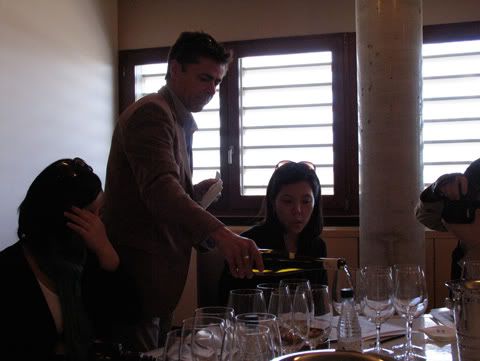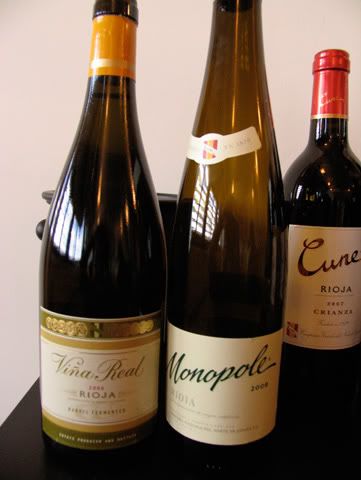 2009 CVNE Monopole
– 100% viura. There is a marked freshness to this moderately floral, notably ripe blanco. Ripe citrus, white grapefruit, moderate acidity, with a good touch of white minerals. Nice, lightly clean lines. A seafood wine, for sure; but I certainly wouldn't mind having it as an apéritif either. The fact that the bottle used is in the Rhine style isn't lost on me – that is the wine style I can imagine is emulated.
2008 Viña Real Blanco Fermentado en Barrica
– 100% viura. I must confess I personally and generally prefer my viuras fresher and unoaked. This blanco, though undeniably pleasant enough (and most likely approachable to the many) with its softly baked tropical fruit, hint of lemon custard, perfumed florality and creamy/leesy/oaky notes, comes off a bit too modernly forward, deliberate and designed for me. The acidity somehow keeps things in balance, which, of course is a good thing. Not for me, personally, though many will probably like this.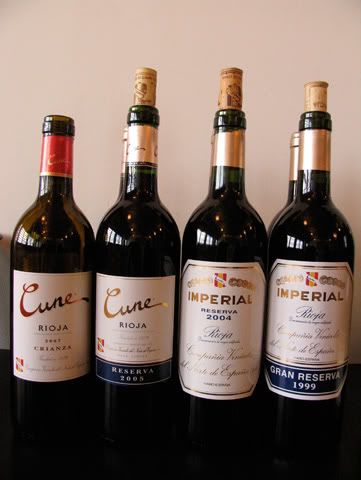 The Bordeaux styled and bottled Cune and Imperial lines.
2007 Cune Crianza
- Nicely fresh and lively, mildly spiced cherry, raspberry with violets and a whiff of balsamic to it. I am appreciating crianzas more and more it seems because of their comparatively (likely inherent) lighter, playful characters. A bit straightforward and not very complex, but undeniably pleasing.
2005 Cune Reserva
- Very nice this. Velvety, round, ripe cherry, raspberry, hint of underlying blackberry, cedar, violets, very slight old leather, balsamic and very moderate oak spice notes. Has a vaguely rustic charm/feel to it. Healthy acidity makes this a nicely bright reserva. Moderate complexity and depth, notable freshness and balance.
2004 CVNE Imperial Reserva
- I found this a bit too young to judge properly. Though it had a nice up-front charm, I expected to get more push, expressiveness and "oomph" from this. Has a good bit of balsamic character to the moderately spiced dark fruit though. Maybe it's just not showing well very now. Decent, but not up to my high expectations. Judgment reserved.
1999 CVNE Imperial Gran Reserva
- Too young to be tasted popped-and-poured, in my opinion - it doesn't do justice to the wine (I recall the 1995 version needed around an hour or so in the glass to begin showing what it really has). Still, as it was, it showed good enough depth and complexity in its ripe fruit enriched with, again, those finely-knit balsamic, caramel and cinnamon notes (from the oak ageing). There's just the vaguest suggestion of liqueur in its generally refined character. I'd think aerating this for 45 minutes to an hour or so in a decanter would make it show materially better.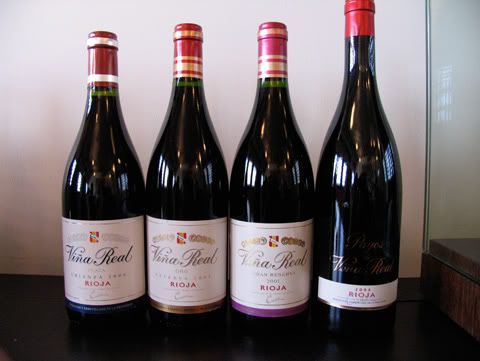 Viña Real's grape crush is sourced 50% from its own vineyards, 50% from long term contract growers.
2006 Viña Real "Plata" Crianza
– I like this crianza; it has good brightness and finesse to it. The fruit, not overly concentrated or extracted, is clean and well-defined. Barely medium-bodied, the fruit is vibrant and glides on the palate. Cherry, raspberry with a bit of lightly spiced plum underneath; the wine's oak is well-integrated and mildly toasty. This would be quite nice for eating none-too-heavy fare for sure – even seafood like seared scallops with risotto.
2004 Viña Real "Oro" Reserva
– I've long known 2004 to be an exceptional vintage for Rioja in general. Marked depth, push and lushness of slightly confited cherry, raspberry, some plum, slight licorice and pepper, with notes of leather underneath and cinnamon and vanilla just past mid-mouth and to the finish. Well-knit, plush but not heavy; this is just slightly over medium-bodied at most. Firm tannins and acidity to age gracefully – but I'd not wait overly long. Drinking nicely popped-and-poured; I'd guess this will probably be in full stride around 5-7 years from now and hold for, many more under good conditions – but only time will really tell.
2001 Viña Real Gran Reserva
– Another banner vintage for Rioja in general, and the wine shows it. Admirable, suave depth, quiet power and complexity in this. Smooth, lush layers of black cherry, raspberry liqueur, licorice, worn leather, some violets, oak spice and mild cedar. A little over medium-bodied, acid seems a little on the lower side. Very nice and real easy to drink.
2004 Pagos de Viña Real
- 100% tempranillo hand picked from older vines of selected Rioja Alavesa vineyards. Evidently more intensely aromatic than the 2001 Viña Real Gran Reserva, showing off riper, deeper fruit, sweetish balsamic notes, violets and cedar. Materially more complex (though certainly we're not talking light years here), heftier and richer as well, it is well-knit, smooth and coming along very nicely. Acidity seems good enough. I believe I'll seek out some bottles of these for myself to track over some time to see how it ages.
The tasting done, we hurried off to the old, rustic
Viñedos del Contino
as winemaker
Jesús de Madrazo Mateo
was awaiting us...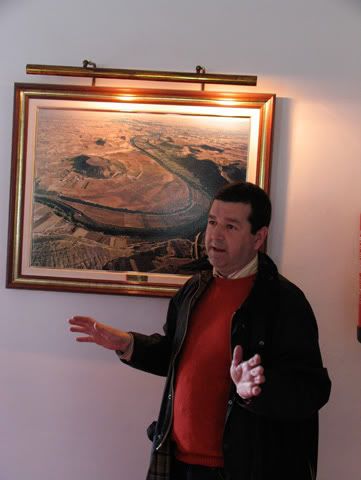 ...but not before I picked up a bottle of
1988 CVNE Imperial Gran Reserva
to take home with me for one of our increasingly frequent Rioja nights back in Manila.
Jesús is fluent in English, very friendly and has a great sense of humor. He is also brilliant, passionate about his wines and single-minded when it comes to constant quality control and improvement. In addition, he also has an air of wistful tradition to him that I liked off the bat. The first director and then driving force behind Contino was José Madrazo Real de Asúa - the father of Jesús. As I understand, Jesús' great-grandfather was one of the Asúa brothers who founded CVNE.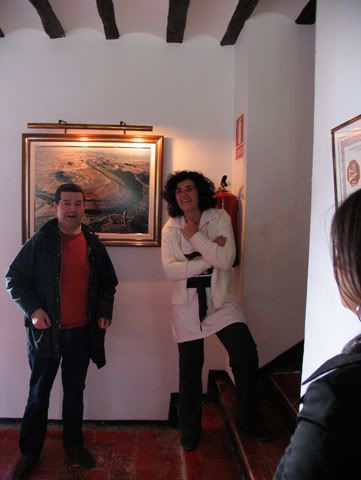 One of the Asúa heiresses stopped by briefly and said hello. Unfortunately, I don't recall her name.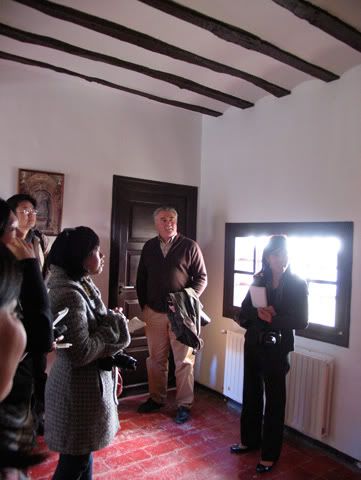 This large fellow has been in charge of the Contino vineyards for decades.
This 800+ year-old olive tree marks the 6 hectare, all tempranillo "Olivo" plot.
In a nutshell, the Contino winery itself, was established in 1973 at Laserna (Rioja Alavesa) and has an area of 62 hectares, 50 of which are planted to tempranillo, with approximately 7 hectares of graciano and 3 hectares of mazuela. The average age of the vines is 24-26 years, but includes some stocks over 60 years in age.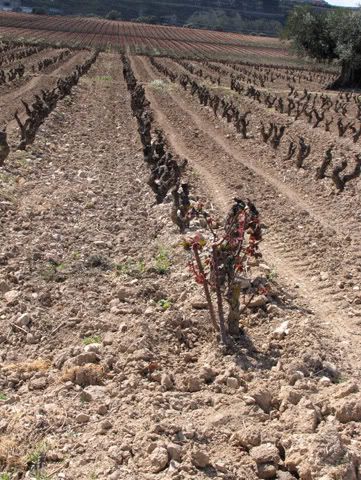 The soils are generally alluvial with sandy, loamy and calcerous lower layers and clay-sand with medium and coarse stony structure, in the intermediate and surface levels. The vineyards are laid out in 3 terraces (ranging 400-420 meters above sea level) and slope gently towards the river Ebro. The protection provided by the Cerro de la Mesa and being nestled at the crook of the Ebro combine to give Contino vineyards an "interior Mediterranean climate" with hot and dry summers (less than 30mm of rainfall), cold and not very wet winters
*
.
*
All technical data provided by the winery.
Though the winery itself was established "only" in 1973, it was housed in an old ancestral home...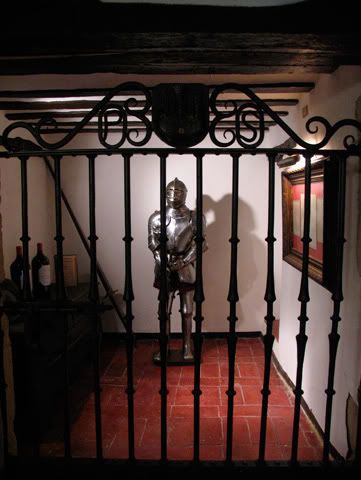 ...which still has underground structures dating back to the 16th century.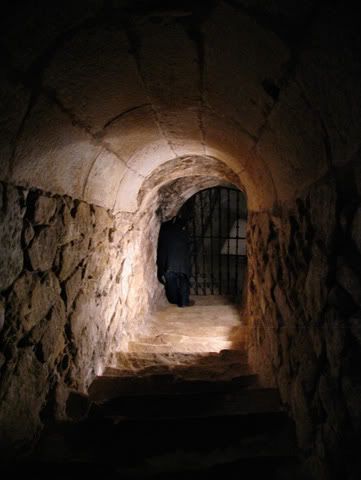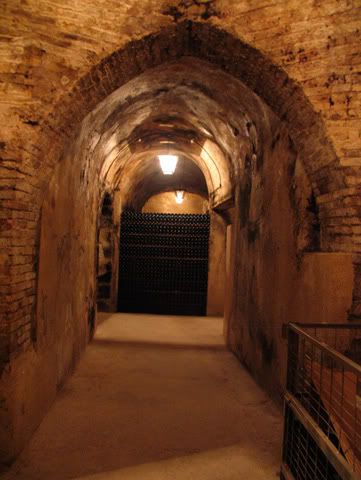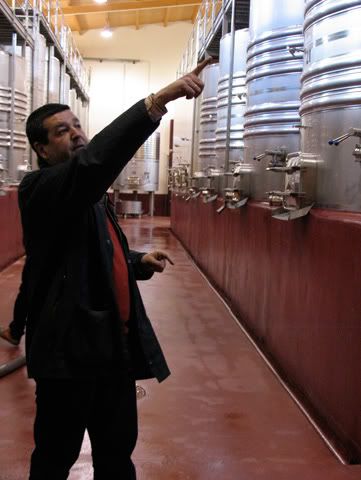 To accommodate 350,000 kgs of estate grapes, the winery has 32 tanks predominantly of stainless steel, with 6 of the tanks made of epoxy, resin-free concrete and 4 large French oak vats. The fruit is hand selected by bunch and gravity loaded to tanks directly from the sorting tables.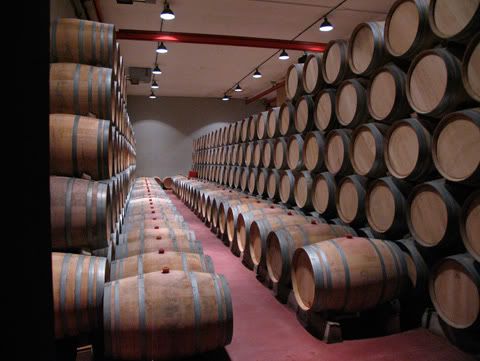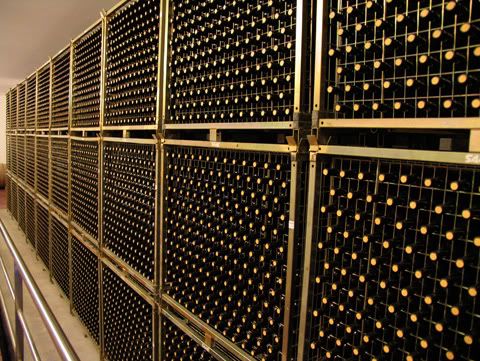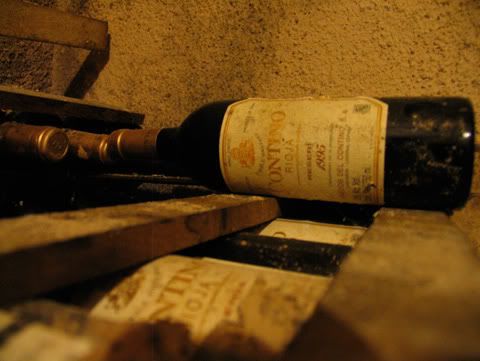 Jesús is famous for his single grape variety graciano, and he treated us to a barrel tasting of his latest 2009.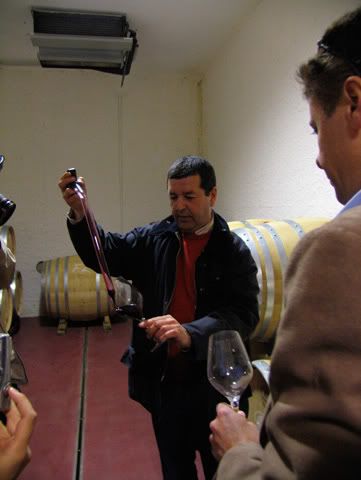 Using a "Wine Thief" to extract from barrel.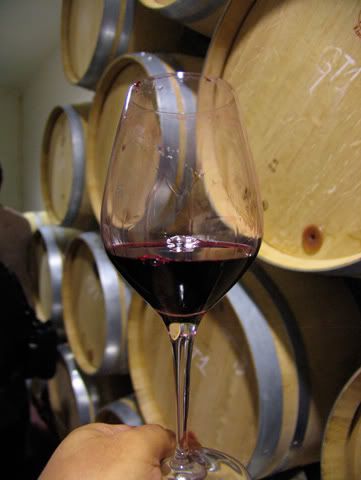 Bold, so very rich, dense, intense and powerful, loamy, minerally, brambly blackberries, blueberries, crème de cassis, anise, good dose of dark red spiciness. Oh my! Big, full-bodied, but vivacious balancing acidity and bold tannins give balance, freshness and structure. Not cumbersome or plodding at all despite its formidable appearance, size, power and weight. Very intriguing wine. I wonder what it will be like when mature.
We then proceeded to the winery's spacious and homey tasting-and-dining area, lined on one side with hanging bottles of Contino wines...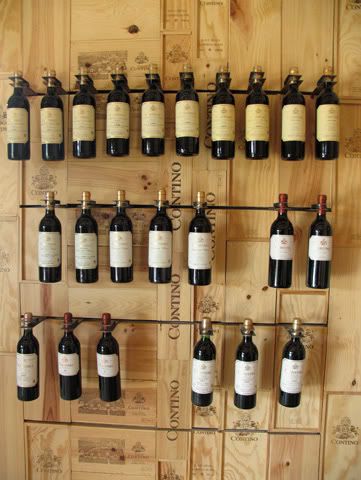 ...it was tasting and eating time, baby! Woohoo!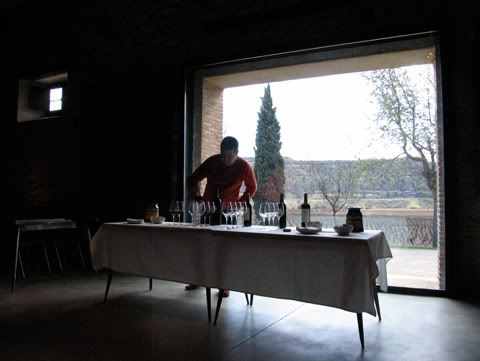 Jesús himself opened and poured...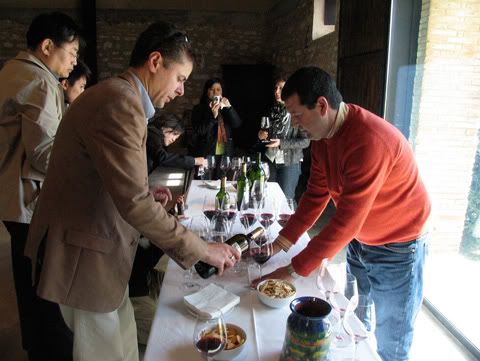 ...while Oscar lent a helping hand....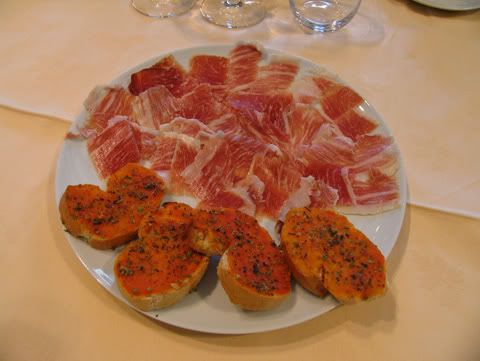 ...as did platters of excellent jamón and pan con tomate.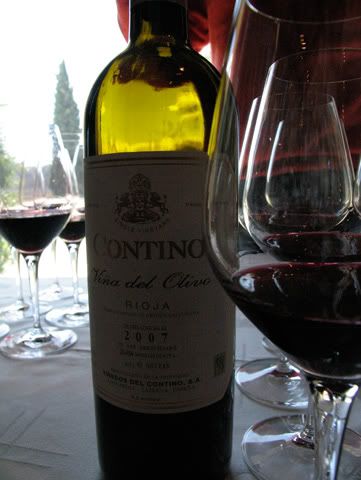 2007 Contino Viña del Olivo
- Another plush and modern-styled Rioja but Jesús appears to be able to consistently succeed in maintaining the fruit freshness over the new oak and keep wines in balance. That's no mean feat considering his preference for longer hang time and new French, American and Hungarian oak blends.
¡Olé!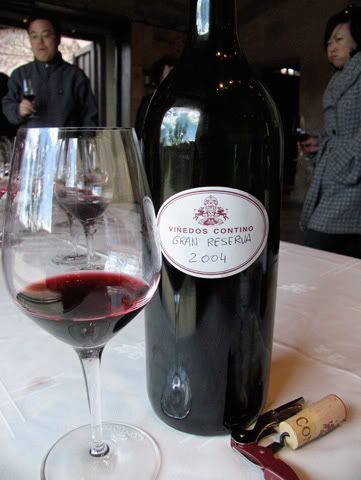 2004 Contino Gran Reserva
- Full-bodied, plush, polished black cherry, raspberry and blackberry compote infused with slight balsamic, licorice and toasty/slightly creamy oak notes. Wonderful balance and depth. Loved this one. I have to buy me some.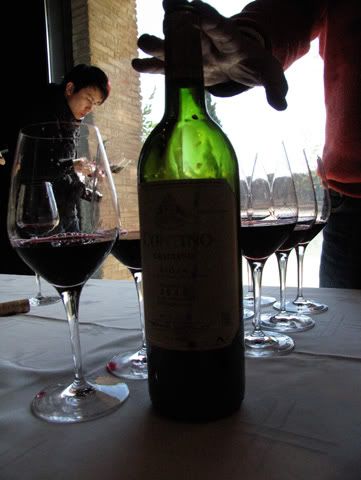 2006 Contino Graciano
- 100% graciano aged in, as I recall, a mix of French and Hungarian oak. Long, broad, confident, plush, earthy ripe black cherry, kirsch, raspberry, cedar/sandalwood - again with that hefty dose of red spiciness. Good drive on the palate without at all being over-bearing. Precise acidity and admirable structure. Very impressive.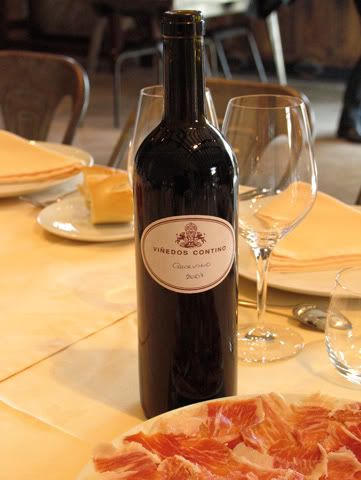 2007 Contino Graciano
- Similar to the already impressive 2006, but, in my humble opinion,
even better
in terms of fruit freshness and vibrancy, layering, depth and complexity. There are alluring whispers of liqueur and brandy to this decidedly masculine wine. Again, I wonder what an aged one of these would be like. With their solid fruit, sturdy structure and consistently healthy acidity, they certainly seem to me that they will age long and well.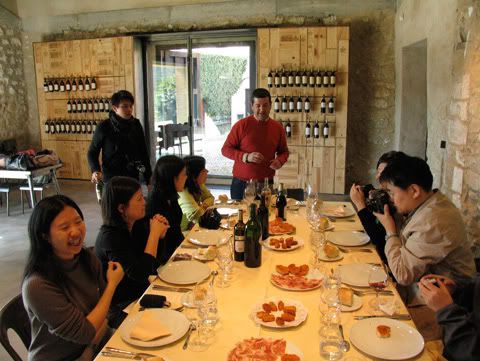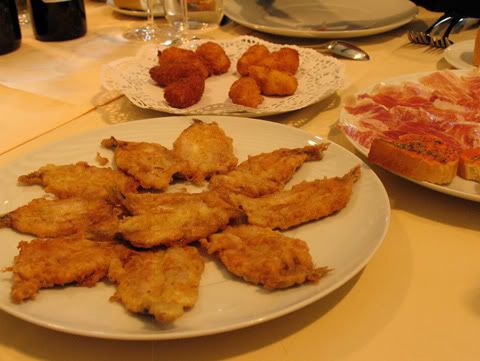 ¡Jamón, Croquetas y Anchoas del Cantábrico, coño!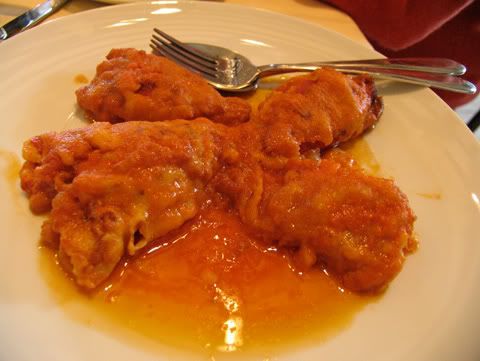 ...y no nos olvidemos los pimientos del Piquillo rellenos.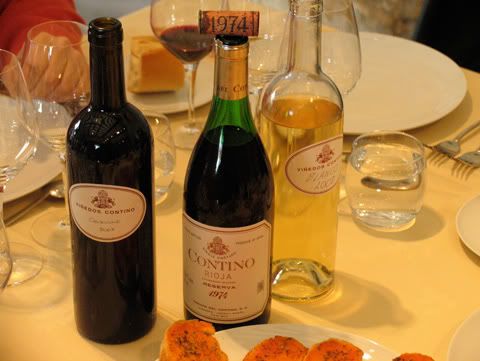 For the starters, seafood and stuffed peppers, I chose to stay with the...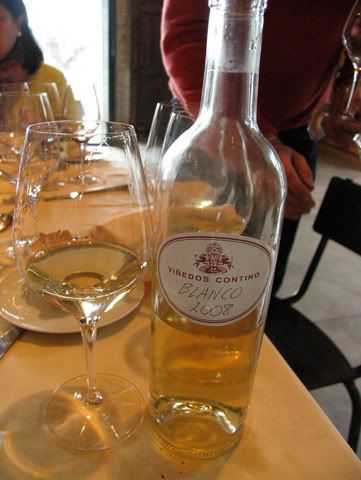 2008 Contino Blanco
- If memory serves, someone correct me if I am mistaken, this experimental blanco (not on the market) is made up of a blend of viura, malvasia and garnacha blanca (in order of dominance) aged in barriques for no more than 4-5 months to preserve fruit freshness. Jesús has been experimenting with this white for around 4-5 years now, but, as of the subject meeting, it was yet unclear when the line would actually be launched.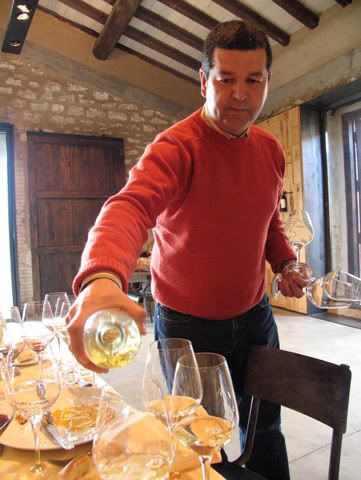 The flavors were ripe, rounded citrus, white grapefruit, some banana and dill. Leesy, slightly creamy, vanilla/oak is certainly there, but not so intrusive. There is freshness preserved here. Acidity is decent. Alone as an apéritif, I wouldn't make a go for it, but, with the anchoas del Cantábrico, croquetas and stuffed Piquillo peppers, I was happy to have it.
With one of my very favorite Spanish dishes (I certainly ate it as much as I could during the last trip) of...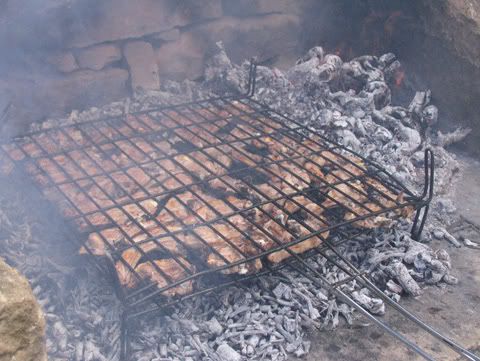 Chuletillas de Cordero al Sarmiento (Lamb Ribs Grilled over Vine Shoots)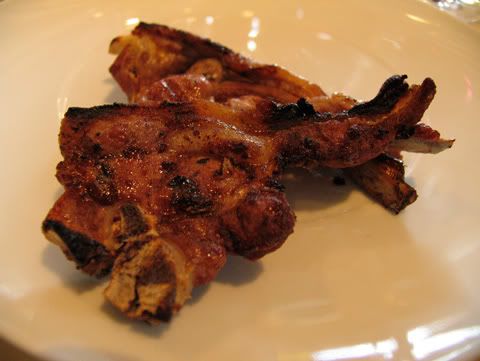 ...we we were treated to an extra special bottle...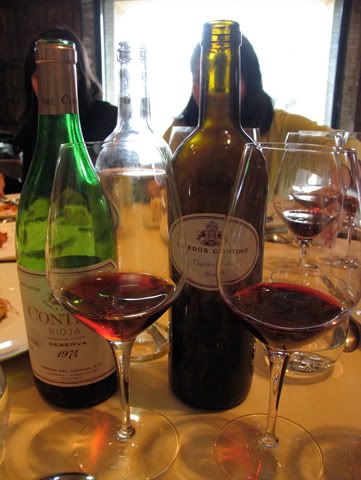 1974 Contino Rioja Reserva
- An elixir that brought to mind a seamless blend of cherry and raspberry confit, underlying dark plum and slight cassis, whispers of balsamico, sweet pipe tobacco, faint earthy suggestions of leather and walnuts, with red spice flitting about and trailing on the finish. So harmonious and serene. Silken. Lovely, lovely wine.
When discussing aged Riojas with the Stockbroker back home (particularly a bottle of 1976 López de Heredia Bosconia Gran Reserva that Eric R. had shared) he noted that, when served blind, he and Doc thought it was a Burgundy. The Stockbroker even went so far as to call it from Gevrey-Chambertin. I told him that, if the 1974 Contino Reserva were served to me blind, I may have made the exact same mistake.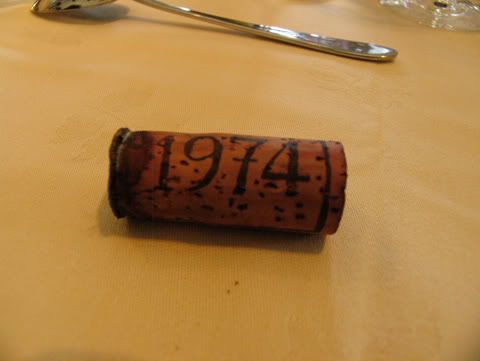 Un millón de gracias, Jesús, Oscar, y, tambien, a todos de CVNE.
Epilogue
:
Around a week later, after attending the
en primeur
tastings of the highly-touted 2009 vintage in Bordeaux, I was back in La Rioja with my wife. During one dinner at
El Rincon del Vino Restaurante
(Logroño), I had an absolutely superb bottle of...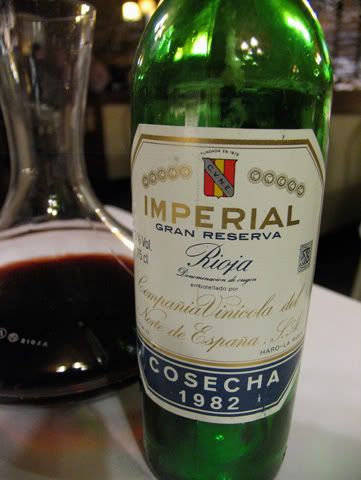 1982 CVNE Imperial Grand Reserva
...but that's another story to come.