This bottle was sent to me in Manila by the producer - all the way from its cellars in Rioja. It was a replacement for a corked bottle I purchased in Barcelona this past April 2010. I didn't ask for the flawed bottle to be replaced. On the contrary, when they offered to replace it, I told them it wasn't necessary, but they sent me one anyway. How's that for customer service?
In any event, I opened this during yesterday's (2nd September 2010) lunch at
Ciçou
with Miguel A. & Patrick R. (Patrick didn't drink though, just Miguel and I). With courses of
Crab Raviolo Cooked in Tarragon Broth, Mashed Spinach, Tempura of Vegetables
, and,
Papillotte of Red Mullet, Shrimp and Cuttle Fish Fricassée, Chestnuts, Bruxelles Sprouts, White Wine Velouté
...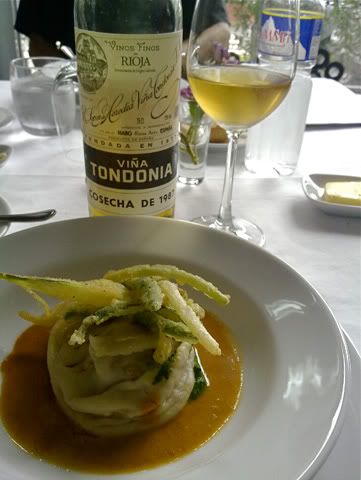 1987 R. López de Heredia Viña Tondonia Gran Reserva Blanco
- 90% viura and 10% malvasía, aged 9½ years in oak and 10 or so more years in bottle before release. The producer, as I have mentioned before, is the most traditional in Rioja, steadfastly sticking to their old, traditional style, never compromising their craft to accommodate the tastes of even the most influential critics. Maria José López de Heredia put their wine-making philosphy very succinctly when she said "We will die with our boots on."
If I could use only 2 words to describe this wine, it would be "complex" and "particular". It just kept opening more, gaining more complexity and a little weight as it sat in the glass and warmed up a bit. Intricate and subtle bouquet of white flowers, bit of lavender, lemon drop, orange rind, whisper of almond (the malvasía?), white minerality, vanilla, clove, whisper of oxidation, etc. Never "big" or "explosive", this is a study in depth and propriety - much more an intellectual than a hedonistic wine to be sure. On the palate, it is bone dry, smooth, medium in body and acidity, mirroring the bouquet's complexity. Everything about this wine is correct. Balance is exceptional.
Like the Viña Tondonia Gran Reserva tintos, this is quite particular; one, to my mind, much better suited to confirmed
aficionados
of traditional blancos Riojanos, or, at the very least, more experienced winos. This is no "tutti-frutti" wine. Those who prefer sweetish, fruit forward, lavishly oaky whites are better off looking elsewhere. Me? I really like it. Miguel did too. It went very well with both the afore-mentioned seafood-based courses - the first one in particular to me.