Yesterday's lunch (3rd September 2010) was at
Elbert's Steak Room
with some of the Usual Suspects: Aaron, Arnie, J-Lab, Miguel, Rene & myself. Miguel arranged things with Elbert to ensure we got the private room and a lot of the good stemware. Aaron and I came from a meeting so all the others were there by the time we arrived.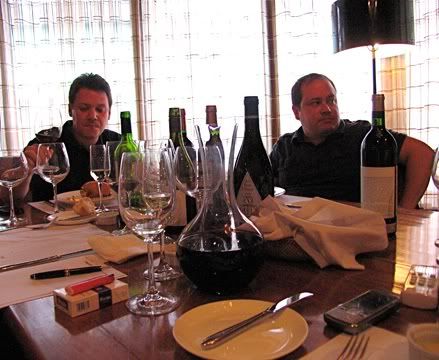 No special menu that day, we just ordered from the regular Elbert's Lunch Sets with some getting the Open-Faced Roast Beef Sandwiches, Burgers, Cheese Steaks, Etc. These lunch sets come with a choice of soup or salad (I opted for the salad) and dessert - I think these are really good value-for-money sets.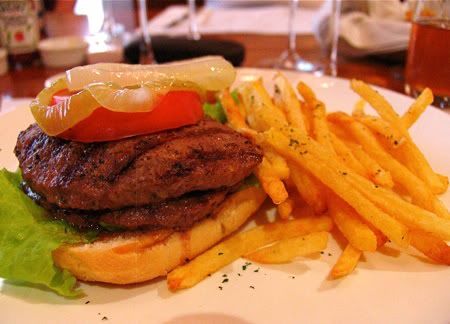 Naturally, there were a lot of wines: cava, rosé and several reds, among them a 2004 Roda I Reserva from Aaron, a 1998 CVNE Imperial Gran Reserva from Miguel, a 2003 Au Bon Climat Knox Alexander Pinot Noir, etc. - all very good wines. For some reason, however, I simply had to have some
Rogue Juniper Pale Ale
with my burger, so I ordered a couple of bottles of this for myself. I find its smoothly rounded, medium-bodied, bracing, slightly bitter fruitiness so flavorful, dangerously drinkable yet light on the belly. Definitely a good accompaniment to a burger, whereas I feel more than a bit guilty drinking fine wines with simple fare like burgers (like this is not showing proper respect to fine wines).
In any event, I did have a sip or two of Miguel's bottle of
1991 R. López de Heredia Viña Tondonia Gran Reserva
with my burger, I reserved the rest of my glass and subsequent pours for after my meal. I've written about this wine so many times
since I first tried it at Restaurante Echaurren
, so I need not elaborate further on this (to me) excellent specimen of very traditional Riojan red. It's really too good for burgers, though, in my opinion.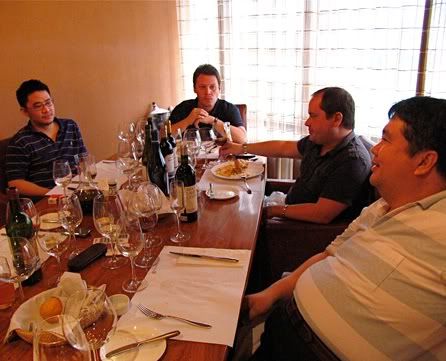 Of course, with all the wines, my beer and food, conversation naturally devolved into the usual teasing and joking around (very off-color in Arnie's case, but that is always to be expected).
I'm really watching my alcohol intake these days, so, I limited myself to Aaron's cava, Mig's Rioja and my 2 bottles of pale ale; I didn't partake of the other wines. I don't think Aaron had much either, as he was working intermittently on his laptop - that is until the rest of us harassed him into stopping.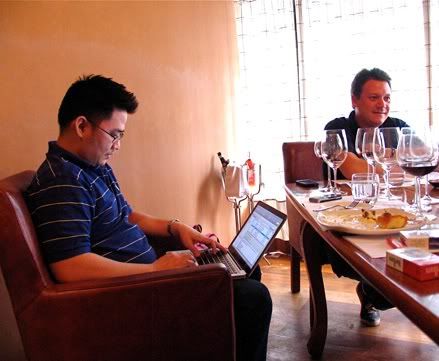 Very fun, casual lunch though. It was one of the very rare occasions I preferred beer over wine with my meal. I still love wine above all other drinks, make no mistake, but, on such rare occasions, a good beer is more in order.