The Stockbroker, Doc and I had lunch recently at
Old Manila
. We three used to do these wine lunches every other week back in late '04 to around sometime in '07 or '08. It was usually in either Tivoli or Old Manila, sometimes in RED or Pepato back then. It's been quite a while since the last one, so, when the Stockbroker called for one sometime last week (he wanted to get together before he left to run the Médoc Marathon), I made sure to be available for it.
Old Manila now has a very reasonably-priced Businessman's Lunch Menu that changes frequently. If I recall correctly, it's only around P900++ for 2 courses (appetizer and main course) or P1250++ for 3 courses (appetizer, main course and dessert). Doc and the Stockbroker, both more health-conscious than I, went for 2 courses, while I included dessert which was a light(ish) fruit and ice cream based one anyway (sorry, no photo of my dessert as I ate it before remembering to take one).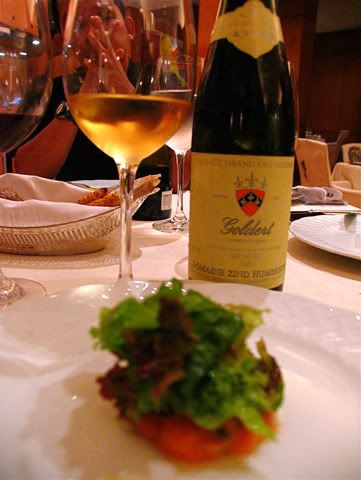 2007 Domaine Zind Humbrecht Muscat Goldert
- The Stockbroker's bottle. This grand cru designated Alsatian wine presented an unabashed and immediately captivating, moderately spicy perfume of wild honey, grape juice, bit of peach, slight orange rind, slight honeysuckle, orange blossom and slight, but still distinctive, distinctive muscat "muskiness". The wine mirrored its nose on the palate save for the overt honey-sweetness (this was vinified as a dry wine after all), though the usual Zind Humbrecht residual sugar level is still easily noticeable. Gracefully medium-bodied with notable depth in fruit, brightness and acid balance - this easily held my attention for a couple of glasses alone and with the appetizer. One of the better muscats I've had. This is readil available at Premium Wine Exchange at P2600/bottle full retail. At that price, I'd hit it.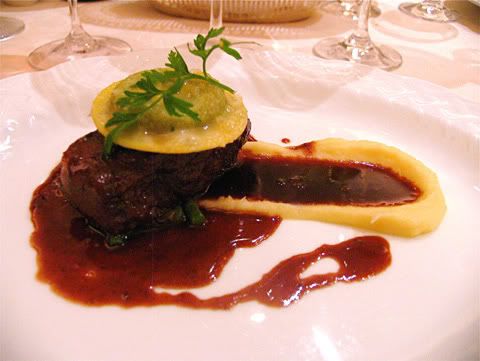 Braised Beef Cheeks
- this was particularly well-prepared and especially wine-friendly.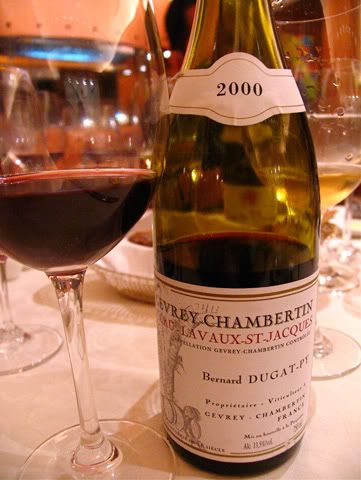 2000 Domaine Bernard Dugat-Py Gevrey Chambertin 1er Cru Lavaux St-Jacques
- The Stockbroker's bottle, from a famous artisanal producer, this is a very small production 1er cru bottling apparently. Unfortunately,this bottle was corked, albeit mildly. Too bad, as it presented a very promising and interesting visage.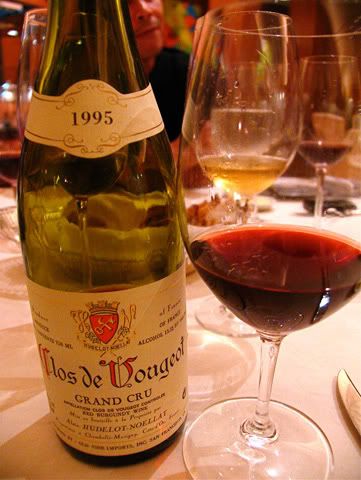 1995 Domaine Hudelot-Noellat Grand Cru Clos Vougeot
- Doc's bottle. What struck me most is the depth of fruit (black cherry, raspberry, hint of candied tamarind and ripe rhubarb) complexed by a slight pine needle topnote and somewhat darkly, well integrated, subtly-spiced oak and undertones of violets, ceps and worn leather. Quite ripe, this showed notable concentration and extraction. I believe this wine is transitioning as I could detect the beginnings of whistfully romantic Burgundy decay. Although already enjoyable, I do not believe there is any rush to open these.
Doc rushed off as I was having my dessert, so the Stockbroker and I continued chatting about his coming trip to Bordeaux. My bottle of
2002 Louis Jadot Nuits St-Georges 1er Cru Boudots
, thus, went back in my wine bag to await another day. Great getting together for lunch again in one of our old haunts. It's been way too long.