Dinner last night (Saturday, the 4th September 2010) was at
Mamou
with Catha and our 3 boys. It's been far too long since we've been here. I and good friend Booze make pretty darn good steaks, so we usually make our own at our homes. However, with all due respect to Metro Manila restaurants that serve good steaks, Mamou has long been my and my family's favorite, and the following are the reasons why.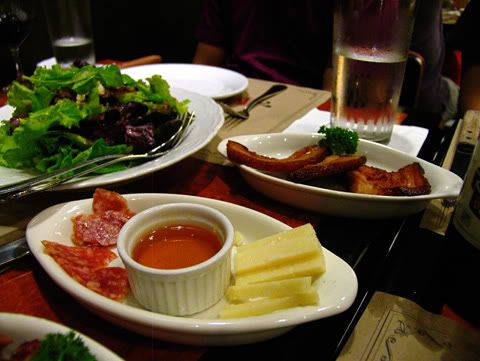 Fuet & Cheese with Honey
;
Healdsburg Salad...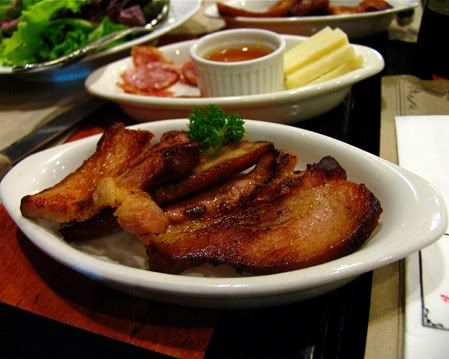 Mamou's
Bacon
(always have to get 2 of these)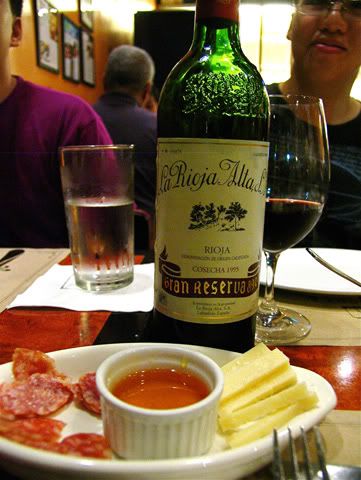 No meal at Mamou is complete without a good bottle of wine, so I brought along one that I knew would go well with the steaks:
1995 Bodegas La Rioja Alta Gran Reserva 890
- I've written about this wine so often, I will forego repeating myself here. Suffice it to state that its solid structure, pure, lush and well-focused Riojan fruit laced with notes of balsamico, cedar, leather and earth make it a fine match indeed for Mamou's steaks. Enough said.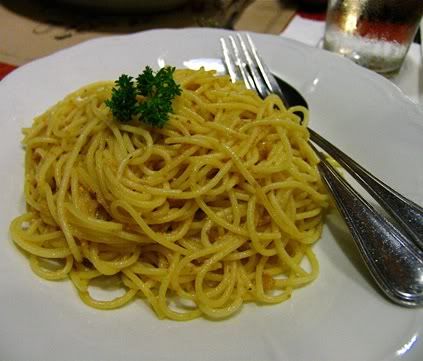 A note here: Mamou's Spaghetti Bottarga is very good, I make that clear. However, I personally prefer Tippi's version at Masseto as the bottarga's flavor is more prominent. Catha and Doc (the latter was the one who recommended that I try Mamou's version for purposes of comparison), though, favor Mamou's subtler take on the dish.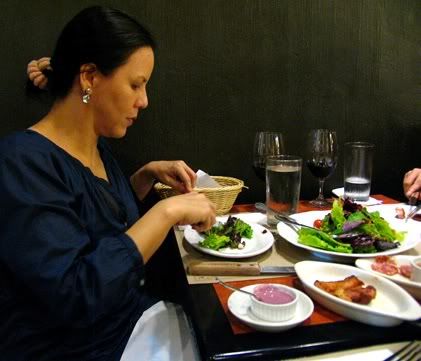 Catha enjoying the healthiest part of our meal.
Dry-Aged US Prime Grade T-Bone
The dry-age treatment is readily apparent from the buttery texture and the telltale nutty, slightly gamey and cheesy flavor of the rich meat. Very nice.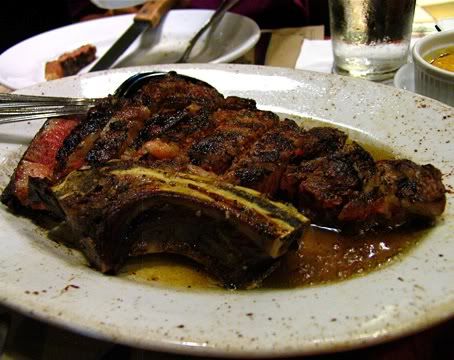 US Prime Grade Bone-In Rib-Eye
When Mamou was in its first year of operation, I loved the place since it was one of the very rare Metro Manila restaurants that actually knew how to serve its steaks properly rare (and nicely charred outside). I must note, however, that the last couple of times I was there, though I ordered my steaks rare as usual, they came virtually medium. I didn't make a fuss either time as I was already quite hungry and didn't want to wait for them to change the steaks. Unfortunate. Meat this quality should be served medium-rare at the very most. Still, we enjoyed them well enough (but would've enjoyed them more properly rare-to-medium rare).
Steak Rice
(White), 4 orders.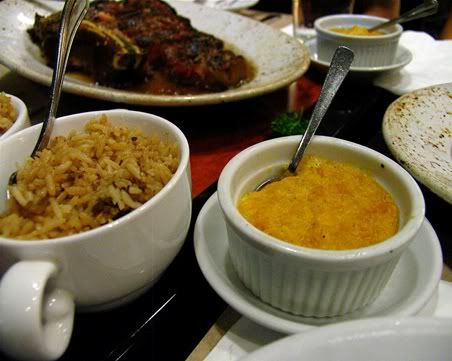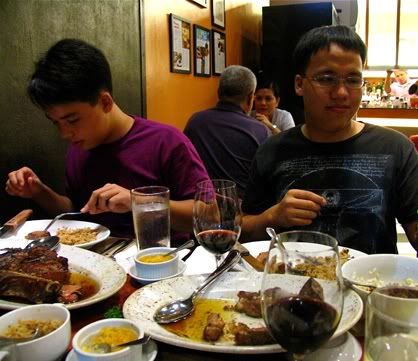 Teen-Ager Appetites, 2 orders.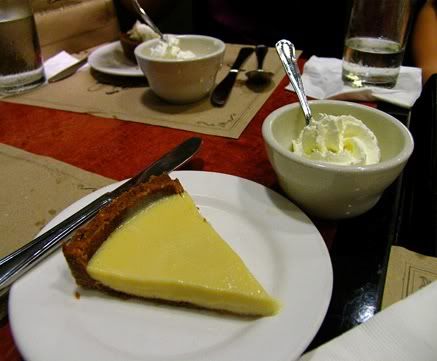 For dessert, we had a couple of orders of

Key Lime Pie

with the mandatory

Schlag

for Catha and the second. The first had some

Home-Made

V

anilla Gelato

(which he ate before I could photograph), while I had an order of the

Dark Chocolate Gelato

.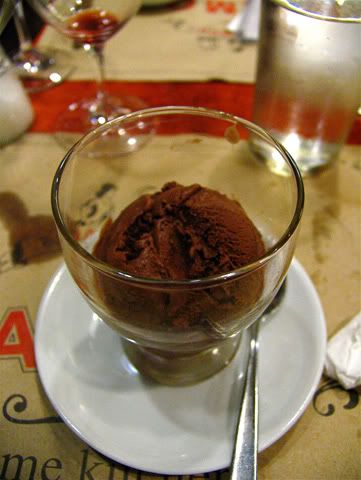 Surprisingly, the third opted out of dessert saying he was too full (his main course was the
Duck Adobo Flakes with Scrambled Eggs and Rice
which I also forgot to photograph).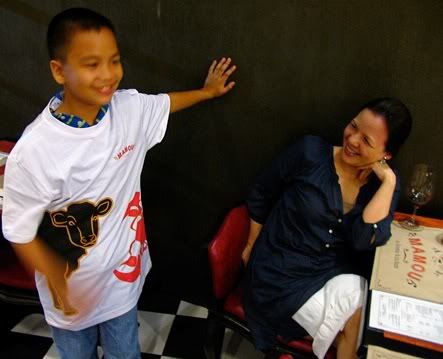 He did order a Mamou T-shirt instead and immediately tried it on (he will, obviously, have to grow into it though we got him the smallest size available). The second got one too as he has most likely outgrown the ones we got them before.
Stuffed to the gills, we wandered down to Bonifacio High Street, got the kids some books at Fully Booked and the second and I got some
Chai Lattés
from Coffee Bean & Tea Leaf (no more espressos for me at night, and, the second swore chai lattés make him sleepy). I slept soundly that night, so he's probably right.
Ok, so maybe the steaks weren't properly rare again at Mamou, but, that said, they were still pretty damn good steaks. We'll be back for sure
*
.
*
Disclosure: Mamou is owned by Oye & Malou Fores. Oye was a schoolmate of mine and Malou was a schoolmate of Catha's. Those factors have nothing to do with my post though. We pay for our meals there. All those dishes I posted on can speak for themselves most eloquently. All one has to do is try them out.