Last night, the 10th September 2010, was at Aled's place with the
Manila Gentlemen's Club
("MGC") for a dinner by
Chef Carlo Miguel
who is again available for private dinners. The MGC is a small wine, food and tobacco appreciation club that holds only black tie/formal attire dinners. This was actually Carlo's 2nd dinner for the MGC, the first one being held at Premium Wine Exchange back on the 23rd February 2007. Carl is an old friend/golf buddy of mine and some other MGC members used to dine fairly regularly in Mezzaluna and Sala Restaurant, so we pretty much all know Carl and are quite familiar with his cuisine.
Mike shows Carl a copy of the latter's menu from our February 2007 dinner.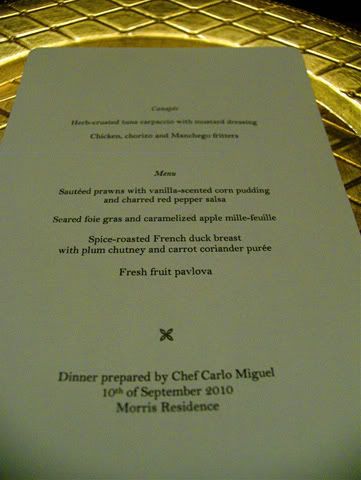 Cocktails began with gin & tonics and beers as we waited for everyone to arrive. Thereafter, with the pass-arounds of...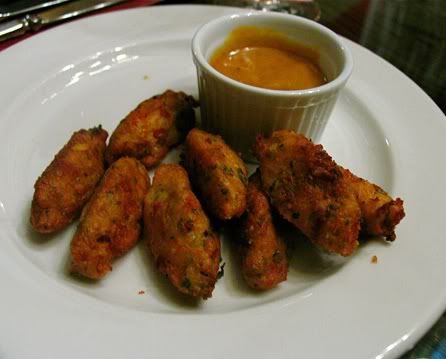 Chorizo and Manchego Fritters with Paprika Alioli...
...and
Herb-Crusted Tuna Carpaccio with Mustard Dressing
, we enjoyed a few bottles of...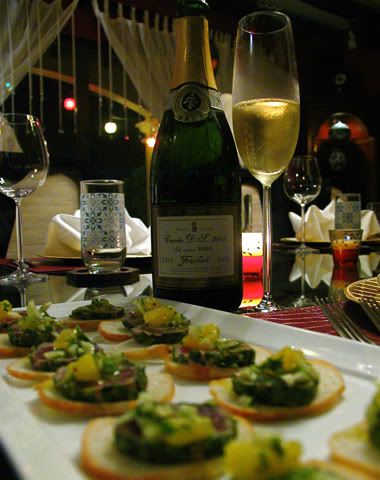 2004 Freixenet Cuvée D.S. Gran Reserva Cava
- I've recently written about this a few times, so
my last notes
are as follows:
So named after Dolores Sala, a former president of the giant Freixenet conglomerate, this special gran reserva cuvée started being produced in 1969 and is made only in exceptional years. The 2004 is only the 17th bottling of Cuvée D.S. since inception. This cava displays a very fine, persistent mousse, more and readily apparent depth to its fresh, dry white fruit and has a notably firmer structure as compared to most all other cavas I've had. There is also a good deal of complexity to this, all the while maintaining a bright, fun and exuberant personality. This is locally available from

ADP Industries

, the exclusive Philippine distributor of Freixenet.

I could drink this all night - and we actually did - through the pica-picas, with the soup, salad, fish course - switching to reds with the meat course - and returning for more after dessert.
The
Chorizo-Manchego Fritters
, served hot, were mildly spicy, robust, slightly crunchy on the outside and juicy on the inside, while the Paprika Alioli was nicely creamy and had a nice garlic and red spice kick. The
Herb-Crusted Tuna Carpaccio
was very fresh, clean and the mustard dressing gave a nice zing to it. Both pass-arounds paired very well, I thought, with the cava, the latter a brightening, cleansing acid contrast with the first and a hand-in-hand lively freshness with the second.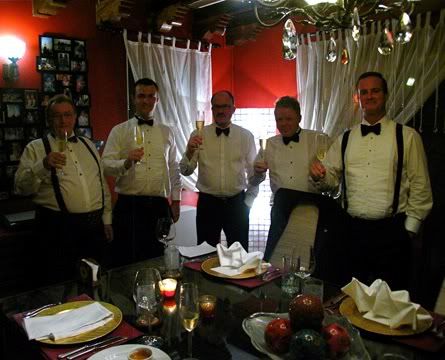 Robert, Aled, John, Mike and Richard.
We eventually seated ourselves for dinner proper and the first course was then served.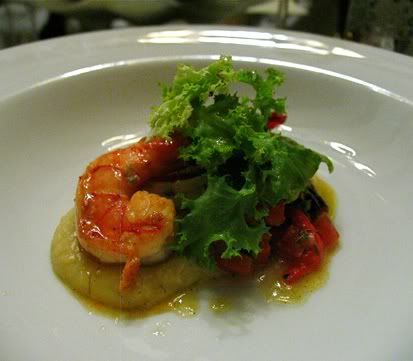 Seared Prawns with Vanilla-Scented Corn Pudding and Red Pepper Salsa
Discussions on this dish touched on, among others, the robust vanilla flavors in the rich, creamy corn pudding, the seeming resurgence in the local Tiger Prawn industry and the general group preference for the Tiger Prawns used in the dish. With this dish, we continued with a third bottle of the gran reserva cava.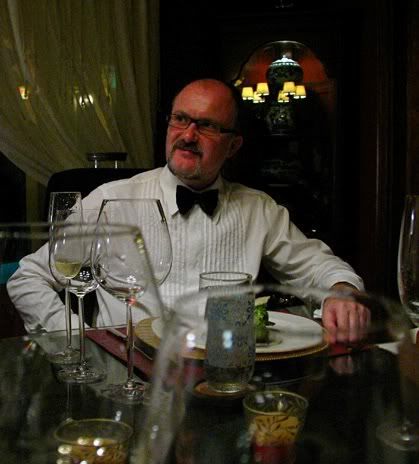 John, who is involved in agricultural feed distribution, gave us the lowdown on the local tiger prawn industry's apparent resurgence.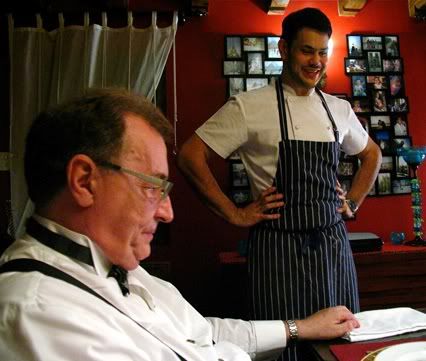 Carl then came out to introduce the next course...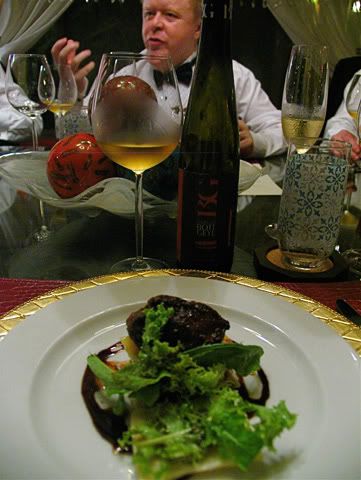 Sautéed Foie Gras and Caramelised Apple Mille-Feuille
, paired with...
2006 Domaine Bott-Geyl Gewürztraminer Grand Cru Sonnenglanz Vendanges Tardives*
- From the members comments, this was clearly the wine and pairing of the night. I found this to be a particularly unctuous late harvest wine. Presenting a moderately viscous, slightly oily mouthfeel, this is a few notches over medium-bodied (its grand cru climat speaking most likely) with its rich wild-honeyed, mildly spicy lychee, very ripe cling peach, slight apricot, orange blossom and rose notes. Botrytis notes are apparent making me think this is at least halfway to being a
sélection de grains nobles
. Very rounded, especially mid-palate, acid balance is just enough to keep the wine bright and stave off being cloying and resultant palate
ennui
. Lovely, lovely wine.
Robert, a very experienced fellow wino, expressed great admiration for the wine, the dish and the pairing. He also noted that while gewürz is, indeed, a traditional Alsace pairing with foie gras (as is Sauternes) and that the wine and foie gras was served in traditional French sequence, having a vendanges tardives or SGN at that point in the meal makes it a bit difficult to switch to reds thereafter (i.e., the botrytis richness primes the palate to rich sweetness). Mike suggested that a well-chosen sorbet between the foie and main course would probably help bridge the transition.
*
This is bottle was sourced from Jerome Philippon's
Sommelier Selection
, Domaine Bott-Geyl's Philippine distributor. The wine is from a special stock. Though not currently listed in Sommelier Selection's linked website, it is, in fact, readily available at P2870/bottle (500ml).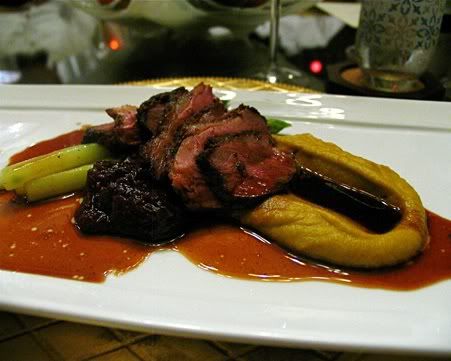 Spice-Roasted French Duck Breast
with Plum Chutney and Carrot Coriander Purée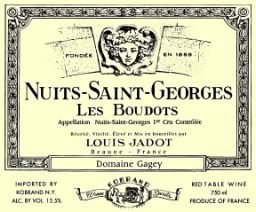 Sorry, I forgot to take a photo of the bottle.
2002 Louis Jadot Nuits-St-Georges 1er Cru Les Boudots (Domaine Gagey)
- From premier cru vineyards owned by the family of André Gagey (past Jadot managing director for almost 30 years), which vineyards are under long-term contract with Jadot. Enjoying the conversation, company, dishes and wines so much, I completely forgot to open the bottles to let breathe - much less decant them as needed. As a result of my negligence, the wine was just popped-and-poured and was initially a bit tight, inexpressive and over-powered by the duck.
After around 20 minutes, however, it did start opening up, showing relatively ripe, moderately deep, rustic black cherry, dark raspberry, some underlying blackberry, hint of violets, oak spice and loam. I felt that in another 25 minutes or so, it would have been much more deep and expressive. Unfortunately, I had already finished my glass. I'll try this out again and let it aerate properly next time. Available at Bacchus International.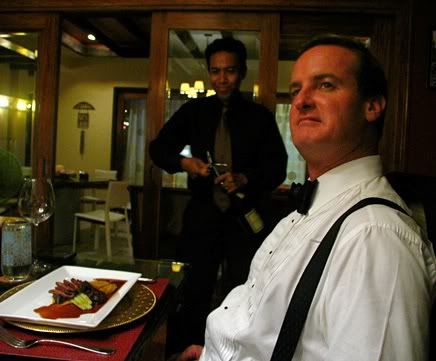 Following this wine was a trio from Bodegas La Rioja Alta: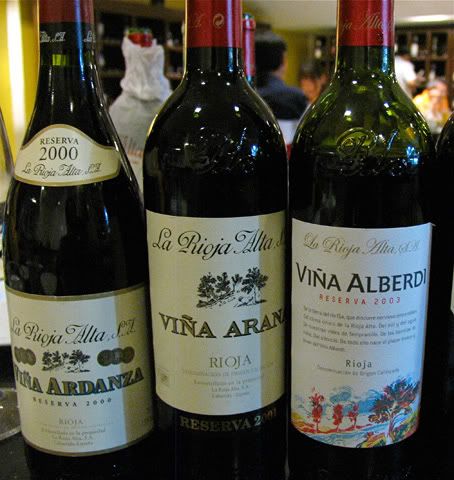 I've written about these wines from a tasting of Premium Wine Exchange's (the Philippine distributor of La Rioja Alta)
pre-launch tasting at Terry's 2º Piso
. Last night, the
2000 La Rioja Alta Viña Ardanza Reserva
was, by all accounts, the clear star of all the evening's reds. I found this comparatively the most expressive and giving - presenting immediately captivating aromas of sweetish balsamico, cedar, bit of a minty topnote, well-ripened and concentrated loamy black cherry, hint of kirsch, dark raspberry, bit of blackberry, slight cinnamon, vanilla and licorice. Robert and Richard also commented that this was their favorite red of the evening.
I had also intended to serve the 1997 La Rioja Alta Gran Reserva 904, but, unfortunately, it was already all sold out (together with the 1995 La Rioja Alta Gran Reserva 890). Hopefully, PWX will re-stock these wines soon.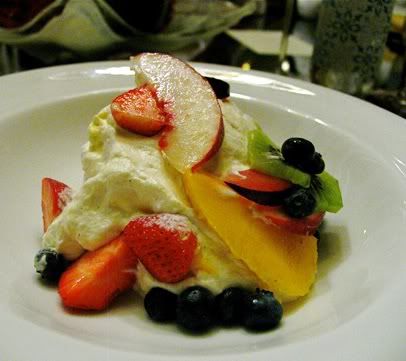 Dessert was, as Carlo described, a typically Aussie
Fresh Fruit Pavlova
. There was a bit of discussion on the problems the night's particularly humid weather presented in making a pavlova, but we were all agreed how well Carl pulled this dish off. This light-footed, delicately creamy and sweet dessert was brightened and freshened by the fresh fruits. All our generously filled bowls were made short work of.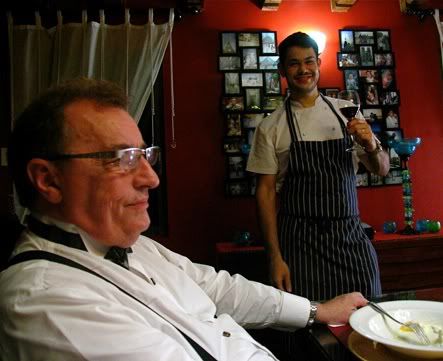 We then all moved poolside, lit up our cigars, chatted with Carl until he had to leave and took care of some club business over the rest of the wines and, for some, pours from Aled's bottle of
Macallan 18 year-old Single Malt Whisky
.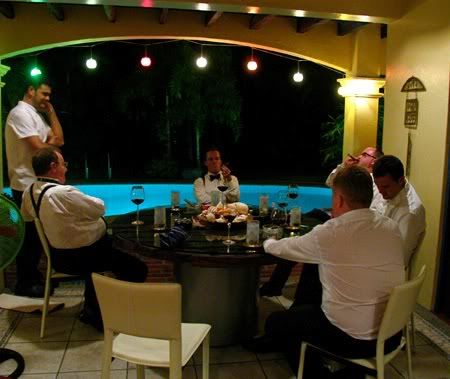 Very enjoyable dinner indeed. Many thanks to Carlo for preparing our delicious meal
*
, Aled for hosting us at his home and all the other MGC members for sharing their company. I look forward to the next!
*
Those interested in booking Carlo for private dinners may contact him at 0928 502 3069 or via e-mail at chefsmiguel@gmail.com.