Dinner of the 31st March 2010, courtesy of the Vigneron, was the
Ban du Millésime de la Commanderie du Bontemps
at the
Musée d'Art Contemporain à Bordeaux
. On the way there, I dropped Catha and Robert Whitley (publisher and managing partner of Wine Review Online, author of "Wine Talk", host of "Whitley On Wine", and director of several international wine competitions: Critics Challenge, Sommelier Challenge, Winemaker Challenge, San Diego International and Monterey International) to meet up for dinner at Chef Pascal Nibaudea's
Brasserie l'Europe
(located in the nearby Regent Grand Hotel Bordeaux) with Leena Ng (Editor of Wine & Dine, Singapore). Street parking was impossible immediately around the museum, so I settled a few streets down at a pay parking lot and walked a light evening drizzle to the venue.
We were seated at the table of Château Domaine de Chevalier, which my regular drinking buddies know happens to be a Pessac-Léognan producer I particularly favor for its understated, classic and elegant style. The Vigneron immediately introduced me to proprietors Olivier and Anne Bernard. I mentioned to them that my bottle of
1996 Domaine de Chevalier (Rouge)
garnered
top honors
at the past
International Wine & Food Society Philippines Branch's Blind Tasting of 1996 Bordeaux Wines
(17th July 2008 at the Coude Rouge, Alliance Francaise de Manille) over an impressive roster that included 1996 Angelus, Grand Puy Lacoste, Ducru Beaucaillou, Léoville Poyferré and Pontet Canet, to name a few.
Olivier justifiably beamed silently and invited me to a vertical tasting lunch at the château. Unfortunately, I was leaving for San Sebastian the next morning, and so that pleasure will have to await until I am back in Bordeaux.
Dinner was serve-yourself buffet style except for the main course.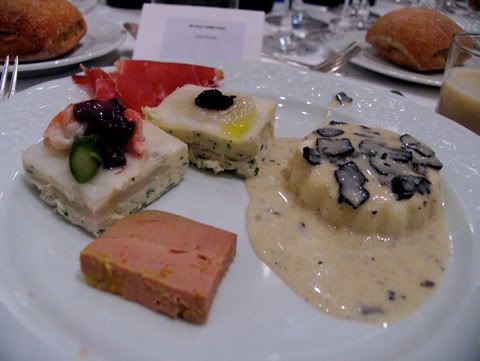 Foie Gras de Canard
,
Oeuf Surprise à la Truffe Noi
r,
Millefeuile d'Asperges et Langoustines
and
Crème Mousseuse d'Asperges
were my chosen starters. I paired them mainly with the:
2000 Domaine de Chevalier (Blanc, Magnum)
- Nose of honeysuckle, softly baked apple, pear, ripe lemon, bit of lemon drop and very slight, lime and seashell topnotes. In the mouth, the vintage ripeness shows in soft curves, plumpish roundness but nicely balanced with acidity. The sémillon (I guess) makes quite a statement with a definitive rounded crescendo and slight creamy-waxy texture. The minerality/seashell emerges towards the back an lingers with lemon and slight orange rind notes on the finish. Definitely had the stuffing for all the non-too-light starters. Lovely wine. Not a cheap blanc by any means, but reasonably priced for the quality starting at US$80/bottle and upwards in the USA.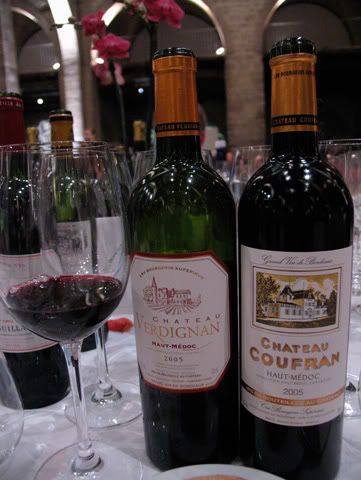 Between the starters and the maincourse, I tried two strong vintage Haut-Médocs of Eric Miailhe's (the Vigneron's cousin) châteaux:
2005 Château Verdignan
- I'm not too familiar with this estate. Truth to tell, I didn't even know this was Eric's until the end of the evening. This is a decidedly masculine wine with firm structure and an earthy, rustic character to its smoky black fruit, cassis, cedar, licorice, hints of rosemary and thyme. Good now and will certainly improve with, say, another 3-5 years.
2005 Château Coufran
- I am more familiar with the wines of this estate, having tried quite a few of them and having recommended well their 2000 and this 2005 vintages as good wines with good typicity and exceptional Quality-Price-Ratio ("QPR"). Warm, lusher, cedar-lined ripe plum, black cherry, hint of raspberry liqueur, violets and a solid underlay of soft cassis. Very approachable, easy to enjoy and unmistakably Bordeaux.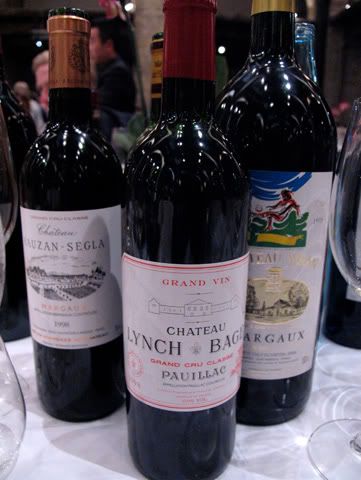 1998 Château Rauzan-Ségla
- I've actually always liked this producer even though I've been twice disappointed with their heralded 1986 in the past. A distinctive, captivating balance of texture and mid-palate weight most always has a lot to do with my appreciation of their wines. They most always possess, for lack of a less nebulous term, impeccable breeding - quietly holding out their many charms to be savored and appreciated - without ever shouting out "Hey, look at me!".
This '98, like the '96, '95 and even the new '09, is no different. Relaxed, confident, suave, with tons of charm, it is barely halfway between medium and full bodied, supple, pliant, smooth, just ripe, concentrated and indulgent enough without being at all forward. Good depth to the black cherry, raspberry, crème de cassis, saddle leather, whisper of new oak, cedar, violets and very mild herb notes. Balance and quiet confidence are hallmark. Enjoyed this a lot.
1998 Château Lynch Bages
- I've had this vintage of theirs a couple of times before, the first I recall was during dinner at the château's Café Lavinal with the Miailhes in June 2007 and it was much too young. Now, I can say that it is something one can expect from one of the most reliable Pauillac producers in a "plain Jane" Pauillac vintage. Medium-bodied, a bit lighter than usual, not as concentrated or decidedly expressive, it still displays good typicity in its blackcurrant, pencil shavings, touch of asphalt, black cherry, minor raspberry, cedar, slight minty topnote. Undoubtedly nice and an admirable effort for the vintage, if not as interesting as I would expect from such a fine producer.
1998 Château Siran (Magnum)
- I first tried this almost a year ago during
a dinner at I am Angus on the 30th May 2009
(in regular format though) and liked it well then. This vintage was one of those under the watch of Michel Rolland. My notes then were as follows:
Popped and poured, no decanting at all. At around 10-½ years from vintage, this wine presented an emerging bouquet of cedar and damson and cherry fruit over violet-infused dark berries.

In the mouth, it mirrors its aromas on a body halfway between medium and full, with an added dose of cassis flecked with vanilla/oak, underpinned by some leather and minerals. Shows a very pretty feminine side of finesse over-all.
This time in magnum, also popped-and-poured, the wine seems more expressive, shows more blackcurrant than before, more depth and slightly more minerality in its dark fruit, leather, violets and cedar. Siran's hallmark red spice notes in the finish (the petit verdot) are now apparent. Again, slightly on the feminine and more easily approachable side - a trait which I've noted in their '98 and '99 vintages under Rolland, but not the '00 and '01 which were more the old-school, muscular, masculine Siran. Very admirable wine for the vintage.
Mano à Mano de Pigeon et Foie Gras avec Ragoût de Légumes Primeurs paired with...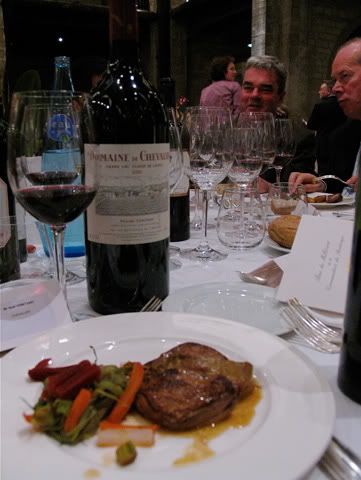 2000 Château Domaine de Chevalier (Rouge)
- A little over halfway between medium and full-bodied, this is a study in harmony and balance - its ripe, rounded, dried herb-flecked cassis, plum, black cherry, slight "tar" underpinning, mild licorice and mild new oak notes are intricately, almost seamlessly spun into silk and precisely buttressed with healthy acidity. This made for a great cut and contrast with the rich and indulgently earthy, slightly gamy pigeon and foie gras. Loved the wine, the dish and the pairing.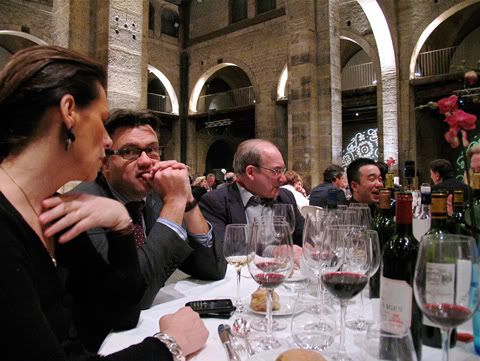 Anne Bernard and Edouard in post-dinner discussion.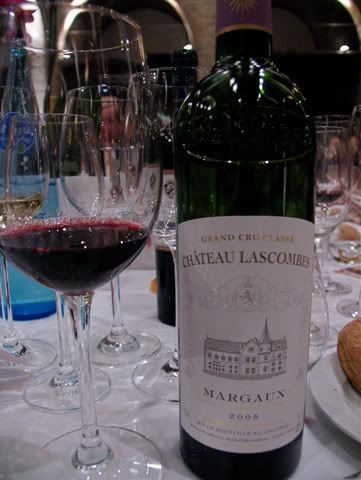 2005 Château Lascombes
- Definitely cut from the same cloth as their 2001, 2003, 2004 which I have had before and the 2009 I had just tried a couple of days before.
Very
unlike the older vintages of Lascombes. In a nutshell, this tastes and feels like a bold and forward, ultra-ripe/concentrated/extracted/overly new oaked Napa red. Virtually no typicity to speak of, not to me anyway, I am personally not enamored with the current Lascombes wines. I'll accept a glass if offered, but I'll never buy any - it's simply not what I want or expect from Margaux, Bordeaux or France. Though it will surely please those into the modern, rip-roaring "Bordeaux style", it's not for me.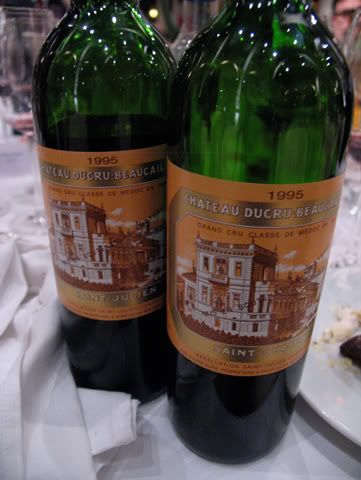 1995 Château Ducru Beaucaillou
- Regular drinking buddies know I am not taken by the wines of this highly-acclaimed producer except for a wonderful bottle of the '78 that the Stockbroker generously shared before. This seemed quite closed and reticent. Oh, you'll get the slight asphalt/tar infused blackcurrant, faint herbs, bit of violets and cedar but, as a whole, it just isn't giving much at all. More time in bottle? More aeration? I really don't know.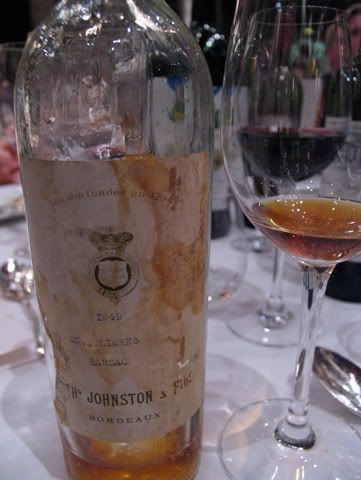 1949 Château Climens
- The nose was an absolutely stunning perfume of honey, spice, orange blossoms, vanilla bean,cream, caramel, candied orange peel and hints of dried apricot. In the mouth it mirrored the nose in a lusciously slightly-more-than-medium body. Attack is understated but captivates the moment it hits mid palate. Acidity is still good; brightens the wine so that it is not at all cloying. It finished with orange peel, wild honey, honeysuckle and just the merest hint of oxidation. Very elegant, very memorable.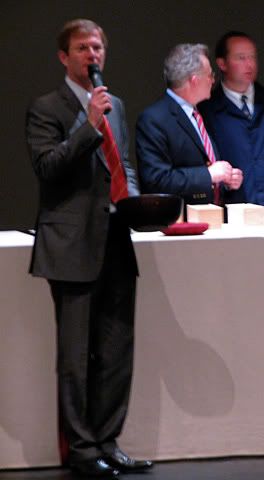 Grand Maître Emmanuel Cruse addressed the participants, handed out a few awards and distinctions and thanked everyone for attending, bringing a very enjoyable evening to a proper close. I gave proper thanks to my hosts, walked back to my car and drove back to the nearby Regent Grand Hotel Bordeaux to pick up my wife, Leena and Robert. It turned out that they weren't quite finished having fun and asked me to join them at the bar for a nightcap. Of course, I obliged.
Myself, Leena, Robert and Catha.
The next morning, we had a late breakfast at Siran, thanked Edouard for graciously hosting us at the château, said our goodbyes to him and the de Terrys (who were headed off to Toulouse) and started our 3½-hours drive to San Sebastian to make a 2pm lunch at Arzak - but that's another story.