Thursday night, 19th November 2009, I was at
Enderun's Restaurant 101
for Kosh Sehwani's
Snake River Farms ("SRF") Dinner
. I don't really know whose idea it was to invite me, but I'm pretty sure it was Mike Stephenson's idea as I've been a customer of Kosh's premium meat distribution company (Alternatives Food Corp.) for around 3 years - ever since Boozze told me they sold US prime grade rib-eyes. Since then, all the steaks served in my house are from them.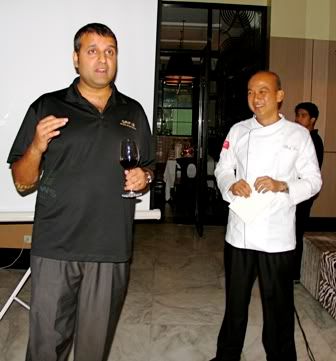 Kosh and Restaurant 101's Chef See
Shortly after my arrival, an endless stream of immediately recognizable
Champagne Jacquesson Cuvée 732 NV
(I've been having a lot of this lately) poured as Kosh gave a brief talk about the quality of Snake River Farms products while the EO-heavy crowd watched and listened attentively...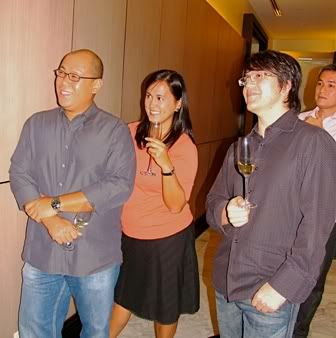 Ricky & Bubu Andres, Mike Stephenson and Vince Grey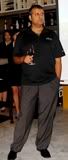 It was nothing really new to me, though, being an old customer. I'm even aware that most all the restaurants I haunt (e.g., Je Suis Gourmand, Ciçou, Mamou, Sala) get their beef, kurobuta pork and what-have-you from Kosh's company. Chef See thereafter took the floor and explained how even Snake River Farms' less rarefied cuts make for excellent dishes. I tried some of them (pass-arounds) and he was right, especially the mini satay skewers with peanut sauce. Had I not known that at least a kilo of meat per person was budgeted for the evening, I would have eaten more of them.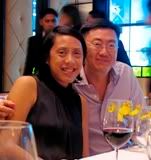 I must mention that, aside from Mike who I haven't seen in a while, I was particularly happy to see Jay and Bambi Sy at the dinner. Ever since I left EO, I rarely bump into them - mainly in restaurants as they are also intrepid foodies. They are always very nice and fun to be with. Very charming couple. Moreover, it turned out that we all wound up seated at the same table together with Edward Lim and Annette who, I later discovered, likes wine, used to be my neighbor in Greenhills and our respective parents knew each other from there. We had a good table.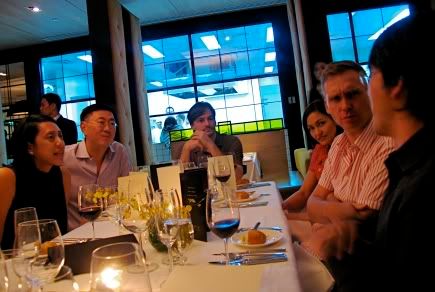 It is no secret that, though I do have very high regard for the real deal Kobe beef from Japan (it is so fatty that my palate tires after a few bites), my favorite beef is US prime-grade beef. I've tried countless others, including the touted Charolais from France (I must have eaten a lot of these white cows the first time I visited Burgundy), and, though, many are most acceptable, for me, nothing beats a thick, juicy, rare slab of US prime beef.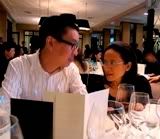 Being able to make a pretty mean steak myself (or so I think), I consider 90% of the game is using high quality beef. The remaining 10% is proper heat and timing. Sounds easy, but I am sometimes surprised how many accomplished cooks at fine restaurants can't seem to get it right. The latter was definitely
not
the case last night, as Chef See's dishes were all impressive (it was my first time in Restaurant 101). A glance at the menu (which was earlier sent to me by Mike) told me the pairing wines were all from
Premium Wine Exchange (PWX)
.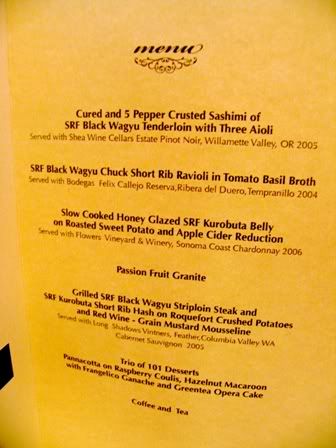 Our meal started off with
Cured, 5 Pepper Crusted Sashimi of SRF Black Wagyu Tenderloin with Three Aïoli
...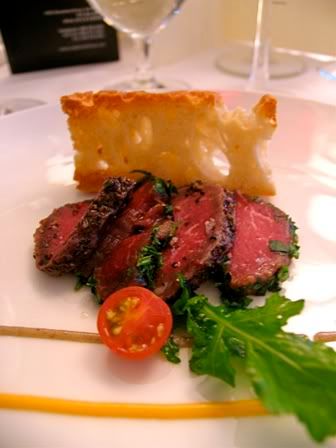 ...paired with...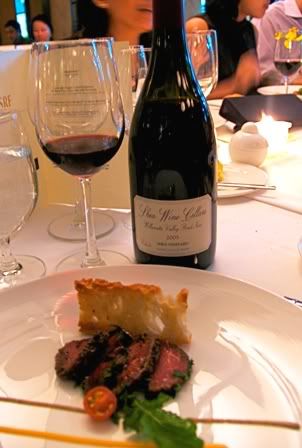 2005 Shea Wine Cellars Estate Bottled Pinot Noir
- The fruit of this wine hails from Oregon's largest AVA the Willamette Valley. While I am by no means an expert at US pinot noirs, I've found those I've had from Oregon more to my personal taste than those from California. The former seems to possess generally better acid balance and the wine is not so in-your-face. Whether it is the cooler Oregon night temperature or the local winemakers' general style that is key to better acidic balance (or, at least, my impression thereof), I really wouldn't know.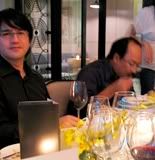 The wine presents good nose of sweetish, darkly spiced ripe cherry and damson compote, slight bit of cola, underlying dark berry, slight vanilla and a merest whisper of
sous bois
. These are joined by a cinnamon nuance in the mouth, all on a plump body, midway between medium and full. The fruit is nicely soft, slightly candied, not over-ripe. Well-crafted, with a pleasingly rounded mid-palate feel.
I would never mistake it for a Burgundy, it is a good New World pinot noir that really blossomed when sipped after the tender wagyu tenderloin "sashimi" starter - the wine's gentle, sweetish-ripeness subtly tamed the heat of the 5 pepper crust in admirable counterpoint.
Fine marriage. I had a rosé from Château Troplong Mondot in my wine bag, but there it stayed. I could not have paired this starter any better than it already was.
Next was a bowl of
SRF Black Wagyu Chuck Short Rib Ravioli in Tomato Basil Broth,
with which we were served
..
.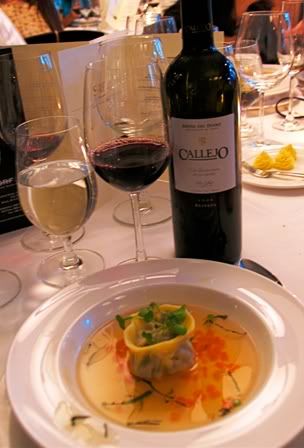 2004 Bodegas Felix Callejo Reserva
- A powerful, creamily oaked tinto from Ribera del Duero. I tried a bottle of this wine just a week shy of a year ago at
a paella night by Marc Aubry
, during which an impromptu Spanish wine taste-off ensued. My notes on it then were as follows:
Another modern/international 100% tempranillo from Ribera del Duero: dense, powerful, very ripe (not as sweetish as the Alion), full-bodied with generous toasty oak in its mouth-coating, darkly spiced blackberry, cassis, black cherry, black coffee and licorice. This is also a forward wine but in a more no-holds-barred, pedal-to-the-metal style. Huge drive and push on the palate, with a comparatively feisty character and firmer structure.
At P2200 per bottle full retail at Premium Wine Exchange, it is one of their best-selling wines.
The wine is pretty much the same, save that it seems to have dialled itself down a few notches - which, to me, is a good thing. In addition, it showed off considerable depth of fruit, indicating to me that the grapes must have come from older vines (likely an average of over 40 years). I must admit that this pairing initially puzzled me. After having the dish and wine together, however, it somehow worked pretty well - the slight acidity of the tomato and garlic laced broth, together with the shredded beef's earthiness blended well with the spicy, oaky dark fruit. Nice surprise. I knew then that my rosé would be coming home with me that night.
As regards the dish itself, what made it for me was the broth's excellent aromas. The tomatoes smelled and tasted just nicely ripe, freshened and sweetened by the basil, with an artful, seamless touch of garlic, complexed by the earthy shredded short rib ravioli.
Bien jugado
, but don't just take it from me...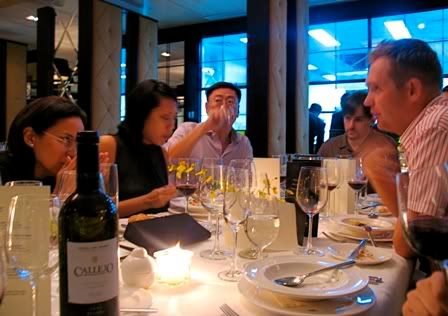 ...the empty bowls and quickly emptying glasses were ringing testaments to the goodness of the food, wine and marriage of the two.
Then arrived the dish I was most anticipating that evening. Having been eating a lot of steak lately (as can readily be seen in my recent posts), I was really looking forward to the
Slow Cooked, Honey Glazed Kurobuta Belly on Roasted Sweet Potato and Apple Cider Reduction
.
This was undoubtedly my favorite dish and pairing of the evening. I knew the dish would be good - slow cooked Kurobuta belly (
sous vide
in this case - different from
oublié au four
because of the use of the vacuum-sealed plastic bag and immersion in water) then glazed under a salamander, how could it not be? Add to this a classic Teutonic touch of apple (apple cider in this case instead of the ubiquitous apple sauce), and the flavors couldn't go wrong.
Pairing a relatively buxom California chardonnay with roast pork tenderloin with apples has always made sense to me. Chards have base flavors of apple and pear, those from California a pronounced fatness/buttery/vanilla/oak leaning and, at times, a slight honeyed note to the ripe fruit - just the ticket for honey-glazed pork with apples. Because it was kurobuta belly, I brought along a bottle of 2006 Saintsbury "Brown Ranch" Estate Bottled Carneros Chardonnay (also from PWX). I decided, however, to first try Kosh's chosen pairing wine before opening my bottle. Long story short, my chardonnay kept my rosé company in my wine bag on my way home.
2006 Flowers Sonoma Coast Chardonnay
- This is a nice one. Its aromas lived up to its name, presenting lightly honeyed, slightly buttery baked apple, ripe pear, vanilla/oak - all laced with acacia flowers and a slight nuance of orange blossom. The scents were mirrored on the palate with a touch of leesy creaminess, touches of tarte citron and white minerals, in a full, rounded but nicely-packed body balanced off with adequate acidity. The wine finished with a flourish of acacia flowers and moderate vanilla/and oak notes.
The pork dish seemed to bring out more of the orange blossom nuance, the fruit ran with the glaze and brightened the rich pork, its acidity giving a subtle cut. I exhaled flowers and honeyed fruit. Loved them together.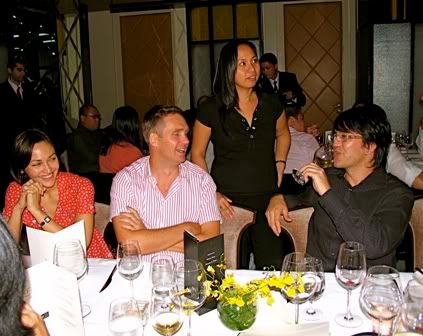 I guess Peter Angliongto liked it as much as I since he seemed to be
subtly
hinting for more.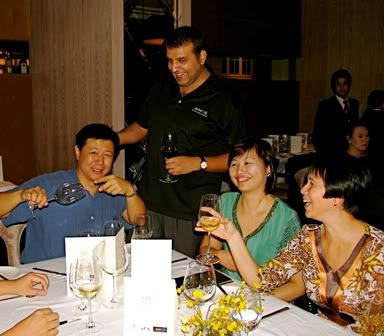 A
Passion Fruit Granité
cleansed and refreshed our palates of the pork's richness...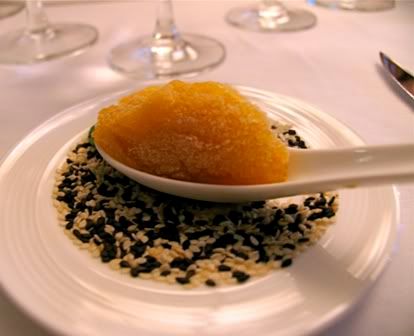 ...to prime us for yet another indulgent dish: Grilled
SRF Black Wagyu Steak and SRF Kurobuta Short Rib Hash on Roquefort Crushed Potatoes and Red Wine-Grain Mustard Mousseline
.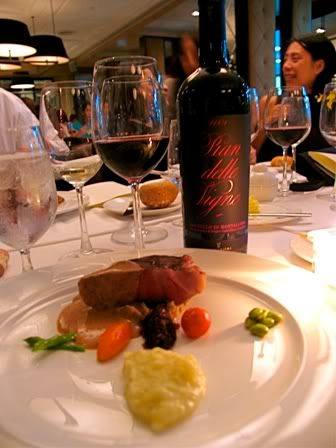 In the interim between courses, I poured my bottle of
2001 Antinori Pian delle Vigne Brunello di Montalcino
to go with the main course (after all, I had already opened it earlier in the day just to make sure it wasn't corked or otherwise damaged). Ever since
Oscar's Night at L'Opera
over a year ago, I have strongly favored Tuscan and Piedmontese reds with grilled red meats - pulling them out more and more often, it seems, than Bordeaux, Burgundy or Napa cabs. The last time I opened a bottle of this particular wine was a little over 7 months ago during
one of our Italian wine lunches at Pepato
. My notes then were:
My bottle, 100% sangiovese (called "brunello di Montalcino" in the Montalcino area). I've had this wine a few times before (as well as a few of other vintages of it). The Doc was the one who introduced me to this wine many several years ago. I last had this from the Stockbroker during
his 2008 birthday lunch
, side-by-side the more modern 2001 Casanova di Neri Brunello Montalcino. My notes then are still applicable:
"2001 Antinori Pian delle Vigne Brunello di Montalcino - Off the bat, from the aromas, I opined that this one was closer to the classic/traditional style: More of sweet cedar, touch of camphor, ripe strawberry, raspberry, cherry, cassis, underlying espresso, light touch of licorice, tobacco, minerals, violets, a whisper of leather. The fruit was not as sweet, but well-ripened as well, and earthier in character.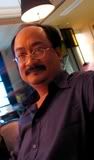 Clearly more earth-driven (rather than fruit-driven) compared to the other wine - less polished, rounded and sleek as well; but firmer in structure, much better focus and definition. Much more properly reserved. I liked them both, but much preferred this wine as a match for the steak. This is more of an eating wine, it needs food to show its beauty, where the other wine I enjoyed more alone. I accepted a second pour of this one and drained every drop. Excellent match. Loved it with the steak."
This bottle was, as earlier mentioned, decanted and aerated since 12:15 - so over an hour before serving. I like the firm but flexible, somewhat lean but sturdy structure of this wine. Showed more apparent leather notes than last time. Definitely masculine brunello, if not particularly complex, but a no-brainer pairing with the steak.

Of course, I also had the evening's pairing red with the steak.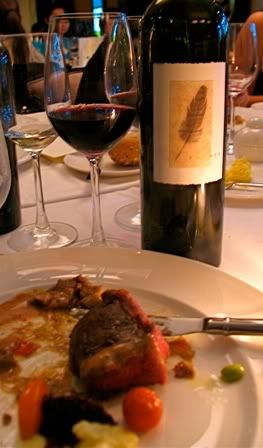 2005 Long Shadow Vintners "Feather" Columbia Valley Cabernet Sauvignon
- 100% cabernet sauvignon from Washington State. Randy Dunn is the winemaker here - I became aware of him because of Tina Caputo's short documentary entitled "Robert Parker's Bitch" (
nb
: made for Vineyard & Winery Management Magazine), where Dunn bravely lambasted the US Emperor of Wine (the film was made way after the 2005 vintage; Parker's Wine Advocate gave this wine a score of 93).
Crème de cassis, black currants, blueberries, black cherry, licorice, cedar, slight cinammon, bit of violets; very evident but not over-bearing dose of oak. Sturdy, strong, yet not loud, blowsy or over-wrought. Somehow, it comes off balanced enough. I noted the alcohol push though - surely over 14% abv. This was a bread-and-butter, no-brainer reliable pairing. Good, but I, honestly, prefer more acidity in a red to pair with thick, grilled, well-marbled cuts of red meat such as the evening's steak.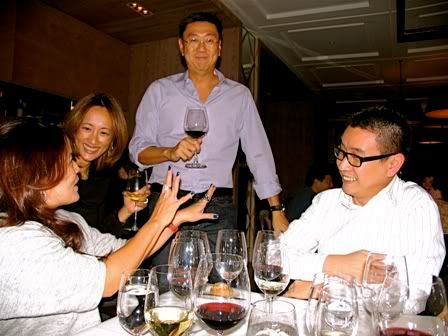 I took the lull before dessert as an opportunity to grab another quick smoke outside. By the time I returned, the alcohol had obviously taken its desired effect on most everyone.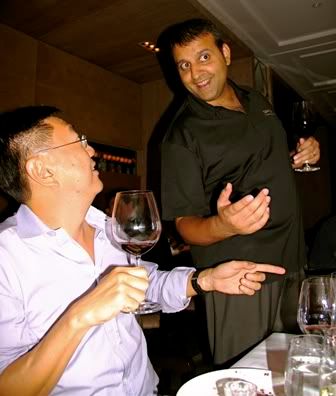 Marc Aubry then walked in donning an elaborately designed shirt. I only then realized it was the first time I've seen him not dressed in his chef's whites. Unfortunately, I forgot to take a photo of him.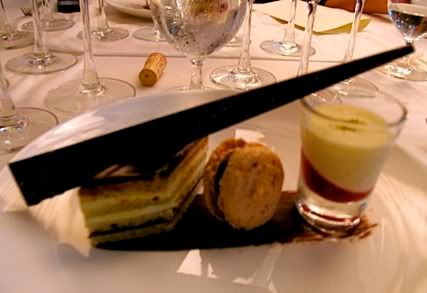 Trio of 101 Desserts:
Panna Cotta on Raspberry Coulis, Hazelnut Macaron with Frangelico Ganache and Green Tea Opera Cake
. Those who dine with me regularly know well that I normally take just one or two small bites of dessert before abandoning it for a double espresso. However, I finished every bit of the above trio - all except for the chocolate base painted on the plate - and only because it was too difficult to scrape it all off without endangering the plate.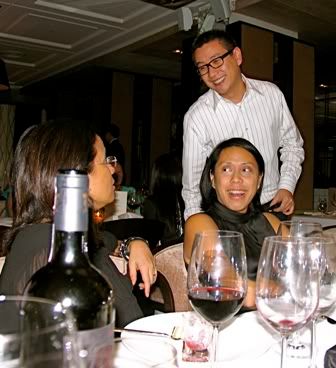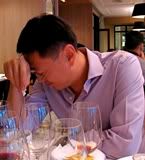 I then proceeded to my usual double espresso to keep me awake for my southward drive home - they certainly serve great espresso at Restaurant 101, I must say. The night deepened and Edward took a not-so-French leave. Even Jay, for all his ironman/triathelete stamina, started to look a little worse for wear. This is a sure sign of a successful wine dinner.
Several cigarettes and stories swapped outside with Marc, I thanked the evening's host, said goodbye to Mike and made my way home. A great meal and well-thought wine pairings with friends made for a fun night.