The 1st of May happens to be my birthday, so I booked a table for us at
Gaddi's
,
Peninsula Hotel Hong Kong
for dinner that night. I recall when Catha & I had dinner at Gaddi's sometime in '97 or '98, there was a family at a nearby table - the parents were a bit elderly (I figured them to be grandparents) and their two sons (or grandsons) looked to be in their early to mid-20s. Catha noticed them and vowed that we would take our sons there (we only had the first 2 at the time and they were very small yet) when they get old enough. Next we dined at Gaddi's was sometime in mid-2005 with the Alabang Group - several of us jointly celebrating our 40th birthdays (our youngest was not even 6 yet then). Well, on the subject evening, Catha's vow was fulfilled.
That morning, I intended to eat reasonably so as not to get too full for dinner, so I started breakfast with a small bowl of meusli and some fresh fruit. Unfortunately, the buffet got the better of me and I thereafter went on to have some smoked salmon, cream cheese, croissants, a poached egg and some veal sausages as well. So much for self-control. I then skipped lunch but eventually joined Catha and the kids at around 3pm for merienda back at
Canton Deli
- just a bowl of shrimp wonton noodle soup for me.
By 7:15pm, we were all dressed (jacket required for dinner) and made our way to the Peninsula.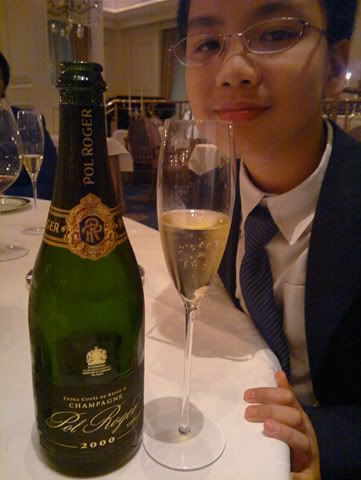 We started off with a bottle of
2000 Pol Roger Champagne Brut
which we shared with the teenagers. The little one got half a glass though just so he can taste and join in my birthday toast.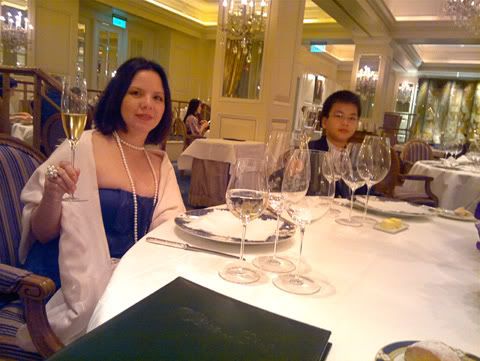 Nicely rounded, with a creamy middle, showing off white flowers, brioche, pastry, lush/fresh, slightly honeyed fruit, underlying hints of café crème and baking spice. Very nice, and got even nicer as it opened up in the glass. Broad, expansive, mouth-filling, but with a precise acid balance. Loved it.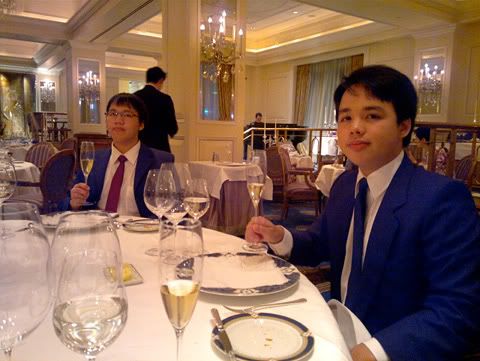 The teenagers.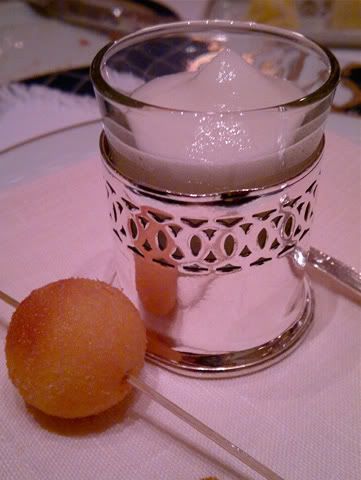 The amuse bouche was refined
Arancini di Riso
stuffed with cheese, served with essence of tomato foam. The youngest compared it to the ones he loves of Caffé Caruso back home, saying this one had a nicer cheesiness to it. I should certainly hope so.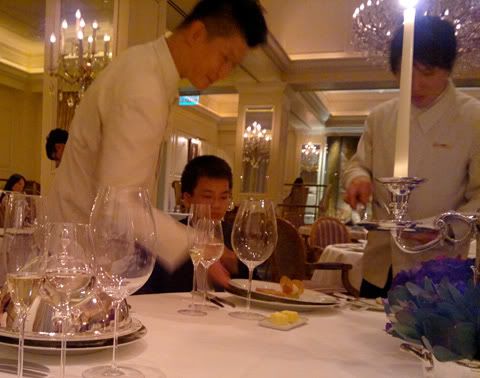 The youngest's first course was the
Foie Gras Terrine
- unsurprising as he used to always order this kind of dish at Je Suis Gourmand. He said it was good but still prefers the foie gras terrine of Marc Aubry. That's certainly saying a lot.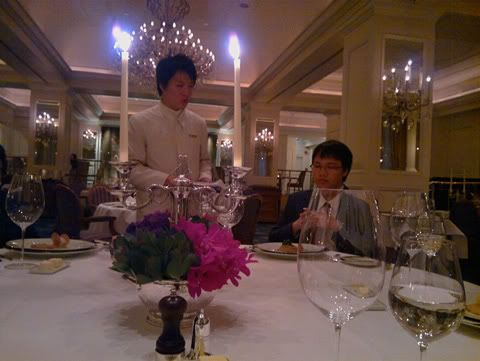 The eldest's first course was...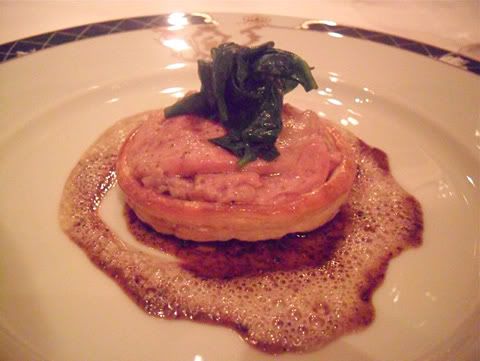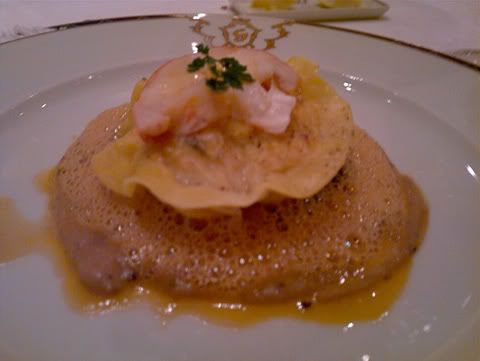 The second had a
Lobster Raviolo
for his 1st course.
I had the
Fresh Scallops
for my 1st course so I could continue with the champagne and to keep it light in anticipation of my heavy main course. Catha didn't take a photo of her first course, but she had the
Pan-Seared Foie Gras Salad
.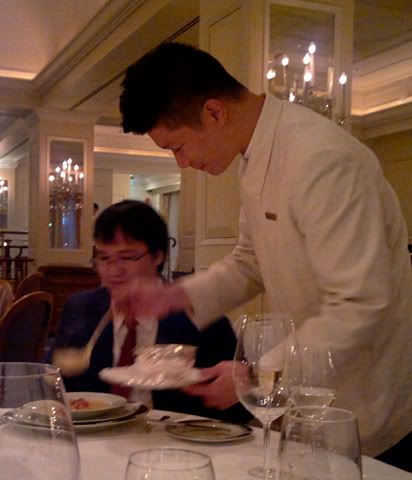 The eldest had the
Lobster Bisque
for his soup course...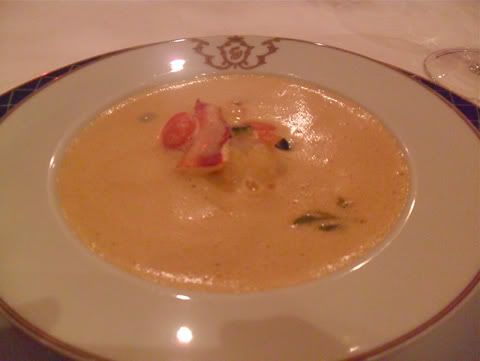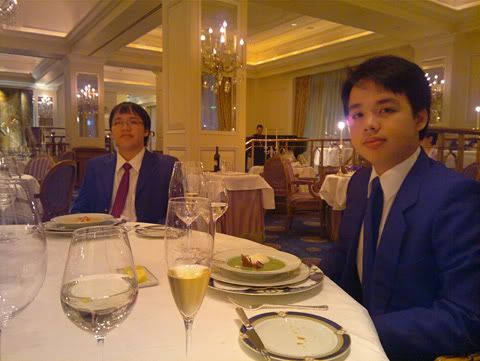 ...while the second had the...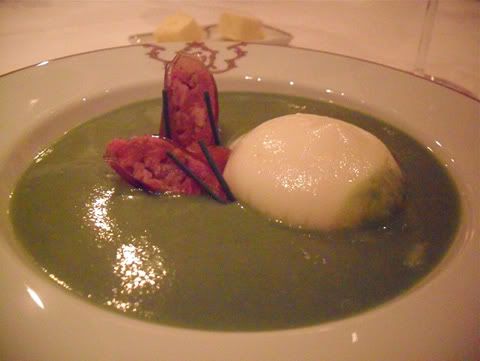 ...
Chilled Celery with Beef Tartare Soup
.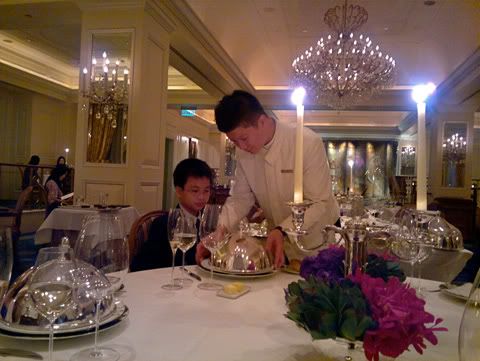 For his main course, the youngest ordered...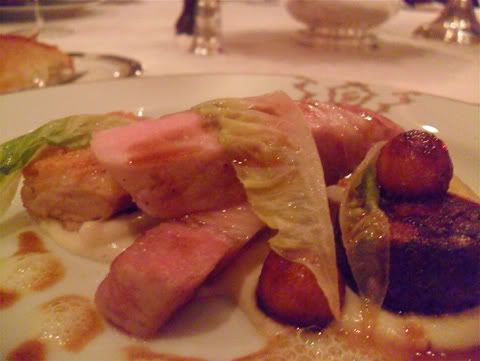 Roasted Suckling Pig with Sausages
.
The sausage looked like
boudin noir
but the youngest said it wasn't.
Catha looks stern here; one of the boys was probably misbehaving at table (it wasn't I).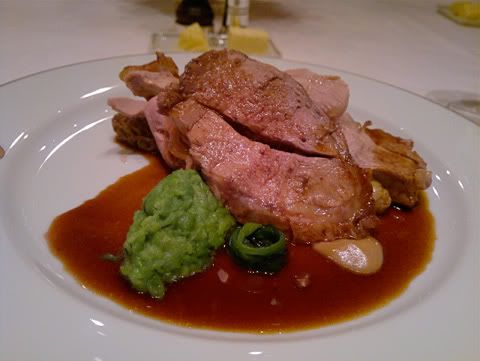 All the rest of us had
Roasted Leg of Milk-Fed Pyrenees Lamb
for our main course. One order is a whole leg, good for two persons. Catha and I split one, the 2 teenagers split another. The lamb legs were carved tableside and served with Mushy Peas, In Season White Asparagus (underneath the lamb) and a beautifully balanced, complex Jus. The lamb itself was literally melt-in-your-mouth. The quality of the lamb is excellent. On the side was served a small dish of Potatoes Dauphinoise which we all found too richly cheesy.
Naturally, one simply must have an aged tinto Riojano to go with lamb.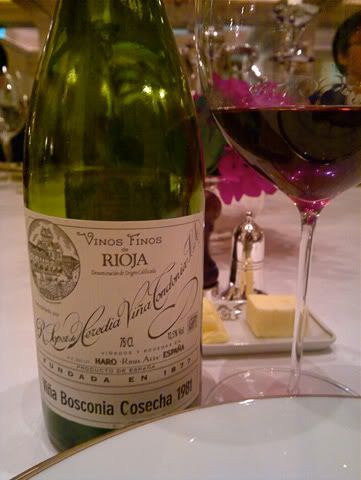 1981 Bodegas R. López de Heredia Viña Bosconia Gran Reserva
- Fortunately, a few days before, during the Commanderie de Bordeaux Domaine de Chevalier dinner back in Manila, Eric Recto glowingly recommended this wine to me and provided decanting advice as well (which I followed, of course). It was fantastic - so complex, deep, with an alluring, slight meaty/gamey lilt to its red fruit, slight leather, tar, balsamico, violets and anise notes. Beautiful wine, incredible balance, and perfect with the lamb. Under 420 cases produced. I brought a couple of bottles home since I loved it so much. Thanks for the heads-up, Eric.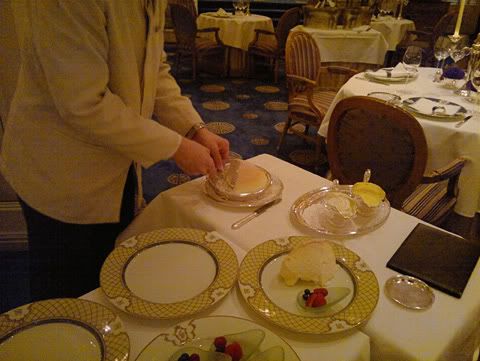 For dessert, the 2 older boys and I all ordered the
Grand Marnier Soufflé
(the Lemon Soufflé we had here another time was also excellent). Ethereal as always.
Now
that
is a graceful soufflé (the puddle is sabayon, the fruits blueberry,
strawberry and raspberry).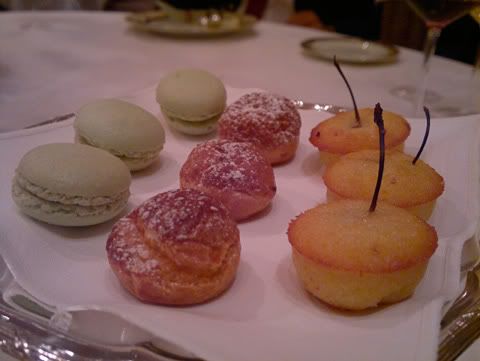 The mignardises were
Pistachio Macarons
,
Cream Puffs
,
Madelines Stuffed with Fresh Cherries
...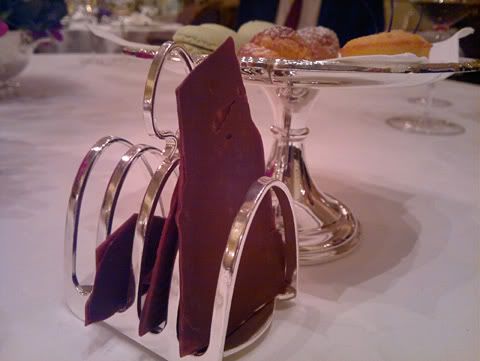 ...and
Chocolate Honeycomb Tiles
which reminded me of a sophisticated Violet Crumble with infinitely higher quality chocolate of course.
Double espressos ended the meal for us. The youngest had some hot chocolate which he said was "Ok" ("damned with faint praise" comes to mind).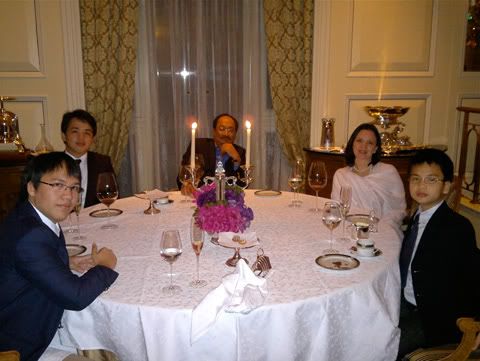 In all, it was a wonderful birthday celebration: delicious food, impeccable service, excellent wines and the presence of my family. How could it be other than perfect?