Late yesterday afternoon, the 10th May 2011, was at
The Tasting Room
for a special preview of 3 new, special craft beers of Jimmyton. Miguel and Edwin were already there when I arrived, and Eric popped in a few minutes later. We were thirsty, so we couldn't help but start ahead with the first new one: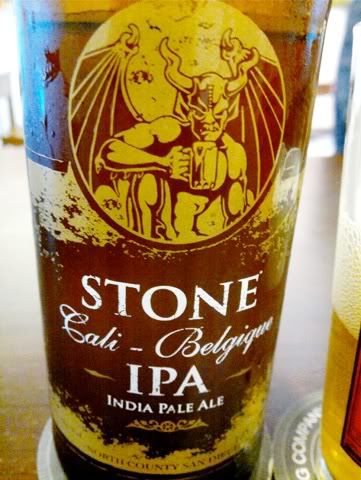 Stone Cali-Belgique IPA
- Bright, smooth, fresh, very hoppy, citrus, notes of mellow grapefruit, bit of yeast, slight florality, hoppy-smooth citrus finish. From my experience of trappist ales, I expected a bit of dried fruit and bubblegum, but I didn't get that here - that's not a bad thing, as the trappist bubblegum notes start to get cloying for me after one bottle. The Stone Cali-Belgique has a nice, appetizing bitterness in the finish that made me think of food - so I promptly ordered a platter of jamón. This is dangerously drinkable stuff.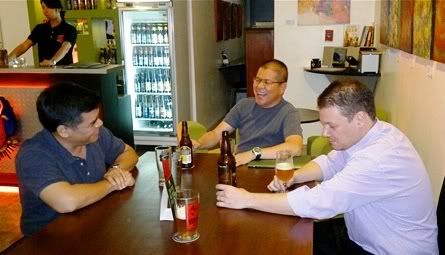 Edwin, Eric & Miguel
I liked the Stone Cali-Belgique so much, I quickly ordered another large bottle. Miguel wanted to try the porter already so he and Edwin moved on. I'd catch up later. By then, Jim had arrived.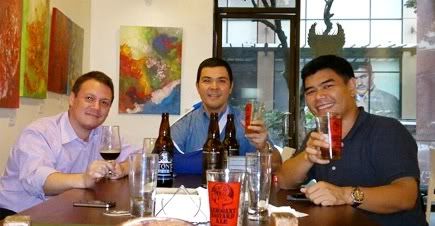 Miguel, Jim & Edwin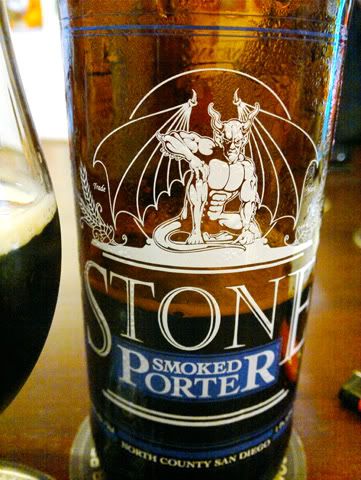 Stone Smoked Porter
- Roasted, slightly smokey maltiness, very mild caramel, moderate chocolate, whisper of vanilla, with espresso notes pulling through past mid-mouth. Moderate creaminess, comparatively not as heavy or dense as a stout - which makes it possible for me to drink more without getting full so fast. Quite delicious. Miguel favored this one. It was then that J-Lab finally arrived.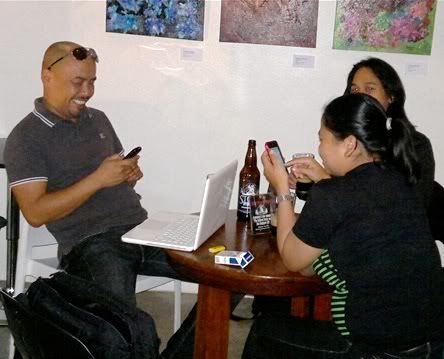 Dino, an old friend and classmate from high school, had also walked in with his some members of his ad team for a creative session, so took a table of his own. Dino must live in the Tasting Room as I've see him there every single time I've visited.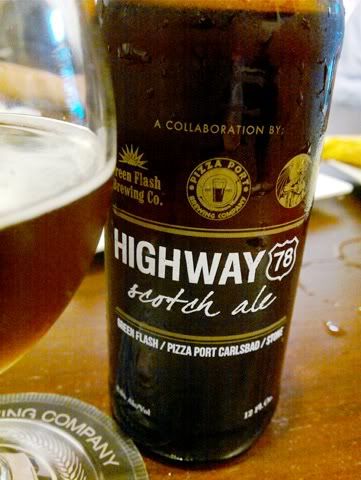 The
Highway 78 Scotch Ale
is, as the label indicates, the result of a collaboration of Stone, Green Flash and Pizza Port. My, my, but this is a serious fellow. Nicely complex with a sweetish, scotch lilt to its mildly roasted malt, bit of caramel, nuances of molasses, toffee, dried fig, nuts, slight chocolate - all very well-knit. I really liked this and quickly ordered another bottle opened plus 4 more to take home. Very small allocation of this one, so I made sure to get a decent share of it. Just a few bottles left in stock.
Jim, who was strictly watching his intake, limiting himself to 5 pints and spacing them well, ordered his last bomber, an
Anderson Valley 20th Anniversary Imperial India Pale Ale
. I've had this before not long ago:
in late February 2011 after a long wine lunch at Mamou
. This was every bit as enjoyable as I remember it: "Orange peel, pine and mild citrus lace this ale's smooth, moderate hoppiness. Dangerously drinkable, this goes down all too easily. I think this would be nice for the beach and the summer in general."
Having woken up uncharacteristically early for a morning meeting, I started feeling the accumulated hops begin their predictable narcotic effect on me, so I wound down with a bottle of my usual
Rogue Juniper Pale Ale
. I then felt the sudden pangs of hunger and convinced J-Lab and Jim to go out for a bite to eat. At J-Lab's suggestion, we headed for nearby
Gustavus Steak Lounge
(Ground Floor, F&M Lopez Building, 109 C. Palanca Street, Legazpi Village; Tel. No. 846-2430).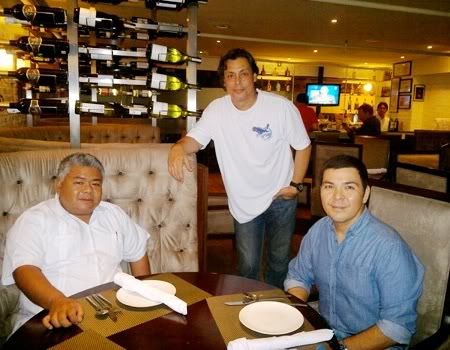 J-Lab, Gustavus Managing Partner Mike Gayoso & Jimmyton
Gustavus' managing partner is the ever-present Mike Gayoso, a friend and former high school classmate of mine. Mike and his partners opened this place a little over a year ago, but, somehow, I only got myself there last night - though I, honestly, always meant to visit to try out their prime-grade steaks. Anyway, as far as their food is concerned, the old saw "better late than never" does take on a new and deeper meaning.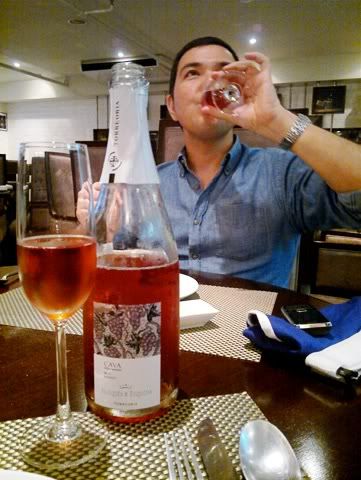 We started off with a bottle of
Cava Marqués de Requena Rosado
Brut
- from the wine list (this is suppled by J-Lab's The Wine Steward). I thought this had a little trepat in it, but it turns out it is 100% garnacha. Fresh, enthusiastic, honest and unpretentious - this is a happy cava, very comfortable in its bubbly-ripe strawberry, raspberry, slight red currant flavors. Very approachable and easily gulpable.
Mike then quickly sent us a platter of
Fresh Oysters
- terrific - clean, fresh, succulent and absolutely delicious - as one can easily see in the photo below. It came with lemon wedges and 3 dipping sauces. The oysters didn't need any embellishment in my opinion, so I ate my share neat. Thanks, Mike!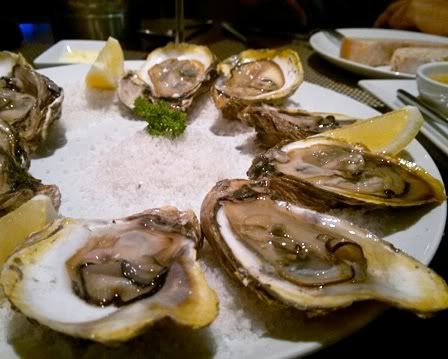 We then moved on to our soup courses. I had the Cream of Squash Soup...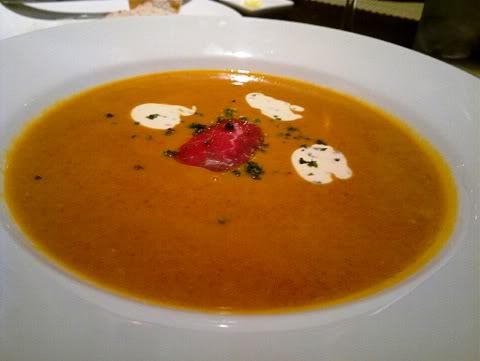 ...which was precisely executed - neither ponderously heavy nor overly creamy like some restaurants tend to make them. I loved it that it was indulgently flourished with a bit of fatty, luscious, melt-in-your-mouth beef
carpaccio
. Excellent touch, and most befitting of a steak lounge.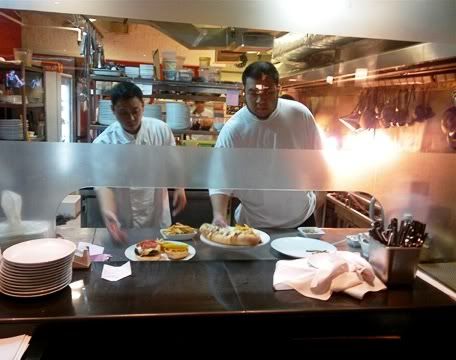 The Kitchen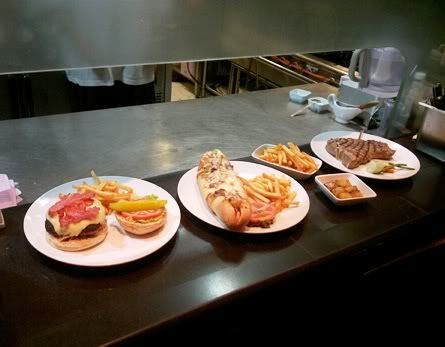 Our main courses.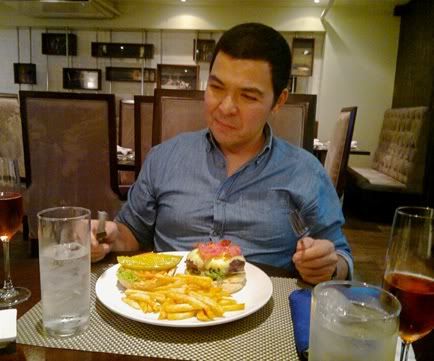 Jim got the specialty
Mr. D's Ultimate Beef Burger
. It looked fantastic, and, judging from the speed Jim killed it, it must really be good; and is on my shortlist of things to try once I'm back there.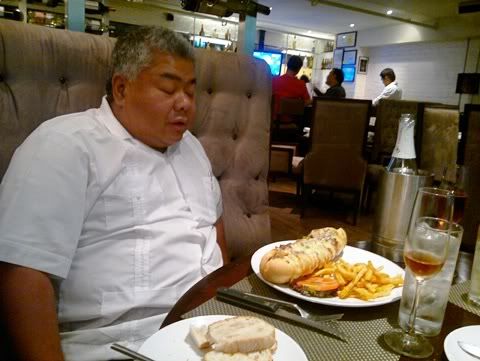 J-Lab got the
Gustavus Steak & Cheese
and looked positively overwhelmed by its size (not to mention its apparent opulence). I've been regularly eating and drinking with J-Lab for around 5 years and this is the first time I saw him surrender (though he took the rest of his sandwich home). I cut a bite off though and it was as every bit as indulgent as it looks. Another to try next time, but I'll make sure to share it with someone as it is
huge
.
I felt like a steak that night so I got a
USDA Prime Beef T-Bone Steak
. I chose the
Gnocchi
as my starch siding (very decadent, nutty, buttery
gnocchi
at that) ...
...but also ordered some fries - which were very crisp, but properly moist inside.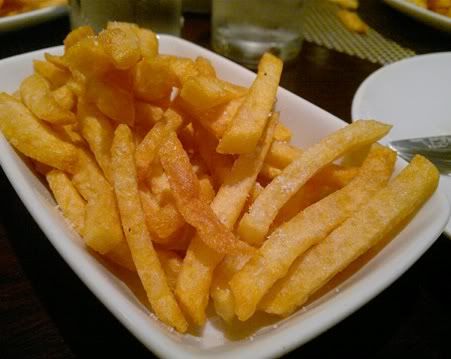 If all these were not belly-busters enough, Mike sent us a
Crisp Apple and Mango Filo topped w/ Vanilla Ice Cream
which didn't last long enough for me to photograph. I was quite impressed with Gustavus. I also like their old-style crescent dining booths - one rarely sees those these days. My only regret is that it took me so long to visit. I'll have to make up for lost time then.
Until the next!