A couple of weeks ago, the Stockbroker planned yet another of his "all-the-wines-on-me" dinners. All the reds were to be enjoyed blind. Nobody in his right mind willingly gives up these invitations of his, as only great wines show up. Thus, last night, the 25th May 2009, 5 of us met at
Sala Fine Dining
: our generous host, the Doc, J-Lab, Miguel and myself. Eric R., unfortunately, couldn't make it as he finished very late at a meeting for the event. The evening's pairing menu was executed by old friend and top-notch chef, Carl Miguel.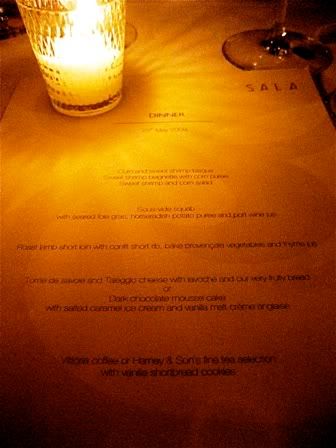 Not one to fool around, once we were complete, for welcome bubbly and to go with the delectable
amuse bouche
of
Quail Bacon Sage Tortelloni with Mushroom Fricasee and Truffle Oil
, the Stockbroker had poured...
1996 Veuve Clicquot La Grande Dame
- Last I had this was almost a year ago, on 29th June 2008, at a
1996 all 1st Growth (1855 Classification) dinner
, so it was great to see how it was coming along. My last notes were as follows:
Clean, pure white fruit attack turns floral, very toasty and mildly yeasty the moment it hits mid-palate, where it expands generously and gains substantial creaminess towards the back. Sucking in a bit of air once the bubbles allow emphasizes the toastiness. This bubbly certainly wasn't shy; it was eager to please, displayed proudly mid-mouth with a funneling exit of added citrus notes.
This time, the bouquet and flavors were much more layered and complex, displaying a most alluring mix of dried apricot, sultanas, brioche and coffee, mildly toasty, honeyed with a pronounced creamy-biscuity character. There was notably more heft, mid-palate roundness and length than before as well. Excellent bubbly, it made the last one I had seem comparatively linear and simple.
Next was an immediately and thoroughly pleasing
Trio of Corn and Sweet Shrimp Bisque, Sweet Shrimp Beignette with Corn Purée and Sweet Shrimp and Corn Salad
, we had...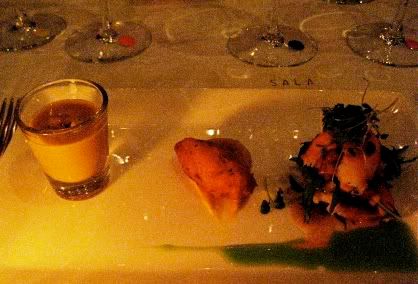 2003 Domaine Leflaive Puligny Montrachet Premier Cru Les Folatières
- Largest of the 1er cru vineyards of Puligny Montrachet; of the total 13.6 hectares under vine, Domaine Leflaive (not to be confused with negoçiant Olivier Leflaive) owns 1.26 hectares divided into 3 separate plots. Puligny Montrachet's wines are known to be richer, more minerally and refined than those of Chassagne Montrachet. The legendary grand cru vineyards of Montrachet straddle both these areas.
My wife and I spent half a day at Puligny Montrachet (a very short drive from the old city of Beaune) in July 2006, beginning with a most excellent lunch in the heart of the small, sleepy town at
Le Montrachet
, relaxing in the little park across the road, me enjoying a cigar, while watching some local youths playing
petanque
, and, eventually exploring the rest of the town and surrounding vineyards.
From the blistering 2003 vintage, the fruit of this wine presented decidedly baked apple, mild butterscotch, creamy, vanilla/oak, cinammon and clove notes. In the long finish, orange rind and almond-bitterness. Sweetish, fleshy, lushly generous and forward, tipping slightly to the flabby end of the spectrum - this holds nothing back. Not intellectual at all but exceedingly eager to please with its opulent charms - this easily qualifies as a "pok-pok" of a wine.
J-Lab and I particularly noted how its long, strong finish blended and ran hand-in-hand with the flavors of the sweet shrimp beignette's corn
purée
.
The evening's 4 reds were then served blind with the two main courses (only half blind for the Stockbroker since he, obviously, knew what the wines were, but didn't know the sequence of service). After just an initial sniff and sip, the Doc immediately nailed and pronounced the theme to be red Rhône.
Sous-Vide Squab with Seared Foie Gras, Horseradish Potato Purée and Port Wine Jus
Roast Lamb Shortloin with Confit Shortrib, Baked Provençal Vegetables and Thyme Jus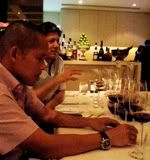 Wine # 1
- Everything about this wine was elegant, polished and balanced. From its gentle, cologne-like bouquet of sweet cedar, dried plums, sweetish Asian tea, dark raspberries, discreet truffle and violets, to the mirrored palate joined by merest whispers of dried lavender and thyme, with undertones of cassis, roast meat and leather. Very pure, focused, quietly self-assured and complex. Sheerly silken, lightfooted, a well-defined medium-body on the palate. Absolutely excellent, and very easily my favorite wine of the night. I had no problem at all ranking this
1st Place
.
It was later revealed as a
1996 JL Chave Hermitage
, a wine I enjoyed last over lunch at Old Manila on 16th May 2008, again courtesy of the Stockbroker. My
previous notes
unequivocally state that this wine was "the best syrah-based wine in my life". It, obviously, still is.
Wine # 2
- Initially, the aromas were
very
reticent, yielding vaguely saline notes over lightly herbaceous dark fruit. After around 20-25 minutes, it gave up a vaguely smoky/earthy bouquet of
garrigue
, blackcurrant, touch of pepper, cedar, tobacco and violets. In the mouth, it was masculine with added touches of ceps and leather. Good focus and concentration, notably firm, solid structure, but not at all big or heavy.
J-Lab and I had an incredibly hard time deciding between this and Wine # 4, as they were so closely matched. Eventually, I ranked this wine
2nd Place
. It turned out to be a
1996 Chapoutier Ermitage Le Pavillon
.
Wine # 3
- From the very first sniff, all of us could tell that this was a New World "ringer". I don't really know anything about Australian wines (having ever had only 2 or 3 top Aussie syrahs), but this smacked of Australia to me. Wide open, modern, sweetish baked, super-ripe dark fruit, black pepper, toffee, tartish cherry, bit of violets, oak, cinammon and baking spices. The biggest, heftiest wine of the lot - definitely full-bodied, mouth-fillingly round, lush and warmly opulent. A good wine, but it came off as a bit clumsy compared to the rest. It wasn't difficult to rank this
4th Place
. It was revealed to be a
1996 Penfolds Grange
.
I must say, though, that I really liked this wine with the lamb course. A very indulgent, powerhouse, but precise pairing - one, I am sure, was Carl's idea - a rich, earthy lamb dish with top-of-the-line Aussie shiraz. Lovely.
Wine # 4
- Initially, this, like Wine # 2, was reticent; giving off saline notes with lightly peppered dark fruit and a hint of cedar. More earthy in the mouth, it was quite similar to Wine # 2, but just slightly less yielding. I ranked this
3rd Place
, and it turned out to be a
1996 Guigal Côte Rôtie La Mouline
.
Interestingly, from the outset, J-Lab said his glass of this had a sweetly fruited bouquet. None of us others got that initially, but, at around 45 minutes to an hour later (after the meal proper, and with the cheese course) the Stockbroker and I noted that this wine had opened up incredibly, displaying a complex perfume of sweet violets, dark fruit, raspberry touch of kirsch, cedar and licorice. In the mouth, its fruit was very ripe and sweetish, rich and nicely latered.
Had we voted at this point, I would easily have ranked this 2nd place. The Stockbroker agreed.
The Collective Results
, as determined by J-Lab (4 pts for 1st place, 3 pts for 2nd place, etc.):
1st Place
-
1996 Chapoutier Ermitage La Pavillon
(Wine # 2) with 18 points (3 votes for #1 by the Stockbroker, Doc and Miguel; and, 2 votes for #2 by J-Lab and myself).
2nd Place
-
1996 JL Chave Hermitage
(Wine # 1) with 15 points (1 vote for #1 by me; 3 votes for #2 by the Stockbroker, Doc and Miguel; and, 1 vote for #3 by J-Lab).
3rd Place
-
1996 Guigal Côte Rôtie La Mouline
(Wine # 4) with 9 points (1 vote for #1 by J-Lab; 1 vote for #3 by me; and, 3 votes for #4 by the Stockbroker, Doc and Miguel).
4th Place
-
1996 Penfolds Grange
(Wine # 3) with 8 points (3 votes for #3 by the Stockbroker, Doc and Miguel; and, 2 votes for #4 by J-Lab and myself).
Notably, the Stockbroker, Doc and Miguel voted exactly alike.
As if all that vinous excellence were not enough, with the rest of the
Cheese Platter
the Stockbroker finished with a flourish of...
2001 Château Rieussec
- A half bottle (375ml), more than enough for us all after such wonderful over-indulgence. Briefly, Rieussec is widely regarded as the crown prince to Yquem's Sauternes crown (some will disagree pointing out de Fargues and Climens, etc., but, though I do agree to an extent, they can just go write their own notes/blog); while 2001 is generally viewed as a superb Sauternes/Barsac vintage.
The aromas and flavors were very opulent and most generous. Buckets of
botrytis
, honeysuckle, honey, super-ripe apricot, peach, orange marmalade, candied orange rind, crème brûlée and vanilla. Lowish acid. Still very young, primary and a bit straightforward, but eminently pleasing nonetheless.
I last had this at the aforementioned
1996 1st Growth Dinner
, and it hasn't seemed to budge since then. In the natural scheme of things, however, that is to be expected. Fine Sauternes from a good vintage, to my mind, needs around 15 years and more to really start strutting its stuff. In the meantime, however, they can provide a lot of up-front enjoyment.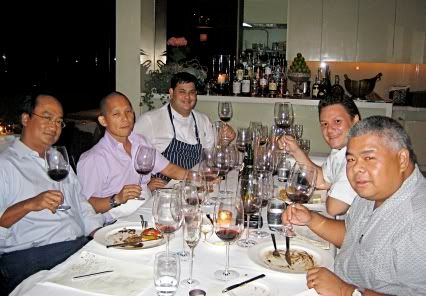 Can't thank the Stockbroker enough for such a generous evening of superb wines, and, of course, Carl as well for such excellent dishes. That night will be, by all accounts, an incredibly tough act to follow.