Over a month ago, during one of the wine lunches of the Usual Suspects (that I was unable to attend), Richard came up with the idea of holding a blind 1855 first growth dinner. Scheduling was difficult as Richard and Jojo Madrid (a.k.a., the Stockbroker) had business trips coming up, so it was only last night, the 1st December that it finally took place - the venue was
Premium Wine Exchange
and dinner was by Gaita Forés'
Cibo by M
. We were 7 in all: Usual Suspects Jojo, Richard, J-Lab, Greg and myself, with "guest stars" Doc & Eric Recto. The Stockbroker had also invited the Vigneron, but he had a business trip to go to.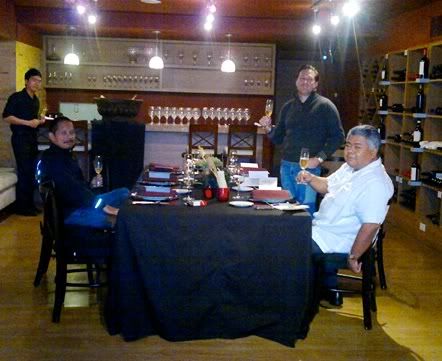 Jojo, J-Lab, Richard & I were the first to arrive.
While waiting for Greg, Eric and Gerry, we started off with a bubbly...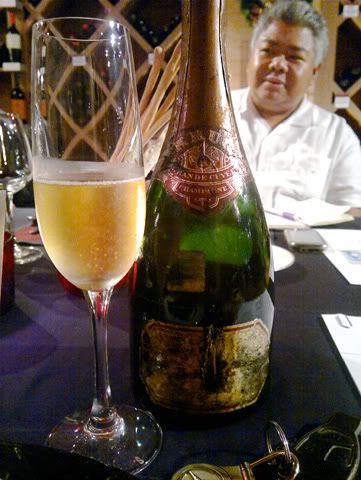 Champagne Krug Grand Cuvée
- from J-Lab, a pre-LVMH bottle from the early-to-mid '90s I recall him saying. Lovely champagne: Full, lush, opulent mouth-feel and weight, preserved golden fruits, hints of gingerbread and fruitcake spice, nuts. A middle you want to hold in your mouth as long as possible. Fresh, long finish. Loved it.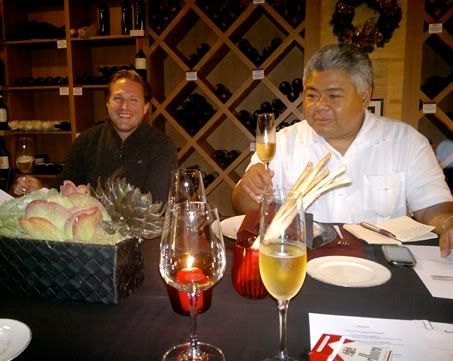 Richard & J-Lab
Pass-arounds were
Stuffed Parmesan Crisps
...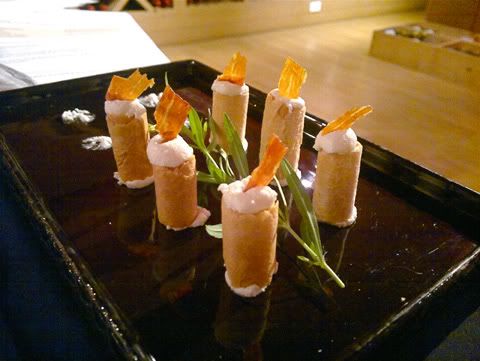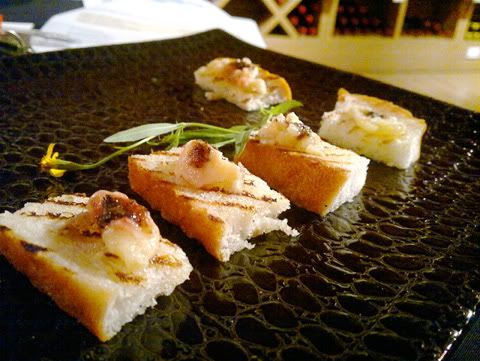 ...and
Roasted Bone Marrow on Toast
.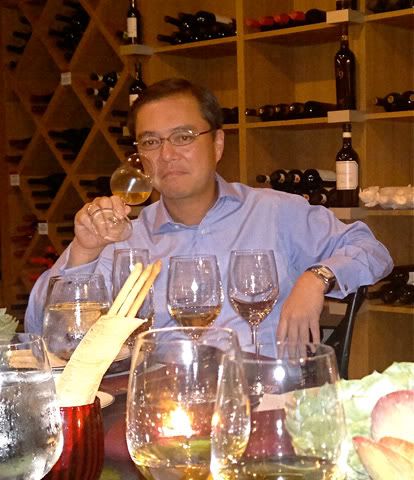 Eric, who had arrived by then, popped open a bottle of
1999 Champagne Pol Roger Brut
- Also lush and giving, a few shades less in weight than the Krug, this had a marked freshness and focus in fruit with an underlying, pillowy mid-palate "milkiness" (which I usually associate with a champagne's pinot noir component). Slightly biscuity already, this is good to go and, I expect, will continue to improve even more. Also very nice and, surely, a wonderful palate-primer. I, however, had most of my share with the pasta course since I was driving and didn't want to get hit too fast with bubbly on an empty stomach.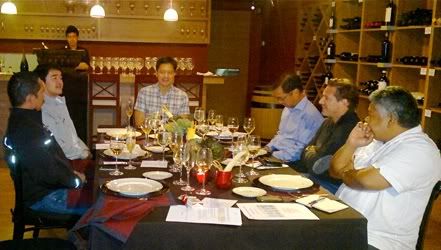 With Doc's arrival, dinner proper began.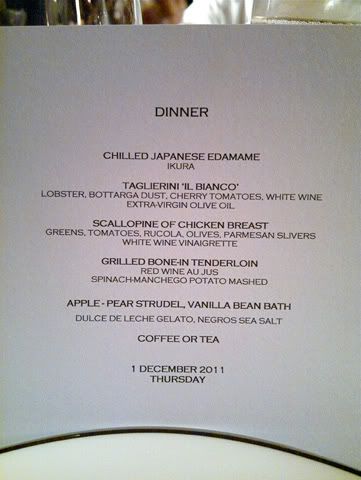 The Menu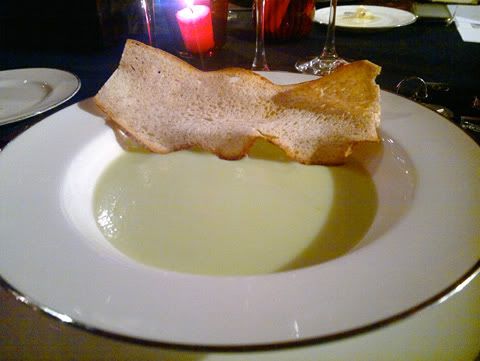 Chilled Japanese Edamame atop Ikura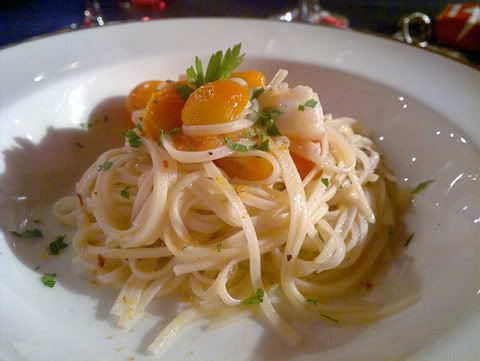 Taglierini "Il Bianco" - Lobster, Bottarga Dust,
Cherry Tomatoes, White Wine & Extra Virgin Olive Oil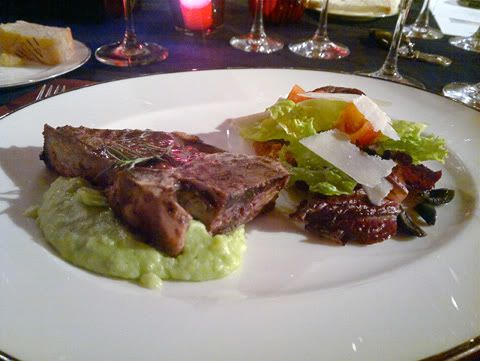 Grilled Bone-In Tenderloin, Red Wine au jus, Spinach-Potato-Manchego Mash, and, under the salad, Scallopine of Chicken Breast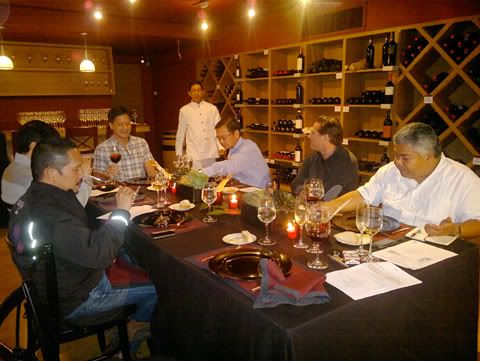 The 6 reds are served blind. No vintage restrictions. We had to guess both producer and vintage - 1 point for producer, 3 points for producer and vintage, 0 points for vintage alone. It was a herculean task, especially because the wines kept changing with each pass. Unfortunately, I left my written notes at PWX and must now rely on a hazy, alcohol-addled memory (so I am not 100% sure I'm being accurate about my guesses until i manage to retrieve them):
Wine #1
- Looked to be quite aged with a medium brick-red. Medium-bodied at best, lacking a middle, a bit linear. Cedar, silky red cherry, dark raspberry and violets. I gave it one star ranking. I do not recall what my guess for producer and vintage but I was wrong anyway. No points. It turned out to be Richard's
1990 Château Mouton Rothschild
(magnum).
Wine #2
- Halfway between full and medium, proper middle, there was an underlying chocolate to the comparatively hefty cassis and herb-laced dark fruit which made me guess it to be from Mouton Rothschild. I don't remember what vintage I guessed, but I was wrong about the producer anyway, so no points. I gave it a two star ranking. It turned out to be my
1994 Château Haut Brion
.
Wine #3
- I do not recall anything about the wine except that I initially guessed it to be a Château Margaux from, I think, the mid-90s. However, after a couple more passes, I changed the producer to Latour. Wrong move. It turned out to be Greg's
2002 Château Margaux
which I had given a two star ranking. No points for me. I should have trusted my first guess as to producer.
Wine #4
- The fullest, ripest and most concentrated of them all. Nice depth and balance. I gave it two stars. I vaguely recall I guessed it to be a Haut Brion, but I do not recall what vintage. One point for me. It was Jojo's
1990 Château Haut Brion
(which he easily and clearly identified as his wine).
Wine #5
- Very tannic with huge grip. Quite closed and difficult to assess. I gave it a one star ranking and guessed it to be a 2002 Margaux. Wrong again. It was Doc's
1995 Château Haut Brion
.
Wine #6
- A bit greenish and angular on the palate, but with a nice bouquet which made me give it a two star ranking and guessed it to be a Margaux, but I do not recall what vintage I guessed. It didn't matter though as I was wrong about the vintage anyway. One point for me - it was Eric's
1983 Château Margaux
.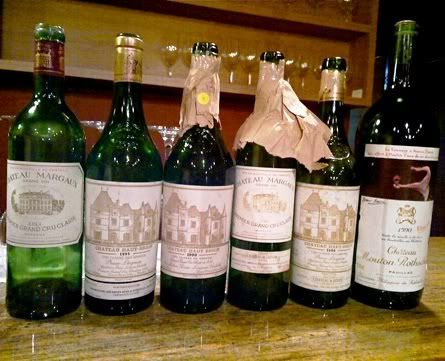 So, it came to pass that I was severely humbled with a mere 2 points (I think). It was a tough yet thoroughly enjoyable task - one I would not hesitate to take on again and again.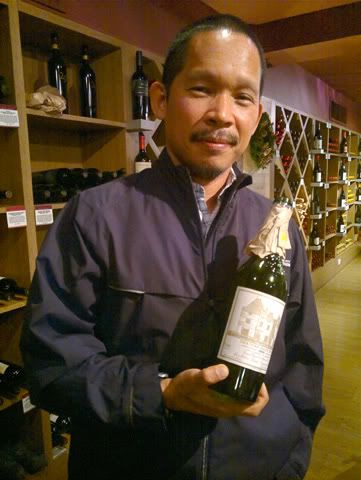 Jojo, however, was a completely different story. Aside form nailing his own wine, I do not know what else he got correctly but do remember that he was in the lead by very far with a total of 9 points. Moreover, his 1990 Haut Brion was voted 1st Place for the event (2nd Place being Greg's 2002 Margaux; 3rd Place being my 1994 Haut Brion). Congratulations to the Stockbroker! Well done indeed!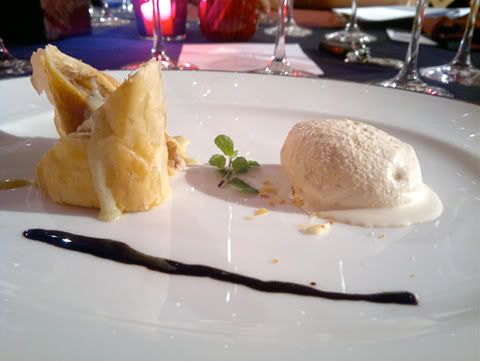 Apple-Pear Strudel, Vanilla Bean Bath, Dulce de Leche Gelato
w/ Negros Sea Salt
for dessert, paired with
a pair of Yquems
...
J-Lab's bottle we had to guess the vintage of. It was a middle-weight Yquem, dark, burnished gold and amber, with a sugar-syrup finish to its slightly over medium heft and honeyed pineapple, candied apricot, orange rind & vanilla notes. Jojo and I guessed it to be vintage 1983 - and we were the closest. It turned out to be a
1982 Château d'Yquem
from J-Lab. Jojo then opened a 375ml of his favorite
1988 Château d'Yquem
- very rich, opulent, no-holds barred luscious, rounded, creamy vanilla bean infused ripe peach, candied apricot and orange marmalade. Decadent wines both.
Until the next Blind 1st Growth Dinner! (March 2012 was it?)
It didn't end there, though. While chatting outside with the Doc and Richard, sans any espressos to cap the evening off, it eventually came about that Richard, J-Lab, Greg and I proceeded for a nightcap to Distillery in The Fort.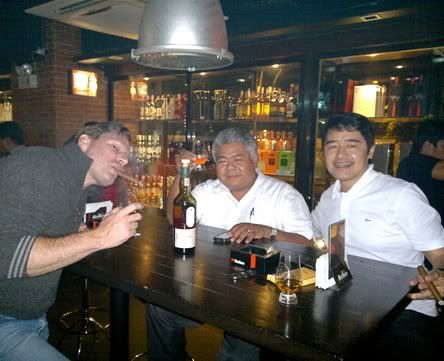 With some Cuban Partagas Londres Finos (a gift from Clem Nieto)...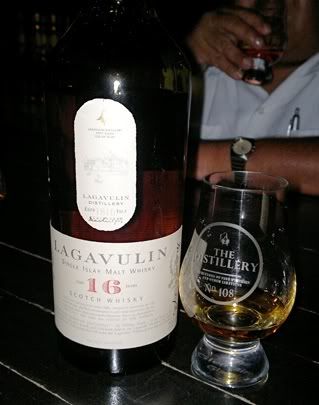 ...we had a bottle of
Lagavulin 16 Year-Old Single Malt
which Richard chose since it is one of his favorite single malts. I don't drink much single malt, and found this very woody and smoky - even more than my cigar. J-Lab did tell me that this is a single malt for veteran single malt drinkers so I may find it very "different". Richard added that it was a "very particular" and "difficult" (which I take to mean not very accessible to beginners) one. They were both right. Greg and I found it...quite interesting. I don't think either of us'll be rushing off to buy our own bottles of this any time soon though.