Dinner last Saturday, the 3rd December 2011, was at
Boozze's & Marg's
place (they're the only ones in the group with a dining table large enough to seat 14-16) for the Alabang Group's annual Christmas dinner. We were 14 in all; dinner was by
Hylton Le Roux's PI Catering
.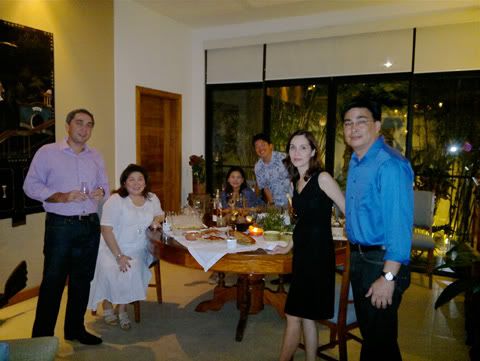 Tonico Climent, Minnie Chiongbian, Maricel Abad, Willy Chiongbian, Margarita & Boozze Fandiño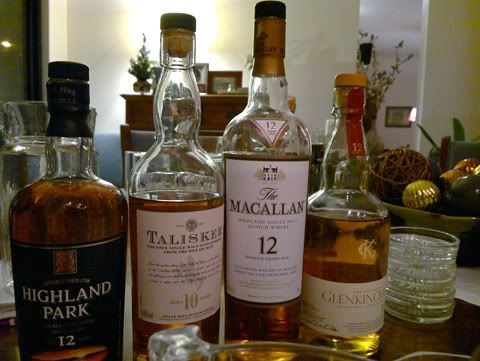 Boozze's been getting into single malts lately, so there was a line up of the same available with the pica-picas. For lighter, celebratory fare, however, we also had a couple of bottles of...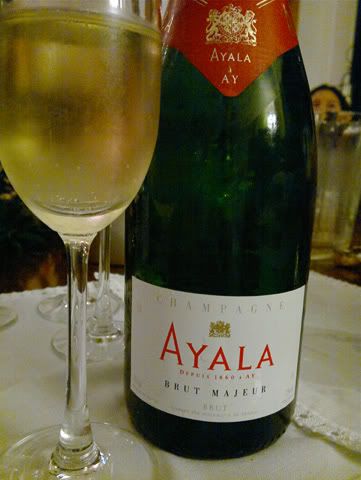 Champagne Ayala Brut Majeur
- Love this vivacious, fresh, softly rounded bubbly. I've said it before; I'll say it again: this is the best deal on non-vintage champagne one can get locally. Unfortunately, Premium Wine Exchange is now sold out (I got the last few bottles), but a new shipment will be in by January.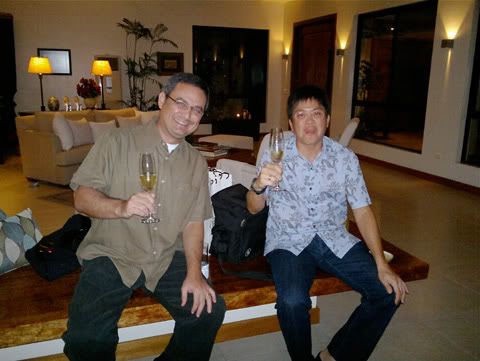 Kenny Quintal & Willy Chiongbian
With the single malts and champagne, we picked on some...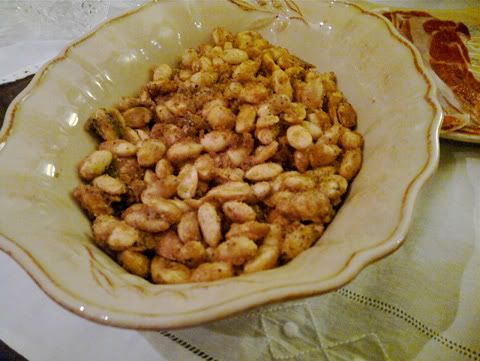 Nuts,...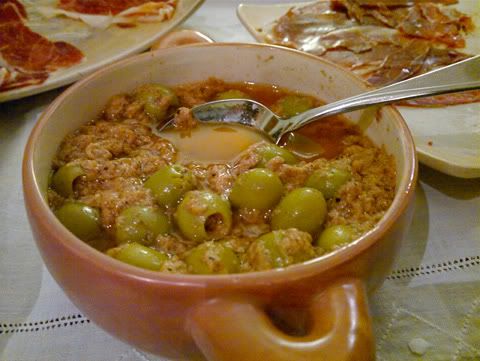 ...Olives...
...and some Jamón.
Margarita, Minnie, Maricel, Willy, Toñico & Yvonne.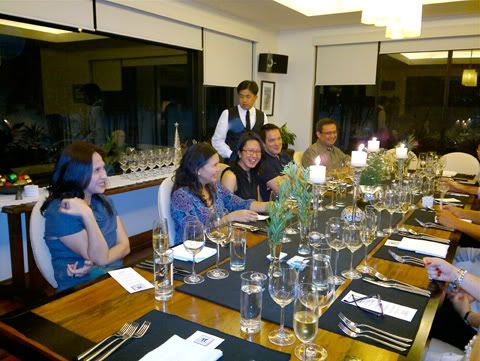 With the Ramoses' arrival, we eventually moved to the dining room, and...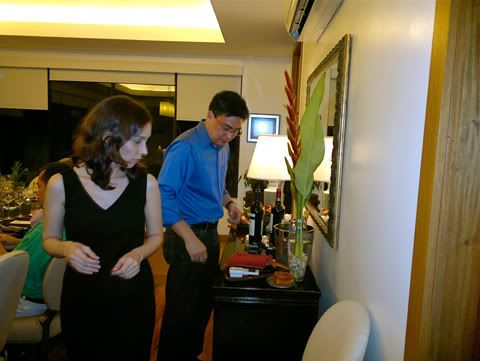 ...after a final check on everything by our hosts, dinner was called for service.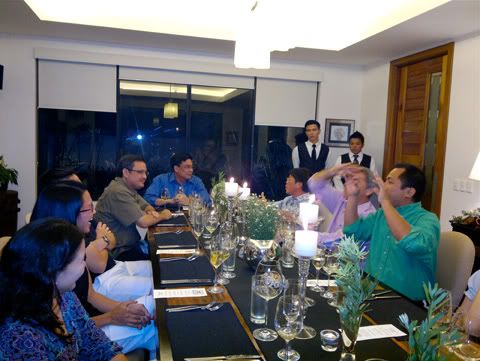 Tonji & Ken arrived from an earlier drinking/sailing spree on Tonji's boat,
so Tonj (in green) was particularly animated that night.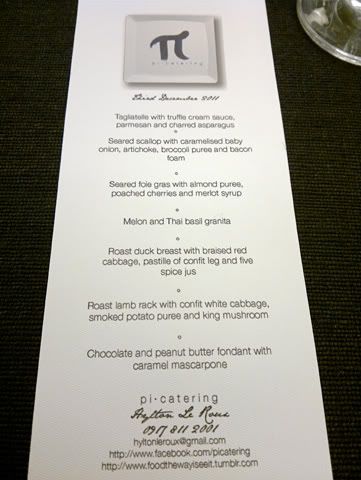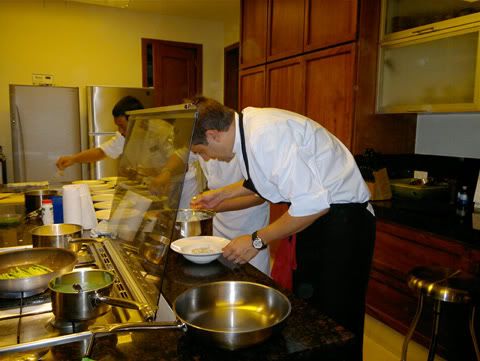 Hylton Le Roux & team in action...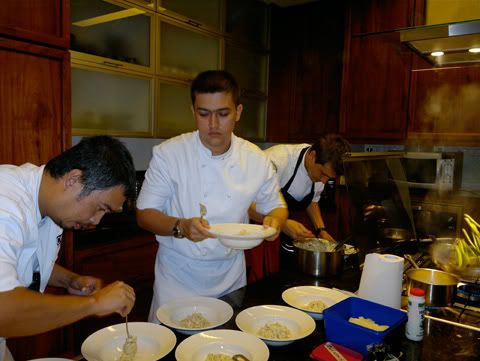 ...plating the pasta course.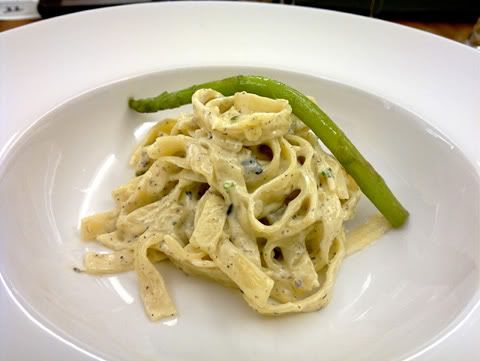 Voila: Tagliatelle w/ Truffle Cream Sauce, Parmesan & Charred Asparagus
In Hylton's originally proposed menu, the pasta course was actually Truffle Gnocchi Salad with Camembert, Artichokes, Toasted Walnuts & Chorizo Oil; but, since I enjoyed his truffle cream tagliatelle so much when I had it at
the recent Manila Gentlemen's Club Dinner
, I wanted this group to try the latter, so asked that this be served instead. At the time, what I wrote about this dish was:
The first course was a superb

Tagliatelle w/ Truffle Cream Sauce, Parmesan & Charred Asparagus

. No fake synthetic "truffle oil" here; Hylton used an oil with real truffle bits, and the difference was evident in that the pungency and flavors were natural and subtle and not "trying hard" exaggerated.
From Marg's reaction across the table, she obviously enjoyed this dish as much as I. I recall Maxie did too - and his mom being Italian and an excellent cook, that's saying a lot. Boozze, well, he finished his portion in an instant, so I'm guessing he liked as well.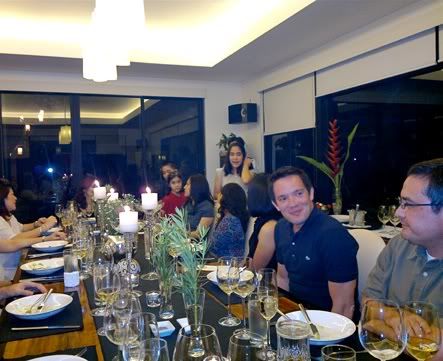 Maxie Abad & Ken Quintal on the right, as the hosts' children greet the adults.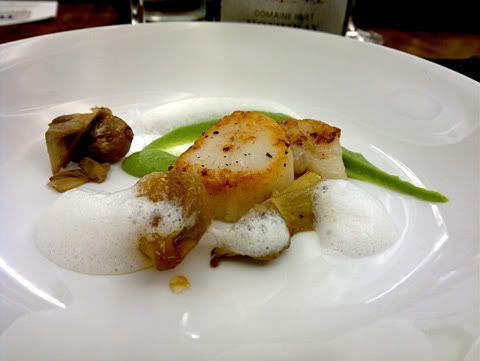 The seafood course was
Seared Scallops with Broccoli Purée, Artichokes, Caramelized Baby Onion and Bacon Foam
...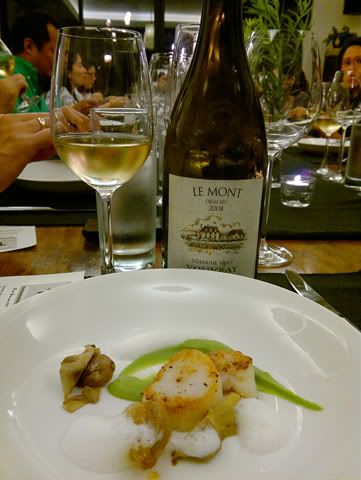 ...paired with
2008 Huet Vouvray Le Mont Demi Sec
.
I also served this recently at the above-mentioned Manila Gentlemen's Club Dinner; my notes at the time being as follows:
I first had this during dinner with Sandy at Restaurant Gary Danko at the tail-end of a working trip to SF this past July. My notes then were as follows:



We both started with the Lobster Salad with Asian Pear, Mango, Avocado, Cashews and Lime Cilantro Rémoulade. This was very nice, light and refreshingly playful. To pair, I chose the 2008 Domaine Huet Vouvray Le Mont Demi Sec because I so enjoyed the 2008 Huet Le Haut-Lieu Demi-Sec during lunch with Domaine Huet proprietor Anthony Hwang this past 16th May 2011. I actually had the 2008 Le Mont Demi Sec earlier this year at the Stockbroker's tasting at Masseto, and figured that the Le Mont, being heftier and buttressed with more toasty leesy notes, would do well with the lobster - and that it did.

For the same reason as above did I choose this wine to pair with Hylton's foie gras dish, and, indeed, it had the right structure, body, comparatively sweeter/richer fruit and acid cut for the dish. Home run here if I do say so myself. Loved it. Available at Premium Wine Exchange for P2000/bottle full retail.
One thing notable about this particular single vineyard Vouvray Demi Sec (i.e., "off dry"; 100% chenin blanc; Le Mont is Domaine Huet's premier vineyard, producing the comparatively deepest, lushest fruited wine - the other two being Le Haut Lieu and Clos du Bourg), is that it is so food friendly and versatile in its, clean, vibrant/exuberant, membrillo, ripe pineapple, citrus fruit; its thrilling acidity; razor-sharp focus; and, impeccable poise and balance. It does just as well with richer seafood dishes as it does with foie gras...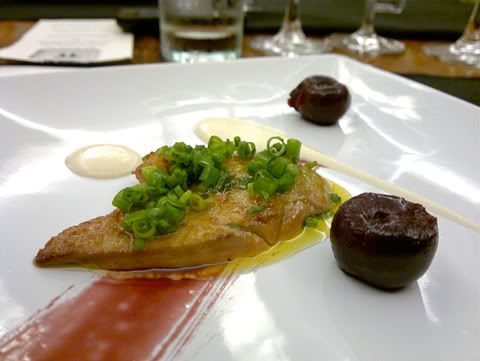 ...which is why I also had it served to pair with the following course of
Seared Foie Gras with Almond Purée and Poached Cherries
. While this group is accustomed to huge servings of seared foie gras (thicker, more seared/caramelized), age necessitates, nay, demands, more moderation. This dish, to me, was fine. I particularly enjoyed the fruity contrast of the poached cherries; and the zippy wine lent the dish added cut, lift and brightness.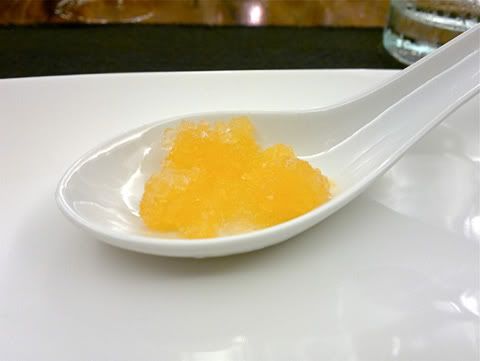 A palate cleansing
Melon and Thai Basil Granite
before the fowl & meat courses of: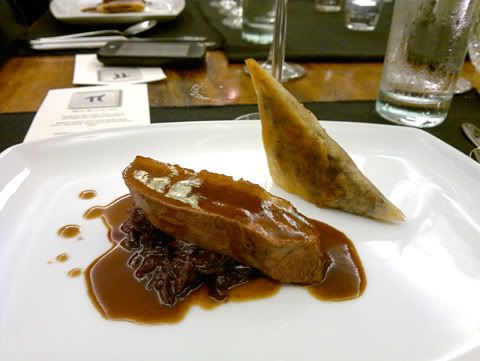 Roast Duck Breast with Braised Red Cabbage,
Pastille of Confit Duck Leg and Five Spice Jus; and...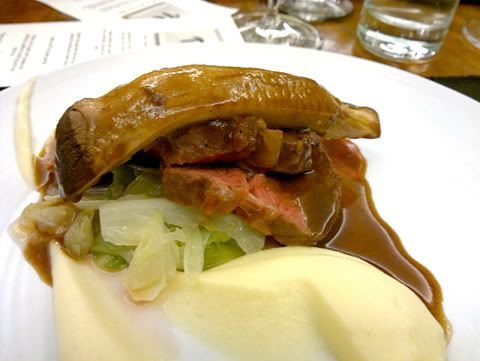 ...Roast Lamb Rack with Confit White Cabbage,
Smoked Potato Purée and King Mushroom.
The
duck course
was textbook "simple food done well" - warmly comforting and earthy - yet Hylton's technique was evident in that the roasted duck breast was juicy and tender and the confit duck leg meat was moist and yielding. I've been cooking and eating roasted magret de canard for years and rarely do I get one this tender
and
deeply flavored. Upon my asking, Hylton explained how he did it, but, out of respect, I cannot share what he said.
The
lamb course
(originally lamb loin until I advised Hylton that this group prefers lamb rack) was, in a word, superb. The lamb was perfectly cooked (as was the confit white cabbage), precisely seasoned, with the king mushroom adding depth in flavor, textural change, and, thereby, over-all gustatory entertainment.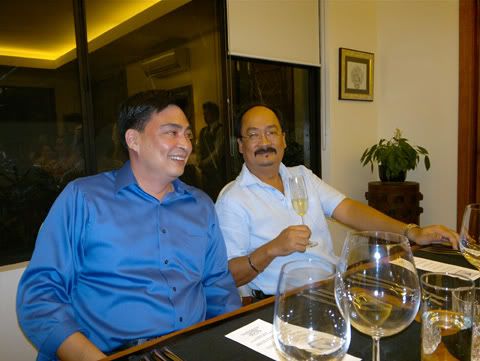 We were all wondering, Boozze & Marge included, where we could get this king mushroom - and, later on, Hylton told us he gets it in South Supermarket, which our hosts' family happens to own and run. Boozze just shrugged and smiled when Ken and I ribbed him about not knowing about his family business' fresh produce products (in fairness, though, Boozze and Marg run their own business and neither of them work in the family's supermarket chain).
As to the red wines of the evening, since Boozze is a confirmed Napa-head, available for the fowl and meat courses were bottles of Napa cabernet sauvignon: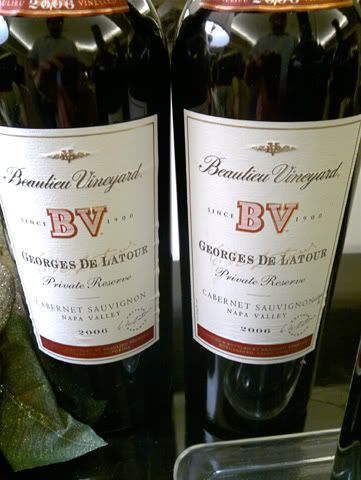 2006 BV Georges de Latour Private Reserve, and...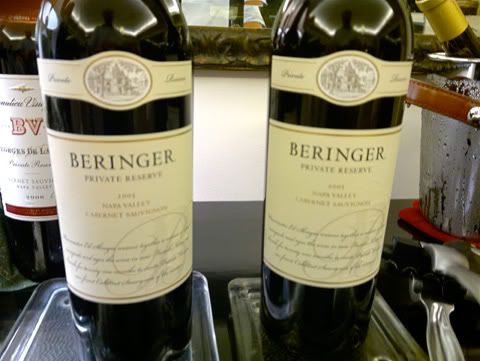 2005 Beringer Cabernet Sauvignon Private Reserve.
Earlier in the evening, I suggested that we just open the 2005 Beringer CS Private Reserves first to breathe, and, the 2006 BV GdLs later on if needed. As far as I recall, after almost 3 bottles of the Le Mont Demi Sec (aside from the single malts and bottles of champagne), the bottles of
2005 Beringer Cabernet Sauvignon Private Reserve
were enough - Plush, rich velvety crème de cassis, bit of kirsch and dark raspberry, well-knit notes of mild dark minerality, bit of chocolate, vanilla bean and licorice. Softly fruited, pliant, full bodied, molten tannins. Surely a crowd-pleaser of a Napa cab. While this can age and hold for several more years, I think it's already very enjoyable now.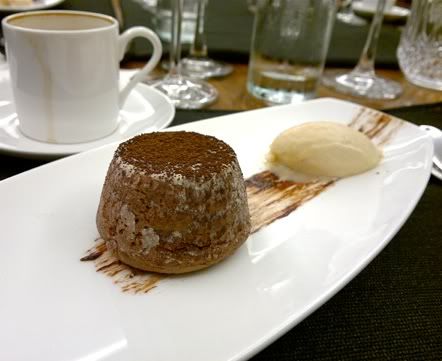 Dessert was a decadent, extremely indulgent
Chocolate & Peanut Butter Fondant with Caramel Mascarpone
. It's not exceedingly sweet like Reese's Peanut Butter Cups - which is a good thing for me - an adult, deeper and refined version thereof, kind of, with the peanut butter component properly discreet. I finished mine; and I don't usually finish my dessert. Enough said.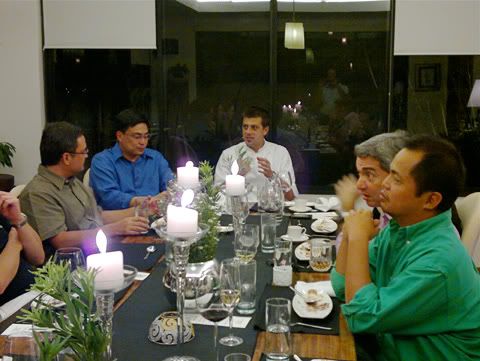 Hylton joined us for a glass of single malt at table after service was completed, everyone pleasantly full and not overly/uncomfortably stuffed - which is a good thing for a bunch of mid-40s diners. Upon our asking, he did candidly share with us some of his cooking tips as regards the dishes we had, but, of course, we'd not disseminate them. Lovely dinner. Thanks, Hylton.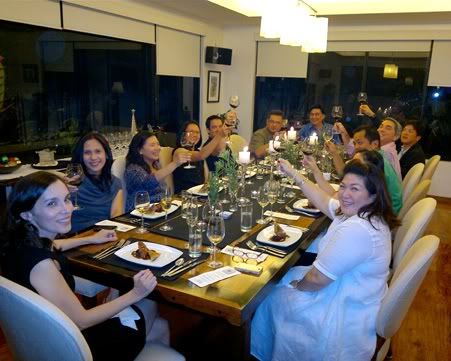 Merry Christmas & Until the next!