Tau Yuan
, known for its
Hainanese Chicken
,
Mango Lapu-Lapu
and
Xiao long bao
, has been around for a few years - my wife and friends have long been there more than a few times, but it wasn't until Monday, the 28th November 2011, that I finally got to try it myself. It just happened - I was at the new LBC Express Corporate Office at Resorts World that day; Enky, Paolo, Monica and I were supposed to have lunch at Pancake House - and, remembering Monica's FB posts on Tao Yuan, I convinced them to join me there instead.
Their
Hinanese Chicken
deserves its fame: juicy, tender, cooked precisely, not too fatty, the seasoning neither aggressive nor weak. I don't really eat chicken, but I look forward to eating this one again. With their
Chicken Rice
, I loved it.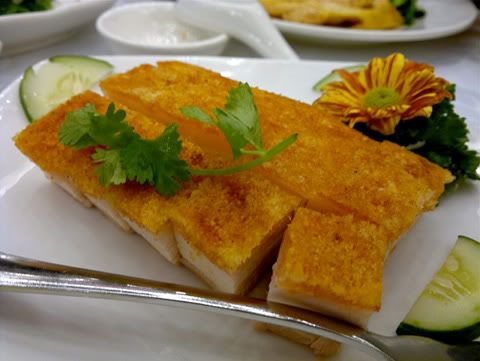 The
Crispy Roast Pork
was, well, a good enough specimen of the dish. I think one has to really try to screw up to make this dish badly and they certainly did not. Not too fatty, the skin crisp, the integrity of the meat correct. That said, it's nothing fantastic as far as this particular kind of dish goes - but certainly good enough. They served it with hoisin sauce and mustard. I prefer it with mustard and sugar, the way it is served in Victoria City Seafood in HK.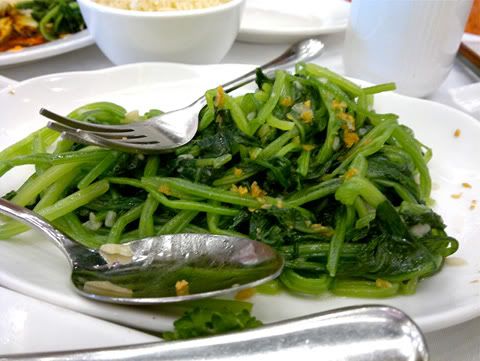 To ease the guilt of eating the pork, we had some Polonchay. Nice and fresh.
Aside from the chicken, what stood out for me was their rendition of
Drunken Shrimp
. These guys were presented jumping around in a big metal bowl, reveling in their Shaoxing bath. With ingredients that fresh, all one need do is season correctly and not overcook - and such was the case that day. Loved it. Monica had a funny comment that, while she enjoyed the dish, she wished that the shrimp had "peeled themselves before they died". That would've been perfect, but, probably, a tiny bit much to wish for.
The
Mango Lapu-Lapu
was pleasant enough. The contrast of crisp skin and fruit-softness was interesting, as was the interplay of sweet fruitiness and fish savory. I get what they are trying for, but, personally, I'd have a well-made (though ubiquitous) Steamed Live Lapu-Lapu in Fine Soy Sauce over this any day of the week.
I totally forgot to order some Xiao Long Bao to try out. I guess that just means I'll have to go there again for that - and I'd certainly not mind.