Though Cyrille's been connected with Impressions (Maxim's Hotel, Resorts World) since he closed down the old Restaurant Ciçou (formerly at the Hotel Celeste) and I've eaten very well at Impressions twice, I couldn't help but await dining at his own restaurant again with great anticipation. I finally got myself to
Brasserie Ciçou
(Annapolis St., Greenhills, San Juan) with my family this past Monday, the 26th December 2011.
We were only 5 for dinner that night, nephew Michael joined us, while the youngest was just on his way home from a day at Catha's cousins' farm. Though Cyrille himself wasn't there that night, I was confident we'd have a good spread. I wasn't mistaken.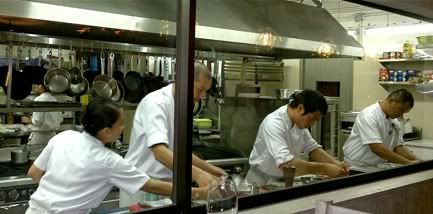 The brigade de cuisine hard at work.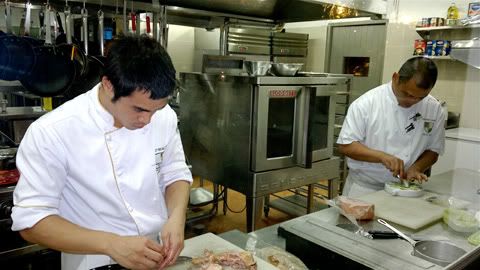 I enjoyed watching the crew concentrated at their stations through the glass...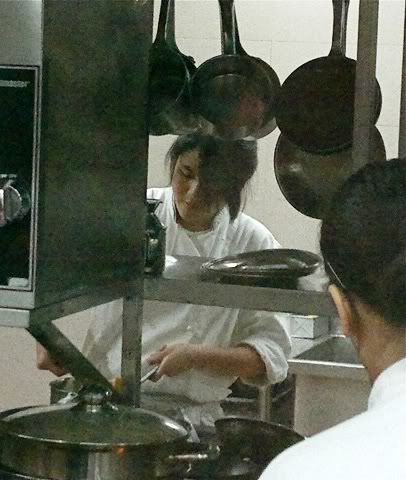 ...especially my niece, Nicole, commis chef who was manning the sidings station.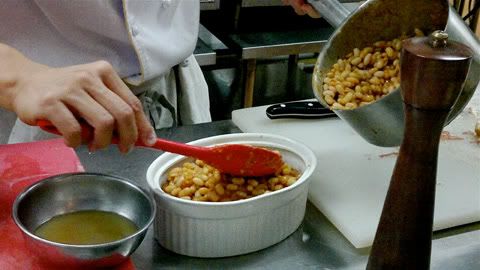 The Cassoulet oven bound, one of my favorites at the former Restaurant Ciçou.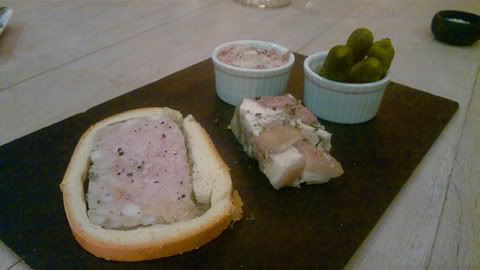 We started off w/ delicious pork-based Pâtés, Terrines, Gherkins...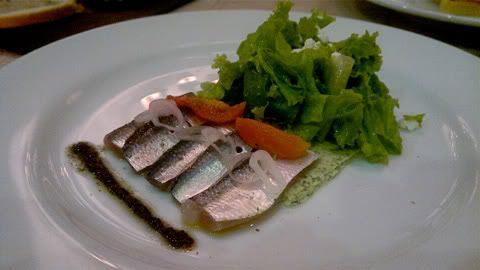 ...Fresh Sardines (another carry-over favorite from the former Restaurant Ciçou)...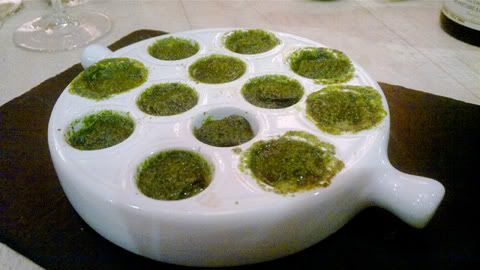 ...some
Escargots
of course...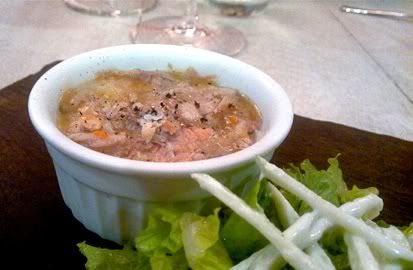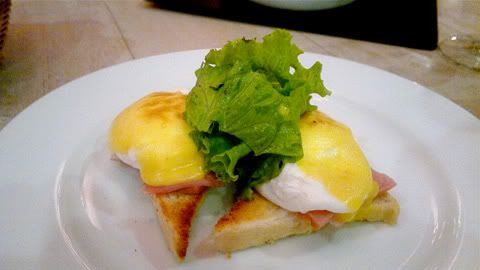 ...and a couple of orders of
Eggs Benedict
. Unlike most commercial Eggs Benedict renditions which I find ponderous with terribly overly dense, ponderously creamy Hollandaise sauce, this was relatively light, remarkably clean, the flavors/ingredients well-defined and precisely balanced. If I still lived in Greenhills, I'd have this for breakfast everyday. Both orders were quickly wiped out.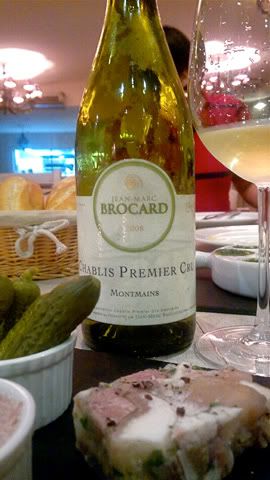 With all these, we enjoyed a bottle of
2008 Domaine J-M Brocard Chablis Premier Cru Montmains
- one of my Christmas gifts from
Premium Wine Exchange
. I first tried this on the 8th February 2011, during
Hiro-san's unforgettable IWFS Kaiseki Dinner
. My notes then were as follows:
2008 Domaine J-M Brocard Chablis 1er Cru Montmains - from the Stockbroker. This is locally available his Premier Wine Exchange. I've liked the wines of Domaine Brocard ever since I visited the winery and tasted through their wines back in July 2006. Their 1er Crus Montmains and Montée de Tonnerre are my favorite bottlings. This 2008 Montmains is excellent in its typical oyster shell, cold stony notes to its well-focused, apple, clean white mineral and white flowered base. Definitely a lovely Chablis - tons of charm, good cut, typical and easily approachable.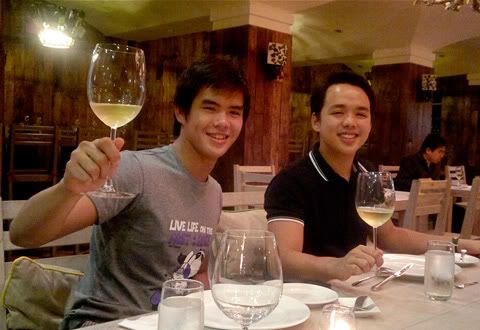 Nephew Michael & the second.
Now, around 10 months later, the steely, oyster-shell laced fruit seems softer, riper, more rounded and amiably pillowy, almost lush, faintly honeyed, but with good definition, acid balance, focus and a consistent underlying cold stone theme. Very nice. Catha really liked this as she prefers her Chablis a bit fruitier; and I found it wonderful with the butter-slathered escargots and rich pork pâté, pork terrine and duck pâté as well. Very nice. Very enjoyable indeed, and well recommended at its price (available at PWX at P1850 full retail).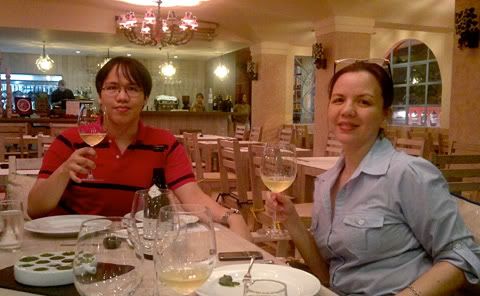 The eldest & Catha.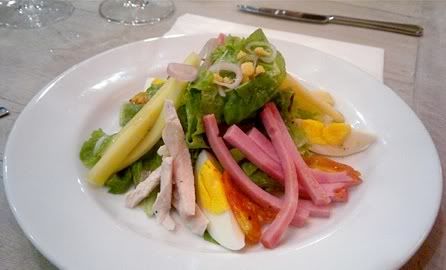 The eldest had the
Chef Cyrille Salad
...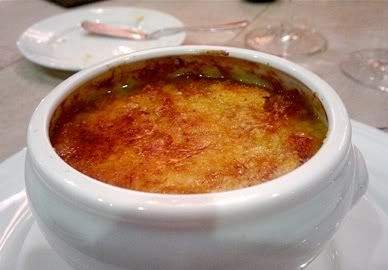 ...while I had the
French Onion Soup
, another clean, well-defined, focused and nicely balanced rendition. The onions' natural flavor and sweetness were brought out without becoming heavy on the palate at any time. The main courses then started arriving at table.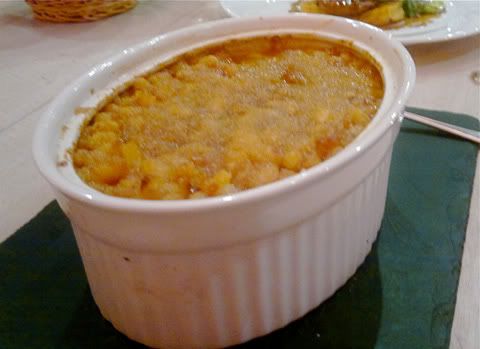 The finished
Cassoulet
(the second most always orders this when available)...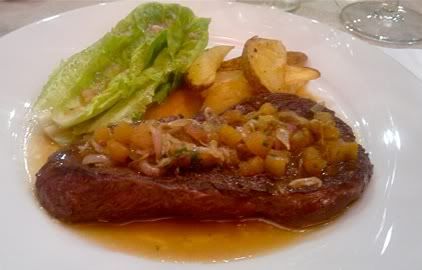 The eldest's
Boeuf Onglet
...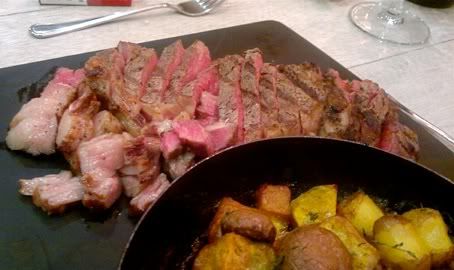 ...and two orders of the large
Rib-Eye Steaks w/ Roasted Potatoes, Mushrooms, Pumpkin, Lardons, Shallots & Garlic Confit
. The steak came rare enough as ordered and was well flavored, juicy and very tender. The sidings prepared by Nicole were, objectively, exceptionally good, the squash soft and caramelized as was the shallots, the lardons slightly crisped, the mushrooms were done precisely, etc. Loved the two nice, large and thick steaks which Michael and I shared with Catha and the second (though the eldest got a bit as well just to taste).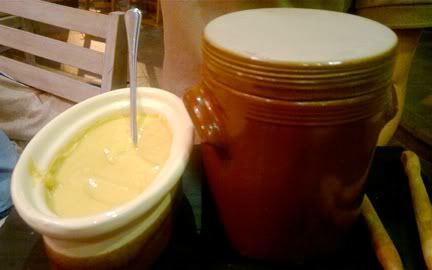 With the steaks was offered helpings of what appeared to be a jug of
Sauce Béarnaise
. I'm not 100% sure what it was though, since I don't put sauces or gravy on good steaks (I prefer to taste just the meat). Catha asked me to photograph it, however, since it was "cute". What married men have to put up with, I tell you....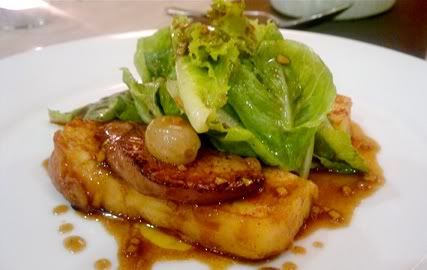 The
Seared Foie Gras
was the last starter to be served, arriving slightly before the mains. It was competently executed; served atop some sort of brioche which tasted like maple syrup. Upon my suggestion, Michael toppped a bit of steak with the seared foie for an makeshift
tournedos Rossini
of sorts - which he obviously liked a lot.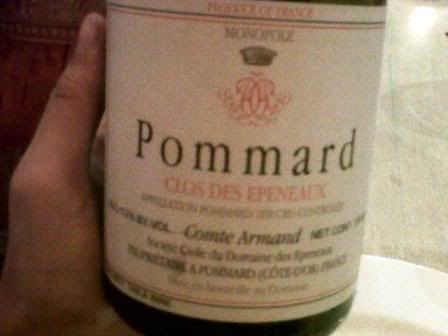 Earlier that day, Richard recommended that I bring no fine Bordeaux, but a Pommard, Volnay or Northern Rhône instead. So, with the mains, I served a bottle of
1998 Domaine Comte Armand Pommard Premier Cru Clos des Epeneaux
(thanks to Nicole for the photo as I had forgotten to take one of the bottle) - The wine, after being left open for around 1½-2 hours, released aromas of dark, ripe, deeply-veined confited plum, slight raisin, black cherry, slight vanilla, violets and alluring sanguine, meaty notes.
On the palate, it mirrored its scents in a notably masculine, concentrated, slightly dense and rustically textured medium++ body. Not bad; but I couldn't help but think that this was slightly over-wrought - like its concentration/extraction/density was contrived - but that's just me. I could, of course, easily be wrong.
As to the pairing, it was good enough. It did stand up to and complement the steak well enough. I'd have preferred a bit more cut as the acid was a just a bit low for my taste. My main course itself, though, was wholly beyond reproach.
Good job!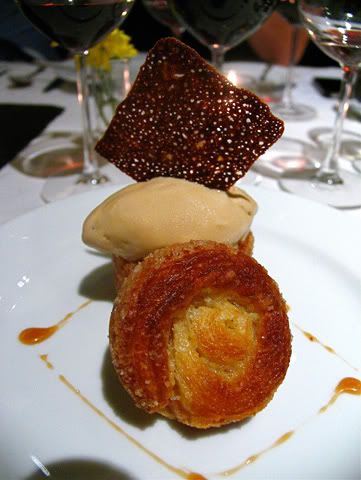 For dessert, among others, we had 3 orders of
Kouign Amann
but the kids attacked it way faster than I could take a photo - so this is one of my file photos of it from the old Restaurant Ciçou. It's the same dessert served now though. I've loved this dessert ever since I first had it almost 2½ years ago at
a Commanderie de Bordeaux Manila members' dinner back on the 7th August 2009
. My family, friends and I have been enjoying it since, the dish having now achieved virtual cult status amongst Manila's dining consignetti. It's essentially a butter-rich pastry/cake which many, including myself and my family, have found addictively delicious. One simply has to try it to know for one's self.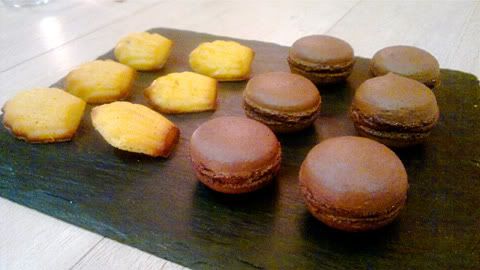 By way of mignardises, we were very thoughtfully given a platter of excellent
Chocolate & Orange Ganache Macarons and Mini Madeleines
. Love it!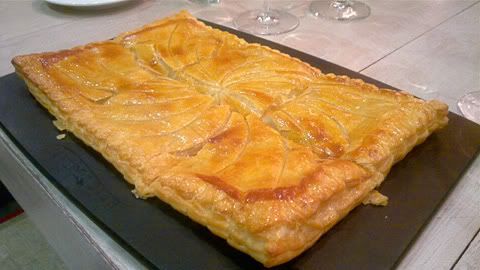 Upon Nicole's recommendation, we also had a large order of
Kings' Cake
(a.k.a.,
Galette des Rois
of northern France). As I understand, a little toy is hidden in one of the slices, and the one who draws such slice is "King for the Day". What benefits are accorded such King are unknown to me, but, it does make for a bit of fun during dessert.
The second drew the piece with the toy and was thus crowned "King for the Day". Michael was worried if he had to be the queen. A couple of double espressos later, we headed off for home. Wonderful dinner - well worth the trek and braving the usual Greenhills post-Xmas shopping traffic. We'll definitely be back!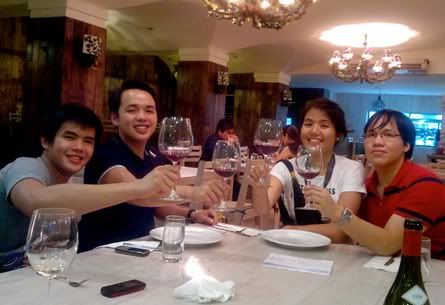 Until the next!