Dinner of Tuesday the 29th November 2011 found me back at
Terry's 2ºPiso
for
La Gran Cena Homenaje a Extremadura
organized by the Spanish Chamber of Commerce (a.k.a., La Cámara).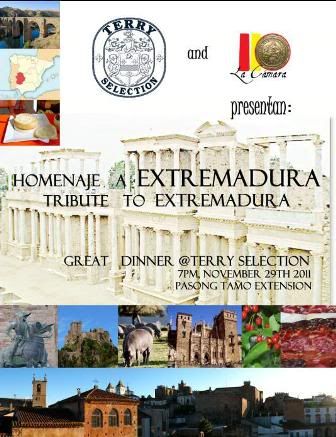 Naturally, there is nobody in this country more qualified to design and execute the menu than Juan Carlos de Terry. He only had to mention to me that he was to handle the dinner, and I immediately decided to attend.
As one can see in the map above, the region of Extremadura is bordered on the north by Castilla y León, the south by Andalucía, the east by Castilla-La Mancha, and the west by Portugal. In terms of food, the area is known for its pork, cheeses, olive oils and paprika (
D.O.
Pimentón de la Vera
in particular). Thus, upon my arrival, I was endlessly regaled by samples of the regional pork-based deli products
Ibéricos de la Dehesa
...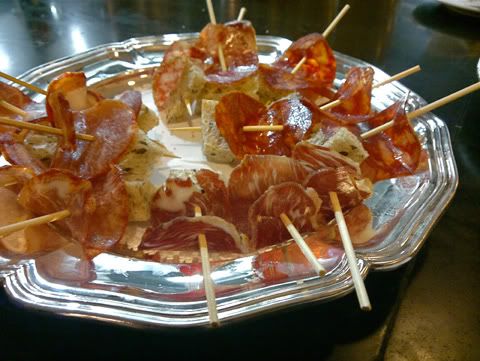 ...such as
jamón
,
presa
,
vela de lomo
,
chorizo
and
salchichón
.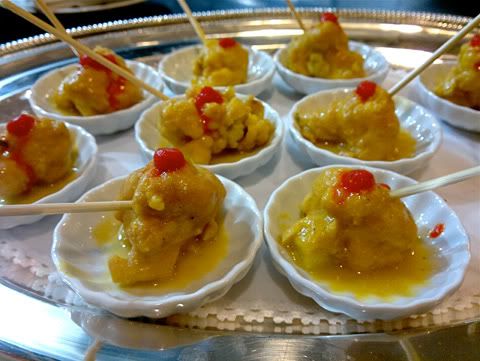 The deli products were so delightfully rustic and addictive, it is a good thing that JC called my attention to the pass-around of
Escabeche de Coliflor al Estilo del Restaurante Los Pajares
- a recipe (using orange juice) which he picked up and re-interpreted from Los Pajares, a traditional Extremañan restaurant located in the town of La Zarza, in the province of Badajoz. Totally different from the escabeche as we know it in Manila, the escabeche cauliflower pass-around is difficult to describe. One had to be there. I ate 5 of them at least. Aside from these, I also got to have some...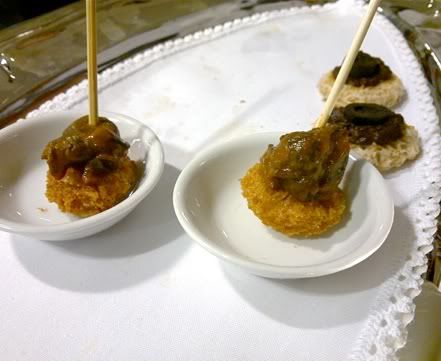 ...
Caracoles al Pan Frito, Estilo Alange
&
Montadito del Morcilla de Malpartida
. Tragically, I missed out on the
Pulguitas Rellenos de Crema del Casar
, which must have gone really fast
.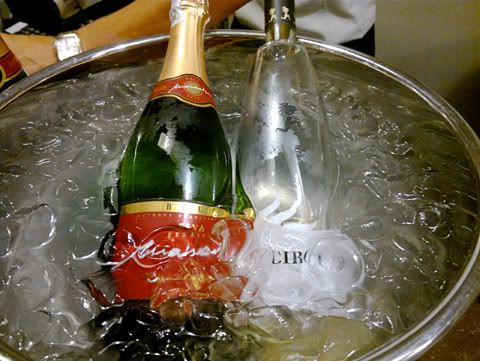 All these were washed down by glasses of well-chilled Masachs Cava Brut &
the verdejo based 2010 Bodegas Avelino Vegas Circe Blanco (Rueda).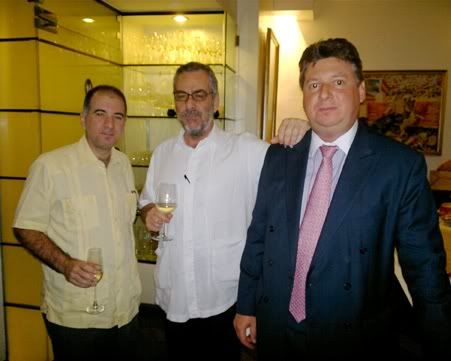 Current Cámara President Miguel Romero-Salas with past President José Miguel Cortés.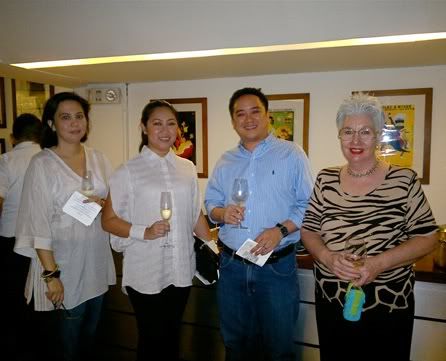 Alicia Sy & Chinkee Clemente-Koppe with Mari de Terry.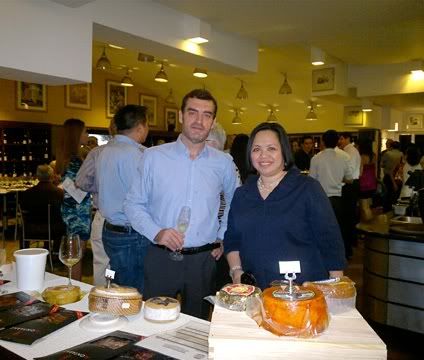 Cámara General Manager Fernando Muñoz Ramiro with Cyrene de la Rosa.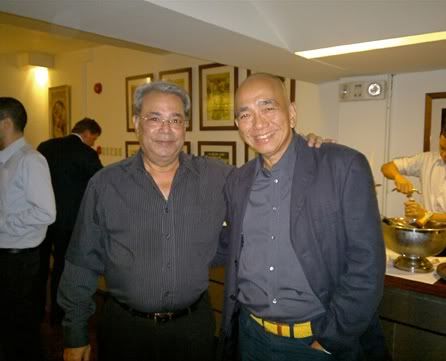 I also met new friends there, as well as old ones, such as fellow IWFS & La Commanderie de Bordeaux Manila member Sunny Garcia (right).
Chinkee with Vimla Gopaldas.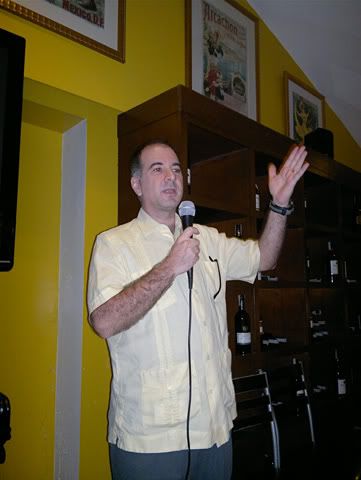 We were eventually called to seat ourselves for Miguel Romero-Salas' opening address. The tables were named after major Extremañan localities such as Trujillo, Cáceres, etc. I was seated at Merída (the regional capital) with, among others, the brothers Romero-Salas (José Luis & Miguel), the spouses Cortés, and, as depicted below, beside the most charming Inmaculada Martinez, and across Tito Justo Ortiz (the dad of longtime friends since college, twins Ines & Teresa).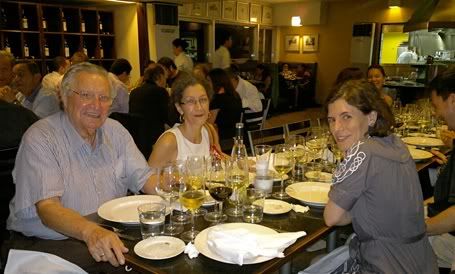 My Spanish got an extreme workout that night as Tito Justo encouraged me to speak it the entire time, as much as I could, anyway. I can understand fine, but my spoken Spanish is somewhat limited. When conversation turned to local politics later that night, I had no choice but to switch to English when I answered as my vocabulary wouldn't allow me to otherwise.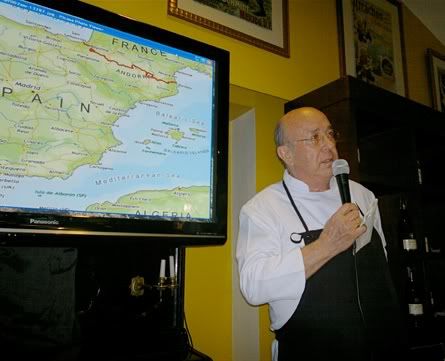 Juan Carlos then took the floor and gave an account on Extremañan cuisine, complete with notes on the climate, soils and history as only he can. When JC spoke about la cocina Extremaña, he did so with authority - never satisfied with book learning when it comes to food, he actually has traveled the area, getting to know all first-hand. During his talk, he recounted how we together,
at a lavish ICEX cocktail in Barcelona
, came upon the jamón de Trevélez that he now distributes. I remember it well, he chatted up the owners and immediately arranged a visit to their farm (approximately 40 kms. southeast of Granada) to learn more about the product. Talk about being passionate about food - he is a whole lot crazier than I'll ever be.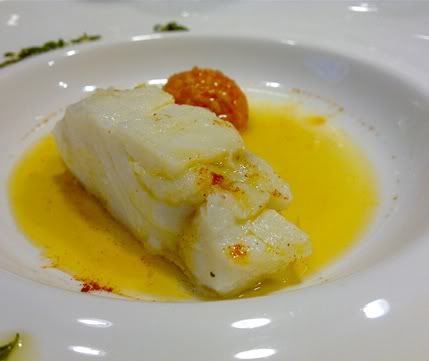 Dinner proper then started with a 1st Course of
Bacalao Confitado Roclado con Bálsamo de Arbequina y Crema de Pimiento Morrón, Aceitunas Aromatizado al Orégano Fresco y Pimentón de La Vera
(Confit Codfish Adorned with Arbequina Olive Oil, Red Pepper Cream, Olives Scented with Fresh Oregano & Smokey Paprika from the Extremañan La Vera D.O.). The cod was melt-in-your-mouth, moist and tender, the accompanying flavors balanced and complex, yet maintaining a rustic honesty.
This was paired with the earlier mentioned
2010 Bodegas Avelino Vegas Circe Blanco*
, one of JC's newer wines, a verdejo-based blanco from Rueda - a lively, clean, very slightly honeyed soft, slightly creamy, round, tropical passion fruit and peach. Deeper, heftier, more ripely sweet and more concentrated than most all other verdejos I've tried - I'd guess the fruit was from older vines. Open, accessible, amiable - a feminine verdejo; this is for easy, casual enjoyment. There was just enough acidity to brighten this dish and give a bit of lift. Good as an apéritif as well as for pairing with fattier fishes for a fruity contrast.
*
Named after the mythological Greek enchantress mentioned in Homer's Odyssey.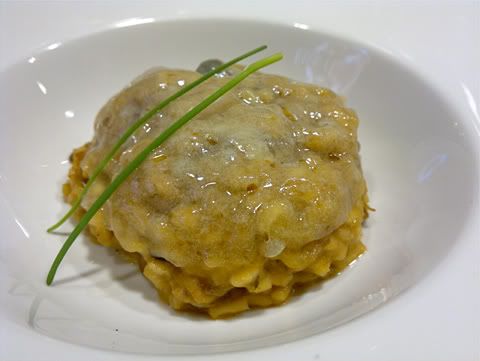 The 2nd course, a crowd favorite (it certainly was mine), was
Arroz Meloso de Rabo de Toro Y Setas Silvestres al Fundente de Queso El Porfiao, Origen Casar de Palomeros, Las Hurdes, Cáceres
(Creamy Rice with Oxtail and Wild Mushrooms with Molten "El Porfiao" Cheese from Casar de Palomero, Las Hurdes, Cáceres). A masterpiece in savory-earthiness: the rice maintained its integrity despite its slightly nutty creaminess, the oxtail's and mushrooms' flavors seamlessly intertwined, the cheese adding a layer of delicate pungency and balanced richness. Fantastic. Rustic luxury and elegance.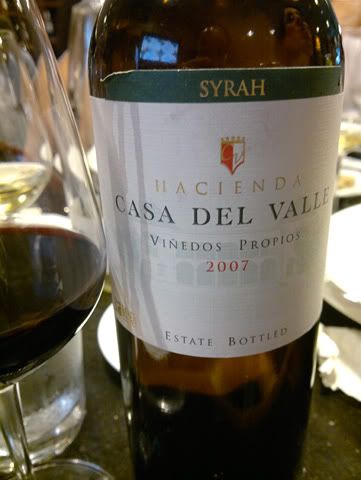 With the dish was paired the
2007 Casa del Valle Estate Bottled Syrah
- I don't get to try many Spanish syrahs - this was very ripe, full, hefty, showing raspberry liqueur, blackberries and crème de cassis, slight black pepper, with undertones of new oak: vanilla/cinnamon and cocoa. I had no idea where exactly it was from until Tito Justo pointed out that it was from the Toledo area. Interesting.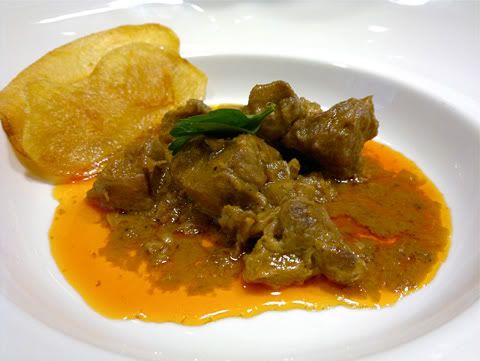 The 3rd and main course was JC's take on the traditional caldereta de cordero, named
Caldereta de Cordero al Pimentón La Dalia Estilo Jaraíz de La Vera
(Lamb Stew with "La Dalia" Brand Paprika in the Style of Jaraíz de La Vera [a town in the province of Cáceres]). This was paired with magnums of
2009 Palacios Remondo La Vendimia Rioja
- a vino joven made up of garnacha and tempranillo from the Rioja Baja in a very ripe vintage. Spicy blackcurrants and cherry, ripe dark plum belly, vanilla and slight licorice, halfway to full-bodied; a straightforward, polished, rounded, modernish young Rioja. At it's very reasonable price, I believe retailing at Terry's at under P700/bottle, it is a steal and perfect for pairing with rich meaty dishes at large holiday parties.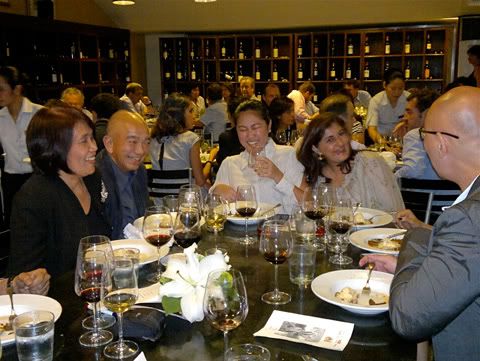 The Cáceres Table laughs it up.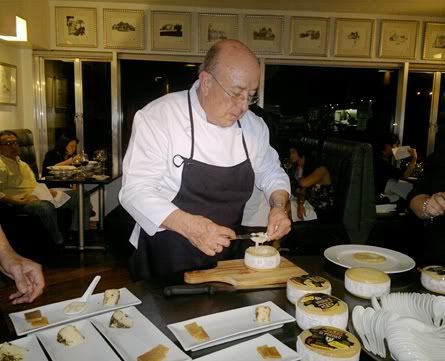 JC scoops out the cheese for plating.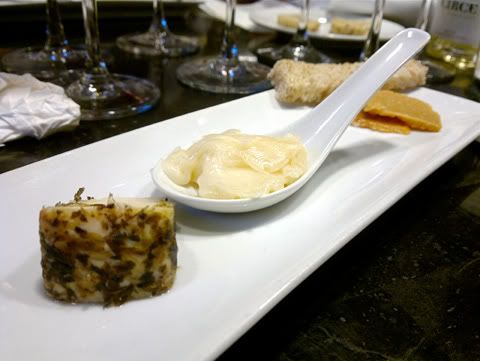 The Cheese Course was
Ibores al Orégano Fresco,
Torta "El Porfiao" de Castuera, y,
Ibores "De Caza" 10 Años de Curación, Berrocales Trujillanos, Cáceres.
"Ibores" is an Extremañan D.O. cheese from the districts of Ibores, Villuercas, La Jara & Trujillo in Cáceres. To qualify as a D.O. cheese, it must be made of unpasteurized milk of only Serrana, Verata, Retinta goats (and crosses of the same) raised in officially registered farms, under official and regulated guidelines.
The
first cheese
was a moderately rich one laced with fresh oregano. Firm and just mildly pungent, vaguely nutty, slightly salty, it is totally unlike the ubiquitous ultra-creamy and gamey French chèvres. The
second
, not an Ibores, was an oozingly rich, fat, creamy, buttery cheese ("El Porfiao" is the brand) from Castuera (province of Badajoz) made of raw Merino sheep's milk. It is so soft one has to spoon it out of its rind (as seen being done by JC in the second photo above). The
third
, a 10-year aged Ibores by
Berrocales Trujillanos
(a 3rd generation family business based, obviously, in Trujillo - the southern outskirts thereof in particular) , was hardened and darkened by age, showing a pronounced nuttiness that called to mind a cheesy, slightly salty, unsweetened marzipan cookie.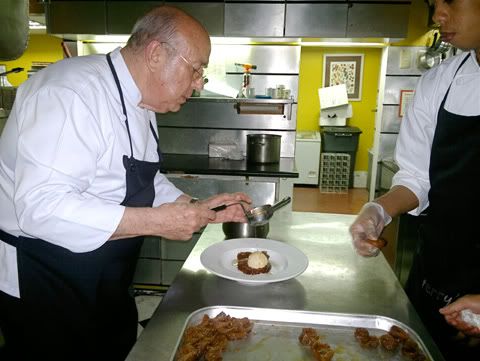 JC finishes the desserts of...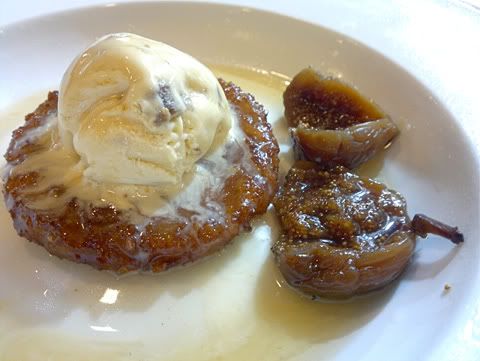 Helado de Higos Frescos de Almoharin y Aceite de Oliva Arbequina sobre Torrija Cacereña de Sierra de Fuentes
(Ice Cream of Fresh Almoharin Figs & Arbequina Olive Oil around a Cáceres Torrija from the town of Sierra de Fuentes). This Cáceres version of torrijas (a Spanish take on
pain perdu
- a.k.a., French toast) was unlike any torrija I've ever had - denser, nuttier, calling to mind a flattened, somewhat chewy/more glutinous macaroon. The helado and accompanying fresh figs were absolutely heavenly in themselves, with the torrija, and all together. Superb. I could have eaten 3 of these, but stuck to just one.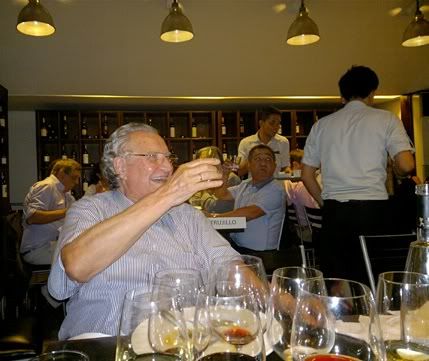 As in most traditional Spanish dinners (the ones I've attended, anyway), pacharán rounded off the meal - in this case, the
La Navarra Etiqueta Verde Pachrán
that Terry's distributes. Love this stuff, and, apparently, so did Tito Justo.
Miguel Romero-Salas then re-took the floor, gave the closing remarks and led a deluge of applause for the Terry's staff (standing at left is La Cámara's Immediate Past President Alfredo Roca), and, of course,...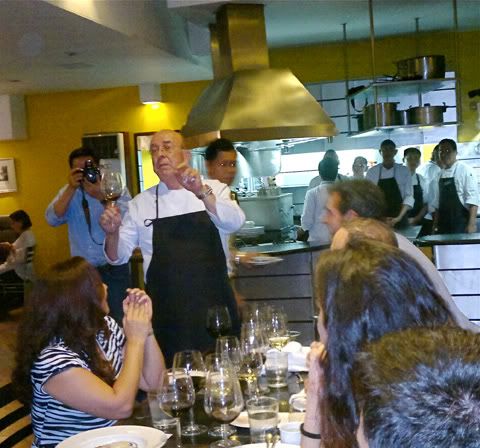 ...for El Maestro...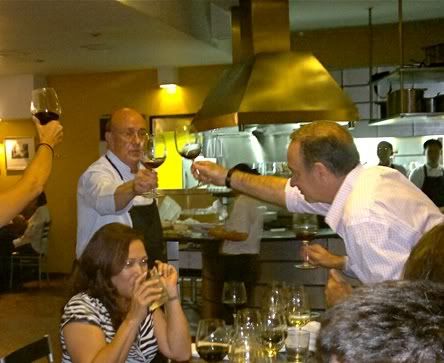 ...for whom Past President, José Luis Romero-Salas, offered a congratulatory toast.
Thus ended my extremely enjoyable crash-course on the cuisine of Extremadura. Surely, this lesser-known region's food products and traditional dishes currently are under-appreciated - even by me, admittedly - until that night, that is. With the many people leaving the dinner with purchased packages of Extremañan cheeses and assorted deli items, however, a lot of progress had definitely been made. ¡Olé!