The night before the Usual Suspects' Blind 1st Growth Dinner, the 30th November 2011, was the
Grand Crew's Blind Bordeaux Challenge XIX
, this time held at the
Tivoli
(Old Manila was closed for some reason). We were only 7 that night as Mrs. Stockbroker was out of the country.
My last dinner at Tivoli was good enough
(except for my corked bottle of 1990 Petit Village), so the change of venue seemed fine. Or so I thought.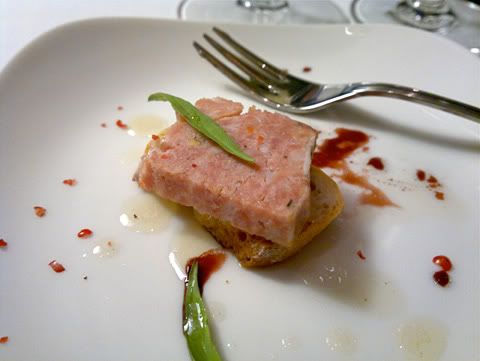 Amuse Bouche
- My bouche was not amused.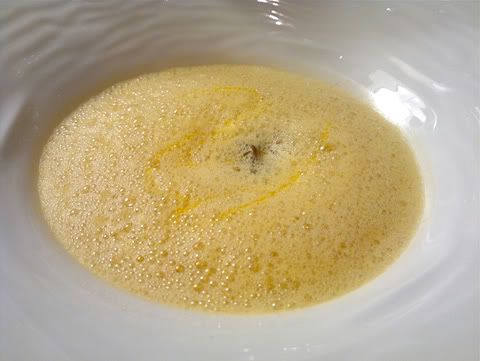 Although I loved the
Lobster Bisque
at my recent previous dinner there, while the flavors of this one were the same, this time somebody went
way
overboard with the foaming device. It was literally 50% foam at least.
Very
disappointing. Is "consistency" not in the restaurant's vocabulary?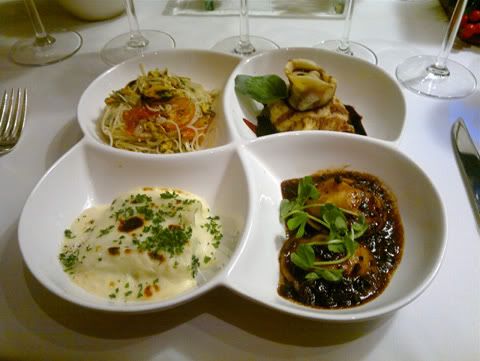 Mrs. Doc's main course was a
Quartet of Pasta
.
When asked what her favorite was, her answer was "None."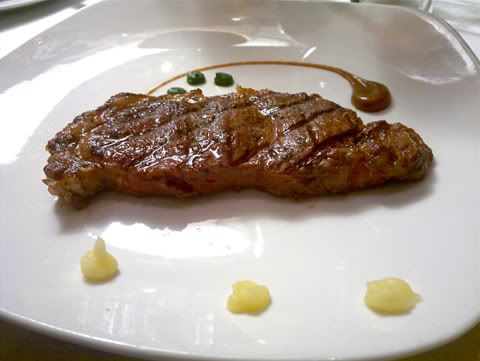 Catha went for the
Duck Confit
for her main course, but I don't know what she thought of it. Everyone else had steak. Above was my
US Prime Rib-Eye Steak
. As you can see, it looked like a breakfast steak from Pancake House. Not only that, I asked for it rare to medium-rare and it arrived medium. Worse, it cost me the same as (or even slightly more than) a Double US Prime Rib-Eye from Mamou. While I do expect to pay more in the Tivoli, it would certainly be nice to get something halfway decent for the premium at least.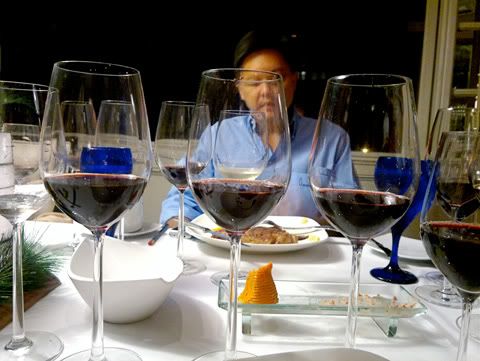 With the main courses came the competing reds.
Wine # 1
was slightly corked. From the outset it smelled a little dusty. One could still taste the wine, but, as time passed, the slight dustiness evolved into pronounced old cardboard. Obviously I voted this 4th Place. Aside from myself, the Vigneron spouses, Doc and the Stockbroker also noted it to be slightly corked. It turned out to be the Vigneron's
2001 Château Trotanoy
.
Wine # 2
- With the first "chew", I decided (and accordingly indicated) that this was a Napa as I detected telltale coconut cream oakiness underneath the lightly truffled, full-bodied, dense, hefty, concentrated and very ripe crème de cassis and dark plum. Beside Wines #s 3 & 4 though, it seemed a bit lacking in refinement, so I ranked it 3rd Place. It turned out to be Doc's
1991 Ridge Montebello
.
Wines # 3 & 4
- These two were so close to each other in quality, I had an extremely difficult time ranking them. Both were pretty classic Bordeaux, Wine #3 obviously with a lot more plum and, for reasons I no longer remember, I eventually ranked Wine #4 as 1st Place; leaving Wine #3 in 2nd Place. Wine#4 turned out to be the Stockbroker's
1982 Château Lynch Bages
; while Wine#3 was my
1990 Château Petit Village
. Mrs. Vigneron's rankings were the same as mine, which is not unusual as we rank wines the same in blind tastings more often than not.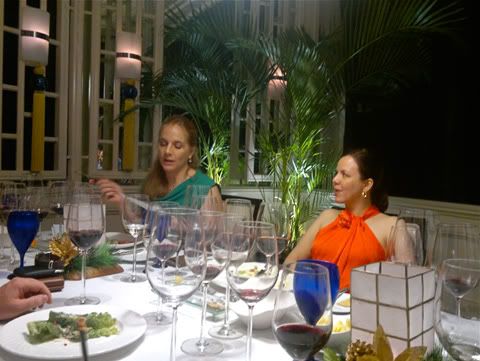 Mrs. Vigneron tallies the votes as Catha looks on.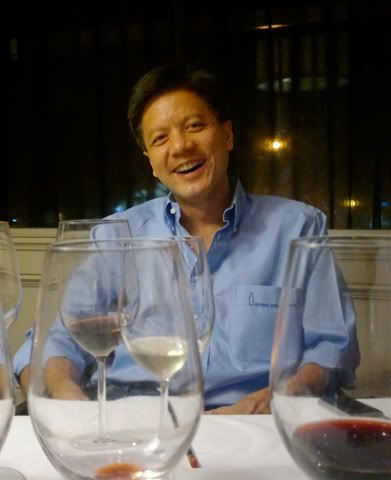 The Results:
It was a very close call for the first 3 slots:
1st Place:
Wine #2 - Doc's
1991 Ridge Montebello
, 20 pts.
2nd Place:
Wine #4 - Jojo's
1982 Lynch Bages
, 19 pts.
3rd Place:
Wine #3 - My
1990 Petit Village
, 18 pts.
4th Place:
Wine #1 - Edouard's
2001 Trotanoy
, 13 pts.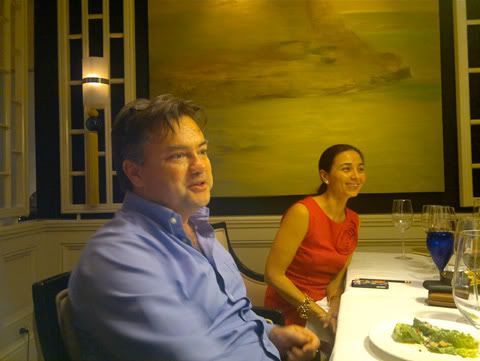 Again, Doc wins with a Cali red. We may as well start calling this friendly competition "Manila Blind Napa Challenge" with the way the majority has been voting as of late - taking nothing away from the 1991 Ridge MB, of course, as it is unquestionably a very good wine.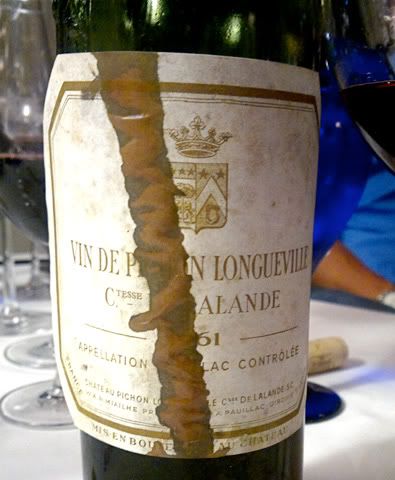 Ever magnanimous in defeat, the Vigneron treated us to a bottle of
1961 Château Pichon Longueville Comtesse de Lalande
. We noted that, unlike the one he entered in
Blind Bordeaux Challenge IX
(during which I ranked it 2nd Place after Jojo's 1994 Haut Brion), this one was not relabeled as it still bears his dad's name in the bottom left corner. Although, again, definitely a great treat to have, the first bottle was markedly fresher than this one.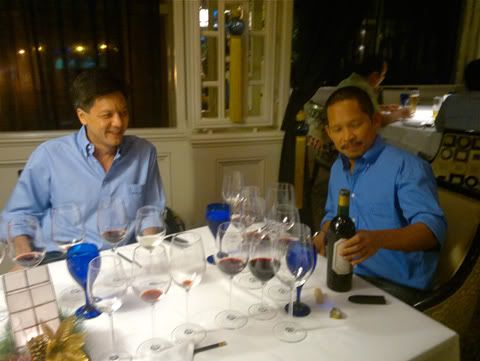 The Stockbroker was the one tasked with the opening of the old bottle.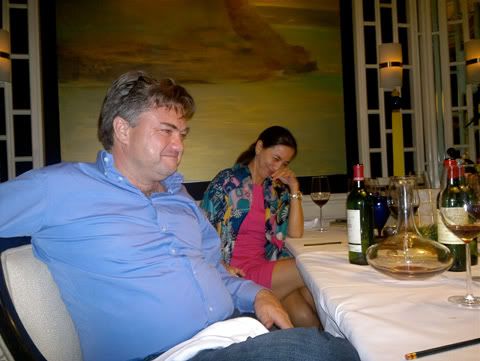 Naturally, we had to start ribbing the Vigneron for voting the Ridge MB as 1st Place wine (Doc and Catha also chose it as 1st Place). I teased him that he may well consider opening a winery in Napa - after all, Christian Moueix does a hell of a job with his Dominus.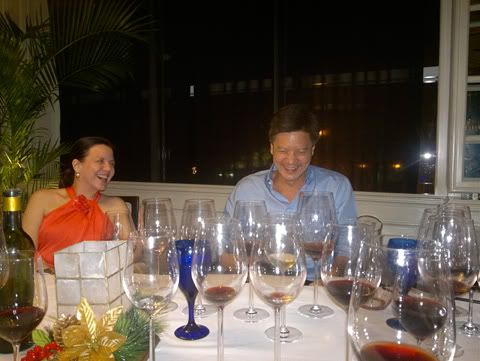 Catha and Doc laugh it up...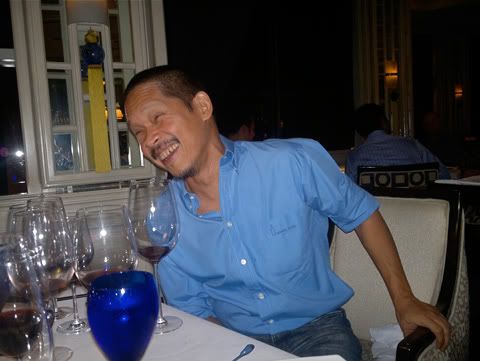 ...as does the Stockbroker.
A couple of orders of
Crêpe Suzette
for dessert...
...lent a sweet finish to a fun evening, the likes of which I have missed.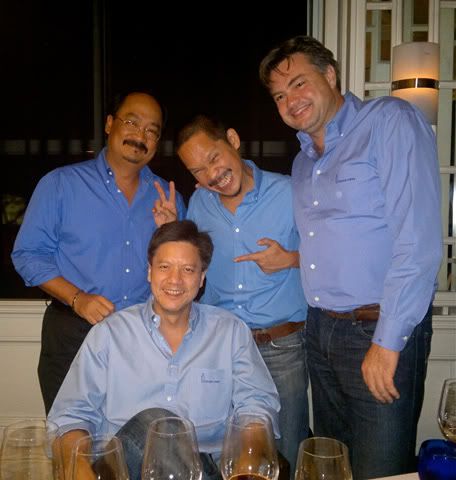 Until the next!