A benefit dinner was held by Tita Bella Yuchengco at her residence night before last, the 8th August 2013, for a good friend who is bravely fighting the good fight. Fourteen friends got together for the very good cause.
The table setting, as usual, was elegant, understated, and in excellent taste...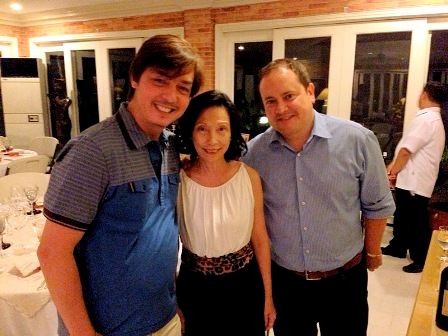 ...much like the ever generous, svelte, and chic hostess herself.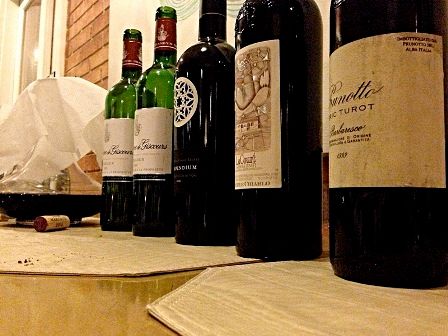 The evening's reds lined up for service...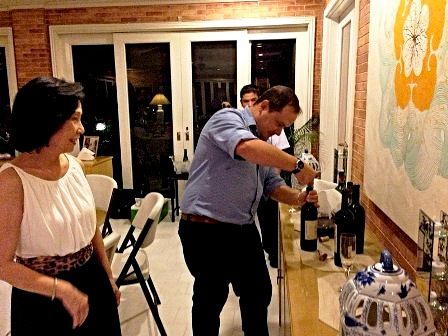 ...carefully opened by Rene under watchful eyes...
...were: 2010 La Sirène de Giscours (2 bottles from Rene), 1999 Michele Chiarlo Barbera d'Asti La Court, & 1999 Prunotto Barbaresco Bric Turot (from me). The 2009 Mission Hill Legacy Series Compendium (from Jim) was saved for a later Mamou meal.
For cocktails was Bugey Cerdon Caveau de Mont St-July -This amiable, very accessible non-vintage sparkling rosé is from the Cerdon AOC, a.k.a., Bugey-Cerdon, located in far eastern France's Ain department (bordering Geneva, within the Jura region) - composed of the area's gamay and poulsard grapes, the spontaneous
fermentation of which is halted in order to leave enough sugar for a charmingly festive off-dryness.

This isn't locally available, I brought these in as part of a batch for the IWFS Ladies as a favor. We quickly went through 3 bottles last night. The abv% is quite low, so no danger of getting hit too fast before dinner. One could drink this all day at the beach.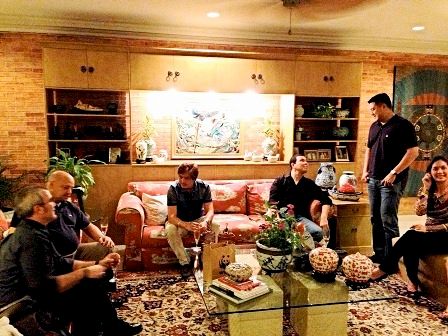 Pre-dinner conversation...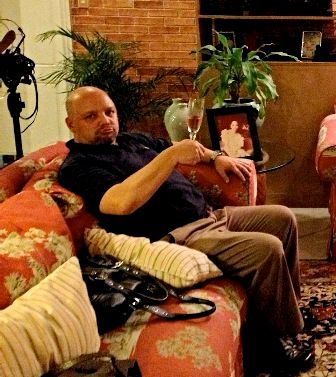 ...and bubbly.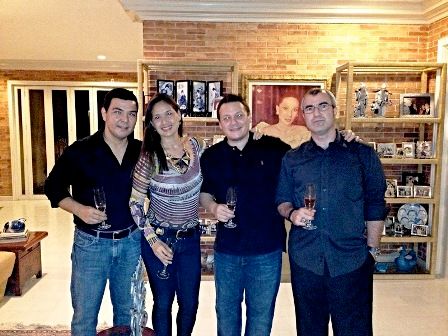 Migs' eyes are really hopeless under flash photography.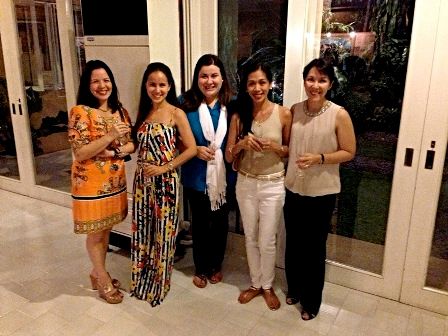 Catha, Maite, Nena, Mayette, & Katrina...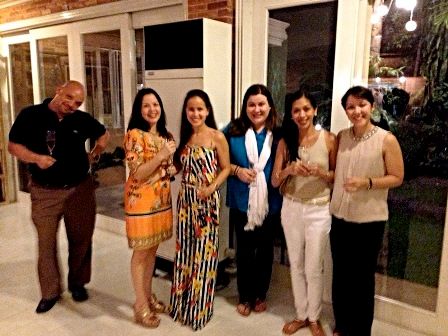 ...here photo-bombed by Enki.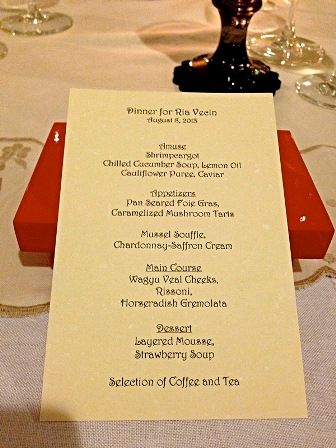 The Menu.
This substantial amuse bouche of "Shrimpcargot" was an instant and unanimous hit. We all loved it. Thankfully, as always, Tita Bella had extra helpings for all. From the first bite, I said "I can eat at least a dozen of these".
Most all of us got second helpings. Lucky Jim managed to get a third.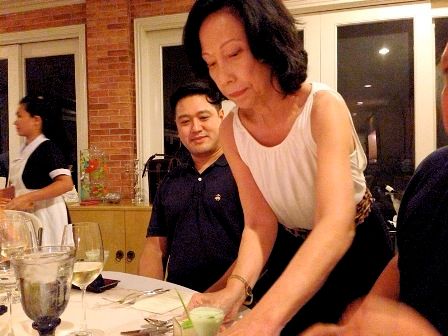 Tita Bella personally helps serve...
...the second substantial amuse bouche: a refreshing and cleansing Chilled Cucumber Soup with Lemon Oil, in tandem with a delicious, precisely executed Cauliflower Purée with Caviar.
With this, we had already started on Rene's 3 bottles of fresh, racy, zippy, minerall, slightly off-dry 2011 Dönnhoff Riesling Qba - a bit fuller and riper than past vintages of the same I've had, but still a reliably nice and versatile wine with lip-smackingly bright acid balance.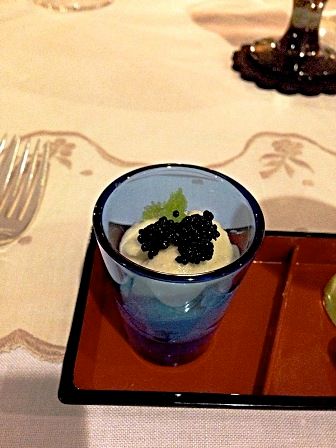 My 2nd helping of the Cauliflower Purée w/ Caviar.
The first of two appetizer courses was an earthily indulgent Pan-Seared Foie Gras, Caramelized Mushroom Tart. Oh my, so very good, but I stopped at only one serving as I had to make it through to dessert. The 2011 Dönnhoff Riesling Qba Riesling faltered a bit here, needing to have been a spätlese at least, but, not a problem.
With the second appetizer course of Mussel Soufflé with Chardonnay-Saffron Sauce - an addictive, heavenly sauce on a heftier, more substantial kind of soufflé, we started on Alex's 2 bottles of 2009 Thevenet Domaine Émilian Gillet Quintaine Viré-Clessé.
The chardonnay producing Viré-Clessé AOC (since February 1999) lies within the Mâconnais district of the Burgundy region. Relatively recently gaining fame, its vibrant, minerally, well-crafted wines are comparatively reasonably-priced alternatives to the whites from the Côte de Beaune. The subject wine is medium-bodied with clean lines and fair balance, in a subdued, minerally style which somewhat reminds me of a cross between a young village Chablis and a young village Meursault.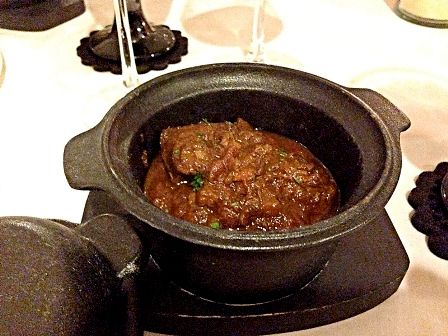 A tender, honest, hearty, deeply flavored Wagyu Veal Cheeks...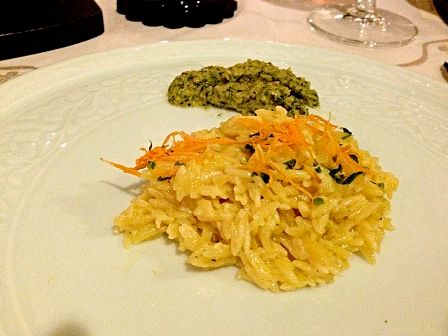 ...with Rissoni & Horseradish Gremolata.
With this honest, rustic treat, I paired mainly the
1999 Prunotto Barbaresco Bric Turot
, the savory, mature flavors and typical acidity of which made for a nice counterpoint to the veal cheeks' earthy richness. Alex also favored this wine for pairing with the main dish, while Catha & Rene preferred the fuller, fruitier, richer, riper, more oak-enriched
1999 Michele Chiarlo Barbera d'Asti Nizza La Court
.
Dessert was a delectable Layered Mousse atop Strawberry Soup. In a word - wonderful - especially for chocolate-berry dessert fans such as I.
Enki had a second serving of dessert. He's been dieting lately, but I reassured him by saying that strawberry is fruit anyway, and chocolate comes from cocoa beans, so the dessert qualifies as healthy fare.
I was too busy enjoying myself, chatting with everyone to remember to take my usual, closing toast group shot. Anyway, it was a great dinner for a worthy cause. Thanks, again, Tita Bella! Loved the dinner! Until the next!