Dinner last night, Friday the 9th August 2013, was at Cyrille & Anna Soenen's
Brasserie CiÇou
to partake in it's on-going
French Summer Truffle Menu
. Cyrille, Anna & children recently got back from their annual vacation in France, bringing back some fresh summer truffles, so the truffle menu is only good while supply lasts. This special menu started off this past Tuesday, and, as of last night, I understand that the truffle stock is already half gone - so hurry if you want to enjoy the dishes.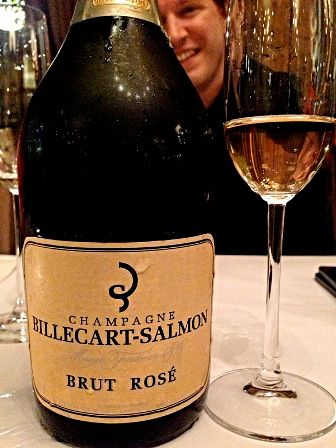 Good friend and regular drinking buddy, Richard Joye, just got back from 2 weeks' vacation in Japan, and, after a self-inflicted 3-day cleansing diet of pineapples (I don't even want to imagine that), messaged that he wanted to get together for the summer truffle menu over some aged Burgundy reds as he is to leave shortly for a long business trip to the USA and Europe. I readily agreed to join in.
We started off with a bottle of Champagne Billecart-Salmon Brut Rosé NV - J-Lab's bottle, a batch straggler that escaped his notice in his cav for several years. He can't remember exactly how many years it lay forgotten under a pile of other bottles, but I noted that, while still frothy upon pouring, it isn't as bright, lively or effervescent as younger bottles of this bubbly would be, and displayed mainly strawberry and slight currant mid-palate, a vague suggestion of café crème underneath, with fruit-pit emerging in the finish. Still, it was a pleasant enough way to start a meal.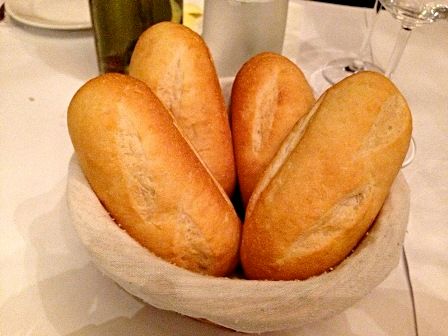 As always at Brasserie CiÇou, I dug into a bunch of their Mini Baguettes - the best in the country in my never-so-humble opinion. Served hot, with good butter, they are one of life's simple joys.
First for Catha and I was the excellent Salade Périgourdine - jambonnette of duck breast, foie gras, marinated pear in sweet white wine, mesclun salad, walnuts, and fresh summer truffles.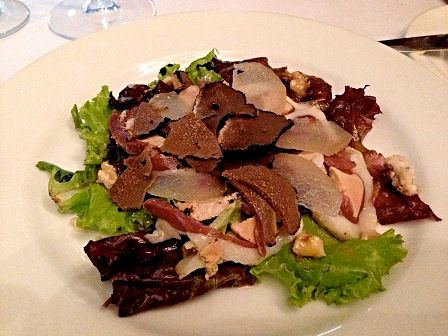 Masarap na, para healthy pa!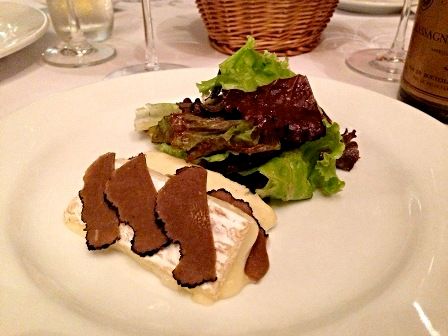 Second was the indulgently creamy, meltingly earthy and delicious Warm Brie de Meaux with Fresh Summer Truffles & Mesclun Salad...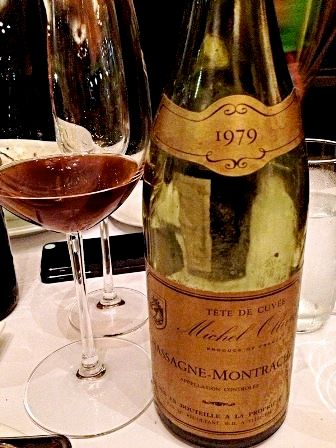 ...which went magnificently with the 1979 Michel Ollivier Chassagne-Montrachet Tête de Cuvée Rouge - Richard's bottle (he is friends with the producer and often buys from them). A few notches lighter than being medium-bodied, it presents unmistakably as a red Burgundy, though, if served blind, I'd not have been able to guess where exactly within Burgundy it was from.
It is definitely still alive, showing mild iron and blood notes in its cep, walnut skin and violet-touched dark red berry and fruit essence. Its finish simply ran with the truffle and cheese's creamy earthiness. Lovely pairing in that not only were both the wine and the dish reciprocally enhanced, the combined finish also brought a whole new nutty-creamy-gamey flavor and sensation altogether.
J-Lab needed to borrow Catha's reading glasses to read the labels...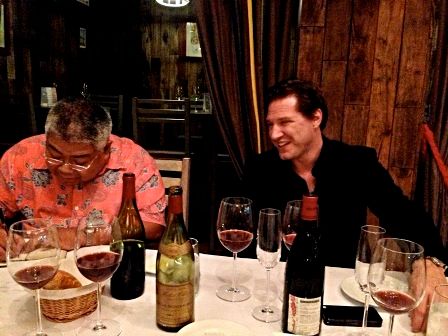 ...much to Richard's amusement.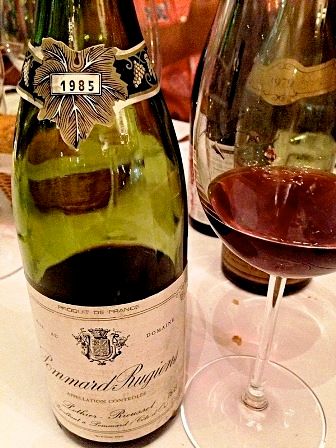 Next up was a 1985 Pothier-Rieusset Pommard 1er Cru Rugiens - My bottle (nb., the niece of the old winemaker, Virgile Pothier-Rieusset, Marianne, married Laurent Pillot and brought with her to Domaine Pillot half of the Pothier-Rieusset estate. By 2001, the Pillots acquired the other half, thus, taking over the entire estate and bringing its vineyards under the Pillot name). I'd not had any wine from this producer before, so I didn't really know what to expect, though I am quite familiar with the wines from Pommard's 1er cru Rugiens vineyards.
Richard, who heavily favors the 1er cru Epenots wines when it comes to Pommard, tried it first and quickly pronounced it still good and that he liked it. Trying it myself, I feel that its 28 years from vintage has materially mellowed out the, at times, burly, typical masculine Pommard rusticity. Medium-bodied, serene, showing notes of ceps, slight sous bois, bit of cedar, and old book-pressed violets in its age-smoothened black cherry, dark raspberry and underlying dark plum. Quite nice, and from the year Catha & I started going out together late in junior year college.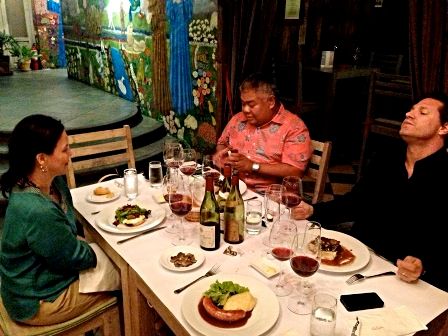 Richard takes in the wine's & truffles' aromas.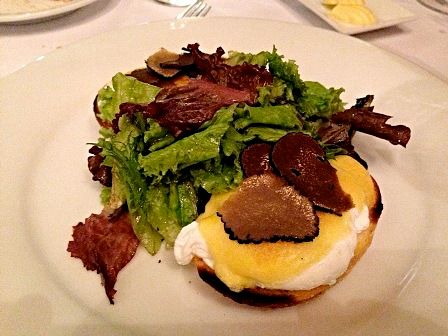 For main courses, Catha had the above-depicted Eggs Benedict with Truffle Hollandaise & Fresh Summer Truffles; while J-Lab & Richard both went for the Sous-Vide Onglet Rossini Style with Assorted Mushrooms in Cream & Truffled Mashed Potatoes.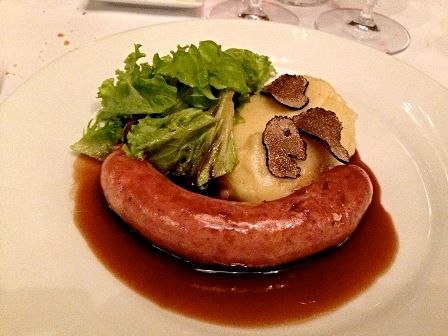 I wanted something simple and hearty to let the truffles take center stage, so I had the Aligot: Fresh Tome Cheese Mashed Potatoes & Roasted Home-Made Garlic Pork Sausage...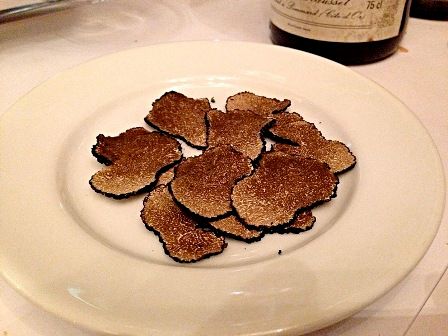 ...and an extra serving of Shaved Black Summer Truffles.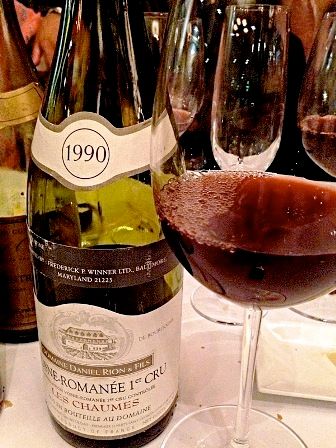 The third of the evening's reds was a
1990 Daniel Rion Vosne-Romanée 1er Cru Les Chaumes
- Typically deeper, more concentrated, materially riper (the vintage as well), darker fruit accented with the distinctive soy sauce-hoisin sauce reminiscent Vosne spice. Obviously of bigger build and heftier than the previous two, it was also more stylish in its typicity. Velvety, markedly ripe (not quite roasted-ripe), spiced dark cherry and raspberry, hint of kirsch, underlying nuances of dried figs, cedar and dark violets. Definitive from attack to moderately long finish. The bouquet was not as expressive or sweetly truffled as
the last bottle of this I opened
, but it was still very nice.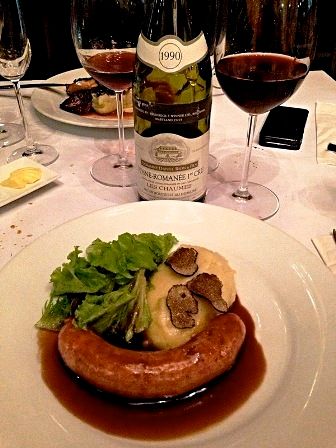 This was my main pairing for my Aligot.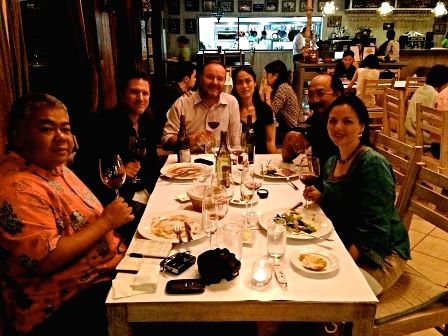 Cyrille & Anna joined us for a few glasses and to catch up...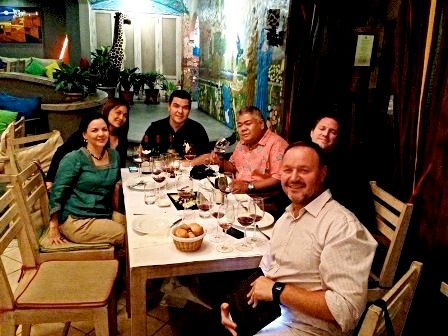 ...joined later on by Jim & Ella who also happened to be dining there.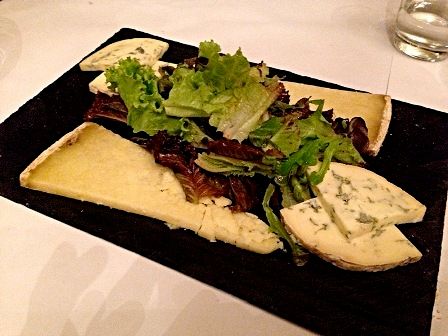 Still having some bottles to enjoy, we had the cheese plate featuring some 12-Month Aged Laguiole.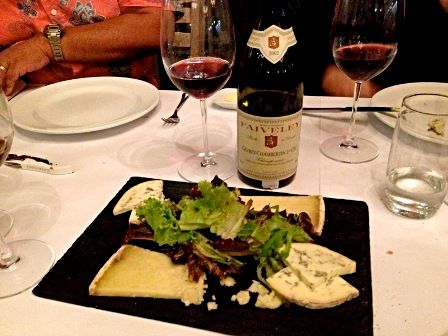 With this we had a bottle of
2002 Faiveley Gevrey-Chambertin 1er Cru Champonnets
- J-Lab's bottle, served popped-and-poured. Faiveley's wines, in my own experience, really need many years to strut their stuff; and are still infants at 11 years from vintage. I guess 2002 was a precocious year for the producer, or, maybe Gevrey-Chambertin or even the Côte de Nuits in general, as this wine, though still obviously young, was nowhere near as surly, closed, or ungiving as the
1998 Faiveley Latricières-Chambertin
or
2001 Faiveley Latricières-Chambertin
at 13 and 10 years from vintage, respectively.
Well, either that or Faiveley implemented a change in style in the past 11 years - I really wouldn't know as I've long learned to leave their wines alone to age for long before trying to enjoy them, so I hardly ever try them out young. In any event, with coaxing swirls and a some minutes in the glass, the wine did show more openly than I expected, though it is still obviously very young and a bit tight. Still, one could already make out its rigid structure and masculine character in its still primary, mildly brambly, spiced fruit.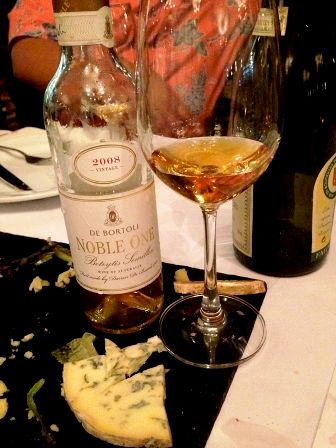 For the blue cheese, we had a half bottle of 2008 De Bortoli Noble One Botrytis Semillon - J-Lab's bottle. Catha said it was her first time to try an Australian botrytis cinerea-infected sweet wine and was very surprised how much it reminded her of a Sauternes. With its vibrant and forward canned peach, apricot-in-syrup, orange marmalade, slightly spicy honey, and creamy vanilla notes, it is, undeniably, a crowd-pleaser. Richard correctly noted that it is readily enjoyable, though not elegant or complex as a fine Sauternes or Barsac. For a casual sweet white, it is highly recommendable. In my experience, Australia is pretty reliable and good at making inexpensive botrytised semillon.

Richard opened another bottle of rosé champagne after, I vaguely recall it was a Moët & Chandon Rosé Imperial NV, but I don't remember for sure, and I forgot to take a photo of the bottle.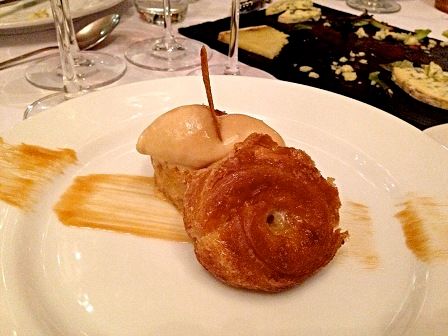 Naturally, I could not leave without having Cyrille's deservedly famous
Kouign Amann with Salted Caramel Ice Cream.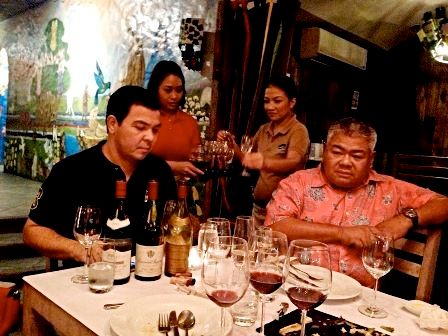 A choice of digestifs compliments of Cyrille.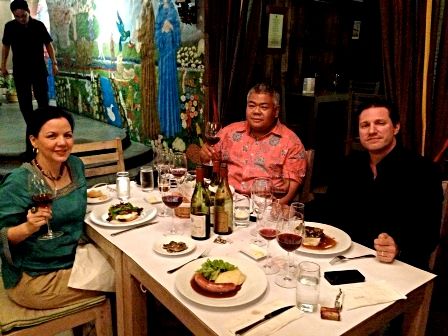 A toast to CiÇou's Summer Truffle Festival!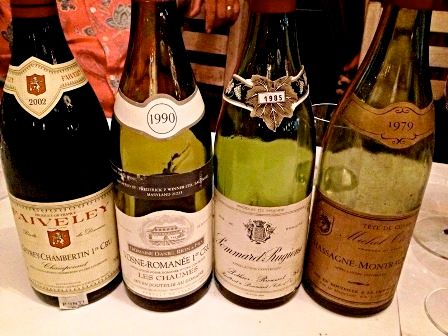 The evening's reds.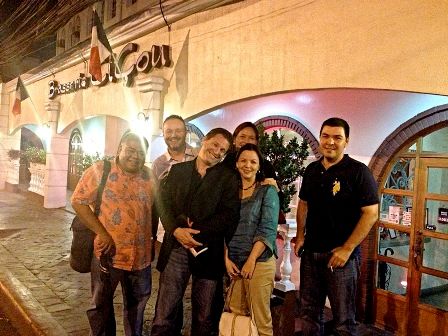 Excellent night! Until the next!