The Usual Suspects, a fun, informal group of fellow winos of which I am a member (the name coined by J-Lab), used to hold regular (virtually weekly) 6+ hour wine lunches beginning approximately in the last quarter of 2008 up to a year or two ago when the Philippine Stock Exchange implemented afternoon trading. That pretty much killed long wine lunches for old buddy/wine collector Jojo Madrid (a.k.a., "the Stockbroker"), one of the group's founding/core-group members and stalwarts. Since then, we moved our get-togethers to dinnertime. As years passed, people got busier (myself included), Keiichi moved back to Tokyo, many travelling more often and for longer periods, etc., so we don't get together nearly as often as before - but, when we do, it's just as much fun as ever.
~ oOo ~
A week or so ago, Rene issued, via e-mail, a Usual Suspects call-to-arms, as Jojo was back in town from a long trip to Vancouver. Six of us immediately confirmed (Rene, Miguel, Jojo, Aaron, J-Lab, & myself), and the date and venue were quickly set: dinner for Thursday, the 15th August 2013, at Mamou Too! - a group favorite for good steaks and fine reds.
Rene, J-Lab, & Jojo.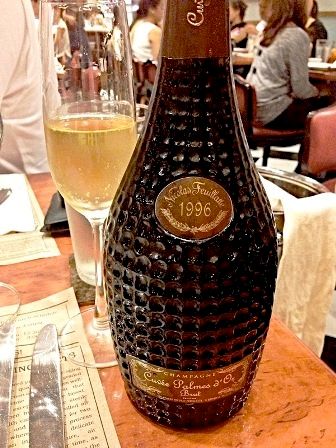 No fooling around, by around 6:45pm we started off with 1996 Nicolas Feuillatte Champagne Cuvée Palm d'Or Brut - from Rene, a top-line bottling of a well-respected champagne producer in a great champagne vintage. Alluring biscuity theme in its cider-and-yeast-touched, creamy, lemon curd, ripe apple, pear, yellow apricot dominant flavors. Bright, good freshness, good acid balance, good palate push. Confident wine. Very nice indeed.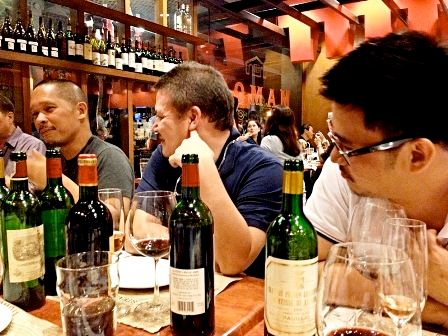 Jojo, Miguel, & Aaron.
Nobody needed to read the menu, and left the ordering to me. Again, no fooling around - in short order, 3 orders of Spaghetti Bottarga hit the table - our favorite pasta dish at Mamou and Mamou Too! excellent as ever. I continued with the above-mentioned champagne with this.
Miguel had brought a 1991 López de Heredia Viña Tondonia Gran Reserva Blanco for the night's still white, but, since we were still finishing off the first champagne, we saved that for another day (hopefully for JC de Terry's coming Rioja Cuisine Festival).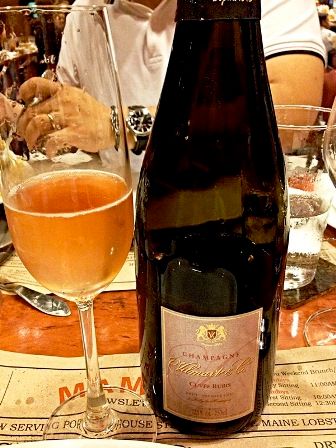 Halfway through the pasta course, a rosé champagne was opened:
Champagne Vilmart & C'ie Cuvée Rubis Brut Rosé
- from Jojo, a bubbly by a very highly-regarded owner-grower newly available at
Premium Wine Exchange
. Very fresh, vibrant, notably vinous strawberry with secondary cherry, slight minerality, with underlying pinot noir "milkiness". Good purity to the surface red berry/fruit and healthy acidity make it, to me, dangerously drinkable. Consequently, I drank my share rather quickly, so didn't have the opportunity to see how it develops in glass. Next time, I will.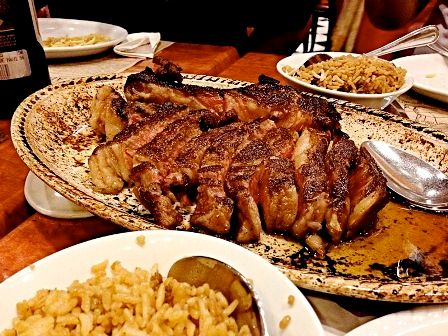 For the reds, 3 orders of the Double Size Dry-Aged US Prime Grade Bone-in Rib-Eyes (rare-medium rare, of course) with 6 orders of White Steak Rice. Well, I got one order of the broccoli side dish too, for a semblance of healthiness.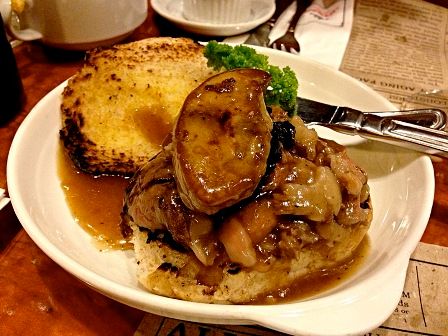 Naturally, we had to order a couple of Foie Gras Sandwiches just to try out. With steak slices and caramelized bits under the foie, slathered in a concentrated sauce, one has to go to confession after eating this, especially after having steak.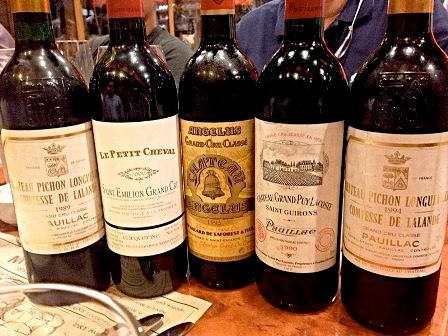 For the above-depicted, heart-stoppingly good mains, we had an array of several reds - all from Bordeaux, though we did not impose any wine theme and did not discuss what we would bring: L-R: 1989 Pichon Lalande (from Jojo), 2000 Le Petit Cheval (from Rene), 1995 Angelus (from Aaron), 1990 Grand-Puy-Lacoste (also from Aaron), 1994 Pichon Lalande (from me)...
...and, last, but certainly not the least, J-Lab's 1998 Carruades de Lafite...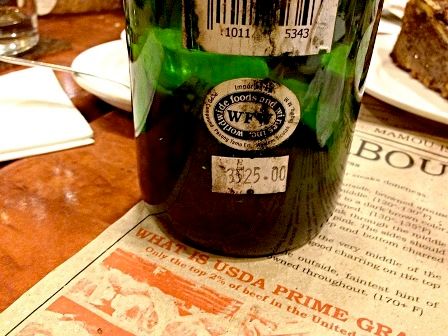 ...which was of particular "historical" interest as J-Lab bought his batch of this many years ago. The price tag shows
Php3,525 (approximately US$81 by current exchange rate). He said he got this with a courtesy 20% discount, bringing his actual acquisition cost to Php2,280 (or approximately US$65.58 at current exchange rate). Those were the days. Today, wine-searcher pegs the average price world-wide at US$356/bottle (approximately Php15,308).
2000 Le Petit Cheval - Doc's bottle. I tried this strong vintage 2nd wine of Château Cheval Blanc in early September 2006 from Bernie when I bumped into him at Je Suis Gourmand. We were having dinner with our respective families; I sent him a glass of 2004 Château de Puligny Montrachet's Puligny Montrachet 1er Cru Folatières I was trying out (to see if I should buy more - and I did) and he sent me a glass of this. I didn't write any notes about it, unfortunately, but I do recall clearly that it was very concentrated, opulent, rich, meaty (hefty doses of espresso, leather and a bit of animal) and definitely full-bodied. Thus, it was great to try it again over 3 years later.
Now, it is notably more calm though still notably concentrated and rich - especially for a 2nd wine. Very ripe plum, cherry/kirsch, chocolate, espresso, dark spice, bit of leather, no more animal. Quietly full-bodied, absolutely no angles, velveteen in texture. This still needs a few years to come together more, but all the materials appear to be there for a most excellent wine. This was my favorite wine of the night.
This subject bottle was very expressive and, comparatively, more stylish and better-knit. Full, luxurious body, with mouth-filling ripe black cherry, kirsch, dark raspberry, mocha, cocoa, creamy vanilla, cedar, and violets. Still young and a tad primary, the quality and longevity of this wine is, to me, quite evident. Hedonistic now, and with great things to look forward to. No rush to open this though, as I believe it will continue to improve for at least a decade or so more.
1998 Carruades de Lafite - J-Lab's bottle; the 2nd wine of Lafite Rothschild. I remember vividly having had a couple of these at my dad's house (his bottles, not mine) in the past 2-3 years, but I apparently made no notes thereon (not surprising as I am not in "blogger mode" when at dad's place - at most, I take a few photos, but make no notes).
In any event, this was quite a mellow, understated, typical, medium-bodied (maybe slightly more) Pauillac which showed moderate pencil lead shavings, cedar, slight licorice, suggestion of ceps and asphalt undertones in its cassis and black cherry. Quietly confident, in balance, I could call it "classy", not showy or stylish. It was the last red I tried, so my palate was already tiring.
1994 Pichon Lalande - My bottle, one I promised to open with Rene (so I kept my promise). I've written about this repeatedly and consistently positively - that is when not side-by-side a bunch of very fine ones. Bigger, full-bodied, sturdier in structure and more expressive than the '98 Carruades. As it sat in glass, however, the licorice in the dark fruit seemed to get more and more forward - to the point that I found it a bit bothersome and even a tiny bit out of balance. Not the best '94 Pichon Lalande I've had, but not a bad wine by any means.
1990 Grand-Puy-Lacoste
- Aaron's bottle; from a highly-respected, over-performing/under-appreciated 5th growth from Pauillac in a great, distinctively ripe vintage. Again, i know I've had this wine more than twice before, but my only old notes on it was from
the 10th October 2009
, served blind by James de Jesus:
After a few bites of bread and butter, as well as a taste or three of dried sausage, I attempted to identify the wine. My first sip was big, ripe, well-extracted and a bit hot towards the back with sweetish dark fruit, cassis, cedar and a touch of camphor. This made me initially suspect I was being slipped a Bordeaux ringer (i.e., a wine made with a Bordeaux blend, in the Bordeaux style, but made other than in Bordeaux or even France). The Doc assured me it was Bordeaux.
I tried to settle down a bit and get into tasting mode. A few more sips revealed a good, definitive yet fine strike/attack flowing easily to a fullish middle, tapering smoothly to a long, elegant finish. The dark fruit was very ripe - somewhat sweetish - over cassis, cedar, touch of baked fig, sweet camphor and hints of licorice and truffle. There was a nice, subtle over-all gravelly nuance to the wine. Very silky and refined. Wonderful balance.
The Doc then hinted that we tried this a long time ago from the Stockbroker, but that didn't help me any because we've all shared so many wines over the years.




Because of its ripeness, I said it may be a 1990 or a very well-preserved 1982. Leaning more towards 1990 (though agreeing with one that it may possibly also be a 1989), I said then that it was a left bank 1990.

However

, because of over-thinking - not trusting my first guess/instincts really - and the mid-mouth red fruit, dried cranberry and plummy notes that seemed to emerge later on - I changed my guess to another wine far off-base. It matters not, to me, that I was on the right path at first, I changed my answer. I just console myself by saying that it's a good thing I wasn't on a game show answering for a million dollars.
The subject wine was halfway between medium and full in body, serene, the flavors consistent with my above-quoted old notes, but without the fig nuance. Incredible balance. Lovely wine. Excellent wine.
1989 Pichon Lalande - Jojo's bottle; one I've had many, many times and have always enjoyed. Again, typically Pauillac, expressive, fleshier because of its merlot content. Particular vintage of Pichon Lalande I have consistently found more of a masculine, ruggedly handsome type - with more savory, warm asphalt, ceps and leather notes (some bottles show a truffled bouquet too) in its firmly structured dark fruit. Another particularly fine wine, notable complexity and balance - to me the only true rival of Aaron's 1990 GPL that night.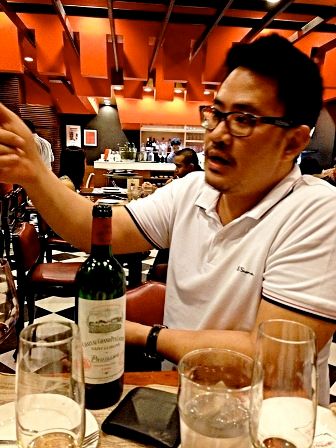 Aaron's 1990 Grand-Puy-Lacoste was pretty unanimously called the wine of the night. Though I generally prefer 1989 to 1990 (even when served blind), that night, I had to give the slight edge to the '90 GPL as well. Aaron's 1995 Angelus was saved for another day.
Everyone seemed in fine form that night, especially Jojo who was surprisingly trim and tanned despite his long sojourn in Vancouver. Lots of teasing, jokes, and laughs all around; just like old times.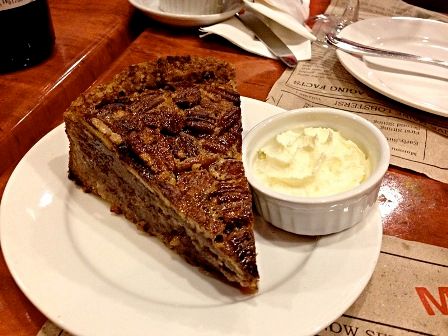 After a couple of orders of Fuet & Grana Padano (no photo) to finish off the bottles with, dessert was a few orders of Pecan Pie with Schlag. Double espressos capped the night nicely.
Great fun, as always, getting together again. Until the next!