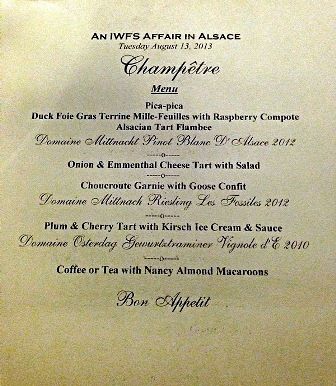 The Ladies' Branch's Alsace Menu
paired with Alsace wine.
It turned out that the Ladies Branch didn't use any of my suggested wine pairings (budgetary constraints played a large part, as I understand), though they did go with my suggested dishes (all typical, traditional Alsace dishes). As always, I brought along my own bottles of wine just for insurance - for purposes of quantity as much as anything else, since the IWFS ladies generally do not drink as much as the men.
The house was packed as the event was very well-attended, the only tables available for walk-ins were those outside. I was seated at my usual table, together with family and friends: Catha, Tad & Chako, Michelle (Catha's sister), Sylvia, Minnie (who recently joined the Ladies' Branch), and Anne Dumoulin.
On the table for pica-picas were Mini Tarts Flambées & Duck Foie Gras Terrine Mille-Feuilles with Raspberry Compote...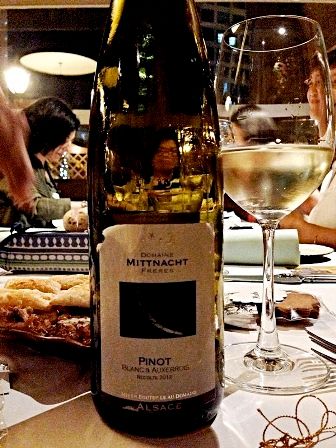 ...paired with bottles of 2012 Domaine Mittnacht Frères Pinot Blanc & Auxerrois - a simple, honest, but deftly/notably balanced dry white that shows good freshness in its lightly spicy orchard fruit. If I had to sum the wine up in a word, it would be "precise". Good dryness and acid balance make it food-friendly - quite a nice pairing with the pica-picas.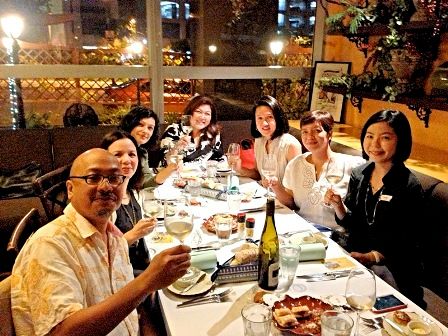 Cheers from our table!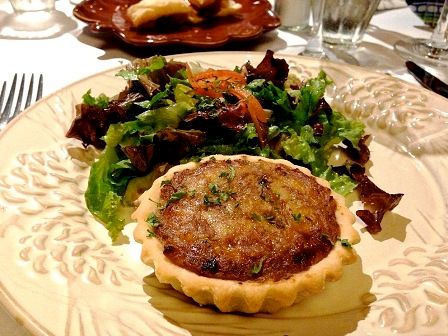 Next was the delicious Onion & Emmenthal Tart w/ Salad...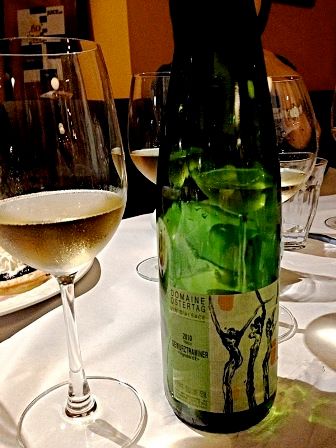 ...paired with a 2010 Domaine André Ostertag Gewürztraminer - a basic gewürz bottling from a highly respected Alsace producer (nb: it was Ostertag's wines that got me interested in Alsace's vinous offerings; a favored producer of Bernie Sim who introduced me to their wines many years ago). Just a touch of residual sugar to the lively, fresh lychee and peach reminiscent fruit. Clean lines, good focus. It was a good pairing as the wine's fruit ran with the caramelized onion' sweetness and the former's fresh acidity was a nice foil to the emmenthal's slightly gamy, savory earthiness.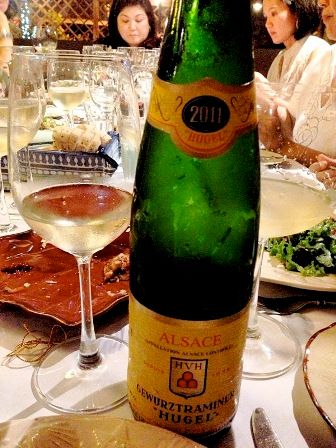 Just for fun, I brought along a basic 2011 Domaine Hugel Gewürztraminer also for the onion-emmenthal tart, and it was decent enough, but the Ostertag's comparatively cleaner lines, better focus, and brighter acid balance made for a much better pairing.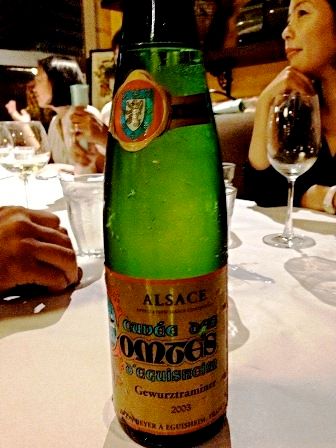 I also brought along a 2003 Léon Beyer Cuvée des Comtes de Eguisheim Gewürztraminer for comparative pairing purposes. The Cuvée des Comtes d'Eguisheim is Beyer's top-of-the-line bottling, so, aside from it being from a different vintage, it is no fair comparison for the aforementioned basic bottlings of Ostertag and Hugel, especially in terms of heft, middle, finish, depth, complexity, elegance, and general palate-presence. Lovely wine on its own, but the acidity was on the low side for me (due to the unusually warm 2003 weather, for sure), so, as a pairing, the clearly Ostertag carried the night.
Bacchus Int'l carries the Beyer brand, but no longer imports its Cuvée des Comtes d'Eguisheim line. Since Catha favors this bottling, we picked up some bottles (including the subject bottle) during our last visit to Beyer's wine shop in Eguisheim's town plaza this past March.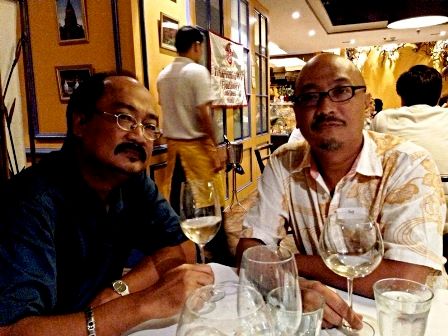 Tad & I.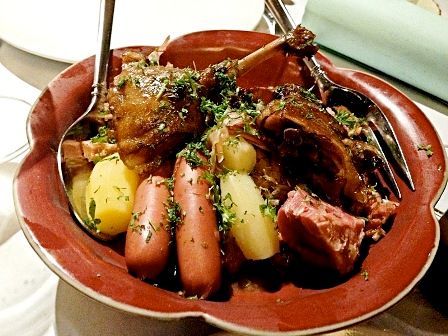 Then came the most anticipated of the night's dishes: Choucroute Garnie with Goose Confit. This was excellent, and loaded with goodies - at a much higher garnie-to-choucroute ratio than typically served in Alsace. The goose confit was tender, moist, deeply flavored. Delicious, honest, hearty, comforting fare - typical of Marc's style that has kept me coming back for more for almost a decade.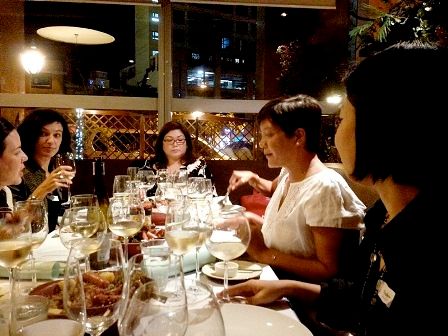 More than enough food for everyone...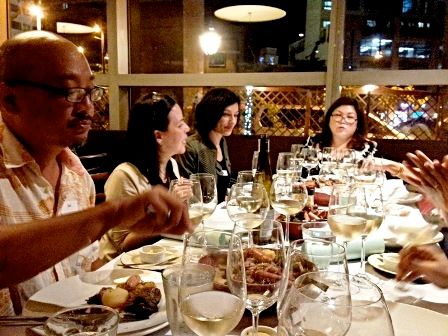 ...with lots to spare.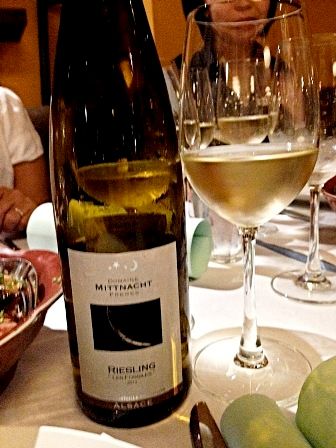 For the main course was paired the 2012 Domaine Mittnacht Frères Riesling Les Fossiles - Beautiful specimen of Alsace riesling: dry but with well-focused, notably fresh, properly ripe fruit/citrus infused with minerally cold stoniness. Good purity, focus, and refreshing acid balance. Very food-friendly. As a pairing, for the main course, well, let's just say I do not think any wine pairs as well with Alsatian choucroute (garnie, royale, or otherwise) as good Alsatian riesling - and this is definitely a very good one. Hats off to Catha, Cyrene de la Rosa, and Nicole Panlilio-Morris of the Ladies' Branch, as, I understand they determined the wine pairings. Great job, ladies. I was impressed.
For those interested in trying out or buying more of the subject wines, all wines mentioned herein,
except
those by Hugel and Beyer (which I brought to the event), are available locally at
Jerome Philippon's Sommelier Selection
.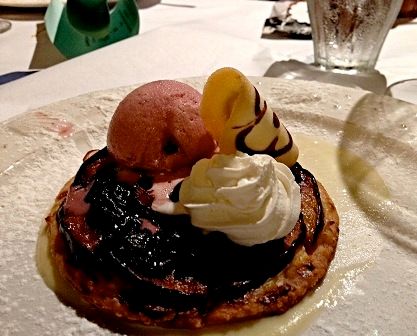 Plum & Cherry Tarte w/ Kirsch Ice Cream & Sauce for dessert.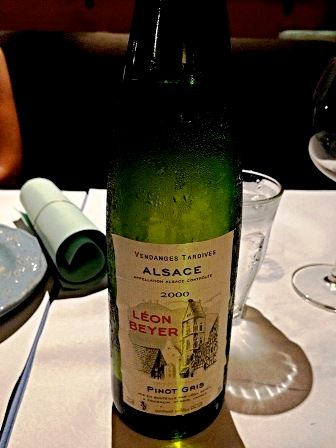 With and after the delightfully bright and palate resuscitating dessert course, I served a 2000 Léon Beyer Pinot Gris Vendanges Tardives - another bottle (a late harvest pinot gris) Catha and I picked up from the Beyer shop in Eguisheim this past March. Moderate scents of spicy, wild-honey-touched dried apricot, peach, bit of baked pear, hints of lemon curd, with a soft, minerally underbelly. Mirrored on the palate on a supple medium-body. The middle could be more pronounced; the finish of decent length. Quite nice, but, honestly, I was too full to pay it the attention it deserves.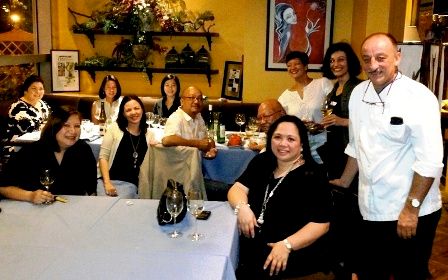 Good job, Ladies! Great food, Marc! Until the next!