Impressions
recently re-opened after some weeks of renovation (among others, they have a private room now that accommodates up to 10 persons), so Alex and I got a little group together for last Friday, the 23rd August 2013, to check out Cyrille's new digs and try out the new items on the menu.
The Mini Baguettes and French butter, the same as in Cyrille's Brasserie CiÇou, were excellent as usual. I had to force myself to stop at two pieces in order to last until dessert.
One of the new dishes on the regular menu is a Côte de Boeuf purportedly good for "2-3 persons". J-Lab and I decided to share this for our main course. When the slab was presented for inspection before cooking, we saw it was HUGE. Definitely good for 3-5 persons, assuming they have starters and intend to survive into dessert.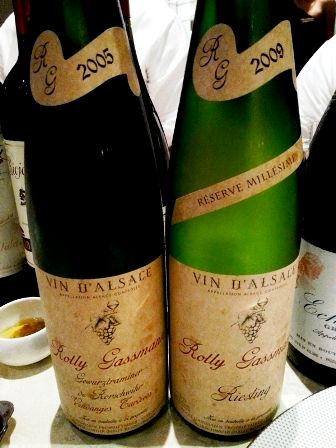 Since it appeared nobody had brought any champagne or white as apéritif, I ordered a bottle of champagne, but cancelled the order as JC & Mari de Terry arrived shortly with two bottles of Alsatian white currently available at Terry Selection, which both turned out to be quite impressive (more on that in a bit).
Tuna-based amuse bouche.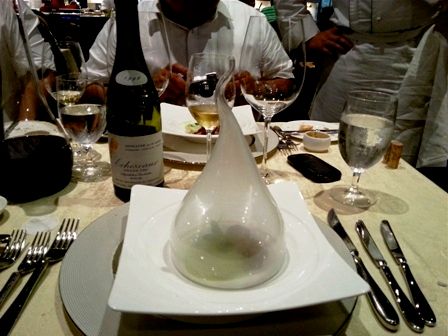 Upon JC's request, Cyrille quickly whipped up an elaborately plated foie gras based second amuse bouche...
...voila...
...to go with his bottle of 2005 Rolly Gassmann Gewürztraminer de Rorschwihr Vendanges Tardives - Nice depth to the sleek, supple slightly spicy, moderately honeyed, ripe lychee and peach. Gaining weight as it warmed a bit in glass, it was around medium-bodied, light-footed, the acid balance enough to keep things fresh, and the palate wanting more. Very nice alone and with the foie.
J-Lab had the Bonito Consommé for his soup course. This is another new item on the menu.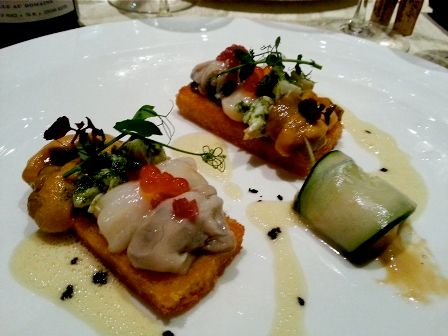 The Tartine Iodée of Sea Urchin, Scallops, & Oysters, Assorted Cress, & Sea Urchin Parfait in Cucumber Confit has been on the menu for several months, but was as delightful as ever. Alex asked Cyrille to whip up a new scallop and sea Urchin based seafood course, but he ate it before I could take a photo of it. It looked very appetizing though; and, judging from the speed that Alex finished it off, it must have tasted pretty good too.
With the Tartine Iodée, we had JC's bottle of 2009 Rolly Gassmann Riesling Réserve Millésimé - Very impressive white, it showed good ripeness in its notably complex, cold limestone nuanced pear, green apple, and slight grapefruit with petrol whispers. Good purity, focus, and gentle expansion. Very well-balanced, appetizingly dry, and food-friendly. Loved it. Classy wine. This is a definite buy for those who want to explore/enjoy very good Alsatian riesling at a reasonable price.
We also shared Cyrille's new salmon dish just to try out.
A few of us went for an old favorite - Cyrille's Pithiviers of French Pigeon & Duck Foie Gras with Asparagus Spears, French Morels, Chanterelles, & Truffle Jus. The French pigeon now is farmed, not wild, as it is long past hunting season.
The Côte de Boeuf is served.
I did mention that it is quite huge. Flintstones-sized, really.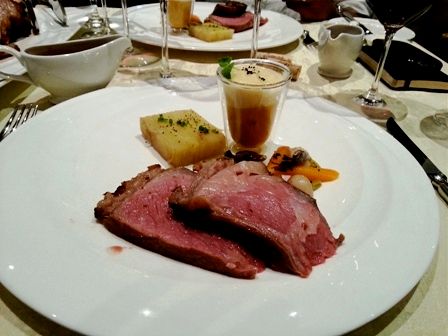 It was so imposing, we sought help from the rest of the table. Alex, who quickly finished off his special Seared Scallop and Uni seafood course and Grilled Lamb Chops main course, made a try at it, but there was still quite a bit left over as it was so huge.
The reds for our main courses.
I convinced Alex to spare his 1995 Château Mouton Rothschild since the last two bottles I opened were still far too young and needed over 4 hours' prior decanting even just to show off its powerful primary fruit. Patience, I advised; and he relented.
2006 Descendientes de Jose Palacios Moncerbal - Alex's bottle - he obviously favors this as he bought a case immediately after trying it out the week before. Absolutely singing. Full-bodied, deeply veined, multi-layered, spicy, dark, virtually creamy fruit. Very rich, stylish, boldly fruited (with hints of kirsch, raisins, and cocoa), intricately woven, notably complex wine. Very impressive, and it went very well with the côte de boeuf. Lusciously-oaked, it still stands in balance. An impressive, well-crafted specimen of higher-end Bierzo.
1995 Bodegas La Rioja Alta Gran Reserva 890
- J-Lab's bottle. I've had this wine countless times and have written about it repeatedly. My last notes (which may or may not have been the last time I had it) was from
a dinner at La Tienda on the 28th July 2011
), as follows:
1995 La Rioja Alta Gran Reserva 890

- Last bottle I opened was in late April 2011, paired with rack of lamb

during dinner at Sala

. I've had very many bottles of this and have enjoyed every single one of them:
"I had it decanted for about 45 minutes to an hour before service and it showed quite differently from when it is just popped and poured. After decanting, the otherwise explosive aromas of creamy oak, dill, licorice, black cherry, mocha and kirsch are more self-possessed/circumspect and show quiet depth. In the mouth, more leather, violets and herbs make their presence felt more; and the oak/vanilla and dill are more subtle and seem better integrated. What remains constant, however, is that it is undeniably an alluring wine. Loved it as I always do."

Consistent with the above notes, side-by-side the '97 GR 904, this is evidently heftier, more rounded and with a creamier-fruited feel as well as richer - but well-integrated - oaken vanilla and spice. This never fails to please the people at table. Beautiful wine.
This subject bottle of Alex was popped-and-poured, no decanting for aeration or otherwise - redolent with creamy vanilla, slight toffee, hint of cinnamon, likely displaying its American oak ageing. Lush, plush, full, deep, rich, loamy, spicy, complex. The smooth creaminess translated onto the palate. Finishes long and with a stylish flourish. It's bouquet, depth of fruit and well-integrated, creamy vanilla-oak reminded me of the old Castillo Ygays. Very nice indeed.
1993 Marquis d'Angerville Volnay 1er Cru Champans - Alex's bottle. I've had this thrice since early April this year, and it was as good as ever. My last notes over dinner at Sala on the 9th July 2013 are as follows:
1993 Marquis d'Angerville 1er Cru Volnay Champans - Alex's bottle. Typical Volnay grace and finesse, JC noted it is comparatively less feminine - thus, more masculine - than most other Volnays. I mentioned that the 1er Cru Champans climat is known to produce Volnays with such characteristics. Beautifully layered and complex, with alluring nuances of violets and ceps in the ripe yet light footed dark fruit. Precise ripeness and acid balance. Lovely wine; as nice as when I had it a couple of months ago in La Tour d'Argent.
This was pretty much unanimously called the red of the night.

1996 Domaine A-F Gros Grand Cru Echézeaux - My bottle, decanted for aeration for over an hour before serving. A few notches above medium-bodied, firmly structured, good acid balance to its cedar and violets touched, masculine dark cherry, raspberry, dark plum, with slight sous bois, sanguine, meaty, and cep notes. Catha liked it a lot. Quite nice now, but I'd hazard ageing this more for around 5-8 more years for more maturity. Already enjoyable with decanting for aeration, but no rush at all to open.
Friandises.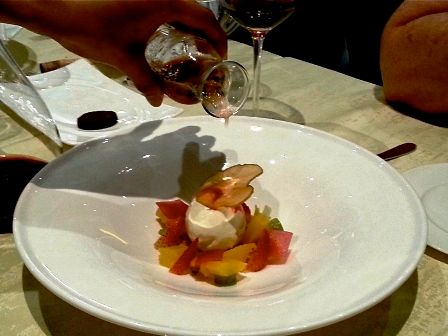 Two orders each of new desserts on the menu: Minestrone of Compressed Fruits with Fresh Strawberry and Mint Broth...
...this new delight called Tentation du Chocolat - chocolate 7 ways with crème glacée and coconut crème Anglaise (you simply must)...
...and Crispy Apple.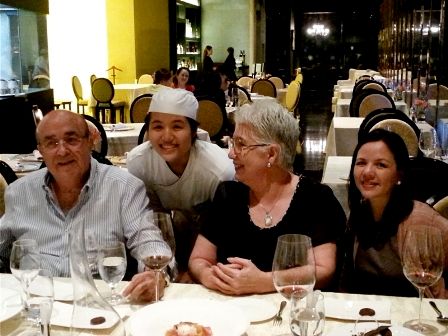 Excellent work, Nicole!
Cyrille knew Alex had celebrated his birthday over a week before the dinner, so he sent Alex a surprise belated birthday cake with a sparkler as candle.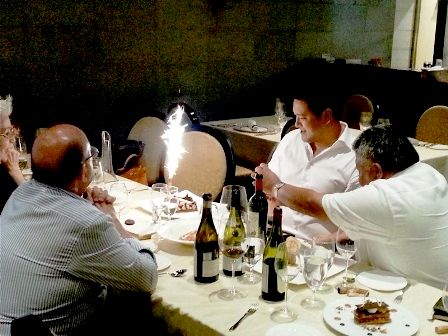 Alex loves anything to do with playing with fire.
Surprise birthday applause from the Impressions team.
Remnants of the surprise birthday cake.
For the desserts, some freshly-fruited, complex and reviving 2005 Schloss Schönborn Rüdesheimer Berg Schloßberg Riesling Auslese - J-Lab's bottle. I do remember liking this a lot, but, because of all the enjoyment and previous wines, I can't accurately describe it now. I do remember thinking that I'd definitely buy this though.
Excellent evening! Until the next!