The non-stop rain made it a cool and lazy Monday the 19th August 2013 - bringing steaming hot, soupy fare to mind. Classes the next day having been officially called off due to the floods, Catha & I took the three teenagers to a dinner at Elbert & Ryan's southern bastion of authentic ramen,
Ramen Yushoken
.
We went early, getting there by 6:15pm to avoid the usual line for a table, but, apparently, many felt the same need for comforting bowls of noodles in deeply-flavored broth as the place was already packed, with a long waiting line for tables (and had been that way since noontime). Undeterred, we put ourselves down on the list and waited outside patiently while surfing on our phones. In approximately 25 minutes, Elbert called us in and led us to our table.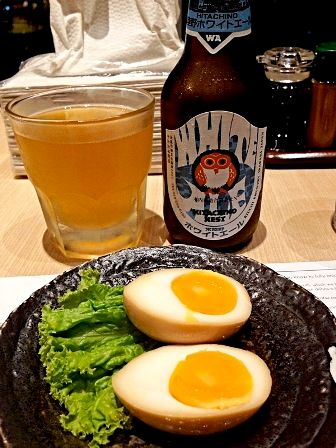 To start off, four orders of Aji Tamago - simply a must here at Yushoken - the creamy, rich, earthy yolks sheer perfection. With them, a few bottles of my Japanese craft beer, Hitachino Nest White Ale - as fresh, refreshing, and dangerously gulpable as always. I've loved this beer from the get-go, and always bring my own bottles along for sashimi and sushi at Hanakazu. No need to bring when at Tsukiji, though, as they carry it on their drinks list.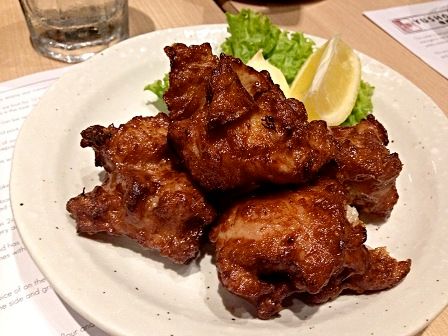 Pretty much all my close friends know I generally do not eat chicken (I find it a most boring fowl). There are a few exceptions though, one of them being Yushoken's Tori Karaage - always freshly cooked, nicely crunchy outside, and meltingly tender and juicy inside. Love it.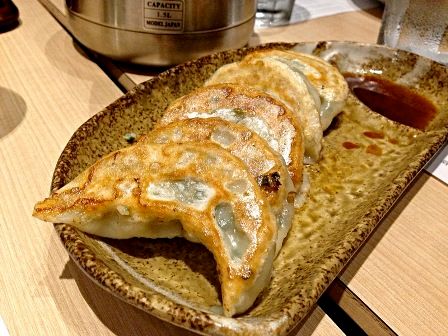 Yushoken provides another exception to my personal eating preferences in that I always order at least two orders of their clean-tasting, well-balanced Gyoza, but I do not like or order that dish anywhere else - even at Ukokkei Ramen Ron.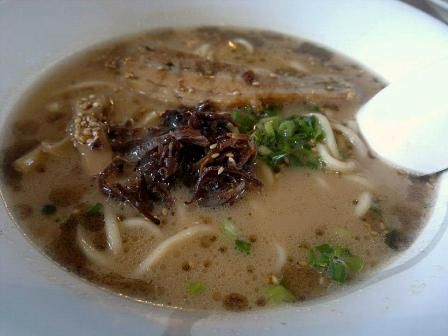 Catha, Mauro, & Joaqi all had an order each of the Shoyu Tonkotsu Ramen, eagerly digging into them steaming hot before I could take a photo thereof - so the photo immediately above is from my files, taken during a previous visit to Yushoken.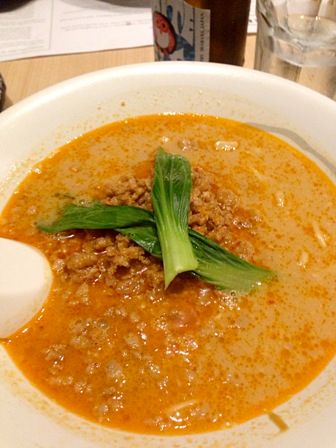 Lorenzo got his usual Tantan-Men...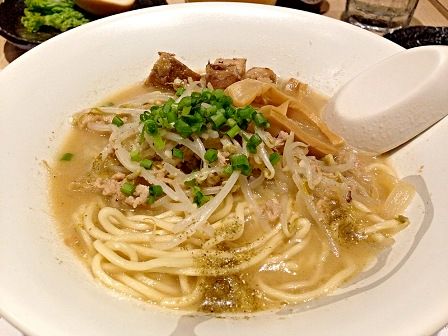 ...while I enjoyed my usual Miso Ramen.
With our bowls, Lorenzo and I got another round of Hitachino White Ale. I also wanted to get a bottle of saké as Yushoken sells three bottlings of Kiuchi Brewery's Ibaraki saké, but, since Yushoken serves them only chilled, and I wanted some warm, I contentedly stuck to the White Ales.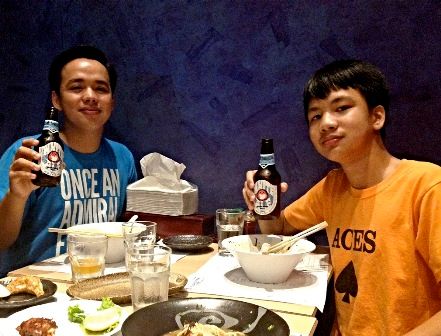 Excellent dinner for a cool, rainy day. Until the next!