Wednesday, 13th May 2009, was golf with Bernd, Keiichi and Vince at the club. We started off a bit late and so managed only 16 holes by a little past 6pm. No after game beers as I had to go home to help make dinner. My wife would make the salad, I had prepped the herb-crusted young lamb racks before the game and the cook had taken care of the rest. What I had to do was make the pasta and roast the racks - the cook usually does this pretty well, but, since we had guests, I wanted to do these myself (control issues, I know).
Vince and Keiichi arrived by 7pm and Bernd followed soon after. We started off with appetizers of an excellent Terrine de Cerf, Sobresada (both from Terry's) and some freshly sliced Parma ham, washed down with...
Masia Eric de Vallformosa Reserva Brut Nature
- My bottle. I had this thirst-quenching, appetite-enhancing, finely bubbled cava the previous week during the
G9 dinner at Café Ysabel
. My notes then were as follows:
[A] sparkling wine from the Cava D.O., the grapes of which (55% parellada, 45% chardonnay) come from vineyards of Mas Baltà in the Alt Penedès comarca (Catalunya). What immediately struck me in this cava was its very fine, yet persistent mousse. I rarely see such a delicate stream of small bubbles in the cavas I've had. Even the mouthfeel was vaguely champagne-esque, almost still from the attack but expanding and frothing upon reaching mid-mouth and beyond.
Light, clean, well delineated, crisp, steely green apple dominates with well-blended, demure citrus notes. Towards the back, there is a bit of leesiness and the faintest hint of yeasty bread. Admirable focus and purity in fruit. Very clean and refreshing (no woodiness or oakiness there), if simple and straightforward.
I had just one quick glass while my wife plated the salad of butter lettuce, arugula, fresh tarragon, Parma ham slices, grated Parmesan and toasted pine nuts. The honey-mustard-champagne vinegar-garlic dressing would be added right before serving. Once she was done and was free to entertain our guests, I took my turn in the kitchen to time the pasta to finish just as the the salad course was done. The lamb racks, already brought down to room temperature, I simply threw in the pre-heated oven.
I was ready to serve the Spaghetti Vongole (Bernd loves this dish) just a couple of minutes before everyone finished with the salad. With this, we had...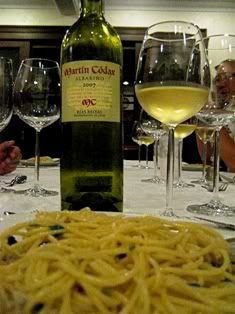 2007 Martin Códax Albariño
- My bottle. Regular readers of my blog know that I've been drinking a lot of albariño the past several months, ever since
Miguel
introduced me to those of Bodegas Laxas. Also from the Galician D.O. of Rias Baixas, wherefrom the best albariños hail (regionally and traditionally paired with shellfish and fish dishes), and Martin Códax is one of the more known albariño producers outside Spain.
As I've been drinking a lot of the 2007 albariños of Bodegas Laxas, I couldn't help but compare the 2007 Códax albariño thereto. While the two wines share major notes of green apple and ripe lemon, the Códax has white peach added, is more floral, a touch sweeter in fruit, noticeably less in mouth-watering acidity, less minerality, tension and definition.
It is still a good albariño, make no mistake. I imagine that this would be more approachable to those new to albariño and/or like their whites touch sweeter in fruit. Personally, I prefer the nervier, more brightly acidic and slightly almond-bitter Laxas, but that's just me. That said, I am happy I still have some Códax in my wine fridge, beside my Laxas stash.

By the time we were done with the pasta course, the lamb racks had already been resting for around 25 minutes, so I returned to the kitchen quickly to carve them into single-rib chops à la chuletillas. The cook plated them, with extra virgin olive oil-sautéed cherry tomatoes and mushrooms with fresh basil thrown in at the end (admittedly, I am no good at all at plating).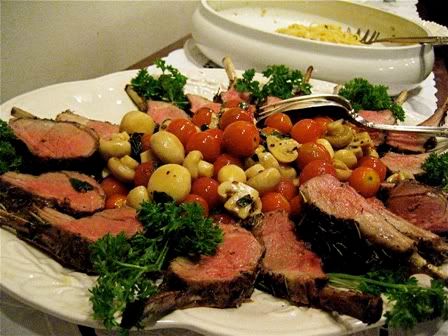 With these, we had...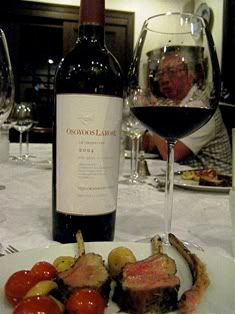 2004 Osoyoos Larose
- Vince's bottle, brought by him from Canada, the product of a joint venture between Bordeaux's Groupe Taillan and Ontario-based Vincor International. Groupe Taillan owns/controls, among other, Châteaux Gruaud Larose, Haut Bages Libéral and Chasse-Spleen.
From vineyards located in the southern tip of British Columbia's Okanagan Valley, the grapes used in this wine were merlot (68%), cabernet sauvignon (21%), petit verdot (5%), cabernet franc (4%) and malbec (2%). 13.5% abv.
Quite fruit-forward, sweetly ripe, baked/jammy dark fruit - black currant, plum, bit of kirsch, blackberry, chocolate, lots of toasty oak toffee, cinnamon and vanilla. Nicely enough balanced and properly restrained in the beginning, but the oak seemed to get more and more pronounced as it sat in the glass. Healthy extraction, good concentration, moderate tannins. Modern. I didn't try it blind, but I really doubt I would mistake it for Bdx.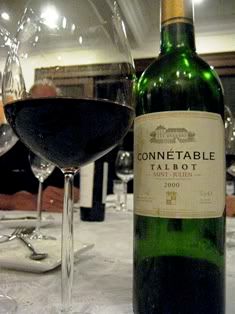 2000 Connétable Talbot
- Bernd's bottle. The second wine of 4th Growth Château Talbot (St-Julien) from the heralded millenium vintage. Popped and poured - no decanting, though I did have decanters out for those who wanted to use them.
Very extracted with an initial pronounced gamey, sweaty pungency virtually masking the smoky/earthy rich-ripe cassis, old leather, asphalt, licorice and cedar. Keiichi pretty accurately dubbed the initial sweaty pungency as "arm-pit", but that subsided quite a bit after around 25-30 minutes in the glass.
In the mouth, the wine was much less aggressive than on the nose, mirroring its aromas, the sweatiness quite faint but still noticeable. Ripe fruit, good balance, healthy extraction and concentration, but firmly balanced by acidity. Nearing the end of the meal, I revisited this wine and the sweaty pungency seemed to have reasserted itself a bit.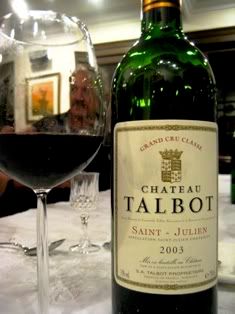 2003 Château Talbot
- Bernd's bottle, the grand vin this time, from a ripe-roasted Bdx vintage highly touted by Robert Parker, Jr. I expected a jammy, alcoholic, low-acid, sweetly-ripe fruit driven wine - and was happily wrong.
The fruit is richly ripe, make no mistake, but the wine is in good balance - which I cannot really say for several 2003 Bdx I've tried. Compelling aromas of somber, earthy dark fruit and cassis infused with masculine notes of leather, ash, tar, cedar, cassis and tobacco.
Notably focused flavors in its body slightly past halfway between medium and full. Firm, yet warmly comforting wine. In the mouth, the aromas were again mirrored but with added dark cherry and a touch of licorice. Nice complexity. At this point, probably the most approachable 2003 classed growth Médoc red I've tried.
Next was the cheese course:
Petit Reblochon
,
Chèvre
and
Manchego
. The afternoon's game, plus all the wines, seemed to be taking its toll on Vince at this point...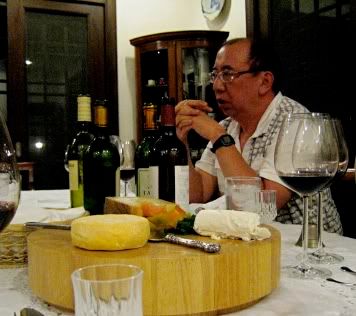 ...that is, until Bernd and Keiichi started telling jokes - triggering Vince's revival - prompting the latter to respond with some of his own.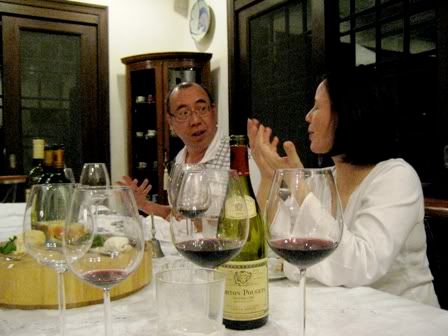 With the cheeses, we had...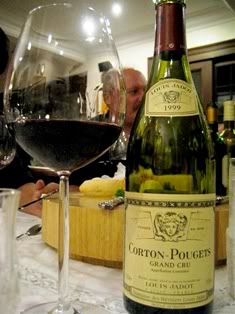 1999 Louis Jadot Corton-Pougets Grand Cru
- Vince's bottle, the only Burgundy of the night. From Jadot's own south-eastern exposed vineyard situated on the
Rognon de Corton
(literally, the "Corton kidney"), just below the vineyards of Corton-Charlemagne.
A bit reticent, initially, after around 15 minutes in the glass, this attractive dark red wine started opening up with sweetly-spiced raspberry, cherry and fine cedar - eventually developing into a nicely perfumed bouquet.
This wine was alluringly, seductively feminine in character, with very notable finesse - from the attack to finish, there is definitiveness, but elegantly understated. In the mouth, notes of dried cranberry, red beet and a whisper of violets are intricately intertwined with the mirrored sweetly spiced red fruit/berry aromas - making for a very enjoyable wine indeed.
Vince said he picked this up from Bacchus. I must get a bottle or two for myself.
Dessert was a
Chocolate Truffle Cake
, with which was opened...
1999 Château Mémoires Cadillac
Grains d'Or
- Keiichi's bottle, purchased from Premium Wine Exchange several years ago. I remember this wine, I also bought some bottles a long time ago to pair with the seared foie gras. It was a real treat to get to try this again after so long.
Cadillac is a small appellation in Bordeaux, north of Loupiac, north-northeast of Barsac, across the river Garonne.
Comes off in body and acidity more like a Barsac than a Sauternes - but very light on the tangy/spicy rich botrytis notes - more like a very late harvest, really. Nicely bright and lifted, with pretty good freshness to its clean preserved lemon, over-ripe pineapple, canned cling peach and candied orange rind and dried apricot flavors. There are readily apparent vanilla notes as well.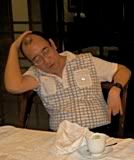 I ate my cake and had 2½ pours of this light-hearted and readily pleasing sweet wine. Espressos and tea were offered - I had my usual double espreso, while some opted for tea. More jokes, stories and laughter ensued. Keiichi and I took a cigarette break outside and wound up petting my youngest son's dogs in the process. At that point, from the looks of Vince - who was one of those who opted for tea - he should've had a double espresso instead.
Not long after, the guys left for home; Bernd, seemingly sober as a judge, lingering a few minutes more upon my wife's insistence. Really, it never fails to amaze me how well he can handle his alcohol. 7 bottles for 5 persons seems like a walk in the park for him. Then, again, my wife and I have had dinner with him where we polished off 6 bottles amongst us 3, and he was none the less for wear.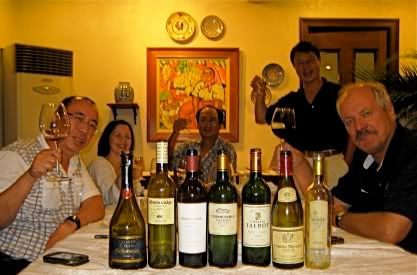 That was a really fun day, guys - golf, good food, good wine and great company. We must do this again soon.