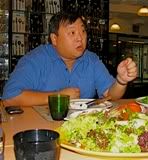 The final lunch meeting for the
Commanderie de Bordeaux Manila
inaugural dinner took place this past Tuesday, the 24th November 2009, at the
Bacchus Kitchen
. The guests from Bordeaux, Hong Hong, Jakarta, Singapore, etc. would be arriving in a few days for the event and Alex wanted to put the finishing touches on everything. We also had to fit the ceremonial robes we were to wear during our induction. Aside from Alex and a F&B representative from the Manila Peninsula, the Stockbroker and Oscar were already there when I arrived.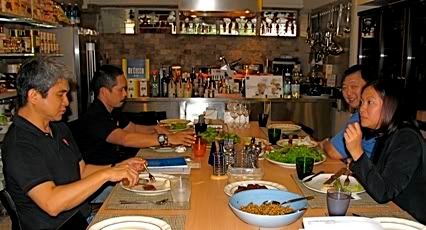 Discussions started with yet another beautifully crisp salad (with artichokes this time) and a report on the number of people attending.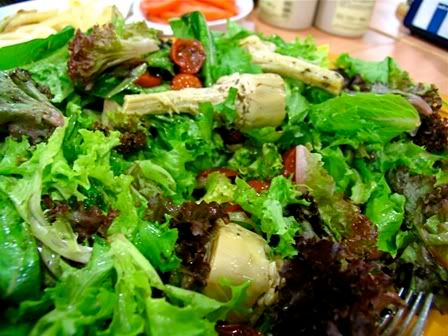 We got to pick and choose our own dressings from a choice of 3.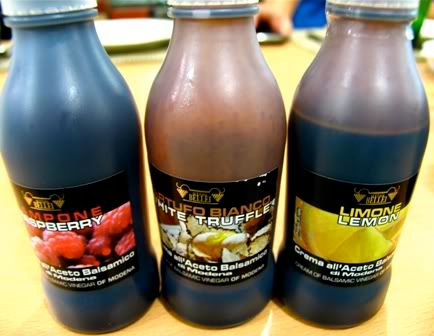 Initially, it was planned that the inaugural dinner was to be for 100 people, but we wound up expanding to around 120, more-or-less, with a reported 30++ person waiting list. All of us who had committed a table of 10 each two meetings ago had already delivered and paid up. The Vigneron had delivered a lot more.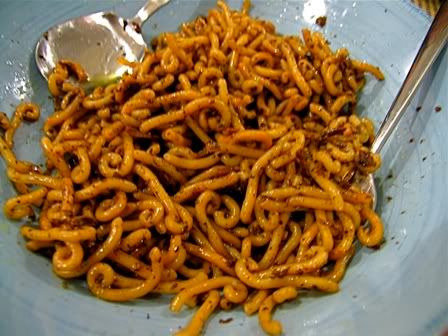 There was some nice, earthy pasta on the table, as well as a platter of seared corned beef slices. Alex offered to cook everyone up some burgers, but I declined. The foregoing was more than enough for me.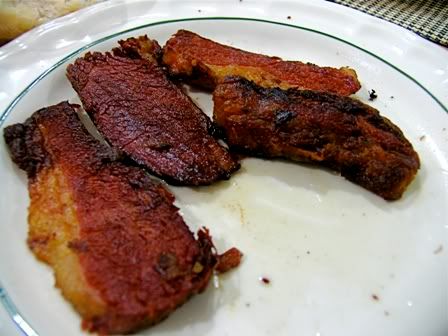 Having over-indulged in wining and dining the past couple of weeks, I was happy with a relatively light lunch and was, actually, a bit relieved to see no open bottles of wine. I figured, at least this way, we would surely get more work done and quickly....or so I thought.
Alex couldn't help himself and started breaking out more goodies from his Rockwell Epicerie for us to try, starting with some smoked salmon and smoked salmon belly. I accepted just a tiny bit, just to see the difference - the smoked salmon belly was a lot creamier, yet delicately flavored.
My personal favorites were the melt-in-your-mouth
Smoked Magret de Canard
...
...and the sinfully good seared-then-roasted
foie gras
. The latter, is, as I understood, a relatively new product they are selling at the
Epicerie
- a lot of individual single, serving-sized cuts of foie that are blast frozen and come in a resealable bag. Thus, one doesn't have to thaw and cook a whole foie every time serves it at home (like I have always done). Incredibly convenient. Easy to cook as well since you don't have to carefully slice up the foie and risk crumbling the stuff.
Per Alex and Clifford, you simply take from the bag as many slices you want each time, sear each side over medium heat until caramelized (approximately 1-2 minutes per side) and pop in a 350º oven for another minute or two. Voila - instant foie gras. The Stockbroker bought a whole bag for his wife right then and there. It
is
very good quality, and most convenient to have at home.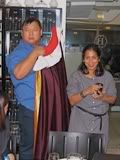 By that time, Bernie and Gaita had arrived; Bernie breaking out 3 bottles - 2 reds and a sweet wine (the latter for the foie and dessert) while Alex commenced fitting Gaita for her robe for the event. Since Gaita is quite petite, I think her robe was the only one that really needed any work. For those of us "robust" individuals, well, the robes were just fine as-is. I recall Gaita updating the group regarding the floral arrangements, table set-up, etc. which Maja was also attending to.
I gave a run-down on the inductees' individual resumés that I had already received and assured the group that I could write up all the introductions before the event for Felicia and I to read.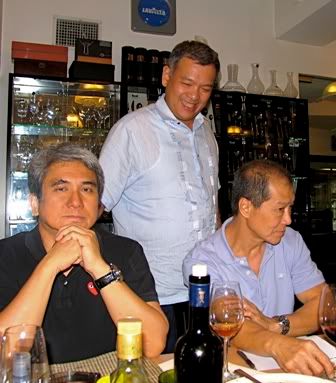 In the meantime, Clifford arrived and the wines had begun to pour...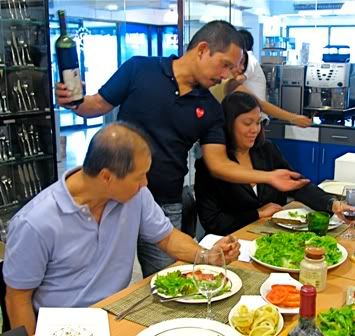 ...starting with...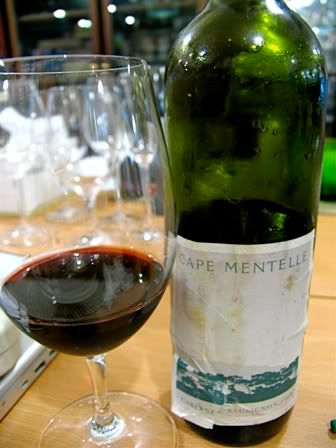 1998 Cape Mentelle Cabernet Sauvignon
- I think this is the first time I've tried an Aussie red from Bernie, and am sure this is the first time I've heard about this producer (not that I know much about Aussie wine). Bernie and the Stockbroker told me that it was a very Bordeaux-esque wine and could possibly be mistaken for one if tasted blind.
It was, to me, at first blush, more concentrated and extracted than a typical Médoc (that which I am used to anyway), with a pronounced, rich, sweetish, ripeness - but not over-the-top. This, with a marked fruit-forwardness indicated "new world" to me, but, then, it wasn't served blind. Well-integrated, moderately toasty oak permeated crème de cassis, dark plum/fruit compote, sweet pipe tobacco, toffee, licorice and dark minerality. Bit of smokiness as well.
Quite a long finish with a somewhat dense, indulgently round and soft, mouthfeel. The alcohol is evidently on the high side, but, noteworthy is the good acidic balance in this wine. In all, this was clearly the best balanced Aussie cabernet sauvignon blend I've ever tried.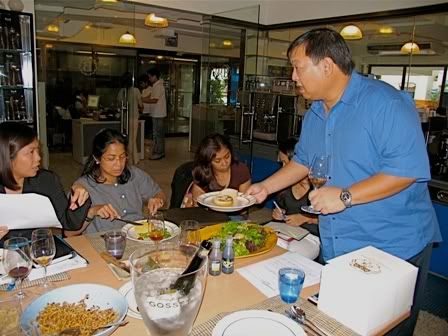 Bernie had one of Alex's burgers as his main course. What does a 6-term president and wine master of the International Wine & Food Society have with his burger, you may ask?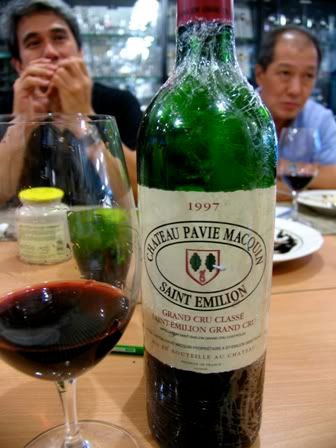 1997 Château Pavie Macquin
- I do enjoy trying out so-called "off-vintage" Bordeaux from good makers - relishing finding ones that thumb their noses at professional reviewers' sweeping vintage assessments and, occasionally, precipitately dismissive notes. One such less than a year ago was a forgotten
1997 Château Lascombes
that I found deep in my father's cav late last December. For notes on a dinner featuring other good off-vintage wines, click on
this
.
This is yet another good wine from 1997. It has a charmingly rustic character to its fleshy, well-concentrated, molten dark plum, black cherry, underlying cassis/blackcurrant, violets, dark minerals, hints of leather and tobacco ash and well-integrated oak. Halfway between medium and full body, with notable structure considering the vintage. Notable depth. Efforts like this in a vintage considered weak by most surely helped in the producer's promotion to the rank of
premier grand cru classé
in the 2006 St-Emilion re-classification.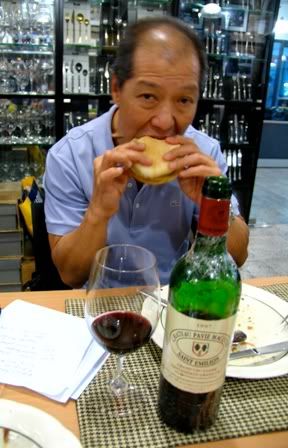 With the above-mentioned foie gras and as dessert, we enjoyed...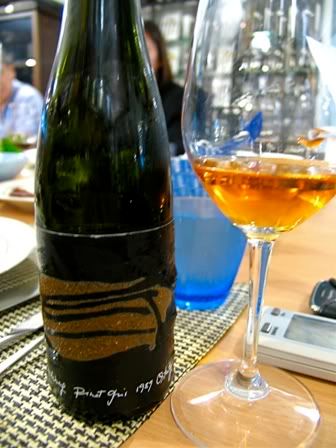 1989 Domaine André Ostertag Pinot Gris Sélection de Grains Nobles
- Opulent, thick, luxuriously lush and rounded (it is botrytised after all), spicy-and-floral, sweet/honeyed kumquat, super-ripe peach, confited pear and pineapple with hefty, well-integrated vanilla/oak. Acidity was pretty much adequate, keeping the wine from being too cloyingly sweet. Very nice with the foie and well-suited as dessert in itself.
Work done, the Stockbroker and I lingered a while longer with Clifford. Good meeting; we looked to be pretty well prepared for the coming Commanderie event. Thanks, as always, to Alex for the food, and, of course, to Bernie for the wines. If anyone is wondering where to purchase any of the ingredients/products that composed our repast, they are readily available at Bacchus'
Epicerie
in Rockwell.