Yesterday, the 4th November 2009, was J-Lab's birthday so he treated a bunch of the Usual Suspects to a wine lunch at
Toki
(the Stockbroker and Johnny R, though, are both out of town and so couldn't join us). Miguel and I arrived the same time as J-Lab, with Arnie, Keiichi (whose birthday it also was) and Greg close behind, so the celebrant started pouring us some palate-priming glasses of
Piper Heidsieck Champagne Brut
(a bubbly that I've posted notes on
several times recently
, so there is no need to repeat further)...
...and offered a toast to J-Lab's continued health and happiness. For purposes of this post, unless otherwise indicated, the bottles were J-Lab's.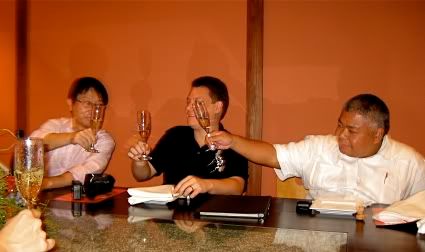 Platters of assorted sushis and other appetizers started making their way to the table by the time Vancouver Vince arrived, including one I've never had before made of tamago and unagi - very nice, something I'm sure also my kids would like.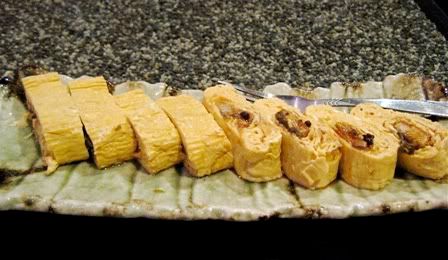 This was an obvious hit with the group. Seeing how Arnie viciously attacked it, I'm certainly thankful I wasn't born an eel (or in an egg, for that matter).
I ordered for myself a Platter of Sashimi...
...an Ikura Chawan Mushi...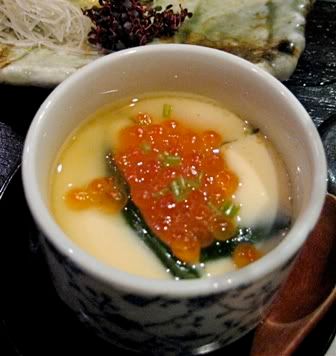 ...and a bowl of
Hot
Udon with Tempura
(which I forgot to take a photo of). With all these and the others' repective courses, we enjoyed many wines, including a second champagne from our generous host which I enjoyed with my sashimi.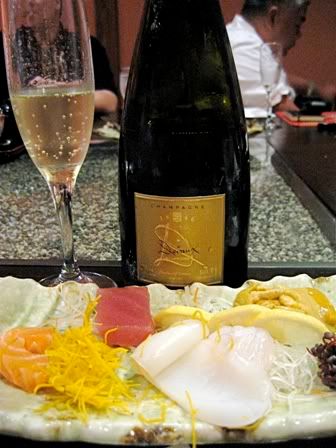 Champagne Devaux Grande Reserve Brut NV
- From the village of Aube, canton of Bar-sur-Seine, near Troyes, run by the large cooperative of growers called L'
Union Auboise Des Producteurs De Vin De Champagne
based in the late 19th century Domaine de Villeneuve, a protected historical building. As far as research goes, I understand that this non-vintage bubbly is 66% pinot noir and the rest chardonnay.
This bubbly shows its dominant pinot noir in its comparatively greater heft (
vis-a-vis
the Piper Heidsieck Brut NV) and much more pronounced, creamier apple and pear middle. Much less citrus in this, with nicely integrated, mildly toasty oak, and the mouthfeel is more generous and round. Very nice value champagne indeed.
We also enjoyed some
2008 Itsas Mendi Nº7 Txakoli
from Miguel with the assorted sushi. We each gave J-Lab a bottle of this dry but slightly fruitier style of txakoli so he could share one during lunch and take the other home for another time.
(File photo, since I also forgot to take a picture of the one yesterday)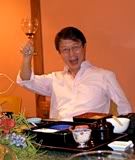 1990 Domaine Paul Misset Clos de Vougeot Grand Cru
- From Keiichi. A mature, few notches over medium-bodied Burgundy from a grand cru clos I know pretty well, and an excellent year to boot. It turns out that the Misset family, together with the Cheron family, used to be the long-term landlords (50 years) of at least part of Domaine Daniel Rion's exploited plots in Clos Vougeot until the lease ended in 1994, the particular parcel of which is situated mid-slope on the side of Vosne-Romanée (the best plots are higher up, near the Château du Clos de Vougeot).
The wine was still in quite good shape, expressive, showing off
sous bois
-infused sweetish-tartish cherry, raspberry, preserved tamarind over dark fruit, old violets, balsamico and woody notes. Good typicity. Though not particularly impressive, I truly enjoyed this wine - its flavors and texture stuck well in my mind.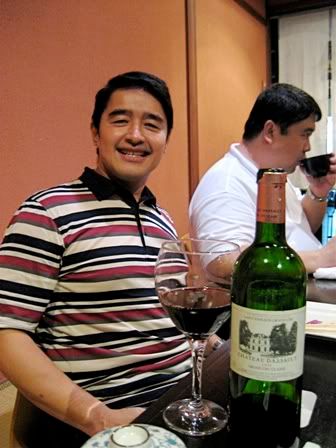 1998 Château Dassault
- Greg's bottle, from St-Emilion and a generally stellar year for the right bank. The Dassault family also owns and runs the lesser-known La Fleur Merissac in the same appellation, as well as a large conglomerate with diverse business interests that include aircraft manufacture and art auction.
This wine was, to me, probably the best of the lunch. Softly earthy/loamy, comforting, halfway between medium and full-bodied, seemingly more dark fruit than red, plum, cedar, violets with submerged nuances of tobacco and pencil shavings. Comes off as masculine. Notable balance, good length. I could easily call this elegant. Liked it a lot.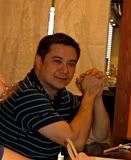 By this time, Ronnie Joseph showed up and joined us in the merry-making, his repartée adding to the increasingly rowdy laughter. Somebody commented, I think it was Keiichi, that Ronnie balances off Arnie's bawdy, predatory humor as Greg's booming laughter balances off the Stockbroker's staccato bursts. That said, the stinger of the day undoubtedly belonged to Vancouver Vince when he wryly opined that Ronnie's humor was like Arnie's, except Ronnie is actually funny. I would have fallen off my chair laughing had we not been seated on the floor Japanese-style.
2004 Maison Leroy Bourgogne
- The négoçiant bottling, not the declassified higher crus of the domaine. I've had this before from the Stockbroker, with J-Lab, Miguel, Rene and PWX's Larraine Lim
over lunch back in early April this year
. Truth to tell, after the first 2 reds, this leaner basic bourgogne was a bit difficult to switch to. Thus, I leave you with my previous notes from the menioned lunch.
2004 Maison Leroy Bourgogne - The Stockbroker's bottle. For those not familiar with the maker, Maison Leroy (pronounced "luhr-wah") is a négoçiant firm owned and run by Burgundy's queen, Madame Lalou Bize-Leroy. Aside from Maison Leroy, she owns and runs, amongst others, Domaine Leroy, whose wines are the only real rivals, in terms of price, to those of the legendary Domaine Romanée Conti - the latter being partly-owned by Madame Bize-Leroy.
Typical of Burgundy reds, this is 100% pinot noir, and being from her négoçiant firm, the grapes were carefully selected and sourced from assorted growers/vineyards other than those owned by Domaine Leroy itself. This wine, after aerating in my glass for around 25 minutes or so, is light and lean, but with flavors that bely its body.
Somewhat straightforward raspberry, black cherry, touches of sour cherry, bit of wood, with a touch of dark spice and a faint, intriguing underlying nuance that vaguely reminds me of red champoy and haw flakes. Very entertaining and quite nice for a basic bourgogne (also available at Premium Wine Exchange for around P4000 more-or-less).
More bottles and more laughs...J-Lab then opened an aged Loire chenin blanc.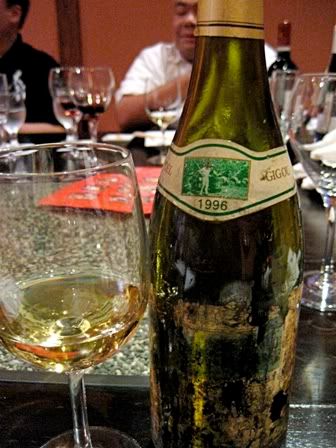 1996 Domaine de la Charrière (Joël Gigou)
- from the Jasnières/Coteaux du Loir (a little over 40 kms. north-northwest of Tours), the exact bottling of which is uncertain as the label was gone and J-Lab could no longer remember what designation this was. Bright, piercing/thrilling acidity balances off clean, whitely floral and minerally honeyed quince, pears with an underlying note of tarte citron. There is great purity in this wine, excellent focus and impressive length. I'd guess this is their Jasnières Clos St-Jacques bottling.
2001 Trimbach Riesling Cuvée Frédéric Emile
Vendanges Tardives
- I know I've had this before, but, as the song goes, I can't remember where or when, and I can't find the verve to dig through my notes. I must say I really like the way Trimbach does their rieslings much more than they do their gewürztraminers which are, so far, to me, never as interesting or compelling.
Another pure, clean, well-focused, minerally white, this displayed fresh, off-dry lemon and citrus with slight honeycomb and just the merest suggestion of the beginnings of
goût de pétrole
. A very good wine indeed now that has a long life and a lot of up-side development ahead of it.
I imagine the two, immediately above mentioned wines could have done nicely with the complementary fruit desserts the restaurant sent J-Lab and Keiichi. Of course, Greg none-too-subtly hinted that the dessert looked great, so Keiichi gamely passed the former some of his - which Greg, in fairness, shared with Arnie.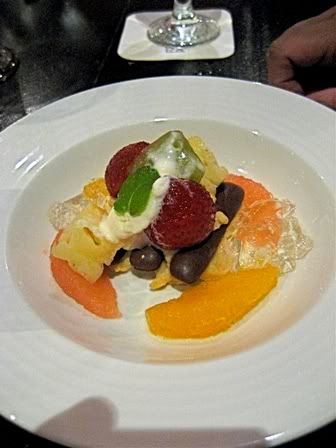 It was an incredibly fun lunch with great food, wines and company - not to mention all the laughter. Many thanks, J-Lab, and, again, happy birthday. We all wish you many more to come.