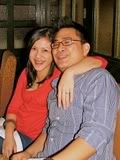 This past Wednesday, the 25th November 2009, was the
Wine & Spirits Club Philippines
' (WSCP) Christmas party at Gene Gonzalez's
Café Ysabel
. All the wines and some of the ingredients were sponsored by the Palileo family's ADP Enterprises, Inc., courtesy of Aaron Palileo and his wife, Joanne (a.k.a., "Jo").
My youngest brother-in-law, Topsy, and his girlfriend, Michi, came along. Unfortunately, my brother, Tad, is still out of the country and his wife, Chako, was sick, so neither of them could join. We arrived at around 7:30, so many WSCP regulars were already there, including J-Lab; Nelson and guests; and, former schoolmates Marty and Dickie.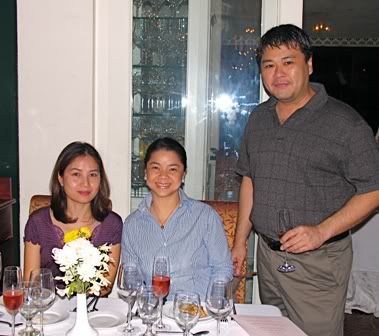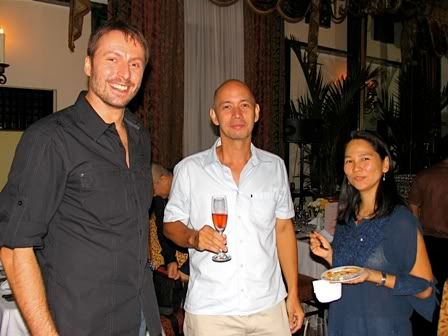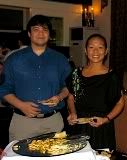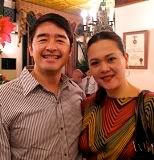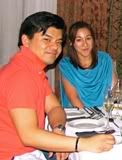 L-R: Topsy & Michi; Greg & Jeanette; Gino & China; Arnie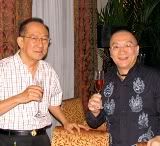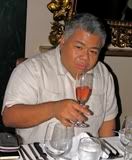 Nelson & guest; J-Lab
The Menu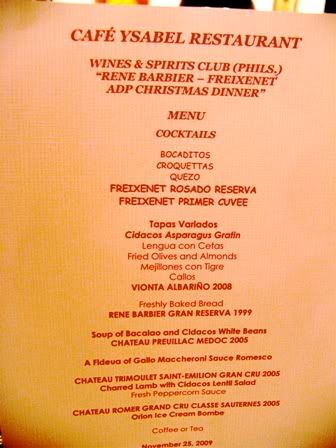 The evening began with welcome glasses of 2 kinds of cava and Aaron's newly available albariño from Rías Baixas...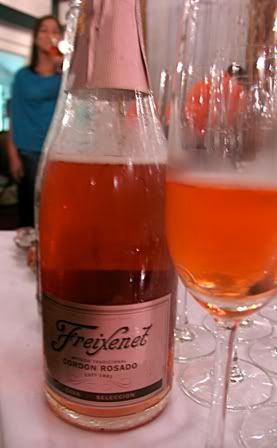 Freixenet Cordon Rosado Brut
- I first tried this in
February 2009 during a kokotxas dinner at La Tienda
. My notes then were as follows:
Freixenet Cordon Rosado Brut - A most festive looking Catalunya cava from J-Lab who always must have some bubbly to start (good for the rest of us!). Tastes like there's quite a bit of granacha in this juicy, rounded, fruity, fresh strawberry, raspberry and red fruited bubbly. There is a slight softness and candied nuance to the fruit as a whole which make this very easy to drink a lot of. The bubbles, though, bring exuberance and liveliness to this charming and simply disarming cava.
This would be very approachable to many, I'm sure, and, more than likely, very reasonably priced as well. Great for the beach, big parties and any general light-hearted get-together of friends. We enjoyed this with a few bite-sized slices of boiled chorizo which were very flavorful and spicy despite not being fried (a less guilty indulgence indeed)....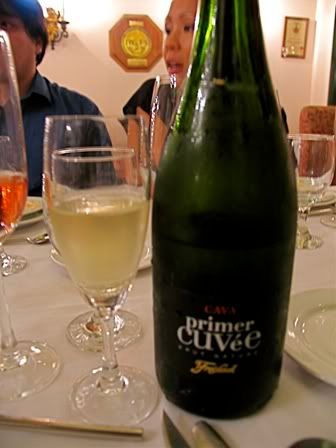 Freixenet Cava Primer Cuvée Brut
- A rather straightforward, fresh, crisp, bright and pleasant cava, this presents green apple, citrus (there's a bit of lime in there) and mere hints of pear, zesty yeasty topnote, frothy middle. Good acidity makes this come off as very fresh and cleansing. Very easy to drink a lot of this. Liked it with the
mejillones
(a.k.a., mussels) and
croquetas
.
Another fine, traditional/regional match for the mussels was...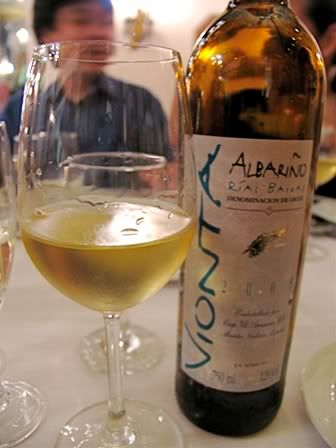 2008 Vionta Albariño
- From Rías Baixas in Galicia. I first tried this at
Aaron's Spanish Wine Dinner at La Tienda
on the 10th August 2009. Paired with almejas, escalivadas and boquerónes, it was a big hit with everyone, especially the members of the UK contingent. It wasn't yet available for sale then, but it is now. My notes were as follows:
2008 Vionta Albariño - a newly locally available albariño hailing from Rías Baixas, Galicia, perfectly paired with the almejas and boquerónes (Miguel deftly kept a plate of the latter aside for this wine). With clean flavors of green apple, ripe pear (in the middle), white peach, bit of ripe citrus and a hint of fennel, this was undoubtedly one of the wines of the evening. Paired with the seafood tapas (as well it should as this is the traditional/regional pairing in Galicia), it drew enthused comments from Aled Morris, Dave Stockdale, Brendan Egan and John Harvey. Chef Javi even took a quick break from the kitchen to savor a glass of this wine.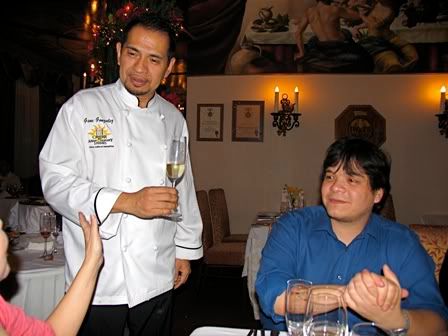 Gene then stopped by our table and my wife re-introduced him to my brother-in-law who I first took to the original Café Ysabel (then on Wilson Street) when Topsy was around 9 or 10 years old. Topsy still remembers the giant chocolate chip cookies of the old Café Ysabel - that was over 20 years ago.
Since then, Topsy, with my father-in-law, would regularly eat at Gene's Lasap and Café Ysabel when they used to hold office office at the nearby Home Cable compound in the mid-to-late '90s.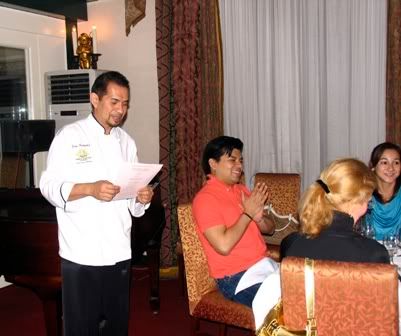 Gene then took the floor, welcomed everyone, introduced the new/first attendance members and guests, thanked Aaron and ADP Enterprises, and gave everyone a brief run-down of the night's menu.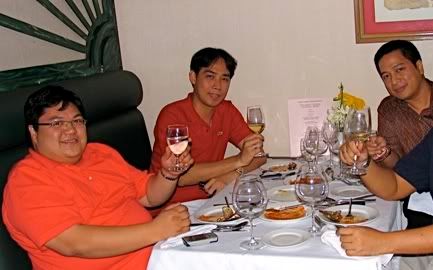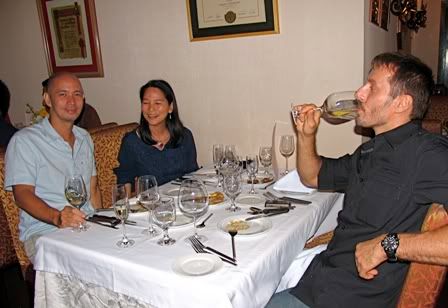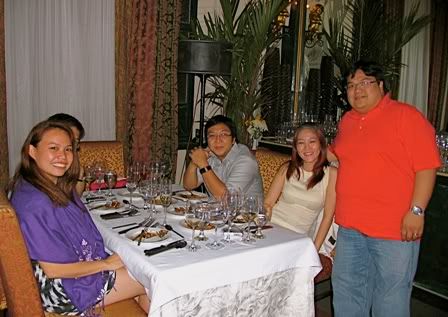 The pica-picas and tapa courses done, dinner proper was served.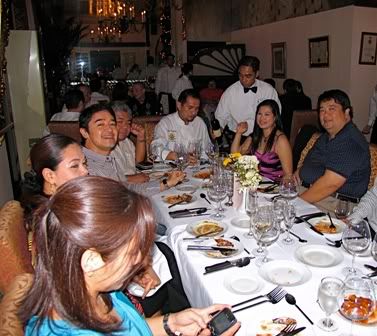 With some hot, freshly baked bread, we had my favorite of the evening's reds.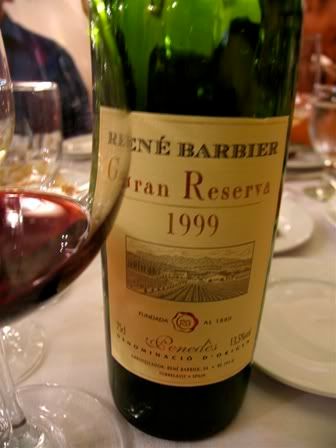 1999 René Barbier Gran Reserva
- This is the third time I've had this wine, and I've liked it every single time. At around P1100-1200/bottle, this is an absolute steal for a good, mature Penedés tinto gran reserva. My previous notes are brief, but still applicable.
This was a suave, confident, more complex wine with violets on the nose and chocolate, leather and slight kirsch to the mellowed, well-knit, softly mature fruit. Warm and somber. I would buy this wine and could definitely drink this on rainy evenings at home.
Those whose tastes lean towards new world fruit bombs may find this "over-the-hill" or "fruit-faded", but old world palates like mine, used to mature wines, I would think will appreciate more this wine's quiet, confident serenity. Confidently recommended.
Next was a
Soup of Bacalao with Cidacos White Beans
...
..followed by a nice "
Fideuà" of Gallo Maccheroni with Sauce Romesco
with...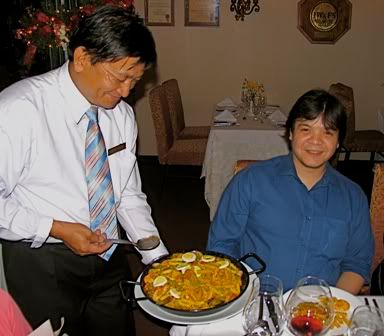 Cosme always used to be the one to serve Topsy in Café Ysabel back in the '90s, and until today.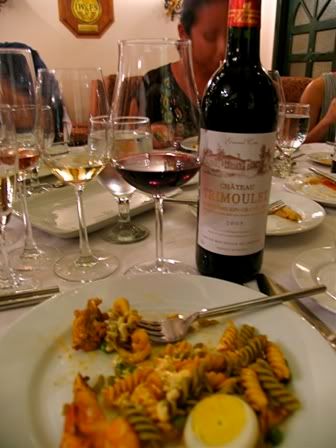 2005 Château Trimoulet
- A first for me. I'd never before had wine from this St-Emilion producer. At this early stage, the wine comes off as a bit rustic and old school. It exhibits typical dark plum and black cherry with minor notes of blackberry, espresso, violats, bit of cigar ash and slight spice . The wood/oak-related notes are very mild, leading me to suspect that little new oak is used in the ageing barrels and those have moderate/judicious toasting (good things for me as many seem to have gone whole hog on new oak in 2005 - probably thinking the extremely rich, ripe fruit of '05 could take a lot more of it). Nice balance, good typicity. At P2000/per bottle for a 2005 St-Emilion, it's good to go.
I used quotation marks on the "fideuà" because the noodle used isn't the traditional one of Valencia, but, for me, this was a very nice dish. I ate three servings of it.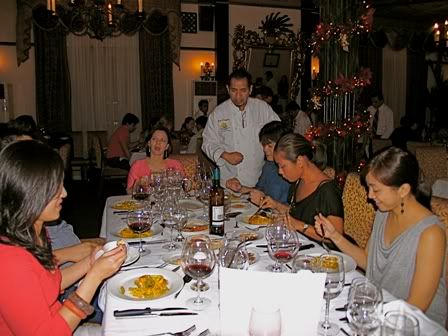 This was followed by my other favorite dish of the evening:
Charred Lamb with Cidacos Lentil Salad & Fresh Peppercorn Sauce
, paired with...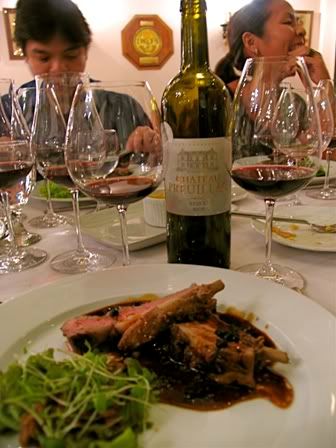 2005 Château Preuillac
- Another new one for me, my first taste from this (Médoc) château. Relatively firmly structured, fleshy and definitely ripe-fruited - true to the vintage. This is obviously young and primary and, as far as I could see, was not decanted for aeration beforehand - so I don't think it was fully opened up. That said, its rounded and fleshy, almost chewy, dominant dark fruit (good amount of plumminess suggests a lot of merlot in the blend) and mild oak (like the Trimoulet, probably not much new oak used) on a slightly over medium body was quite pleasing.
This is not to say this is a fruit bomb, as the acidity and structure are definitely firm. I'd hazard this will hit full stride within 4-6 years. At a mere P1700/per bottle for a 2005 Bordeaux, this suits me and I can (and do) recommend it.
I realize now that I had the two red Bordeaux in switched order in pairing. Not to matter, though, as I do prefer left banks to right when having roasted lamb.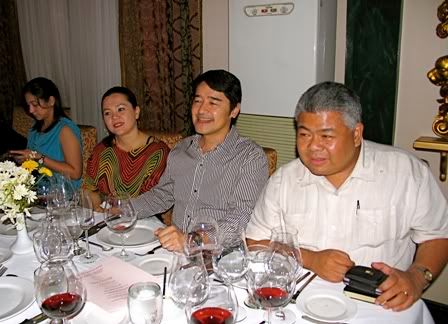 Dessert then followed, an
Orion Ice Cream Bombe
. One doesn't get to eat the once popular bombes that often these days (the ones made in the old-style spherical molds). A pity, because I do enjoy them. With this we had...
2005 Château Romer
- Yet another introductory taste for me. I've never had this producer's wine before. Rather straightforward at this point (as it is very young especially for a Sauternes) in its honeyed, moderately tangy apricot, candied lemon, canned cling peach and lightly creamy oak/vanilla notes. Good acidity, not at all cloyingly sweet. Medium-bodied, good enough focus and a user-friendly character to it. This has many years to go but is already enjoyable, especially when juxtaposed with the cold, creamy bombe.
At P3200/bottle for a 2005 Sauternes, it seems a fair price; after all, a 750ml of Sauternes, for me, is good for up to 14-15 persons - so that comes to roughly around only P214-P230 per pour at full retail. Not bad at all.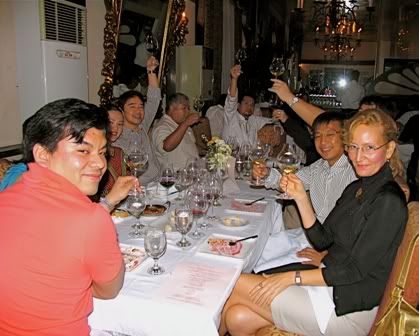 Gene then called out his kitchen crew to receive our thanks.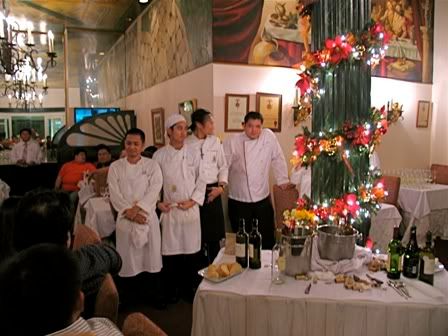 I recall Greg particularly wanted to meet the one who made the lamb course. I could well understand as the lamb was my favorite dish of the evening as well.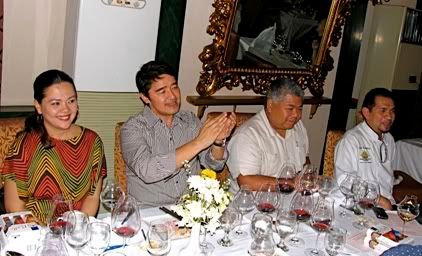 Gene then offered us all a bonus
eau de vie
as a digestif...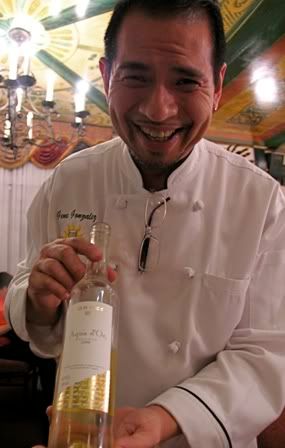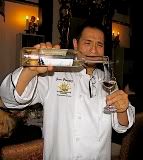 2000 Torres Aqua d'Or
- Gene said something about something in this wine being extinct. Having consumed a number of glasses by the time, though, I really didn't catch exactly what that was which is extinct - whether the bottling, the process or a grape used therein.
A quick check on the web
shows that it is an
eau de vie
(a.k.a.,
agua de vida
), particularly a spirit somewhat similar to grappa except that the former is distilled from white wine (instead of leftover skins and pips), the grapes of which are folle blanch
*
, moscato d'Asti and trebbiano.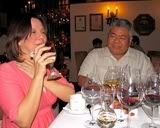 This is a lightly sweet spirit (sweeter than any grappa I've had, anyway), very accessible, with a comfortable warmth. Quite nice actually. As far as I know, however, the only bottles of this in the Philippines are in Gene's cellar.
*
Curiously and tangentially, I first got to know about this grape in an e-mail exchange early last month with Garikoitz Rios, the Agricultural Engineer and Technical Director of Bodegas Itsasmendi Upategia (Gernika, Bizkaia in the Basque region). Though it is a grape typically used in Cognac and Armagnac, Gari said it is considered "de muy poco valor enologico" in País Vasco.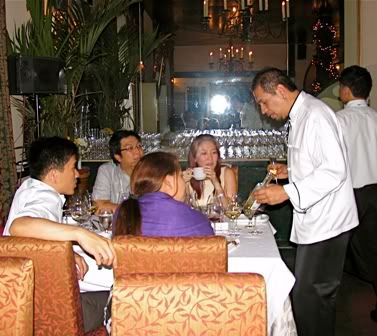 Night deepened, encroaching on the day, most others had already taken their leave, with J-lab, my wife and I lingering with Gene over the Aqua d'Or and old stories. It was another fun evening with the WSCP thanks to Aaron and Gene. As always, until the next.