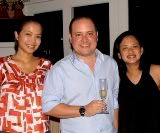 Last night, 6 November 2009, was Rene's birthday dinner at his mom-in-law's place. Lucky us, Tita Bella was again cooking the entire meal. I first tried her cooking at Rene's birthday last year and it was superb - so much so that it prompted the Vigneron to proclaim hers to be "
Manila's best private table
". We were 9 in all, my wife being out of the country. Tita Bella, unfortunately, was too busy in the kitchen to join us, but, consummate hostess that she is, she'd pop in from time to time to explain her dishes and see how we were doing.
For purposes of this account, unless otherwise specified, all the wines were from Rene.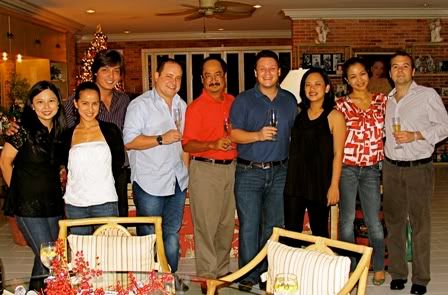 Aimee, Maite, Santi, Rene, myself, Miguel, Ria, Neny and Nico.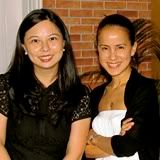 The evening began with well-chilled glasses of
Champagne Billecarte Salmon Brut Réserve NV
- probably one of my favorite locally available non-vintage bubblies, and, it appears to be becoming Rene's as well. I've written about this champagne a few times, my most recent notes being from a little over a month ago, at
the Stockbroker's Chinese lunch
where Rene and I brought a bottle each of it:
Champagne Billecart-Salmon Brut Réserve NV - A couple of bottles from Rene and myself. I last had this extremely good value, non-vintage bubbly at the
Ordre Mondial des Gourmets Dégustateurs' kaiseki dinner at Toki
(28th July 2009). My notes then were as follows:

...a nicely hefty, fuller fruited, yet dry, clean and crisp non-vintage champagne. Lots of forward drive and a lively, creamy mid-mouth froth in this wine with precise yeast notes and toastiness coming to the fore thereafter.

These bottles were pretty much the same, save that I noted more pronounced citrus notes this time. Still pretty darn good for good, real champagne. Available at Bacchus for around P3400 per bottle full retail.

We eventually seated ourselves for dinner proper...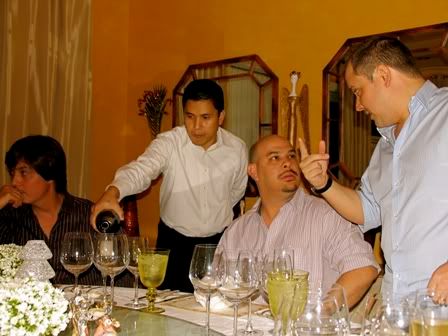 Santi, Deeg (who arrived a little late) and Rene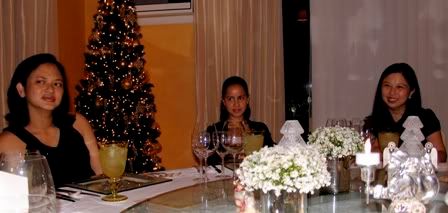 ...and the parade of gustatory delights commenced.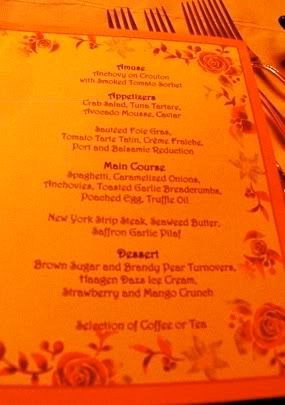 The
amuse bouche
of
Anchovy en Croûte with Smoked Tomato Sorbet
was a creative twist on
pan con tomate
with anchovy. Tita Bella told us we had to spread the tomato sorbet onto the crouton.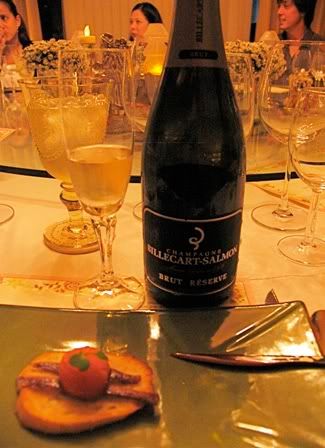 The tomato sorbet's smoothness gave textural contrast to the crouton and its slightly sweet and smoky tomato flavors gave lift to the anchovies' savory saltiness. It worked beautifully. I finished my serving in just two bites. With this, we continued with the Billecarte Salmon champagne.
Next was a dish of
Crab Salad, Tuna Tartare, Avocado Mousse and Caviar
. Though we greatly enjoyed
all
the dishes last night, I must say that this and the
amuse bouche
were my favorites of the evening. The two sauces lent added complexity to the crab's and tuna's freshness, with subtle sesame oil emerging past mid-mouth and trailing in the finish. Loved it. With this, we enjoyed...
2008 Astrolabe Voyage Pinot Gris
- Rene had told me about this discovery of his from Marlborough, NZ several months ago but I only got to try it now. I believe he served this at the last dinner of Ian Padilla at Tita Bella's which I missed due to the flu (all I know is that Rene, Miguel and my wife raved about it after that dinner).
When it comes to pinot gris (not the Italian version), my knowledge and experience lie in Alsace (mostly from Léon Beyer, Bott-Geyl, Weinbach, Hugel and a bit from Trimbach, among others). This wine was the first pinot gris from New Zealand (or from the New World, for that matter) I have ever tried. I was very pleasantly surprised and, honestly, quite taken with its eminently approachable, user-friendly and easy to enjoy dry style.
Its flavors of lightly baked and spiced pear, apple and merest whispers of lychee, membrillo and white peach are both definitive yet delicate. Very slight minerality and lowish acid. Correct balance though. It has pleasant heft and a disarmingly pliant, softly curved body. Not very complex (and that's fine as the dish's sauces took care of that), but definitely dangerously drinkable. Rene said this wine is available at Lester Harvey's Zen Asia, but I don't know the price thereof.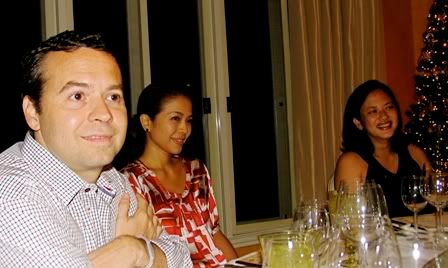 For Rene, no dinner is truly complete without some foie gras, thus, Tita Bella readily indulged him (and the rest of us) with a dish of
Sautéed Foie Gras, Tomato Tarte Tatin, Crème Fraîche, Port and Balsamic Reduction
. I found rendition of fatty liver notably more graceful, cleaner on the palate and manageable than the cardiac-arresting block of foie we had by Farah Tolentino-Ylagan a few months ago at
Don's birthday dinner
. This was paired with...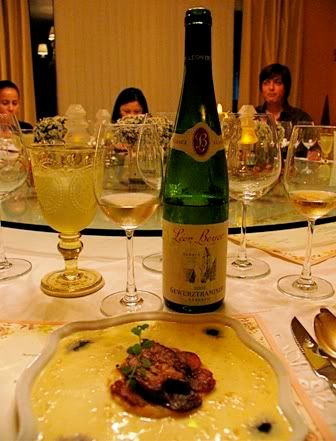 2001 Léon Beyer Gewürztraminer Réserve
- One of 2 bottles of Alsatian gewürz I gave to Rene for his birthday, the other being the tried-and-tested 2006 Bott-Geyl Gewürztraminer Les Éléments. He decided to open this last night since he'd not tried it before. I last had this with French onion soup a little over 2 months ago at
Blind Bordeaux Challenge XIII
. Having been impressed with this wine and shying away from the sweet wines traditionally paired with foie gras (i.e., Sauternes/Barsacs, SGNs, Tokaji Aszús, etc.) the past couple of years due to the difficulty of switching to reds thereafter, I confidently recommended it for pairing. My notes from the mentioned Challenge are consistent, as follows:
2001 Léon Beyer Gewürztraminer Réserve - My bottle, which I enjoyed with a comforting bowl of French Onion Soup. This was an excellent gewürztraminer in the typically dry Beyer style - very nicely clean, lean (compared to the more modern gewürztraminers that are riper, fleshier and with more residual sugar), pure, well focused, and, consequently, much more food-friendly and versatile with savory dishes. The nose presents a honeyed note to the lychees, peach and roses, but, in the mouth, it is nicely and appetizingly dry. My wife, the Stockbroker and I really liked this a lot. Very highly recommended for those who like traditional Alsace gewürz. Available at Bacchus.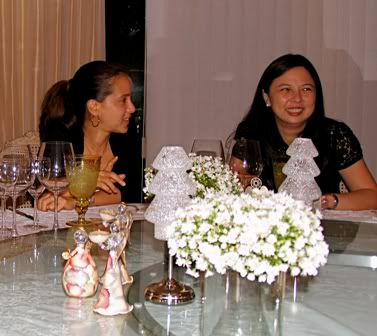 Next was
Spaghetti with Caramelized Onions, Anchovies, Toasted Garlic Breadcrumbs, Poached Egg and Truffle Oil
. I've never had a dish exactly like this before, but I could well understand it from the ingredients - an orchestration of earthy (egg, truffle, onion), salty (anchovies) and savory sweetness (caramelized onions) with a garlicy, textural counterpoint to the pasta.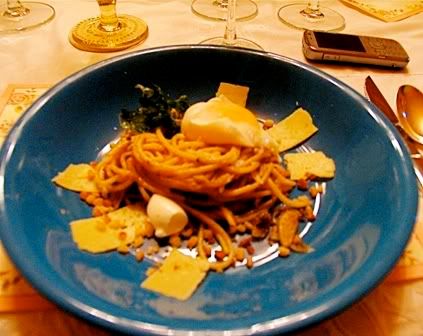 This dish was, again, excellent. I wiped my plate clean in under 2 minutes. Tita Bella came out to check on us and asked who wanted seconds (how anyone who cooks as well as her manages to remain so gracefully svelte is, indeed, a mystery). Miguel and Rene eagerly volunteered. I wanted another helping as well, but decided to save my stomach space for the succeeding courses. With this I had no wine, but some others pressed on with the pinot gris.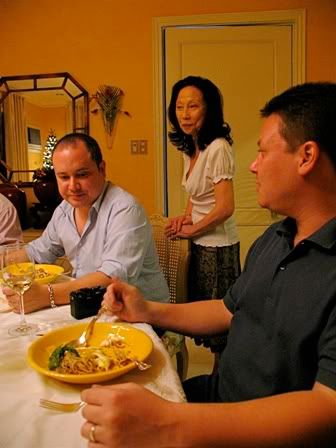 For the next course of
New York Strip Steak with Seaweed Butter and Saffron-Garlic Pilaf
, Rene had two reds for us to pair.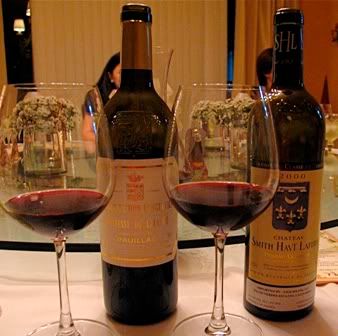 Because the steak was served in delicately carved and portioned slices and the subtly nutty pilaf was luxuriously redolent in but precisely flavored by saffron and garlic, for my main pairing red, I opted for the...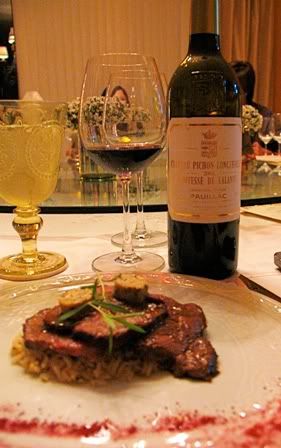 2004 Château Pichon Longueville Comtesse de Lalande
- I've not had very many 2004 Bordeaux as they are, to my mind, still very young. The most I tried at a single sitting were
eight 2004 Pessac-Léognans
during preliminary cocktails at
the 2007 Fête de la Fleur at Château Smith Haut Lafitte
which the Vigneron invited me to. That said, my general impression is that Bordeaux rouge from vintage 2004, for the Médoc and Pessac-Léognan anyway, is of a more classical character (i.e., more properly austere, reserved, subtly fruited and with better acidic balance) than, say, super-ripe/roasted-ripe modernish 2000, 2003 and 2005. Anyway, the former character/style suits my palate more.
This wine was surprisingly open considering its youth, stylishly displaying Pauillac notes of slight pencil shavings, licorice and cedar infused dark plum, blackcurrant, cassis, with minor notes of raspberry, kirsch (submerged) and violets. Moderately firm structure, notable focus and definition, breadth, mid-palate heft/creaminess, push and wood/oak-integration - all in proper balance. This is a very good wine.
By this time, I was already feeling somewhat tipsy. Judging from the photo below, I wasn't the only one.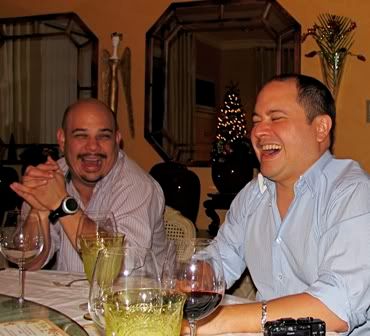 Thus, I slowed down my intake and sipped most of my glass of
2000 Château Smith Haut Lafitte
after my double espresso. In doing so, I found it difficult switching back to a red, my palate already primed for sweetness after a comfortingly light dessert of
Brown Sugar and Brandy Pear Turnovers, Häagen Dazs Ice Cream, with Strawberry and Mango Crunch
; greatly enjoyed with...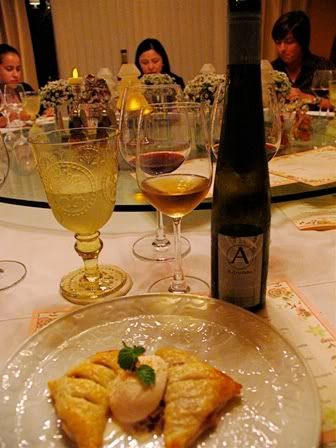 2007 Astrolabe Experience Noble Riesling
- A first taste for me of a
botrytis cinerea
shriveled riesling from New Zealand. Came off like halfway between a
vendanges tardives
and a
sélection de grains nobles
riesling from Alsace. Very pleasant and, like the above described 2007 Astrolabe Voyage Pinot Gris, very user-friendly and drinkable in its well focused fruit. Mildly floral, moderately sweet and tangy honeyed white peach, ripe apricot, citrus make up the dominant flavors. The acidity is healthy and lively, making this moderately hefty/viscous wine come off cleanly and light on its feet. Very nice pairing with the dessert.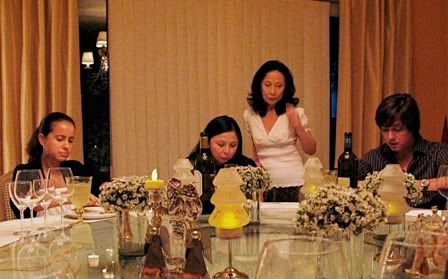 Young spouses-chefs Rob and Sunshine (Aimee's sister) then arrived (after a long day, surely, of putting the finishing touches of their soon-to-open restaurant "The Goose Station" in the Fort area, in the vicinity of ISM)...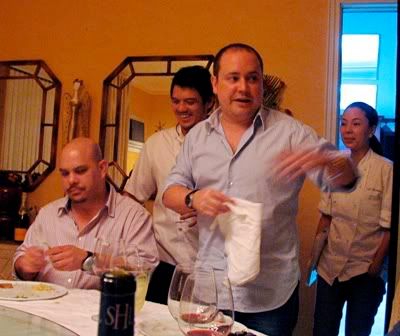 ...joining us for a glass of red (for Rob anyway) and a short chat before getting some much needed rest.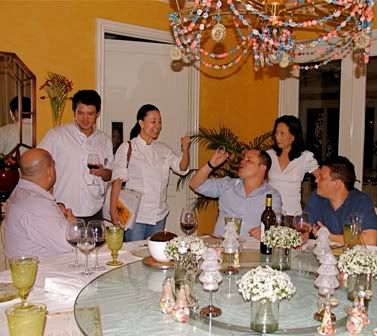 The evening lasted a while longer, with us finishing off the wine in between more stories and jokes. I tried analyzing the 2000 Smith Haut Lafitte anew, but my palate was no longer at its best due to sensory overload from the several courses and pairing wines. In fairness to the wine, I, thus, refrain from making any notes on it.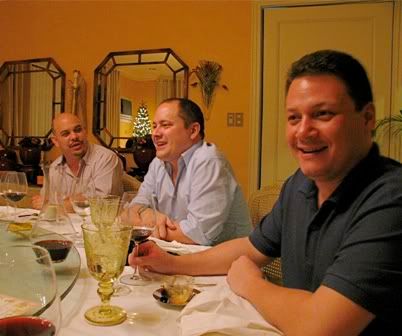 Great party. Excellent meal yet again from Tita Bella and nice pairings by Rene. Of course, no dinner is a party without good company, of which there was an abundance. That I got to try wines I've not before had was a big plus. Thanks, Rene, and, happy birthday.
¡Salud!