The day before the Stockbroker left Manila to join the New York Marathon, he asked me to organize the pairing menu at
Ciçou
for the dinner he was planning around his birthyear bottle of vintage port. We were to be 11 in all, a mix of (some) interlocking members of the Grand Crew, the Usual Suspects and the IWFS. Only 10 of us would be having wine, however, as IWFS director, Oscar Ong, is still suffering from ulcers.
After several e-mails and a meeting with Cyrille and Anna Soenen, on the 10th November 2009, we met at Ciçou's private dining area for the much anticipated dinner.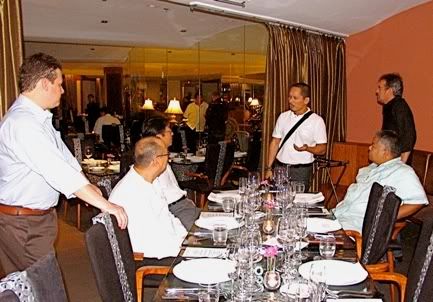 L-R: Miguel, Vancouver Vince, Keiichi, the Stockbroker, Johnny and J-Lab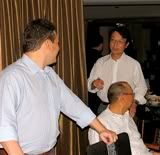 Miguel, Johnny and I arrived pretty much at the same time to find J-Lab and Arnie already there. Vince, Keiichi, the Stockbroker, Oscar and Doc followed shortly thereafter.
We agreed to wait until around 7:45pm for IWFS President & Wine Master, Bernie Sim, who was on his way from a Werdenberg function. Once he arrived, we took our seats, the food started to arrive and the wines began to pour. I must make special mention that the bread at Ciçou is excellent. I wish all restaurants in Manila serve bread like Cyrille does.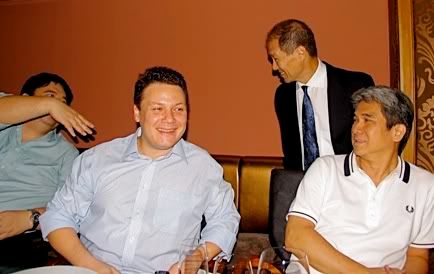 L-R: Arnie, Miguel, Bernie and Oscar
The menu was kept simple, traditional and hearty, to allow the wines center stage.
We kicked off the evening with our amuse bouche of
Papillotte of Smoked Scallop, Savoy Cabbage, Salmon Egg Beurre Blanc
and a bottle each of...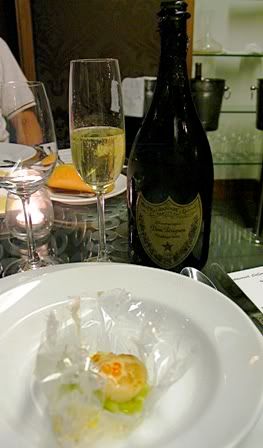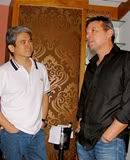 1999 Moët & Chandon Champagne Cuvée Dom Pérignon
- Johnny's bottle. Fresh, clean nose of white/minerally fruit, white flowers, bit of citrus and lemon, brioche. In the mouth, it was quite lively and bright, the fresh, well-focused white fruit, bit of white grapefruit, lemon, with discreet coffee undertones past mid-mouth.
The middle was not quite pronounced, the fruit a bit linear really, but it is a more than acceptable palate primer and match for our scallop-centric amuse bouche.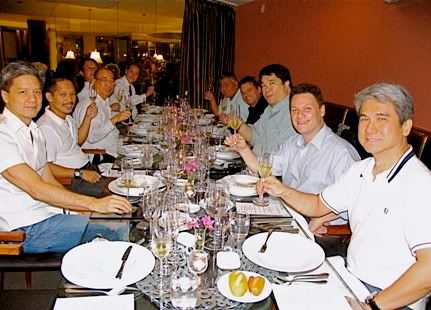 Clockwise from left: Doc, the Stockbroker, Vince, Keiichi, Bernie, J-Lab, Johnny, Arnie, Miguel and Oscar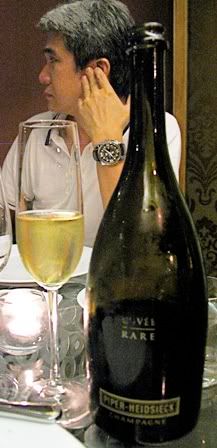 Piper Heidsieck Cuvée Rare NV
- J-Lab's bottle. Very nice in a straightforward, bready and evidently tropical-fruited way. More of a rounded and pronounced middle than the previous bubbly, the fruit notably riper and sweeter, the feel is creamier as well. Not as fresh, clean, edgy, minerally or complex as the '99 DP, but more amiable and readily pleasing. Very nice non-vintage. Doc liked it as did I.
The next course was
Duck Liver Ravioli, Cèpe Mushroom Broth, Truffle Sauce Cappuccino
, pretty much hands down everyone's favorite dish of the evening. It may sound overly rich, but it wasn't. Cyrille showed a fine hand at balancing the luxurious foie with a delicately earthy cèpe broth and an ethereally savory truffle capuccino. Keiichi liked it so much, he ordered a second round of it. With this delight, we had three whites from famous appellations of the Côte de Beaune.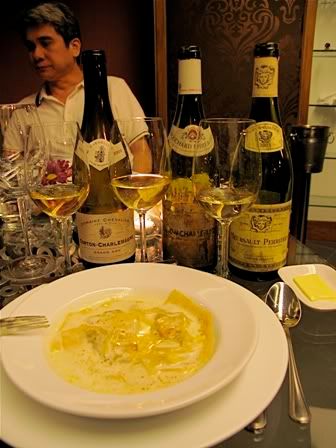 2003 Chevalier Père et Fils Corton Charlemagne Grand Cru
- Keiichi's bottle. Open from the get-go (opened for around 45 minutes at most and kept in bucket; not decanted), it is a relatively firmly structured wine that opened with a flourish of flint/white mineral/well-toasted, spicy oak (topnote), leesy nuanced ripe stone-fruit, lightly baked apple and pear, ripe lemon, bit of vanilla bean, hints of nutmeg, almond paste. No lopsided over-ripeness and I usually expect from 2003 white Burgs; relatively lean for an '03 (a good thing for me) and the funneled back end acidity was prim and proper.
Not much of a push on the palate, but, in all, admirable nice balance considering the vintage. I note that it seems quite mature for a barely 6-years from vintage Corton Charlemagne.
1996 Bouchard Père et Fils Corton Charlemagne Grand Cru
- Bernie's bottle. I've browsed in this producer's shop in the old part of Beaune a couple of times but never bought anything as I was pretty sure the restaurants I planned to go to wouldn't allow BYO.
Mature Corton Charlemagne attack, rounder mid-palate than the previous, younger wine, not nearly as overtly toasty/spicily-wooded/oaked or as tense/edgy. Minerality and slight nuttiness are subtle, inextricably and finely knit into the softer, slightly buttery, concentrated fruit, but there for sure. Doesn't now appear as firmly-structured as the '03 Chevalier CC, but, then, it's already carried through around 13 years. I drank my share of this pretty quickly with my food, and, later, wished I had waited a while longer to see how it d/evolves.
Should hold well enough for another 2-3 years, judging from this bottle; but I, personally, wouldn't wait and see. I'd probably drink up in the next year or two at most.
2003 Louis Jadot Meursault Perrières Premier Cru
- My bottle. I initially intended to bring a '96 Vieux Château Certan, but, as noted by Keiichi, we were a bit thin on whites so I switched to a '01 Jadot Corton Charlemagne, then later finally decided to bring the same vintage white as Keiichi, but from a different producer and appellation. For whatever it is worth, premier cru Perrières is widely recognized to be one of the top climats of Meursault.
As per advice from the producer, I opened this over an hour before service (probably close to 2, kept in a sparingly iced bucket of water), then poured in/served from a small decanter (also kept in the same bucket). A bit spare and tight despite the breathing time, it wasn't very interesting at first, but after around another 30-45 minutes, it gained a lot more heft, plumpness, lushness and roundness in its almond paste/nutmeg nuanced softish, ripe, slightly buttery baked apple and pear with hints of honeysuckle. Acidity then seemed on the low side, the push decent and the wine, over-all came off a touch fat. I agree with J-Lab, this should have a good upside with another, say, 3-5 years bottle age. We'll see.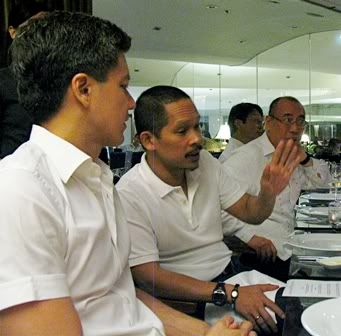 ~ Some of the Reds and the Star Vintage Port ~
In our menu, Cyrille gave us a choice of three main courses (chosen and relayed to him 2 days before the dinner) to pair with our reds:
Roasted Australian Lamb Filet Coated with Assorted Fresh Herbs, Fricassee of Vegetables, Mashed Green Pea, Parsley Foam, Lamb Sauce
;
or
,
Marinated Roasted French Duck Breast, Mashed Beetroot, Fricassee of Chestnut and Bruxelle Sprouts, Sauce Grand Veneur
;
or
,
Grilled Us Angus Rib-eye, Tartine of Bone Marrow, Confit of Baby Potatoes, Shallots, Garlic, Beef Gravy
.
Four of us went for the rib-eyes (Keiichi, Arnie, Miguel and myself; rare for me, of course), three went for the lamb (J-Lab, Johnny and Bernie) and two went for the duck (the Stockbroker and Vince). I envisioned our reds to be all right-bank Bordeaux, but it didn't turn out that way. Still, I liked having a bit of a mix, as that usually staves off palate ennui and sparks interesting comments and discussions, such as the one Keiichi is apparently having with my camera.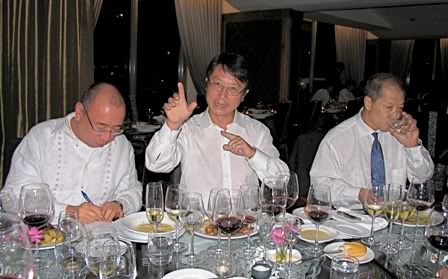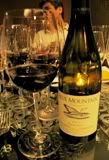 Because of my good-natured ribbing of Vince over his fondness (or is it just vino-patriotism?) for British Columbian wines (oh, that dreaded Osoyoos!), he made sure to inflict upon us...este...
share
with us a red from his beloved B.C. in the form of
2007 Blue Mountain Vineyard Pinot Noir
- aromas of moderately candied/jammy/super-ripe raspberry, kirsch and cola over dark fruit and oak.
Because of its nose, I expected it to be dense, thickly sweet and syrupy/viscous like my last encounter with a BC pinot noir (i.e.,
2006 Quail's Gate Okanagan Valley Stewart Family Reserve Pinot Noir
) - but it wasn't at all like that. In the mouth, its aroma's overtly candied character was very subdued. Instead, though indeed sweetish, very ripe, extracted and unmistakeably new world, it was smooth, comfortable and much, much lighter on its feet than my previous encounter with a BC pinot noir. Not bad at all for what it is.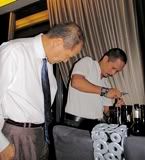 In the meantime, the Stockbroker got busy opening his prized birthyear bottle of vintage port, as well, I believe those of Bernie as well. The former has a steady and skilled hand at opening older bottles. He's our one-man S.O.S. team when it comes to these matters.
I clearly recall how he managed to cleanly extract the last, stubborn ¼ of a cork from Miguel's bottle of 1985 Lopez de Heredia Viña Tondonia Gran Reserva during our recent
Una Noche Riojana
.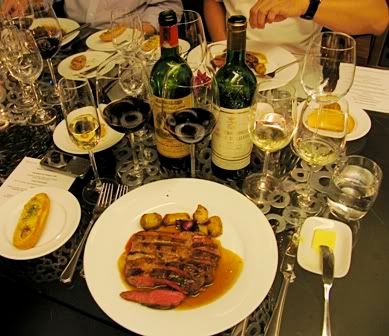 1989 Château Pichon Longueville Comtesse de Lalande
- Doc's bottle, one from a
worrisome batch
said he, but this bottle was absolutely fine. This is a wine I've had at least twice before: at
Blind Bordeaux Challenge V
(the Stockbroker's first of his string of victories) and at IWFS
Pichon Lalande Vertical Dinner.
I recall having it another time with the Vigneron, but I can't seem to find my notes of that time (assuming I wrote any).
In any event, as stated, this bottle was in fine condition. My first notes on this (blind) were:
Wine# 3 - Obviously left-bank. Looks to be the oldest, lots of sediment, aggressively truffled nose initially, earthy red fruit over dark, bit of plum underneath, silky texture, seamless, second best balance.
(10th February 2007)
Next were (not blind):
4th - 1989, as I remember it before, cut from the same cloth as the '95 but a few shades lighter in body. In the mouth, earthy, truffled, a bit gamey.
(13th March 2008)

The wine from the subject bottle was clearly broader, fuller and more confident than the one at the IWFS vertical dinner and not nearly as truffled or gamey as the at Blind Bdx Challenge V. Again, an earthier, more darkly masculine than is usual (to me) for Pichon Lalande, with warm, comforting, familiar, seamless, pencil shaving/gravel/truffle/leather/cedar/violets infused dark fruit, cassis and minor red berry highlights. So velvety smooth. Wonderful. J-Lab's, Miguel's and my red of the night.
1989 Château Angelus
- The Stockbroker's bottle. I recall offhand having this at least four times before: the first couple I bought many years ago (they were cheap then) and drank it with my wife and the Alabang group - before I started posting my wine notes on the internet (I started around mid-late 1999 I think); the third was a gift from Lance sometime in late 2005 (I wrote no notes on that one, I opened it with him during a dinner I cooked at home); the fourth was from the Stockbroker, during
our Christmas dinner at Lili
in early December 2006. I seem to recall another one from the Stockbroker or Doc (or someone else), but, as I can't find any notes on that, so I can't be sure. My last notes were thus:
Angelus 1989 - Last I had this wine was a little over a year ago, I recall. It was a gift from a long-time friend, Lance G. The subject bottle was brought by the Stockbroker. Deep, dense, dark red, mouthfilling dark plum/black cherry compote, dark spice, underlying cassis and espresso, well-integrated moderate vanilla notes and a long, strong finish with sweetish red berries trailing. Big. Unabashed. Excellent.
Almost 3 years later, my above notes are, to a large extent, (surprisingly) still applicable. This was a very youthful, and, I must say, deep and powerful wine. If tasted blind, I may very easily have called it as a top Pomerol. I add now that I detected a discreet, underlying "tar", mild tobacco and leather nuances to the dark fruit. Definitely full-bodied, smoothly muscled, powerful. Excellent Angelus. Many, many years in this wine.
1998 Château Beauséjour
- I recall vividly the 1990 version of this wine. It was at a
special St-Emilion dinner at Old Manila on the 5th May 2005
- the first IWFS-related event I and the Doc attended (the Stockbroker got us in), when I first met the Vigneron, Bernie, Oscar, Uncle David, etc. I brought a very young '98 La Mondotte. 1998 is a very good year for the right bank, and, it seems to me, Graves/Pessac Léognan as well - the latter
generally
much better than the Médoc as far as my experience goes..
The subject wine shows darkly spiced, somewhat wooded ripe plum, strawberry, some black cherry, ripe raspberry highlights, over cassis and a hint of licorice. Pleasant enough, but there is an apparent separation of flavors. Medium-bodied. I should have tried this before the Angelus. Perhaps it needs more time to come together. Only time will tell.
Amidst these several St-Emilions, the Doc blinded me with a mystery wine - I sniffed and said Rhône (he said yes); I said it smelled very much of grenache (he told me I would be correct); I sipped twice or thrice and said it was a young Château Rayas, early 2000s. I was correct in identifying the region, grape (unlike other Châteauneuf-du-Pape producers, Rayas uses 100% grenache most all the time) and producer, but not the vintage - it was actually mid-2000: vintage 2004.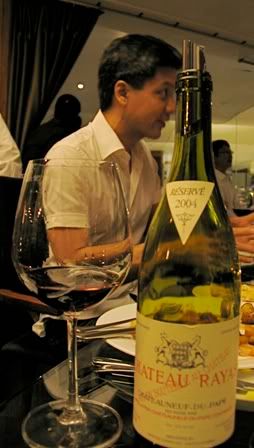 2004 Château Rayas Châteauneuf-du-Pape Réservé
- Doc's mystery wine. The first sniff showed a garrigue-infused, extremely grapey scent which pretty much suggested to me it was a Rayas. A couple of sips revealed it to be a very clean, pure, light-footed, barely medium-bodied, streamlined wine that mirrored its nose with an added touch of dark spice, good grip and graceful finish. It had to be a Rayas, I figured. I guess
the Stockbroker's Rayas Vertical Dinner
wasn't lost on me then. I believe this was Johnny's favorite red that evening.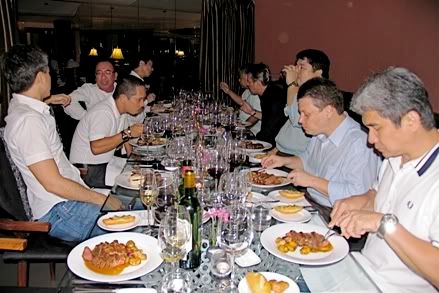 Back to St-Emilion.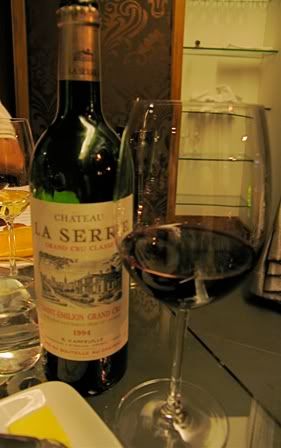 1994 Château La Serre
- Arnie's bottle. I believe this is the first time I've had this producer's wine. Comes off as an old-school St-Emilion - with a more classic-cut, food-friendly structure, fruit and acid balance. There is some depth to the fruit, a slight touch of green and tobacco leaf (especially if compared to the Angelus), judicious use of wood that is well-integrated. Proper and charming. Well-crafted considering the vintage. Good to eat with. Again, as with the '98 Beauséjour, I should have tried this before the Angelus.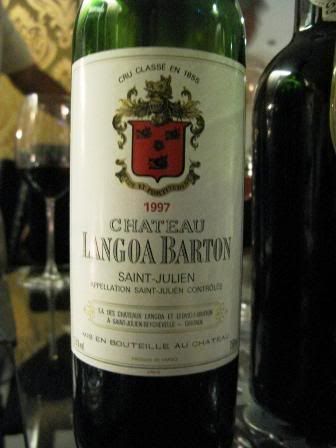 There were so many reds for the main course, I couldn't finish my glasses (the Doc had to polish off my shares of the '89 Pichon Lalande and '89 Angelus). There was, in fact, yet another bottle of red, Miguel's
1997 Château Langoa Barton
, the evening's lone St-Julien, but I was not able to try it. Too many reds that night. What a problem!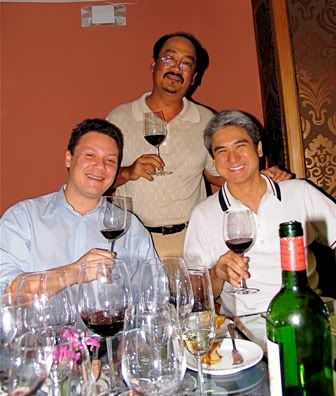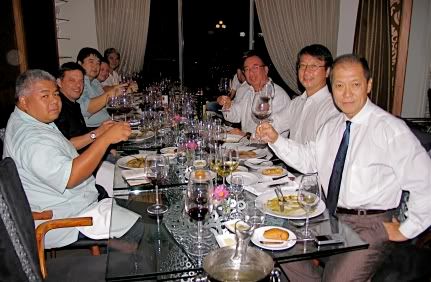 Then came the cheese course,
Stilton, Assorted Nuts and Dried Fruit
, with the evening's star bottles of vintage port.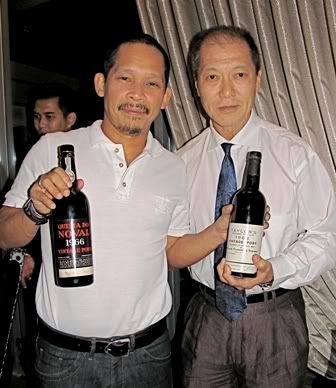 When I met with Cyrille the week before the dinner, we considered trying a pairing other than the traditional Stilton - maybe even with the main course. That was quickly shelved, though. When it comes to vintage ports such as these, it's better to stick to the traditional, tried and tested pairing.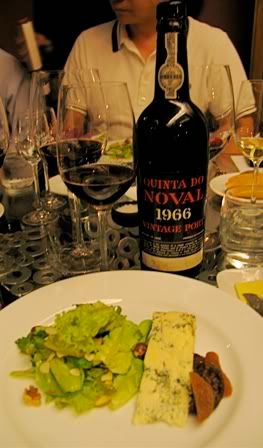 1966 Quinta do Noval Vintage Port
- Two bottles from Bernie. I'm no port expert by any stretch of imagination. I've had a few with a bit of age (mid to late '70s) on occasion, usually with cigars, but I never really paid much attention to them. I really tried this time, though.
The first bottle (pre-decanted, according to Bernie) opened presented rich and focused ripe black cherry, kirsch, dark plum compote, baked fig, walnuts, bit of Turkish coffee, licorice, whisper of sweetened dark chocolate. With the slightly salty Stilton, it was a no-brainer match. Firm, focused and streamlined on the palate. The second bottle (I tried this at the evening's end) seemed livelier, brighter, firmer in structure and more youthful and polished than the first, but they were both very fine indeed.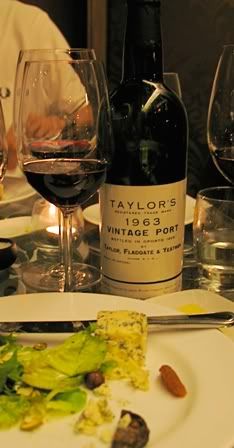 1963 Taylor's Port
- The Stockbroker's bottle. More of a stylish, lavish character this. Sexy and hedonistic. I could almost say playfully lascivious (and I mean that in a good way). This seemed to have more dominant ripe red berry flavors than dark in its broader, more concentrated, fruit. Underlying black coffee, crème de cassis, walnut and chocolate (the latter two less prominent than in the '66 QdN). I do not believe I've ever had a vintage port this forward or of this character. No rush with this, it has decades more to go.
Cyrille then came out to a round of well-deserved applause and hearty congratulations. We were all happy with our meal,
especially
the duck liver ravioli. Bernie later on told me that he was also especially happy with his lamb course.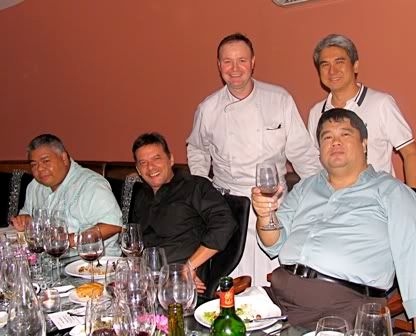 As to the portions, they were most generous. I couldn't finish my steak, but, then, that's not surprising. More telling was that Arnie, he of the prodigious consumption, told me that the portions were too much even for him. Now
that's
saying something.
Bernie's second bottle of '66 Quinta do Noval saw us through nicely with our dessert of
Chocolate Fondant (Maracaibo 65%), Vanilla Ice Cream Strawberry Macaron
(I apologize for my lousy photo, I must have been very tipsy already); followed by plates of
Chocolate Mignardises
. I must mention that, in my opinion, Ciçou sells the best macarons in the Philippines - not at all cloyingly sweet like most commercially available ones are.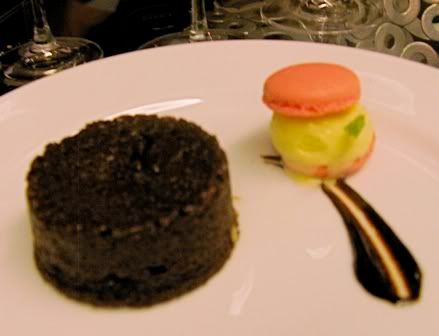 What a night. I get full and tipsy just remembering it. Lots of fun too with this big group of wine-loving friends.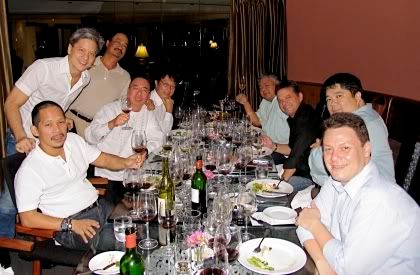 As always, until the next!