Thursday lunch, 12th November 2009, was at Shangri-La Makati's
RED
organized by brothers Doc and James for the Stockbroker and I to meet visiting Raf Littaua, president of Vinocab International - a direct importer, wholesaler and retailer in Camarillo, California. Raf is a Fil-American, an animated and pleasant fellow who has access to a lot of fine, rare, aged Bordeaux and sells them at very good prices across the US.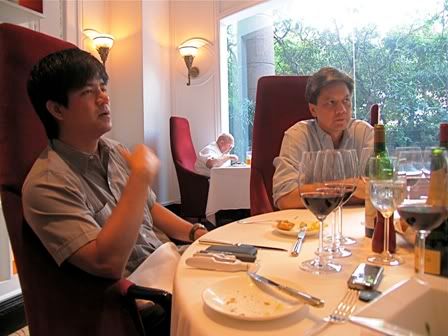 Introductions made, we started off with a bit of bubbly to prime our palates.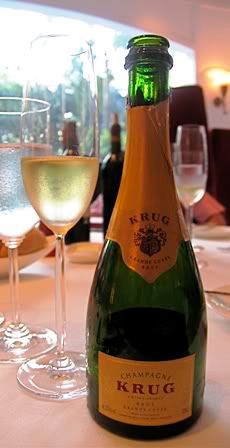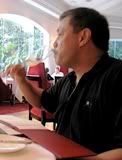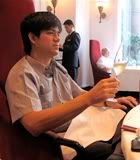 Champagne Krug Grande Cuvée Brut NV
- Doc's bottle, a 375ml current release for sure. Pleasantly bright, very well focused, tense, minerally white fruit, green apple, tiny bit of citrus with nuances of brioche and ginger confit. In the mouth, it mirrors its scents in a taut, eager body with a crisp attack that expands all the way to the finish.
Not yet as broad, hefty, rounded or complex as older versions of this nv, but time will almost surely change that. I expect it would have loosened up and broadened with a little time in the glass, but I drank up relatively quicky lest it warm down too much.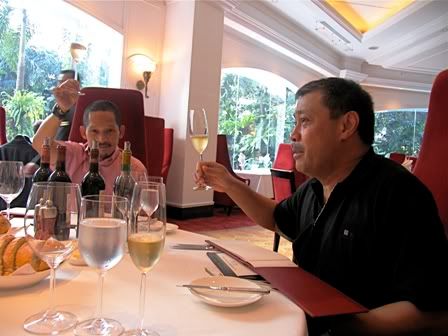 The Doc isn't that interested in pre-main course whites ("too much foreplay" he jests), so we went through our soup/starters perfunctorily. I had a bowl of
Scallops Percolator Soup
(or some monicker close to that), a light, rather salty vegetable consomme with scallops, the exact name of which I forget.
We then moved to the reds with steaks for the others and
Roast Rack of Lamb
for myself. RED serves a very generous portion of rack of lamb, which I immediately halved and gave 2 double-rib chops each to Raf and the Stockbroker. The remaining 2 double-rib chops, juicy and tender rare-medium rare, were more than enough for me. As far as I am aware, Alex Lichaytoo's Epicerie supplies the lamb to RED. Excellent quality in my opinion.
1983 Château Pichon Longueville Comtesse de Lalande
- Raf's bottle. As good condition as I've had an '83 Bordeaux rouge, and, I note, more youthful and with more drive than the one we had at the
IWFS Pichon Lalande Vertical Dinner of 13th March 2008
. My notes then were very brief:
5th - 1983, very nice PL, one I'd not had before, fine and complex, a bit of resin to the smokey cedar - but in a good way. I remember liking this quite a lot and am surprised now, after reviewing my notes, that I ranked it "only" 5th.
This bottle is a good sample of a mature Pichon Lalande in its moderately broad and expansive, deeply-veined, black cherry/kirsch/rasperry-touched molten black fruit, cassis dominant flavors, with cedar, violet, slight dark mineral, leather and well-integrated spicy wood nuances. Velvety, soft, smooth texture on a fullish body. It did seem to be a bit nervous and faded just a tiny bit with slight separation of flavors after over an hour or so, but this could probably be attributed to travel shock (assuming Raf brought this in recently). In any event, I'd say drink up now and within 2 years.
1986 Château Cos d'Estournel
- James' bottle. He actually had a 1982 Cos with him as well for a comparative tasting, but the cork started to crumble a bit, and, being without a proper extraction tool, it was saved for another day. The last time I had the subject wine was from the Stockbroker, over
lunch at Sala on the 6th July 2009
. My notes then were as follows:
1986 Château Cos d'Estournel - The Stockbroker's bottle. I've had this twice before, the first time blind back on 2nd November 2006 at the Grand Crew's
Blind Bordeaux Challenge IV
, so those notes, though brief, are the most unbiased:
"Wine # 1: Aged left bank, feminine, best nose, medium-bodied, deeply extracted ripe sweetish dark fruit, cassis, plum, sweet cedar, best balance."
I'll not ever forget this wine, not only because it was excellent, but also because it was one of the few times in our Challenges that I voted with the majority in choosing the winning wine, and, it was when my '99 Palmer wound up dead last due to my imprudent over-decanting.
In any event, though yesterday's bottle was notably more advanced (it was almost 3 years older at the time, after all) with very faint sherry notes at the fringes, it was a wonderful testament to aged Cos nonetheless. The exotic bouquet was perfumed with sweetish tobacco, spice box (with the lightest whisper of cumin), slight camphor, cedar, cassis, ripe plum, violets and warm asphalt nuances. In the mouth, there was great depth, intricate layering, incredible complexity and a comforting warmth. Excellent crescendo. Generous, expansive yet dignified performance. Elegant, yet with a commanding presence. The term "patrician" comes to mind. What a treat on a gloomy, rainy day.
The above notes are pretty much applicable to James' bottle save that, in said bottle, I detected no cumin and there was a familiar sweetish, wet tea leaf flavor in the complex fruit that trailed in the finish with violets. There was notably more discreet power and drive in this and came of as marginally more youthful as well. Excellent specimen of '86 Cos.
1989 Pichon Longueville Baron
- Raf's bottle. I think this is my first time to try this vintage of Pichon Baron. Anyway, I cannot remember if ever I did and cannot find any notes of mine on it - just mainly on their vintages '90 and '96. Admittedly, I drink much more of Pichon Lalande than Pichon Baron.
More a masculine style than Pichon Lalande, there is more typical, earthy pencil shavings/gravel in the dominant, firmly structured black fruit, cassis, leather, violets and cedar combination. Bit of dried herbs and, past mid-mouth and through the finish, slight wet tea leaves as well. Bigger in body, rounder and more powerful than the '83 Pichon Lalande, but not as complex or rounded as the '86 Cos. Not as ripe or soft as the '90 Pichon Baron, but with better structure and of a more classic cut. Very nice. I do like '89's.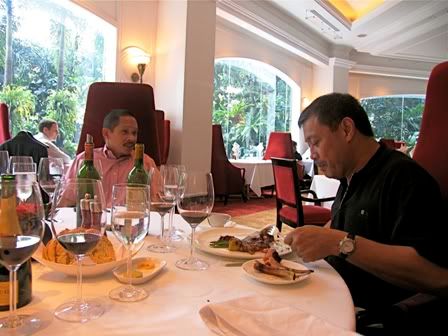 Discussions on available wines/vintages of Bordeaux went on throughout lunch. We eschewed dessert and opted for cups of espresso. Very enjoyable lunch with fine Bordeaux. Thanks to everyone.