I was supposed to attend an Italian wine lunch at
Pepato
organized by Miguel this Monday, 16th November 2009, but had to beg off for various reasons - one of which was because I had been having too much to drink too often, accompanied by too much rich food. Around 2:45pm, though, I was able to catch up from my office for "just a glass or two". Well, it turned out to be 6 glasses, but not full pours.
Aside from Miguel, the Stockbroker, J-Lab, Aaron and Greg were there - everyone with their respective bottles (or 3). They went through 10 bottles including Italian whites, but, as I said, I tried only 6 of them.
At first, the Stockbroker gave me a glass of a "
Mystery Wine
", asking me to try to identify at least the country of origin. I noted a sweet, spicy, crème de cassis, cherry/raspberry, plum syrupy smell with mocha and vanilla/oak thrown in, all topped by a raw, tinny, somewhat saline, scent. In the mouth, it tasted of ultra-extracted, sweet and candied red fruit over dark. The finish started off sweet, turning to sourish cherry. I guessed it was from South Africa. I was wrong. It was a...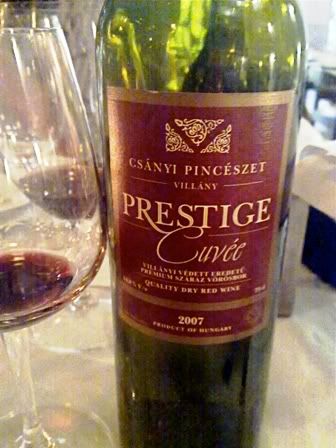 ...
2007 Csányi Pincészet Villány Prestige Cuvée
, a Hungarian wine, the first red wine I have ever tried from Hungary. It was really not to my taste, and, apparently, everyone else's as I that saw nobody drank down their glasses of it.
That bit of novelty over, the real wines poured for me.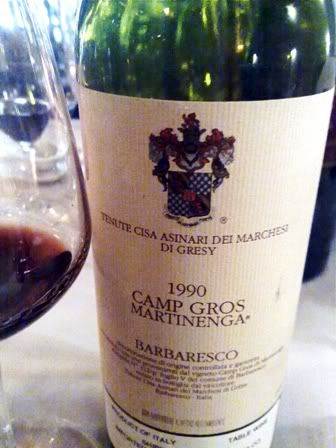 1990 Tenute Cisa Asinari Dei Marchesi Di Gresy Camp Gros Martinenga Barbaresco
- The Stockbroker's bottle. Dense, rich, very ripe, soft, somewhat meaty, jammy violets-and-old rose infused dark fruit/black cherry compote, hints of dried fig, truffles, aged balsamico, leather, well-integrated oak. Undoubtedly full-bodied, concentrated, deeply extracted, stylish, very broad, generous and expansive. Very round and hefty middle, velvety-molten tannins, good enough complexity, with a long, strong finish.
Acidity is notably low compared to other nebbiolo-based wines I've tried. Very nice in a somewhat modernish style of Barbaresco - and one could say heavenly after the Hungarian red. I'd think this is in a good drinking window now and can probably hold for 4-6 more years.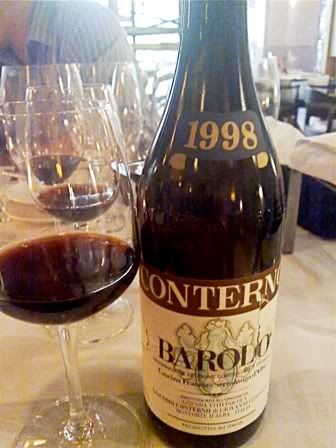 1998 Giacomo Conterno Barolo Cascina Francia Serralunga d'Alba
- Miguel's bottle, brought home from his most recent trip to Piedmont for sure. Comes off with more typicity with brighter acidity, firmer structure (than the preceding wine - this is a Barolo after all) to its drier, more minerally, less fruit-forward character. Less dense, not as big or rich and lighter-footed than the preceding wine; there is no jamminess to its dark fruit, violets, black coffee, leather, "tar" and slight licorice/dark spice. Very fragrant, with clean and neat lines and admirable purity. Drinking very well now, but can undoubtedly gracefully age for many, many more years.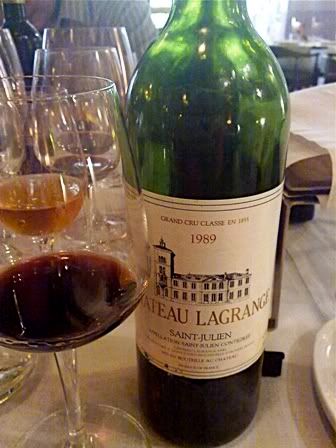 1989 Château Lagrange
- Aaron's bottle. I know I've had it since then, but the last time I opened a bottle of this was over lunch with Miguel, Rene and Santi at Je Suis Gourmand during our
2008 Christmas lunch
. My notes from then are still pretty much applicable:
1989 Château Lagrange - A highly-regarded and over-performing 3rd Growth from St-Julien in the Médoc. Much credit for Lagrange's success is given to the steadfast and generous financial backing of the Japanese owner (Suntory) and the talented Marcel Ducasse. To the best of my recollection, I've had only their 1986, 1988, 1989, 1990, 1995, 1996 and 2000 vintages - all when Marcel Ducasse was still in charge of the château, before Bruno Eynard took over in 2007. From that virtual handful, however, I have been impressed by the high standard, reliability and consistency of their wines. They may be quite generous with the oak, but the wines have always been in balance in my experience.
x x x x x
This wine, the 1989 grand vin, was warm, comforting, earthy with subtle hints of game and truffle (which is why, after much thought, I chose this in the end for the pairing). Its molten darkly ripe fruit and cassis have an earthy, roasted character (not torrefaction though, more like warm gravel). Mild nuances of cedar, old worn leather, tobacco and well-integrated oak. Slightly over medium-bodied, but not legitimately full. Low acid, just barely enough to keep it in balance. Not as lush, stylish or expansive as the
1990 version
, this is comparatively somber, more serious and quietly reserved. Good depth to it.
The wine didn't have the acidity to present any cut to the venison, but it did walk hand-in-hand with the earthiness of the latter. A good pairing, I think, but I could have done much better. I really just felt like drinking something mature. I think the guys liked it.
Next opened was a sweet white.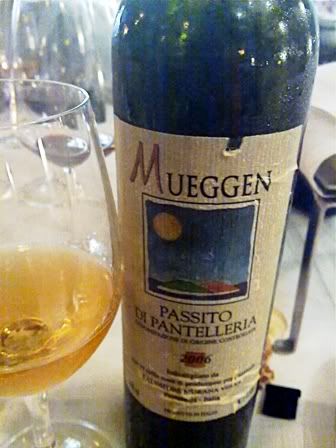 2006 Mueggen Passito di Pantelleria (Salvatore Murana)
- Miguel's bottle. Wild flowers and honeyed dried apricots, sultanas and concentrated cling peach. It is, of course, sweet and rich, but with good depth. Though I do like the Italian passitos I've tried before, they all seemed a bit simple to me. This is different in that there is a bit of complexity to this and it is notably graceful. Very nice indeed.
Though we had moved to a sweet white, Greg wanted some more red "to finish off the cheeses", and, so opened...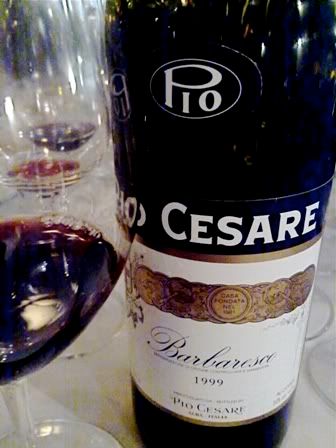 1999 Pio Cesare Barbaresco
- Greg's bottle, popped and poured. Very classically cut Barbaresco, clean lines, well-defined, well-focused and firmly structured. A bit tight and austere initially, but it fleshed out a bit in the glass with added truffle, violets and a touch of meat in its tar-infused, darkly spiced black cherry on a body halfway between medium and full. Not anywhere as complex or deep as the above Martinenga Barbaresco or Cascina Francia Barolo, not as stylish as the 2001 Michele Chiarlo Barbaresco, but has notable typicity and is, undoubtedly, well-crafted old-school Barbaresco.
A double espresso and a few cigarettes later, it was back to the office for me at a little past 5pm.
Mille grazie, amici miei!