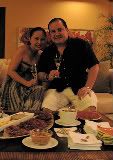 Last night, 12th June 2010, was tapas and dinner at
Rene & Aimee's place
. Catha and the kids attended dinner at my dad's place, so we were just 7 in all: Rene & Aimee, Miguel & Ria, Aaron & Jo and myself. Miguel provided the tapas (brought home from Spain from his last trip), Rene & Aimee hosted the dinner, and we all contributed the wines. Needless to state, considering the food to be served, the venue and the persons involved, all the wines were from Spain.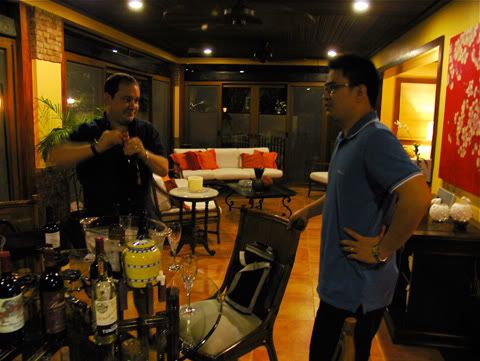 Rene & Aaron discussing and preparing the wines.
I arrived a little past 7pm, was welcomed by the hosts, greeted Aaron and Jo, and was quickly handed a glass of...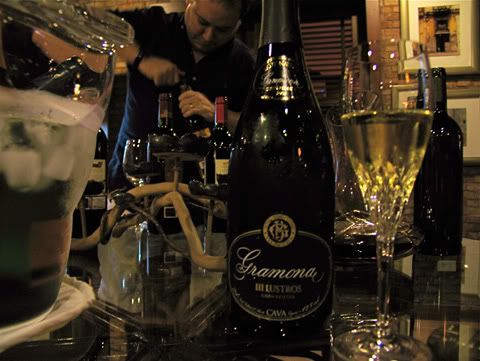 2005 Gramona III Lustros Brut Nature Gran Reserva Cava
- Miguel's bottle, also brought home from his last trip, vintage cava aged 5 years before release. Seems quite young and a bit tight yet, its dry, bright citrus and slightly toasty, mildly yeasty, nut bread notes dominating pretty much everything else except the underlying slight caramel, coffee and oxidative nuances. Reminds me a bit of the style of the Jacquesson No. 732, actually, as regards its sharply focused, clean, almost steely in character. Should flesh out and put on weight in around 3-5 years more. Very bracing, appetite-enhancing acidity. Strikes me as a cava for more serious bubbly
aficionados
. I wonder what J-Lab would think of this.
Miguel busy in the kitchen.
The various
embutidos
being sliced.
The Spread, I'll leave most all of the names of the various tapas to Miguel.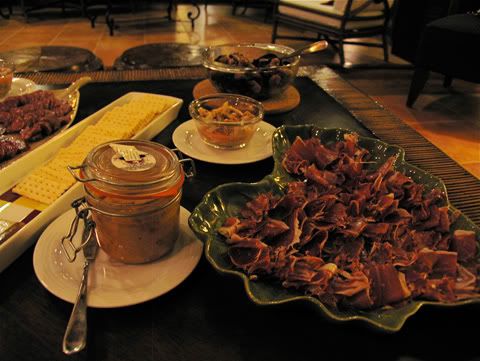 One of my favorites, though, was his
Botifarra con Morcilla de Cebollas
.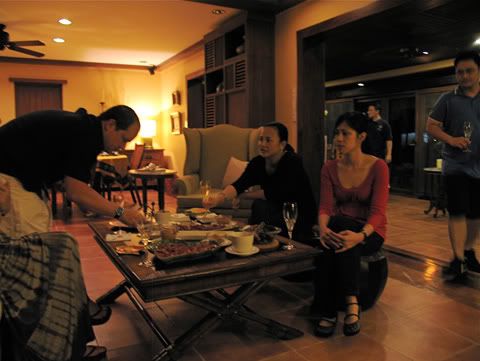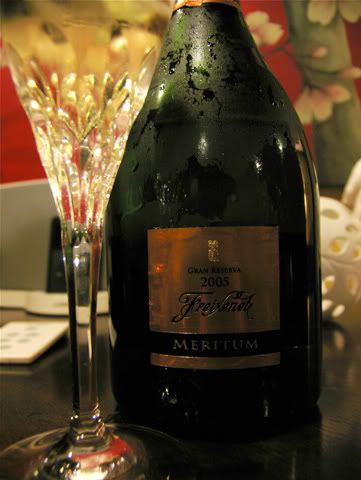 2005 Freixenet Meritum Gran Reserva Cava
- Aaron's bottle of course. Open, heftier, more easily approachable, less dry, with ripe, rounded, creamy white fruit, brioche and white flowers. Not razor-focused or complex as the previous cava, this has more of a friendlier and wider-spread appeal to it. Very easy to drink a lot of the entire night. Unfortunately, I was driving myself and we had many bottles to go, so had barely a full glass of this.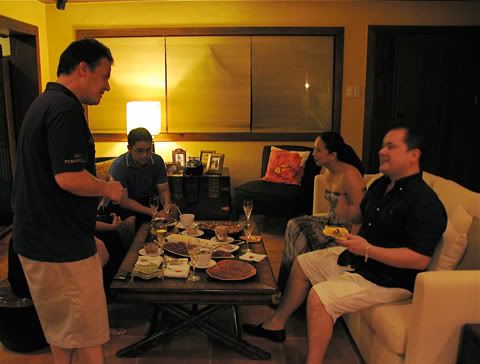 Miguel, Aaron, Aimee & Rene.
Habitas Salteadas con Jamón
- The little green beans ("habitas", per Miguel) were absolutely delicious and I couldn't stop eating them. They are very tender with a vague, young corn-like note to them. Excellent stuff. This was also one of my favorites amongst the many tapas.
1987 Bodegas R. López de Heredia Viña Tondonia Blanco Reserva
- My bottle, decanted and kept chilled in Rene's large, moderately iced wine bucket. As it warmed a bit, it released vaguely honeyed notes of honeysuckle, baked pear, orange rind, slight ripe lemon, hints of white minerals, clove and vanilla. Nicely reserved, self possessed, elegant, barely medium-bodied blanco. Gets more complex as it sits in the glass. Acidity is decent enough. Happy with this bottle - my last one of 3 I picked up at the Barcelona airport on the way home last April.
Some had the above-mentioned blanco with this refreshing, summery dish of
Angel Hair Pasta with Lemon, Olive Oil and Caviar Dressing
. I had seconds and would have had thirds except for being a bit full already from the tapas and knowing the meat course was coming.
I didn't have anymore of the blanco by the time this was served, but recall Rene (or was it Aaron or Miguel?) saying it was a nice match for the pasta. What I did have with the pasta was Aaron's
2008 Vionta Albariño
- a nice, bright, clean and fresh albariño with ripe flavors of green apple, pear, white peach, bit of ripe citrus and an underlying hint of fennel. I thought this went hand-in-glove with the freshly citrusy-salty pasta.
The main course was an over-night, slow-cooked-in low-heat dish of
Stewed Beef Short Ribs
. Absolutely rich and delicious with good depth and great texture. Melts in the mouth, but kept its structural integrity enough not to be mushy. Excellent stuff. I had 3 helpings. With this, we the immediately-below depicted reds.
2004 Rene Barbier Clos Mogador Priorat
- Aaron's bottle, which I had as my main pairing with the main course. This was decanted for 2½ hours, more or less, before serving. Very ripe, soft, curvy, concentrated and extracted full-bodied, mouth-filling, chewy, dense, jammy dark cherry, raspberry, cranberry, raisins, loam, with a feral nature due to pronounced sanguine, meaty, gamey notes. Acid on the low side; its underlying oak, dark chocolate and related spices surprisingly well integrated enough at this early point.
This surprised me with how well it drank at this very young stage. With the main course, it was, to me, an excellent match: the wine's richness and body made it stand up to and run with the indulgently beefy, mildly-spiced dish. A rich-on-rich, running-with-the-ball pairing, the wine's fruit adding a nice counterpoint to all the rich, beefy goodness. Loved them both together.
1978 Bodegas Marqués de Murrieta Castillo Ygay Gran Reserva Especial
- Rene's bottle. Drinking very youthfully for a 32-year-old wine, the fruit was remarkably fresh and bright. Cherry, raspberry, bit of blackcurrant underneath, slight balsamico, moderate leather, licorice, violets and cedar. Mild toasty oak, vanilla and toffee/cinnamon notes are discreet and emerge mid-palate and through to the finish. Firm, sturdy structure, healthy acidity, a few notches below full-bodied, remarkable focus and freshness. Very youthful for a wine this age.
1995 Bodegas La Rioja Alta Gran Reserva 890
- My bottle. No decanting, just popped, poured and aired in the glass. Incredible nose of sweetish balsamico, cedar, rose petal, cherry, raspberry, licorice, vanilla bean and violets. In the mouth, it mirrors its aromas in a slightly over medium body; pure, clean, precisely structured, elegantly focused and balanced with underlying notes of clean leather and a whisper of ceps. Has a notable slightly feminine Bordeaux slant to it. Excellent wine. Absolutely enthralling wine. Incredible elegance, complexity and balance. My red of the night, if I do say so myself.
1991 Bodegas Beronia Gran Reserva
- Miguel's bottle. Another Bordeaux-esque tinto Riojano, this was medium-bodied, rigidly structured, showing clean, moderately cedar, cep and violet-laced cherry, raspberry and strawberry, edgy acidity, liquorice and a bit of worn leather. Decidedly masculine. Very correct and proper Rioja (I had this when we moved outdoors, relishing the night over more stories and a few cigarettes).
Dessert was a home-made
Strawberry Ice Cream Cake with Oreo Cookie Crust
. It's rich visage and name are belied by its refreshingly cool lightness. Definitely nice for summer, and I am a sucker for cool berry and chocolate desserts.
Yet another memorable evening with excellent food, wines and company. ¡
Salud
!